While the Apple Watch has many health-centric features, it lacks any built-in option to remind you to drink water. However, we do have third-party apps that send you alerts to stay hydrated when required. In this article, let's look at three free apps to enable drinking water reminders on your Apple Watch.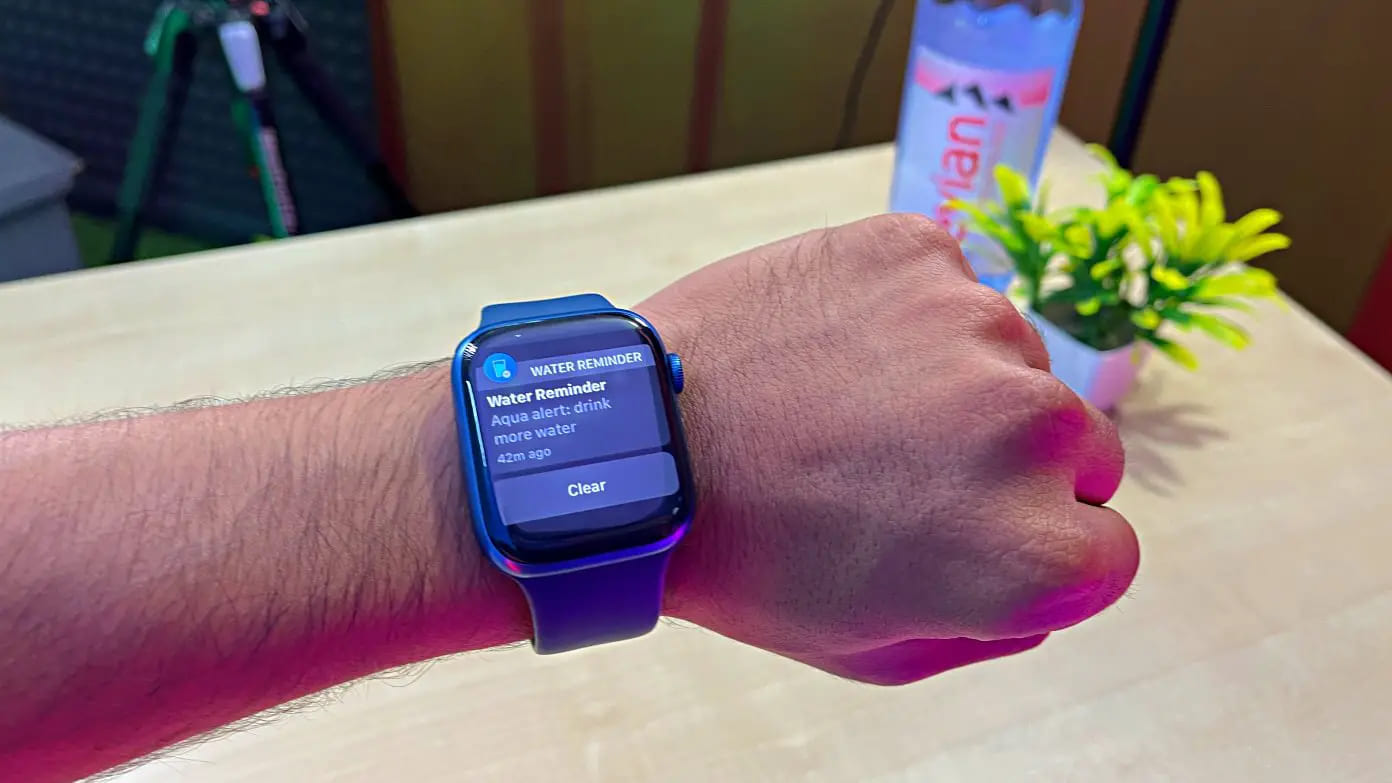 Enable Drinking Water Reminders On Your Apple Watch
Water is essential to most of our bodily functions. And the amount of water you intake directly impacts your health,  happiness, and overall energy throughout the day. Drinking enough water keeps you from dehydrating, helps regulate concentration and stress, and avoids stomach or kidney stone-related issues.
However, given the busy schedule, it's normal to forget to drink water altogether. This is where the drink water reminder apps come to the rescue. Here are free apps and shortcuts to get notified for drinking enough water or other liquids like coffee or juices to keep you hydrated and energized.
'Drink Water Reminder N Tracker' for Apple Watch

Drink Water Reminder N Tracker is an easy-to-use water reminder app for iPhone and Apple Watch. It equips a daily water intake calculator based on gender, weight, and country and sends notifications to remind you to drink water as you prefer.
You get a graphic display of your hydration level and daily consumption. There's also an automatic bedtime mode that doesn't disturb you during sleep. Furthermore, you can customize the sound and message of the water alert.
Key Features:
Water Intake Calculator
Graphic display of hydration
Automatic Bedtime mode
Customize Sound and Message
Supports oz and ml
How to Use it:
1. Download "Drink Water Reminder N Tracker" on your Apple Watch from the App Store. The app will also be installed on your iPhone.
2. Open it and allow the permission to send notifications. Enter your details like weight, gender, and weather type in your region.
3. The app will automatically suggest the ideal quantity of water- change it if required.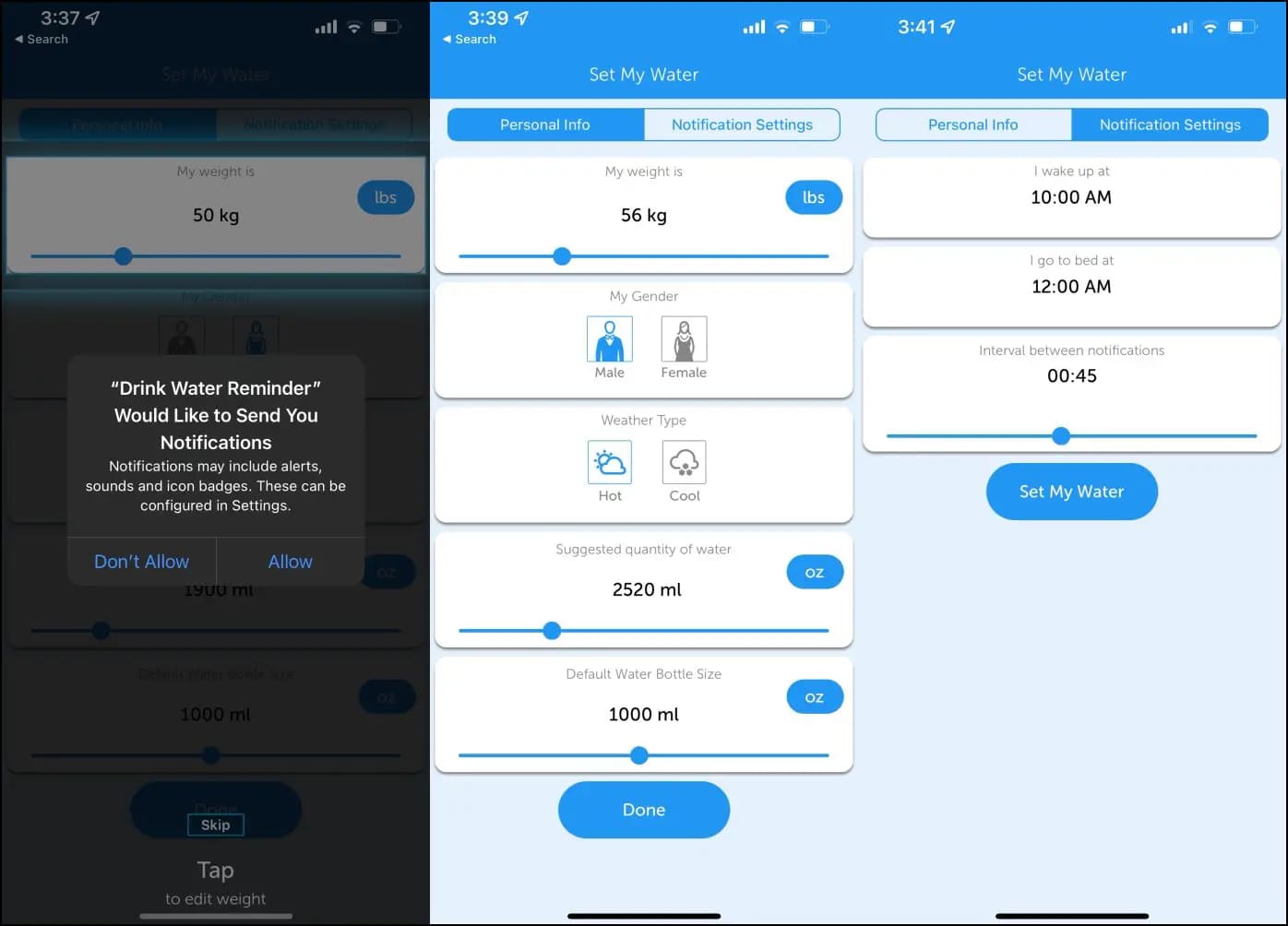 4. Then, set the size of your water bottle. Tap Done.
5. Select your wakeup and sleep time, followed by the desired interval between drinking water reminders.
6. Finally, tap Set My Water.
It will now take you to Alert Settings, where you can enable or disable water reminder alerts for a particular time.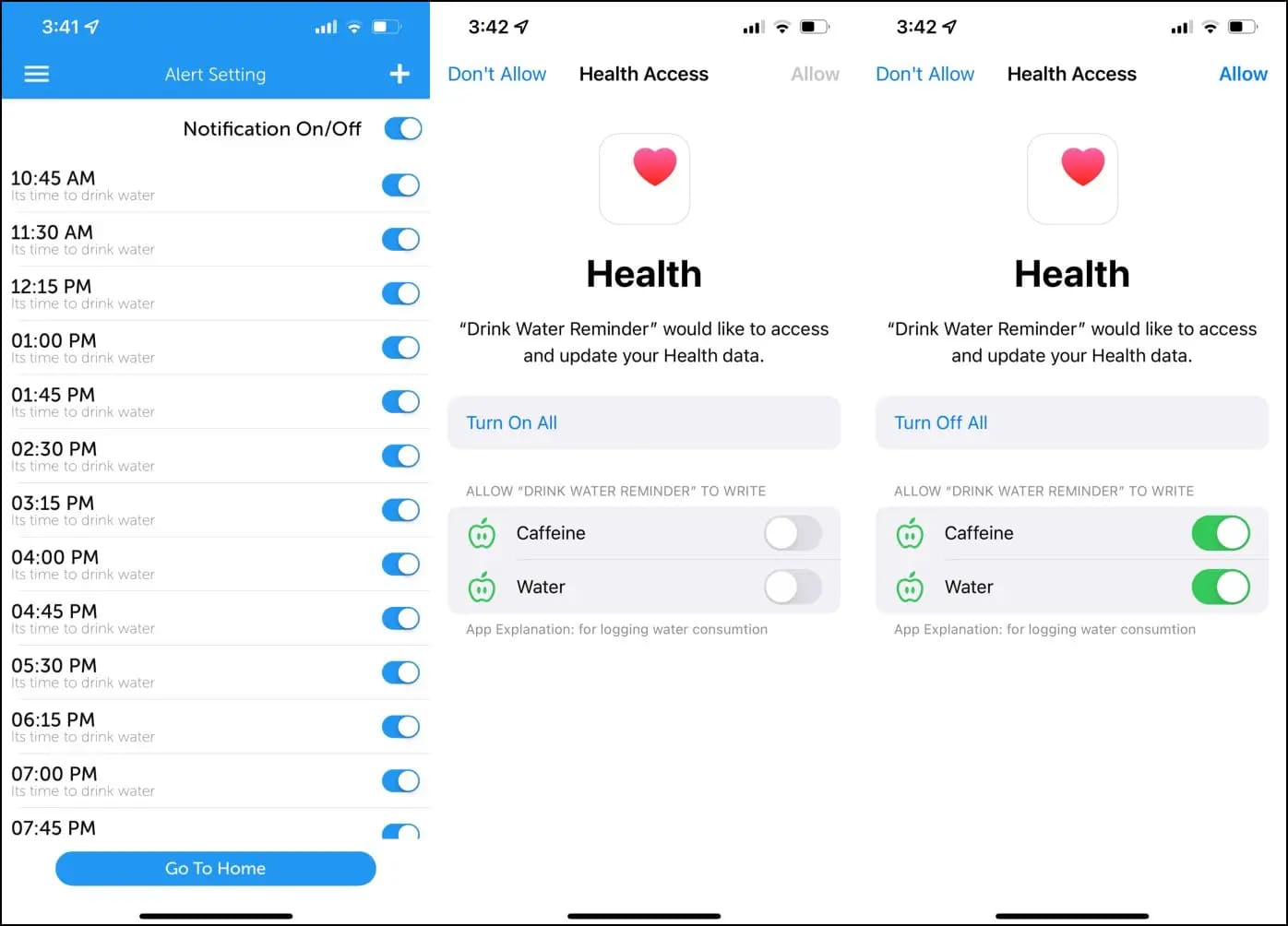 On the home page, you get a water bottle where you can swipe up or down to increase or decrease the water in your bottle and the water you want to drink. Besides, you can also track consumption of other beverages- Tea, Coffee, Soft Drinks, Beer, and Juice.
7. To log water intake, open Drink Water Reminder N Tracker on your Apple Watch.
8. Rotate the Digital Crown to set the water intake quantity- by default, it's set to 200ml.
9. Then, tap Drink Water to add the water log.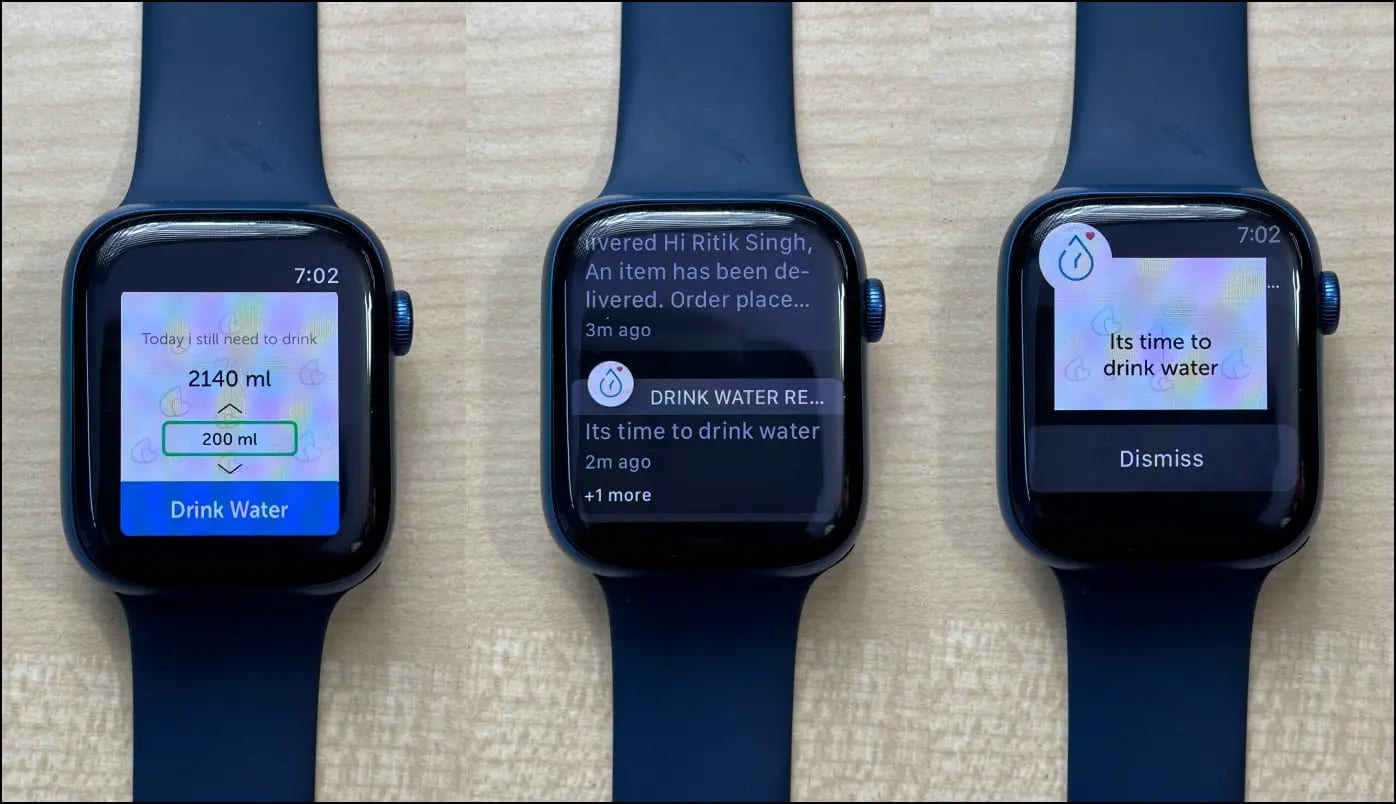 The app will automatically send reminders to drink water on your Apple Watch and iPhone (if it's unlocked and used). Meanwhile, you can open the app and log the water intake to track your consumption.
Pros:
Water Intake Calculator is a good add-on
Granular control over each water alert time and on/off status
Customize water reminder messages and sound
Graphical view of weekly, monthly, and quarterly stats
Cons:
Banners and full-screen ads in the free version
'Water Reminder – Daily Tracker' for Apple Watch
Water Reminder Daily Tracker is another iPhone and Apple Watch app that sends personalized drink notifications to help improve your health. You can set custom drink volumes, schedule notifications according to bedtime, and choose intervals between notifications.
You can track your historical consumption for the day, week, or month. Plus, the app lets you track your daily nutrition values. The app is ad-supported and has a paywall for premium features like ad removal, more types of drinks, notification sounds, and widgets.
Key Features:
Daily Nutrition Graph
Set Reminders from every 20 min to 5 hours.
Get Awards for completing water goals
Set Wake Up and Sleep Time
Supports oz and ml
How to Use it:
1. Download the "Water Reminder Daily Tracker" app from the App Store.
2. For initial setup, open the app on your iPhone.
3. Allow Apple Health access, tap Continue, and allow notifications.
4. Go to Settings to customize your age, gender, and weight.
5. Inside Settings, click on Reminder to set the frequency- every 20 minutes, 30 minutes, 1 hour, to up to 5 hours.
6. You can tap Reminder Message to customize the message and add emojis if needed.
7. To log in and drink, open the app on your watch.
8. Tap the + button and select the drink type and quantity.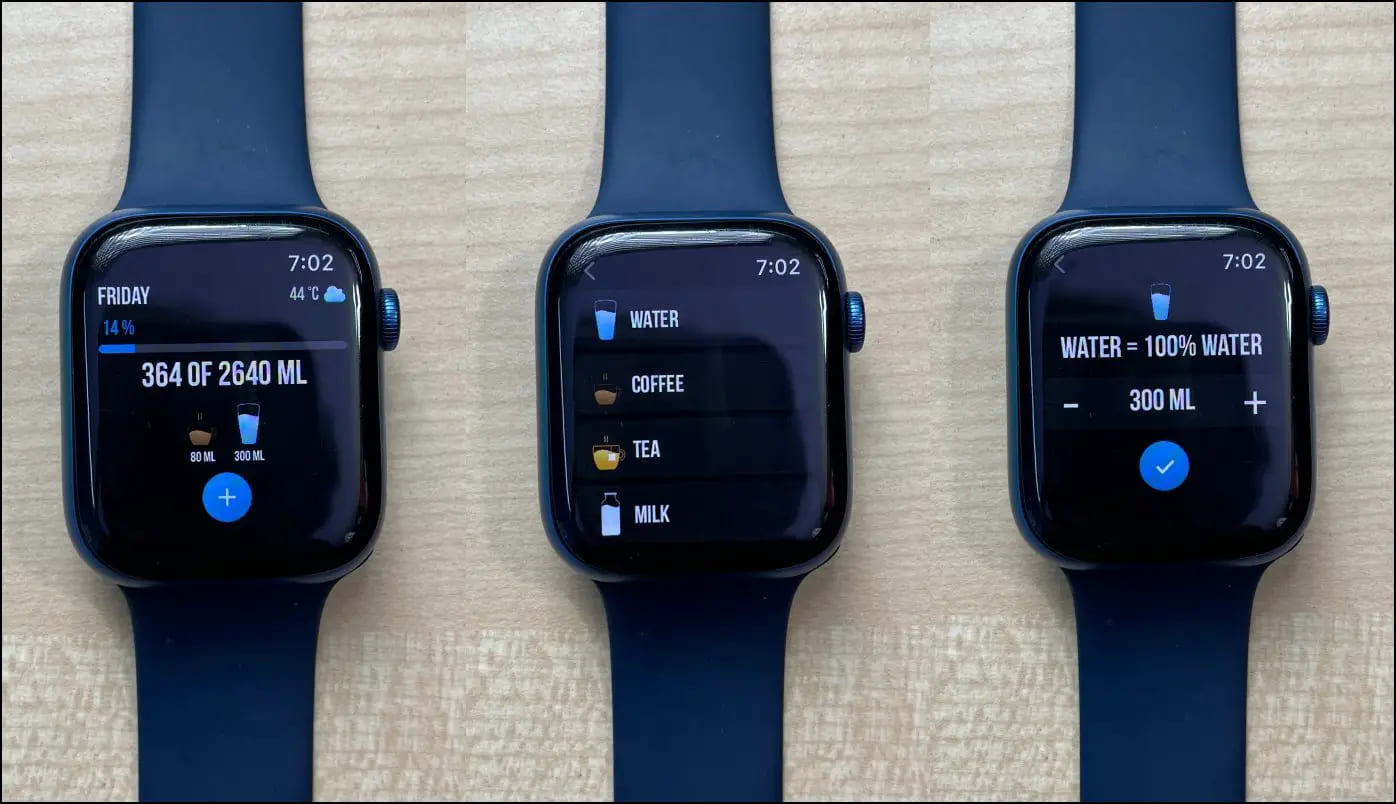 The app will remind you to drink water on your Apple Watch basis at set intervals. You can directly tap Add Drink in the notification to log water breaks. And the reminder will automatically reset every time you drink water. The app is quite polished and has more features than the previous but many paywalls.
Pros:
Polished and Intuitive UI
Nutrition tab with graphs for intakes of each drink type- see if you drink more coffee than water
Finds a daily nutrition dose for each beverage you drink
Weekly and monthly stats
Cons:
Manually feed activity and climate information
Some things are locked behind a paywall
'Thirstic: Smart Water Tracker' for Apple Watch
Thirstic is a fitness water tracker app that automatically adapts your water needs to your daily activity and weather conditions. It works as a health companion and varies the suggested water intake in instances like you're doing regular workouts at a particular schedule or if the weather is hotter today.
It has a simple UI with no ads and focuses on privacy. The app reads and writes from your Health app and keeps all your data securely on your device. Thirstic intelligently estimates your water requirements in the background and sends reminders when you reach your preferred water needs threshold.
It works best with Apple Watch, which also helps it know your active and resting energy. The good thing is you can change the parameters of your water needs estimation, resulting in higher or lower daily water intake goals.
Key Features:
Automatically adapts your water needs based on daily activity
Changes suggested water intake based on local weather
Reads and stores data securely on the device
Change parameters of intake estimation
No Ads
Trigger Alerts Based on Thirst Threshold
How to Use it:
1. Download Thirstic Smart Water Tracker on your Apple Watch.
2. Open the app installed on your iPhone for initial setup.
3. Allow permission to access and update Health data.
4. Once you're on the homepage, you can tap the bottle to add water intake.
5. Click the Settings icon at the top right and then Water Needs Goal to see your today's estimation.
6. Within Settings, tap on Smart Reminders > tap Water Intake Reminders and Allow.
7. The default thirst trigger is 300ml- you need premium to customize it. You can also add start and end times to stop it during sleep time.
Whenever your estimated thirst reaches the trigger threshold, the app will send you a water intake reminder. In easy words, it will remind you every time it thinks you need 300ml of water by default.
8. Whenever you want to log water consumption, open the Thirstic app on your Apple Watch.
9. Click the Bottle icon and add quantity, ranging from 50ml to 750ml in one go.
10. You can also scroll down on the app screen to see your current thirst estimation with an option to revert to the last intake.
Pros:
Clean UI with dark mode
No advertisements
Intelligently estimates water intake based on activity and local weather- less work for you
Privacy-friendly
Cons:
Activity and heat sensitivity require premium
You cannot customize the thirst trigger threshold in the free version
Track Your Water Intake Using Siri Shortcut
Don't want a third-party app to track your daily water intake? We've got you covered. Below is a Siri shortcut for both iPhone and Apple Watch that lets you log your drinks. Here's how it works:
1. Open the Log Water Shortcut link in Safari on your iPhone.
2. Click on Get Shortcut. It will open the Shortcut app.
3. Tap the three-dot menu for the Log Water shortcut.
4. Tap Allow Access under Log Health Sample.
5. Press Turn On All on the next screen. This will allow the shortcut to add your water logs to the Health app.
6. Now, raise your Apple Watch (or toggle Siri on your iPhone) and say, "Hey Siri, Log Water."
7. It will ask, "How much water did you drink?" with options- 350ml, 500ml, and 750ml.
8. Reply with your choice or tap the option based on the water amount you drank.
Wrapping Up
These three handy apps let you track water consumption and get drinking water reminders on your Apple Watch. Besides we also mentioned an interesting Siri shortcut that lets you log water intake directly through voice commands without any third-party app. I hope the above guide helps you check your daily water-drinking habits. Stay hydrated, stay healthy.
You can also follow us for instant tech news at Google News or for tips and tricks, smartphones & gadgets reviews, join GadgetsToUse Telegram Group or for the latest review videos subscribe GadgetsToUse YouTube Channel.