Subscribe for free to our youtube channel by clicking subscribe button below for latest updates on JIO, Tech Exclusive News, Gadgets Reviews, Upcoming Phone Deals Etc.
Ads by Google
With the announcement of the Samsung flagship Smartphone Galaxy S4, which was in the hindsight for quite some time now, all the tech geeks seems to have one task as the utmost priority – the comparison of the upgrade from its predecessor in order to find out if the upgrade is worth the expectations of the billion lovers out there. So, let's see how the specs and software features of GS4 takes a leap over GS3 (across major categories) and places itself well in the Smartphone market in the upcoming months. You can also read our detailed post on S4 New Software Features and know What Makes S4 The Next Galaxy Phone.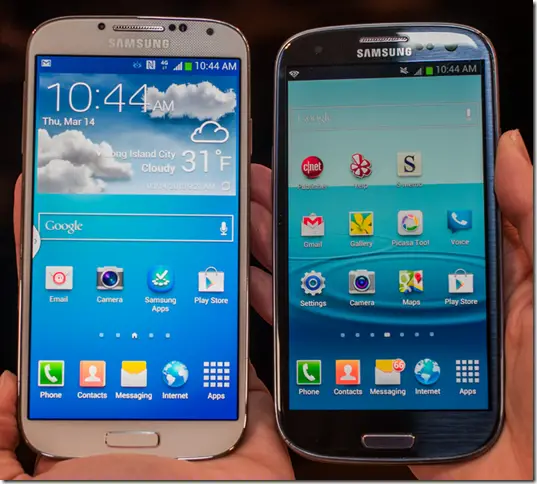 1. Display & Screen
The Screen (1920×1080 Super AMOLED panel) size of GS4 has been increased to 5" as compared to GS3's 4.8". GS4 takes a leap over GS3 in terms of pixel density (441ppi) as well surpassing GS3's 306ppi. Great contrast and good brightness is bound to be there with a Corning Gorilla Glass 3 screen. Also, the touch interface could be used with the gloves on.
2. Processor
Like GS3, the successor GS4 will also be shipping in 2 versions of processor. The version1 of GS3 has been running on 1.5 GHz Qualcomm S4 dual core processor. The GS4 on the other hand would be running on 1.9 GHz Qualcomm 600 quad core processor. The version2 processors for GS3 and GS4 are 1.4GHz Exynos Quad Core and 1.6GHz Exynos Octa Core respectively. For GS3, the dual core model shipped in North America whereas the quad core edition was has been shipping elsewhere. We'll see what would be the case for GS4.
3. Camera
The rear camera in GS4 takes a big jump to 13-megapixels as compared to GS3's 8-megapixel. The front camera takes a minute increase (2MP from 1.9MP). The major emphasis has been on the camera's software-based features for GS4 – Dual Shot, enabling both the front and rear cameras to capture images simultaneously; Drama Shot, that composites multiple moving objects into a single action shot and Sound-&-Shot, which records 9 seconds of images and audio right before your still shot has been taken.
4. RAM & Storage
Only the GS3 devices shipped in U.S. matches the GS4's 2GB RAM. Elsewhere, the predecessor is shipped with 1GB RAM. There is no difference in the storage aspect as both phones will be shipping in 3 different models – 16GB, 32GB and 64GB.
5. Operating System & Battery
Samsung Galaxy S3 runs the Android 4.0.4 Ice Cream Sandwich OS whereas its successor GS4 is known to be running Android 4.2.2 Jelly Bean OS. When it comes to battery, GS4 seems to hold a slightly more juice with Li-lon 2600mAh battery as compared to GS3's 2100mAh. We'll have to wait till the phone to be in our hands to notice the actual practical difference as to for how long the S4's battery hold up.
6. Size & Weight
At 7.9mm, S4 is thinner than S3 by about 8 percent (0.7mm) and is also lighter by 3 g (130g as against S3's 133g). Yes, it isn't a monumental and noticeable difference though. It could be easily overlooked by anyone out there.
7. Applications (Software Features)
This is one area where GS4 truly stands apart from its older brother as it will be having some impeccable and utmost useful features for the users.
The Major Ones Are as Follows
S Voice – It's been upgraded with a more Siri-Like voice assistant.]
S Health – fitness, blood pressure and blood glucose tracking application
S Voice Drive – a hands-free voice control feature that helps in improving GPS driving capabilities.
S Translator – Instant voice and text translation in 9 different languages
Air View – what could be done by the famous S-pen in Galaxy Note II will be done by your fingers in GS4.
Smart Pause – automatically pauses the video if the user is looking away from the screen.
Is S3 to S4 Upgrade Worth The Price ?
Coming to the concluding part – is the upgrade worth the buy? Well, the design and hardware seems to hold the ground and doesn't stray much from the predecessor. But when it comes to the display, processor and software; the GS4 is bound to become the favorite amongst the prospective buyers. The display is larger, processor is faster and tones of useful applications come along. I think the wait for the big announcement from the South Korean Smartphone brand is worth it. What say you?