Two recent launches in the entry-level segment are the MTS Duet and the Samsung Galaxy Star. Both these phones are priced under the 5,000 INR mark, and come with Android and other basic features in order to keep costs low. Both these phones can make for a good secondary phone or maybe a teenager's first phone. The MTS Duet in fact comes bundled with a few freebies from the carrier. The name 'Duet' signifies the availability of dual SIM, where one SIM is GSM and the other, CDMA.
You have a similar budget, which one should you go for? This post will help you decide.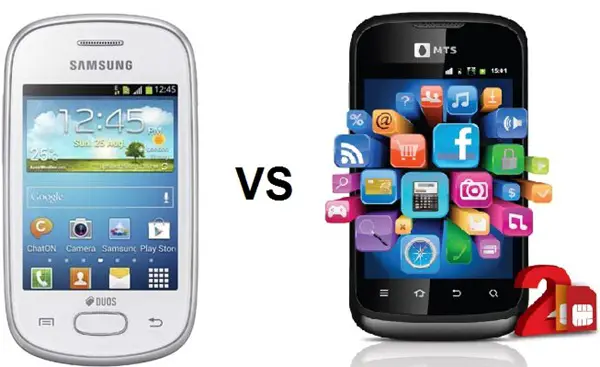 Display And Processor
The Samsung Galaxy Star comes with a rather small 2.97 or 3 inch display, which packs a QVGA resolution of 240×320 pixels. On the other hand, the MTS Duet is a little better and comes with a 3.5 inch screen, which sports an HVGA resolution of 320×480 pixels, making it the better among the two when it comes to display and resolution. Video and light gaming should be better on the MTS Duet due to the bigger screen, and since both these phones are quite small, mobility and ease of use should be equally good on both the devices.
Both phones come with a single-core 1GHz processor, which should be good enough for the sort of phones they are, and for the audience they appeal to. The Galaxy Star comes with a more usable 512MB of RAM whereas the Duet packs only 256MB which might be a concern for some.
Camera And Memory
The Galaxy Star comes with a 2MP rear camera, which is of fixed-focus type so you cannot expect great photos out of this one. Since the phone does not come with 3G, Samsung have decided not to include a front camera to keep costs low, which again might be a disappointment. On the other hand, the MTS Duet comes with a 3MP rear camera, and just like the Star, there is no front camera on this one too.
As far as storage is concerned, the Star is the clear winner here, it comes bundled with 4GB of on-board storage whereas the Duet only packs 512MB. However both these phones are capable of expandable memory of up to 32GB via means of a microSD card.
Battery And Features
On the battery front, both these phones pack the same 1200mAh battery, which can be considered about average for today's day. You need to keep in mind that both phones are small screens, which means that battery usage will indeed be minimal. You can expect both the phones to last one day for you. So, in terms of battery, there is no clear winner here.
Speaking of other features, this is where the Duet has an edge over the Star. The MTS Duet comes with a Dual SIM functionality, which lets you use a CDMA and a GSM SIM simultaneously. The market is flooded with dual SIM devices which support only GSM networks, and the Duet brings something new to this market. The Star is also a dual SIM device, but it only supports GSM networks.
So, it might be a wise choice to go for the Duet if you use a CDMA and GSM SIM simultaneously.
Apart from that, the Duet also comes with an interesting data+calling plan from MTS. On buying the phone, users can top-up with a recharge of 599 INR, which will give them unlimited data, and unlimited local calling for 2 months.
| | | |
| --- | --- | --- |
| Model | Samsung Galaxy Star | MTS Duet |
| Display | 3 inches QVGA (320x240p) | 3.5 inches HVGA (320x480p) |
| RAM, ROM | 512MB RAM, 4GB ROM expandable up to 32GB | 256MB RAM, 512MB ROM expandable up to 32GB |
| Processor | 1GHz single core | 1GHz single core |
| OS | Android 4.1.2 | Android 2.3 |
| Cameras | 2MP rear, no front camera | 3MP rear, no front camera |
| Battery | 1200mAh | 1200mAh |
| Price | 4990 INR | 4799 INR |
Conclusion
Both the devices are very comparable in every field, from specifications to price. However, the MTS Duet brings an impressive data+calling plan, and comes with GSM+CDMA support which the Star lacks. The advantages the Star has over the Duet are that it comes with 512MB of RAM (Duet has 256MB), more storage (4GB vs 512MB) and the better availability and support from Samsung. The Duet however is more suitable for people who use a CDMA and a GSM SIM at the same time, and comes with a bigger screen with a better resolution. The MTS Duet is priced at 4799 INR while the Star at the same time is priced a little more at 4990 INR.