If you are in the market for a new smart TV, you will notice that most smart TVs these days run on two popular operating systems, Android TV and LG's WebOS. Both offer many great features, making it confusing to select the right one. So to help clear the confusion, we will compare the two TV operating systems and discuss their key differences, pros and cons, to help you determine which is better in the Android TV vs. WebOS war.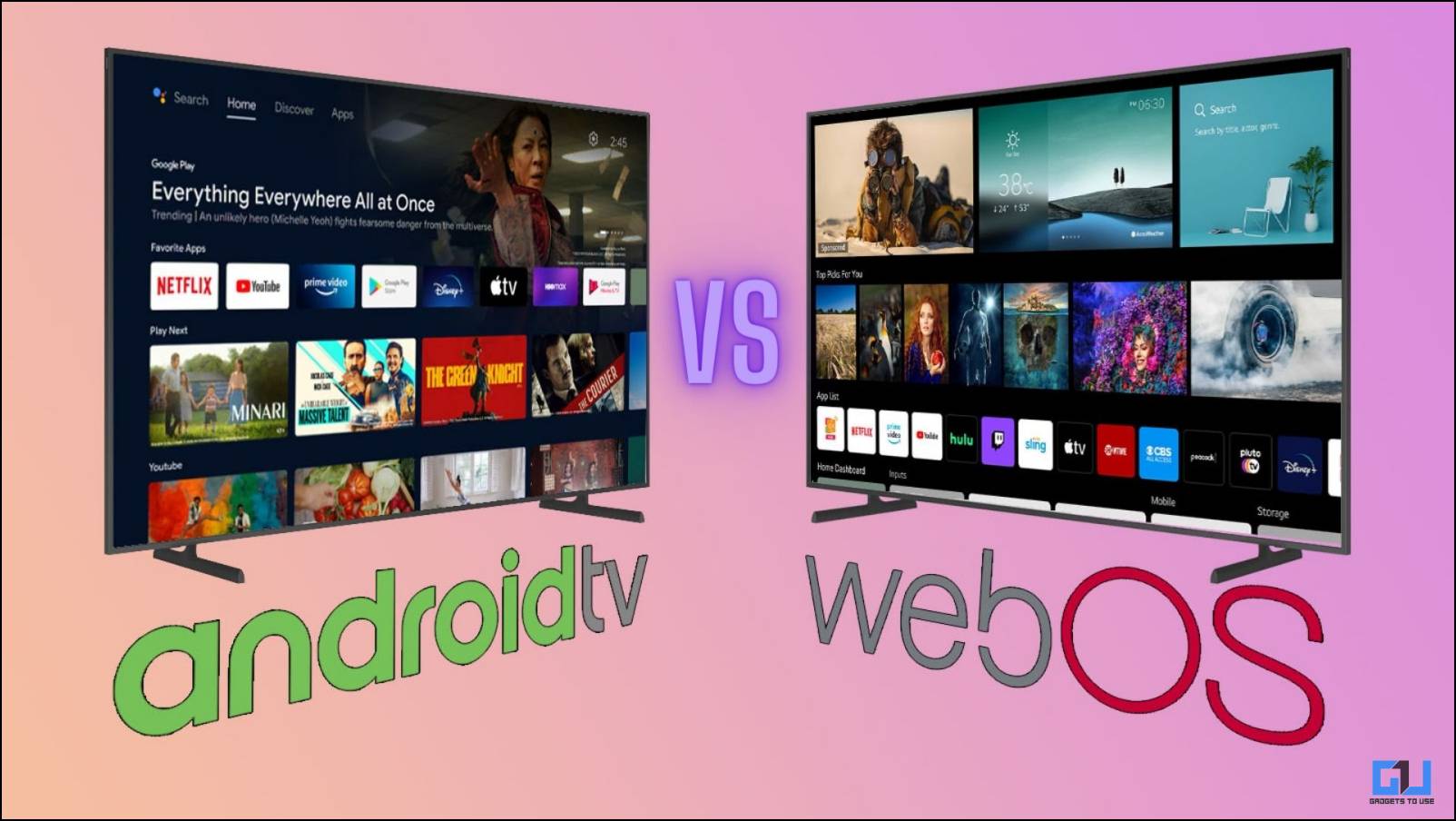 Android TV vs. WebOS Comparison: What are the Differences?
This article will review different aspects of Android TV and WebOS, like user interface, app support, and remote control. We recommend you go through each category to get a proper insight into each operating system to make a cautious buying decision. 
What is Android TV?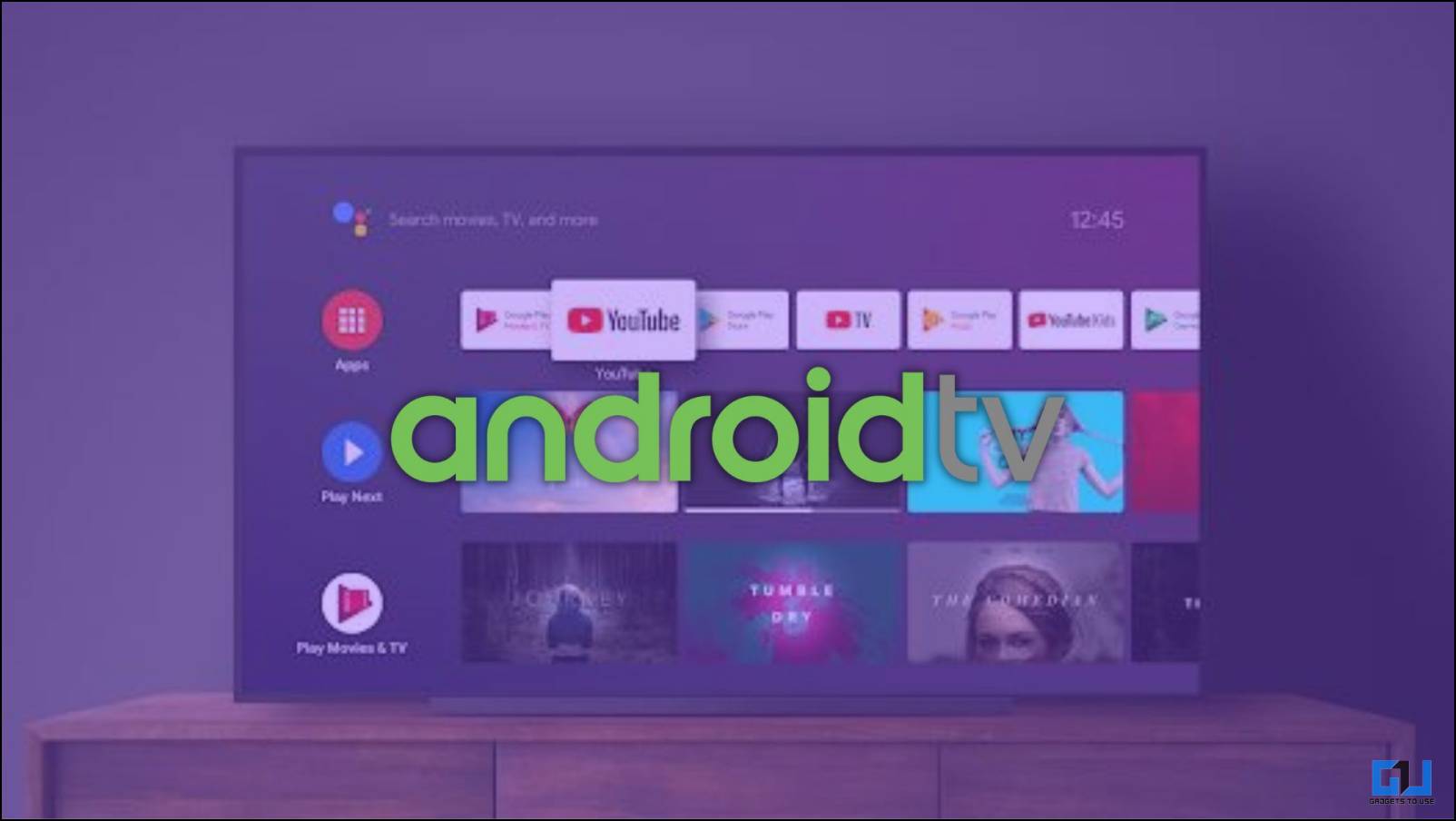 Android TV is Google's platform built using Android and optimized to provide a seamless user experience on larger TV screens. This includes a revamped homepage, menu, and other settings. Given the popularity of Android TV, it can be found in several devices, including several budgets and high-end smart TVs, set-top boxes, and media sticks like Chromecast. 
It features most Android apps and Google services you love, including the Play Store, which has a large selection of apps and games oriented toward the TV OS. So in case you find any app to be missing, then you download it right away. 
What is WebOS?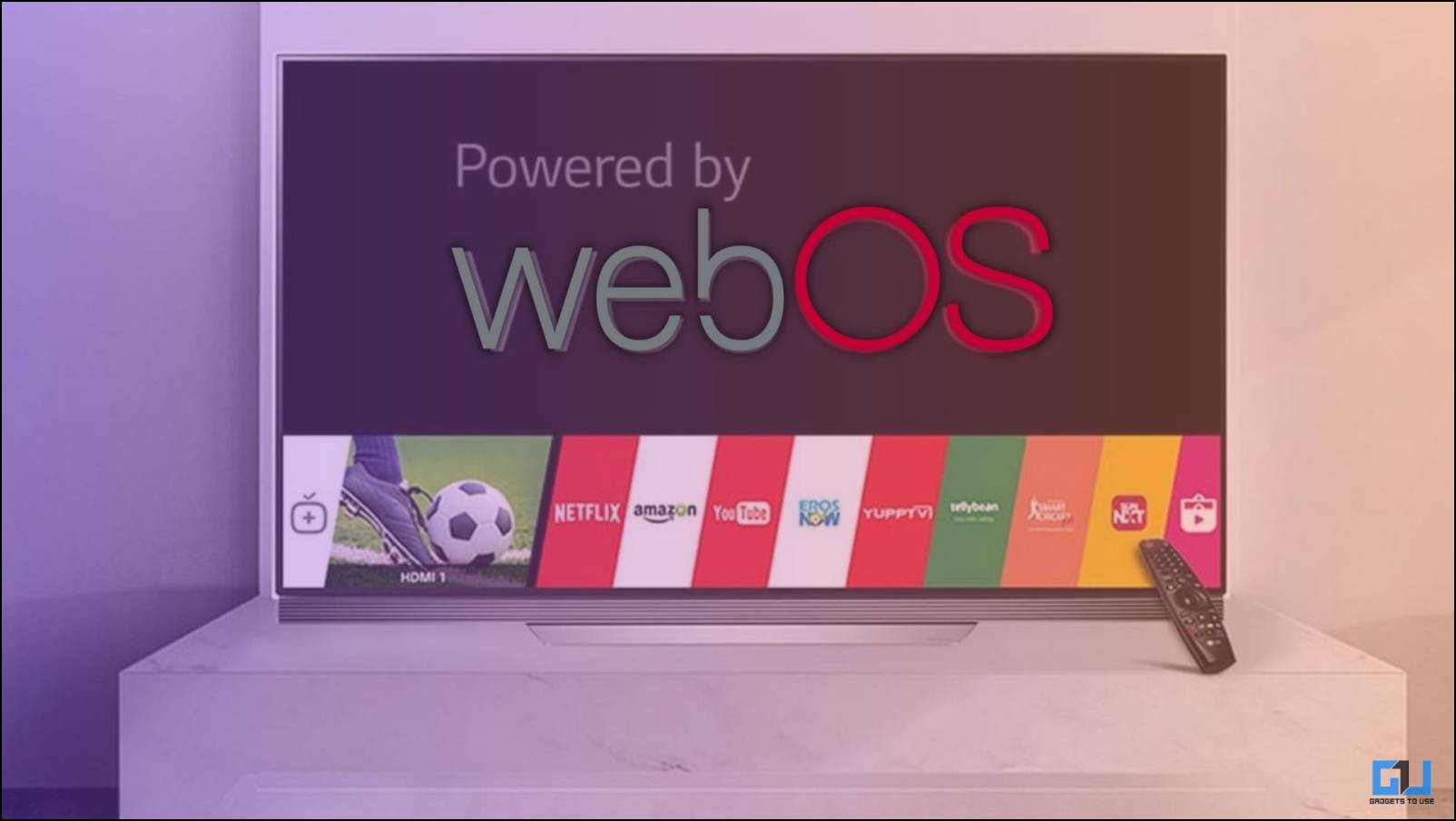 WebOS is LG's operating system for smart TVs which they have started lending to other manufacturers. It is a Linux-based platform initially developed for phones but later acquired by LG. It focuses on simplicity and ease of use. Newer versions of WebOS have shifted to a more full-screen menu experience consisting of apps, recommendations, and other tiles. 
WebOS TVs are often paired with a motion-sensitive remote called the Magic Remote that lets you point and click at on-screen items, similar to a computer mouse. You can also find plenty of your favorite streaming apps and services, so it isn't lacking in that department either. 
Android TV vs. WebOS: User Interface
The interface is one of the most important aspects of a smart TV, as you will be using it the most to access your apps and movies and change TV settings.
Android TV UI
Google has kept the interface of Android TV simple yet familiar. It is divided into four to six menus that are located up top. While rows of content, suggestions, and apps fill up the rest of the screen.
Users who have used an Android smartphone will notice familiarity with menus and settings options. This is a good thing as users don't have to refer to manuals or online guides as often to understand the layout of the platform.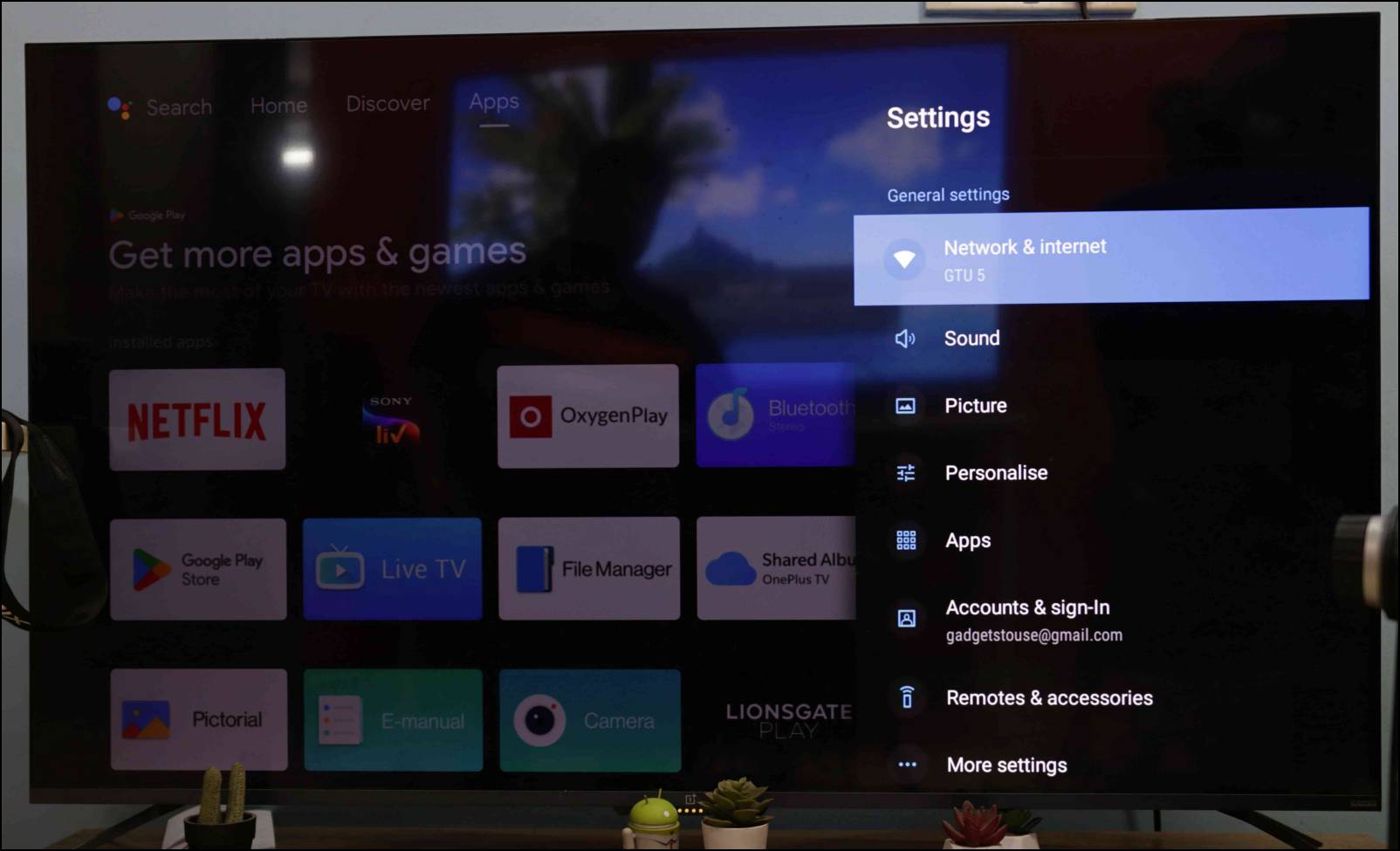 This is the default look of Android TV; however, some manufacturers may ship their TVs with a custom home screen-like interface for a content recommendation like Patchwall on Xiaomi branded TVs or Oxygen Play on OnePlus Smart TVs. 
WebOS UI
WebOS' interfaces highlight was its popular launch bar that can be called up with the home button on the remote. But in 2021, with the release of WebOS 6.0, the launch bar was ditched in favor of a fullscreen homepage. You get rows of recommendations, apps, and other TV menus and services.
The settings menu has been shifted to the left side. The new UI does make multi-tasking a bit tricky, not to forget that new users will have to go through a learning curve to get used to the layout of WebOS.
Third-party TV manufacturers can ship a slightly tweaked version of WebOS with their apps and services, but unlike Android TV, you won't find a custom homepage interface in WebOS. You can still bring up content suggestions while watching something by pressing the voice assistant button. 
Android TV vs. WebOS: App Support
Apps add the smart to smart TV because they can add various functionality to your TV.  It is also important to note that as the number of streaming services increases by the day, it is crucial to have a TV operating system that has decent app support so that you do not miss out on the latest trending movie or tv show.
Android TV App Support
Android TV comes with the Google Play Store, which lets you access a vast library of apps, games, browsers, and other services. So you can be sure that you will likely find the app you are looking for.
You can use the same Google account as your phone to directly download apps to your TV with Play Store. If the app you want is not available on the Play Store, then you can sideload apps thanks to the open nature of Android.
WebOS App Support
Those who want to download additional apps can use the LG Content Store bundled with the WebOS. The selection of apps is comparatively low here, and you might not be able to find other apps that you are looking for. There is also no option to sideload apps, which you can do on Android TV.  
WebOS TV also comes with a bunch of pre-installed streaming services. Some brands even add region-specific apps. This should suffice the requirements of most people who only look for their favorite apps like Netflix or Amazon Prime Video when buying a smart TV.
Android TV vs. WebOS: Remote Control
The remote control is how you will interact with your smart TV interface. Both Android TV and WebOS have different approaches toward their remote controls bundled with the TV.
Android TV Remote
Android TV remote has a small form factor. As for buttons, you get the power, navigation, home, menu, and volume buttons. There is also a dedicated Google voice assistant button. Besides these, you may find some remotes with additional shortcuts to access streaming services quickly, but that's just about it. 
The lightweight design does feel comfortable to hold for a longer duration, but the lack of buttons makes it annoying to browse through the UI. This is especially evident while trying to type something using the virtual on-screen keyboard.
WebOS Remote Control
WebOS comes with LG's Magic Remote. It looks like most other TV remotes that we are used to with numeric, power, menu, navigation, and volume buttons. You can also program the numeric keys to shortcuts for different apps. The remote is a bit bulkier but feels more ergonomic in the hands. 
The magic part of this remote is its point-and-click feature. It lets you move the remote in the air to point at an item on the TV screen, and then you can click to open, play or pause it. This makes navigation a whole lot easier. 
Android TV vs. WebOS: Voice Assistant
The voice assistant can be helpful when you want to use voice commands to control your smart TV. Android TV and WebOS both come with an onboard voice assistant that shares some general similarities but differs in functionalities.
Android TV Voice Assistant
Google Assistant is the default voice assistant on Android TV. It can turn off the TV, change channels or inputs, open apps, and manage other settings. You can set it up as a smart home speaker and then use it to control other smart devices around your house.
You can ask questions about any topic, and it will answer using Google's search results. Sometimes it can even answer follow-up questions correctly and supports multiple regional languages.
WebOS Voice Assistant
The default voice assistant on WebOS is quite generic but can be used to control the TV and change volume, channels, input, or settings. It can take up granular commands like, "Play this movie on Netflix from the beginning." It also does a good job of understanding foreign accents.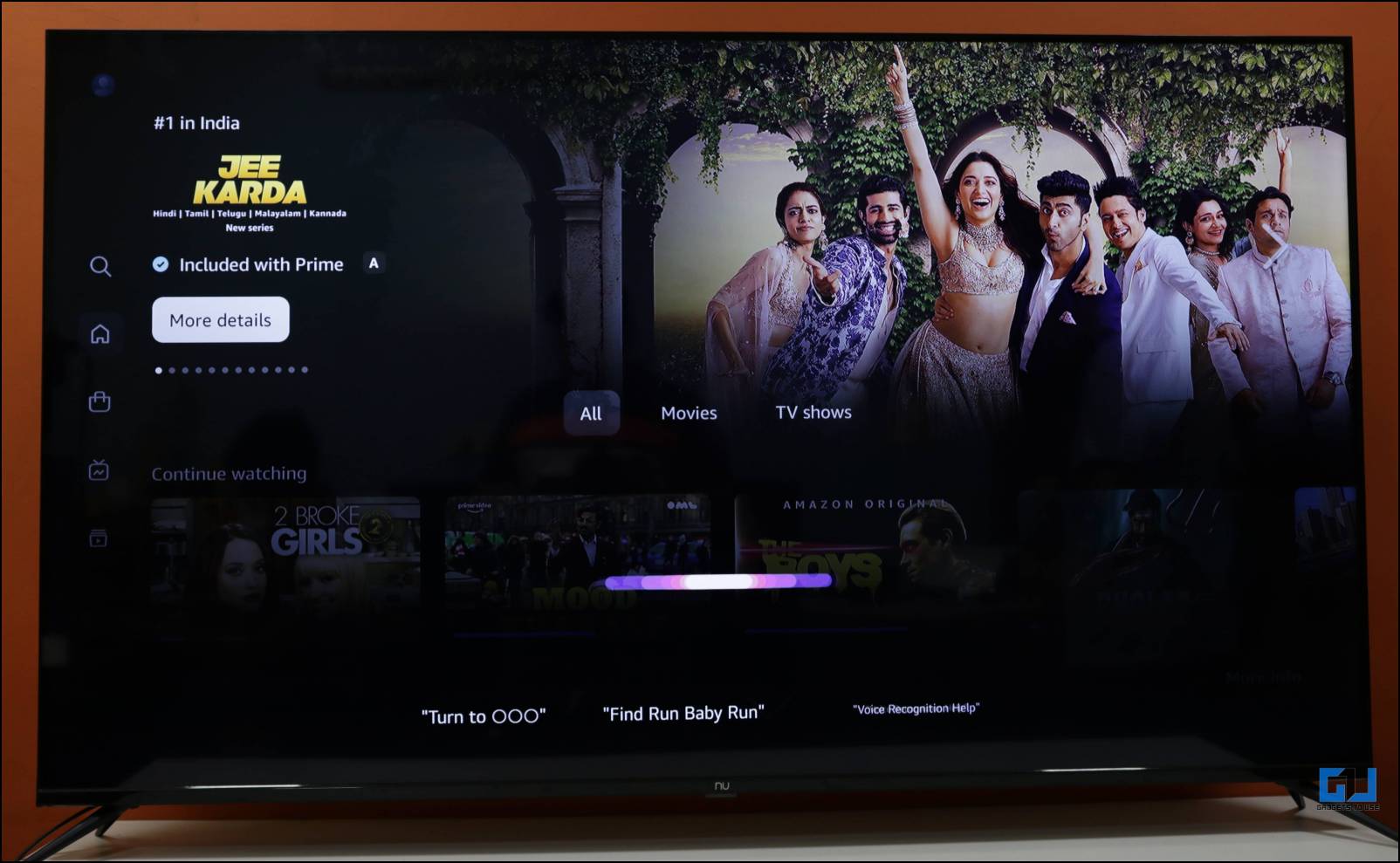 However, if you want to use Google Assistant on your WebOS TV, you can do so by linking the ThinQ app to Google Home or downloading the Explore Google app on your TV. Nonetheless, webOS allows you to control smart home devices using the LG ThinQ app.
Android TV vs. WebOS: Casting and Screen Mirroring
Casting lets you display the contents of your phone or tablet on your TV's display wirelessly. Android TV and WebOS also allow you to cast and mirror your devices, albeit they use different technologies.
Android TV Casting and Screen Mirroring
For casting, Android TV comes with Chromecast integration that lets you mirror your smartphone on the TV. Make sure your phone/tablet and the TV are on the same WiFi network.
Chromecast allows you to cast content from Chromecast-enabled apps and services like Netflix, Amazon Prime Video, Disney+, Hulu, and more.
The only issue is that it does not support Apple's AirPlay. So iPhone users will have to download a third-party alternative from the Play Store to cast their devices on the TV.
WebOS Casting and Screen Mirroring
WebOS also lets you mirror your smartphones and tablets with its SmartShare feature. You can use Miracast to cast your favorite multimedia content on your TV. The TV and your phone should be on the WiFi network to take advantage of these features.
There is also some good news for owners of Apple devices, as WebOS comes with AirPlay support, so you can easily connect and cast the display of iPhone, iPad, and Mac.
Android TV vs. WebOS: Gaming Features
Gaming can be an important aspect for some while buying a smart TV, whether talking about some basic games that can be directly downloaded to your TV or playing games on a console. 
Android TV Gaming
For casual gaming, you can find plenty of fun and interesting games in the Games section of the Google Play Store. The library of games, just like the apps, is vast.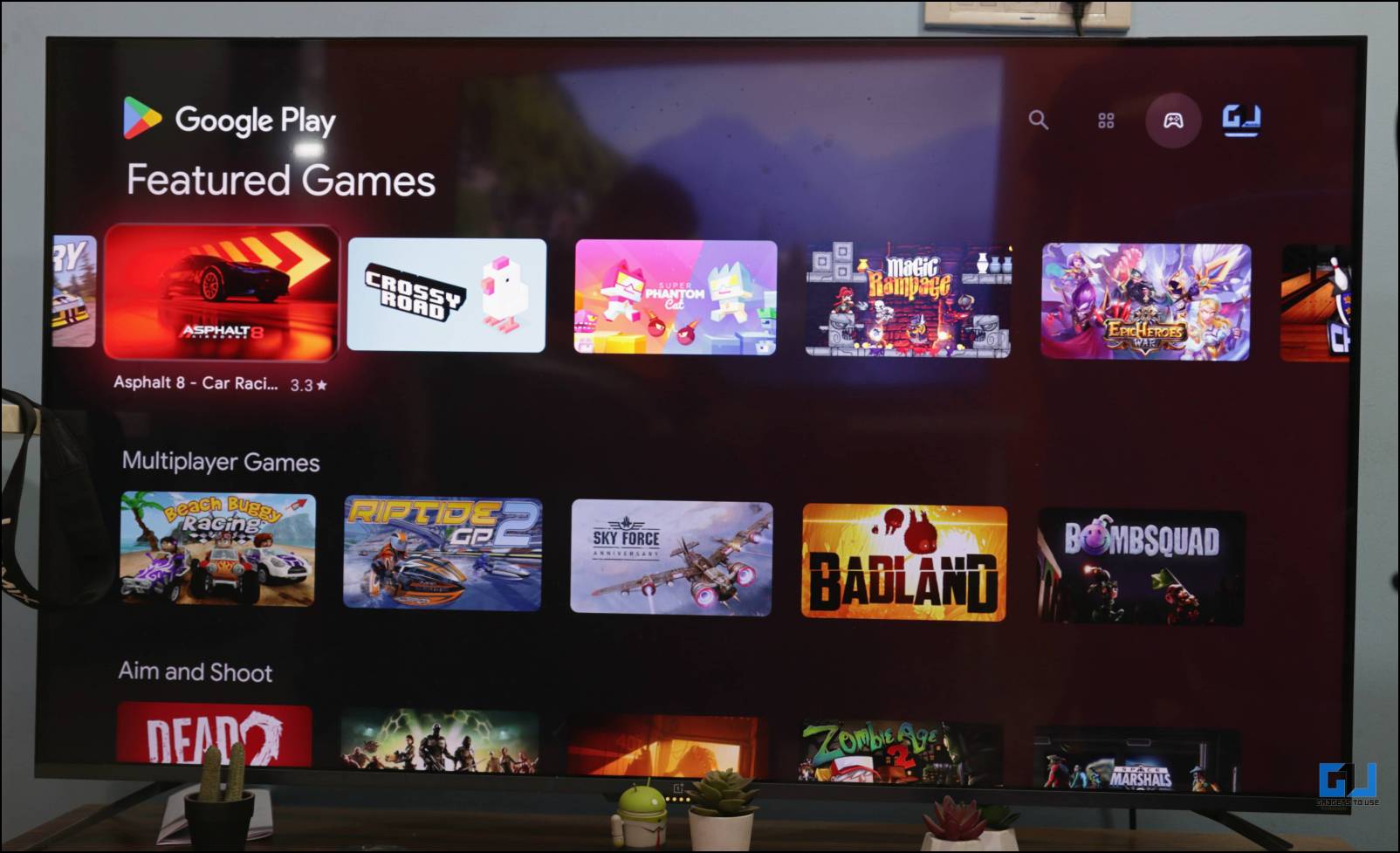 If you have linked the same Google account as your phone, you can track your progress and achievements on your phone with the Google Play Games app. 
When it comes to dedicated gaming via consoles, I didn't find any specific gaming-related option in the settings menu on Android TV. You get a few options for Ultra Smooth Motion and Smooth gradation, but that seems to be it; it depends heavily upon the manufacturer.
WebOS Gaming
WebOS has a selection of casual games that your kids will enjoy. Though not as large as the one available for Android TV, it is still decent. You can find these games in the LG Content Store on WebOS.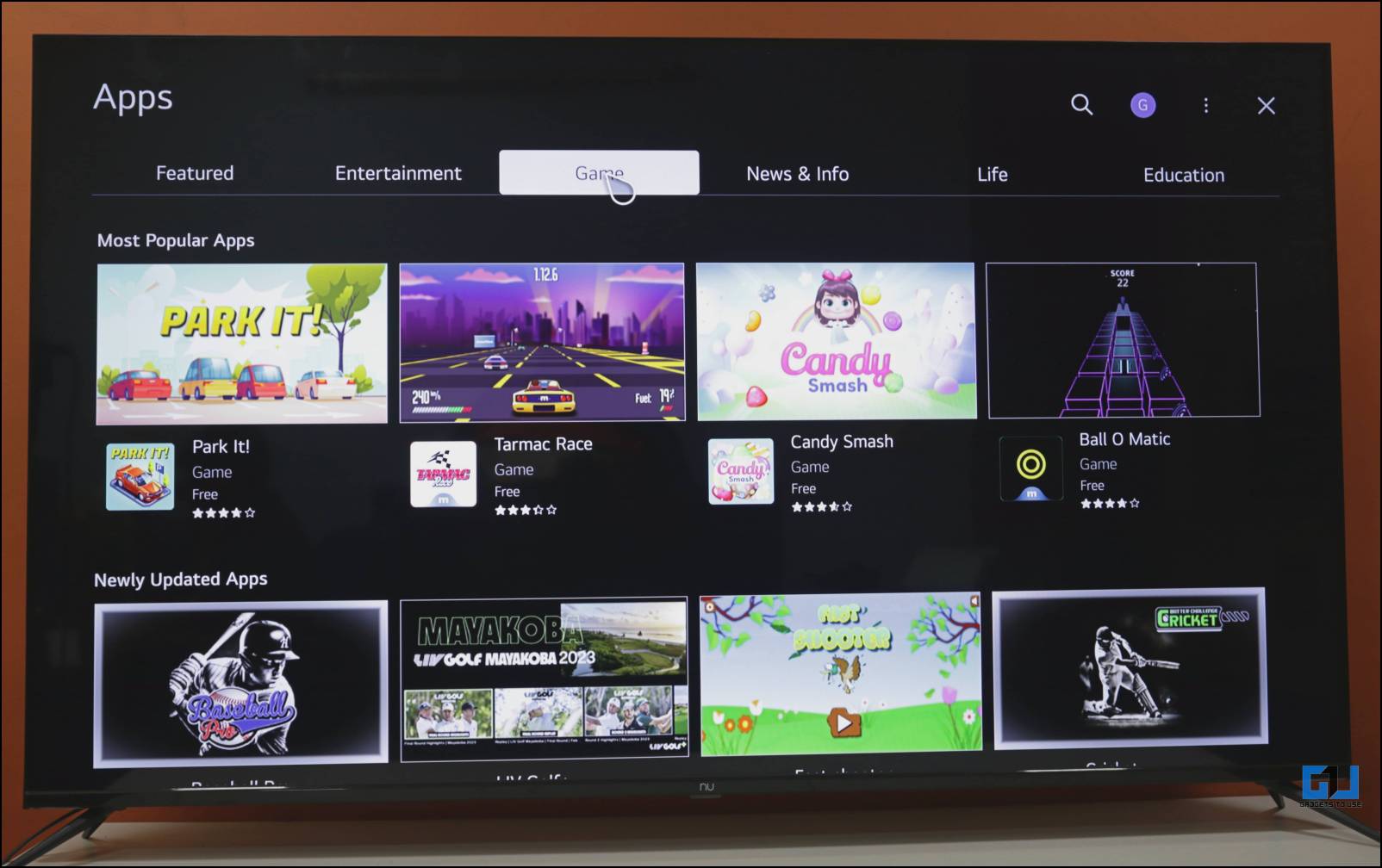 What WebOS lacks in casual games, it makes it up for console gamers and PC gamers. WebOS comes with a Game Optimiser that automatically adjusts the white and black balance based on the genre of game you are playing. It also enables low latency mode and shows the refresh rate of the TV.
There is also a darkroom option that adjusts the brightness of the TV if you are playing games in a dark room. This is one of the better suites of options that one could expect from a smart TV for gaming.
Android TV vs. WebOS: Price and Supported TVs
Whichever operating system you decide to go with, in the end, it all comes down to price and how much it will set you back. Some might also want to know if their preferred brand ships their TV with the particular OS.
Since Android TV has become such a household name, several trustable TV manufacturers are using the operating system for their smart TVs. You can find various TV models from competing brands running Android TV. However, you might have difficulty finding good Android TV options at the lower price range. There are a few options, but the rest are a bit more costly.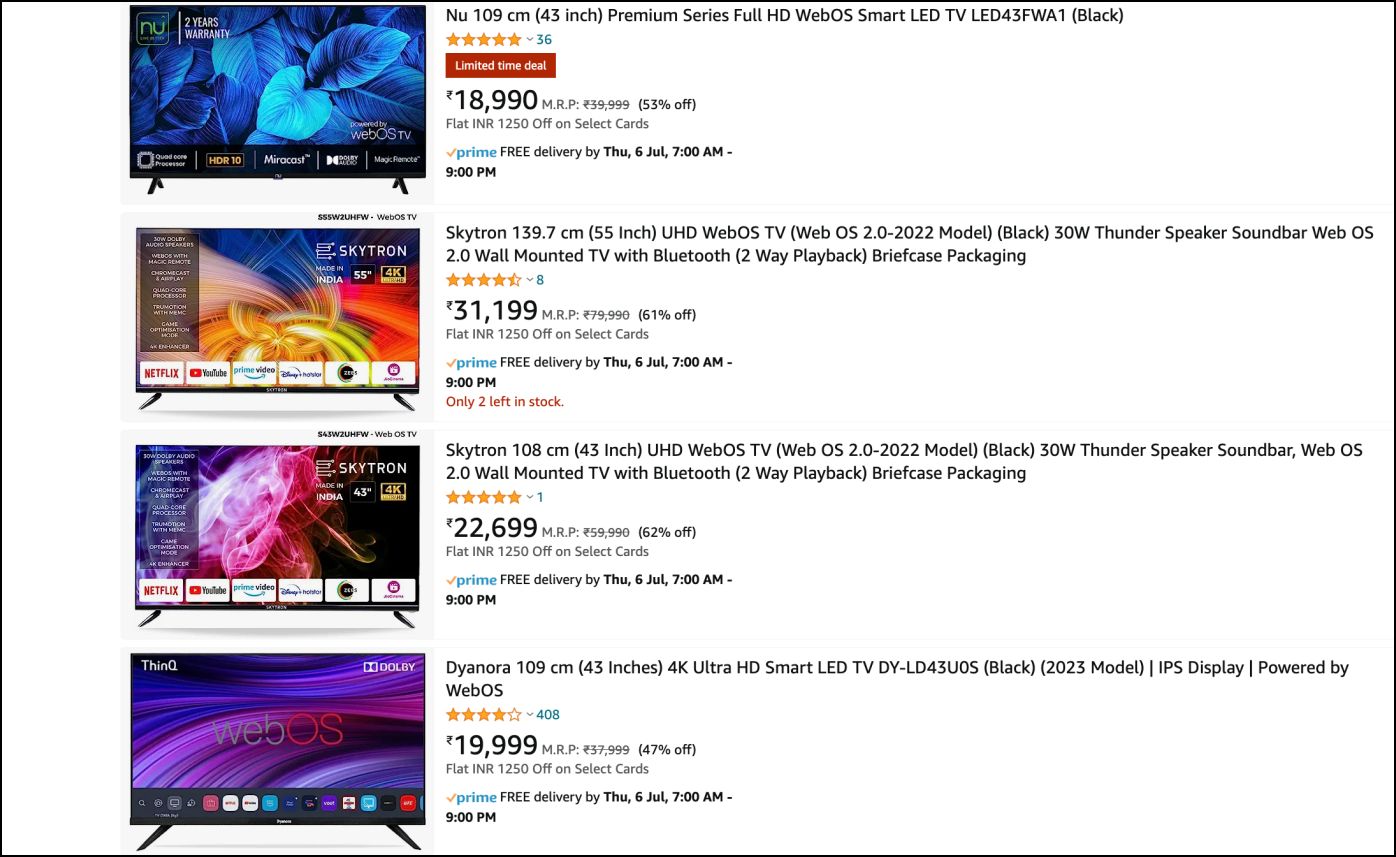 WebOS is usually found in LG smart TVs. Given that it is their operating system, you should go with an LG TV if you want the complete WebOS experience. Since the brand makes several smart TV models, you can easily find a WebOS smart TV at a price that suits your wallet.
A few other brands besides LG, such as NU, have recently started adopting WebOS for their TVs. But the list of manufacturers is nowhere as large as Android TV.
Android TV Pros and Cons
Android TV and WebOS had their take on how a smart TV should work. Having discussed both the platforms and comparing them in different categories against each other, it is time we mention their pros and cons.
Pros
Extensive app library via Google Play Store.
Support for Google products and services, including Google Assistant.
Option to sideload apps.
Easy to navigate interface.
Great compatibility with other Android smartphones and tablets.
Cons
Lackluster remote control.
Missing support for Apple AirPlay.
No dedicated gaming modes or features.
WebOS TV Pros and Cons
Pros
Fast and responsive user experience. 

SmartShare makes casting and screen mirroring quite seamless. 

Comes with built support for Apple AirPlay. i

Games Optimiser offers a lot of good options for gamers.

Available at lower cost TVs.

Magic Remote makes navigation easier.
Cons
The user interface has a learning curve for Android users.

A limited selection of apps and games. 

Not every model comes with Google Assistant built-in.
Android TV vs. WebOS: Which is the Better Smart TV OS?
This comparison shows that both operating systems are quite capable platforms for smart TVs.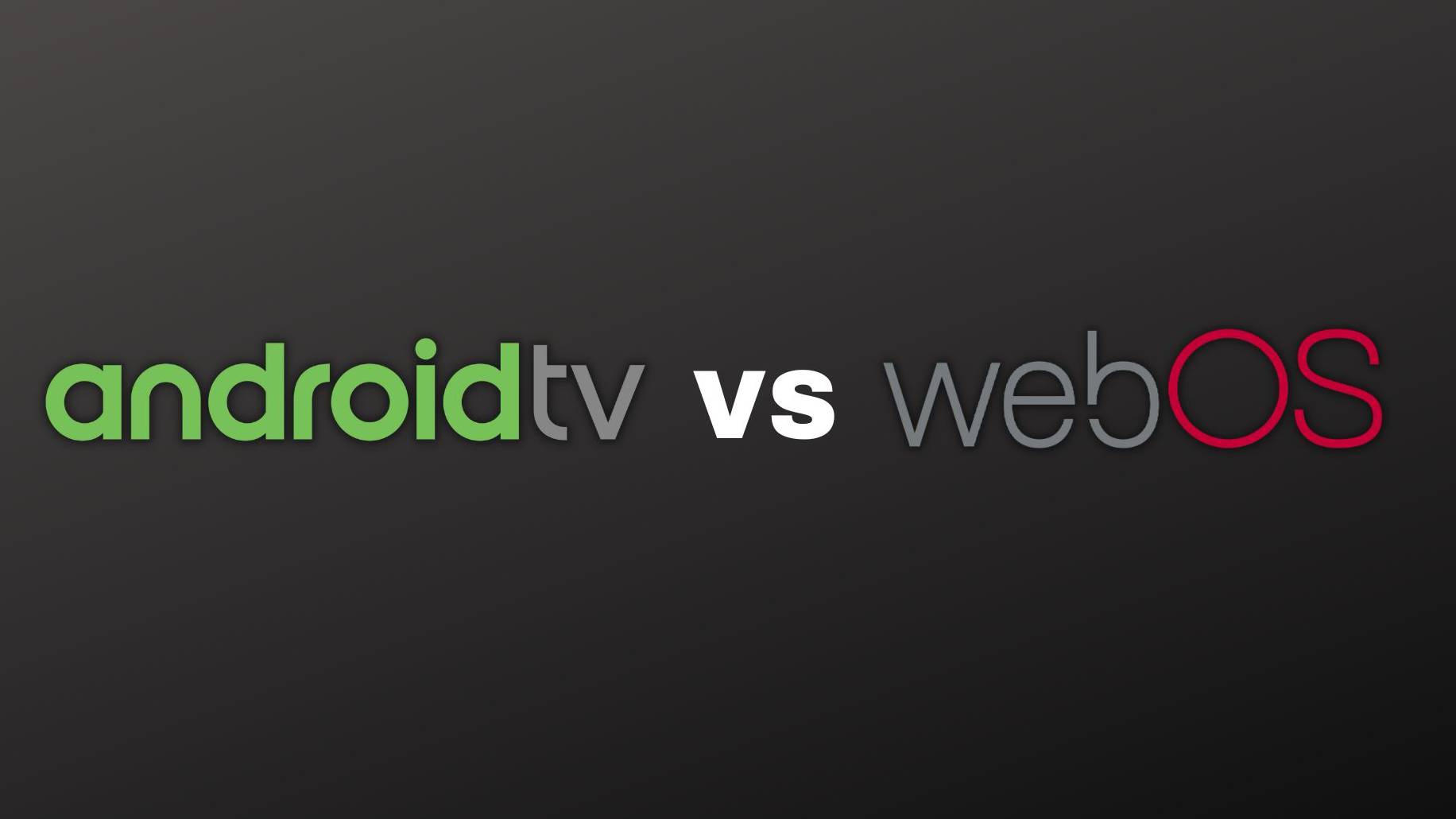 While Android TV gives you a larger catalog of apps alongside support for Google apps, it falls short when it comes to gaming and casting options. WebOS has an edge for its UI and Magic Remote but lacks decent app support. Though the required programs are available, you get limited functionality in certain areas.
If I choose between an Android TV or a WebOS smart TV, I'd prefer WebOS because it feels more suitable for a TV operating system. Android TV feels like a reskinned version of Android. It still needs to mature to be more TV friendly. I don't mind the lack of Google apps or services because I will not use my TV to check my emails.
Frequently Asked Questions
Q. Which OS is Best for Smart TVs Between Android TV and WebOS?
WebOS seems more refined and has a more polished interface between the two. There are a lot more features that enhance your TV viewing experience. On the other hand, Android TV still feels lacking in certain areas. But then again, it has an easier-to-navigate UI, vast app support, and more ground to play with, thanks to the open nature and popularity of Android.
Q. Can I Cast My Phone's Display on WebOS Smart TV?
Yes. WebOS lets you easily cast or mirror your phone's display using the SmartShare feature. Since WebOS comes with Apple AirPlay, iPhone and iPad users can also share their screens on WebOS.
Q. Is Android TV the Same As Google TV?
Android TV and Google TV are almost identical to the point that Google TV comes with the same Android TV OS. The only difference between the two is the redesigned UI of the Google TV.
Q. Is the New WebOS 6.0 Available for LG Smart TVs?
No. WebOS 6.0 is only available for LG Smart TVs released in or after 2021. The latest models come with the WebOS 6.0 interface pre-installed. Ensure you get the latest version before buying a new WebOS TV.
Q. Are There Any Game Optimization Features for Android TV?
No. Android TV does not have a lot of options for gaming optimizations besides a couple of options under Picture mode. So if you plan on using your smart TV with a gaming console, you should consider WebOS as it comes with its Game Optimizer. It lowers latency and changes the white and black balance based on your game type but some Android TVs may also offer exclusive gaming features.
Q. Can I Use Google Assistant on WebOS Smart TVs?
This depends on the model and brand of your WebOS TV. Some models come with a built-in Google Assistant integration that you can access using the shortcut button on the remote control. LG Smart TVs need to be connected to Google Home to use Google Assistant. But certain WebOS TVs do not have any support for Google Assistant. Instead, they come with their own Voice Assistants.
Wrapping Up
This brings us to the end of Android TV vs. WebOS TV comparison. In the end, it is also a question of price and your preferred brand. So it would be best to go with whichever option fits your criteria. Do reach out to us if you have any queries related to this article. Till then, stay tuned on GadgetsToUse for more such articles, reviews, and How-Tos.
You might be interested in:
You can also follow us for instant tech news at Google News or for tips and tricks, smartphones & gadgets reviews, join GadgetsToUse Telegram Group or for the latest review videos subscribe GadgetsToUse YouTube Channel.