Noted computer peripheral manufacturer, Amkette, earlier today showed off their latest offering for the Indian market – the USB 3.0 Superspeed Hub. The USB 3.0 Superspeed Hub is basically a USB hub which operates faster than other usual hubs we see in the market. The device can be used to interface a lot of USB-based devices such as hard disks, flash drives, smartphones, etc.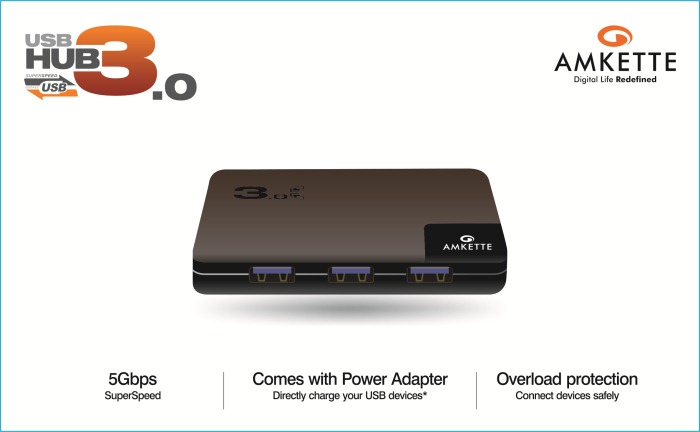 The hub comes USB 3.0 SuperSpeed certified (you might recall seeing 'SS' marks on USB 3.0 ports on your laptop), which delivers 5x-10x faster speeds when compared to the older version, i.e., USB 2.0. This plug and play device can achieve speeds of up to 5Gbps (Gigabits per second, not to be confused with gigabytes per second) according to the manufacturer.
The hub is also capable of outputting current up to 900mA, which means you can charge your phone and other devices faster than regular USB 2.0 hubs. USB 2.0 hubs traditionally are known to output a maximum of 500mA current, which often leads into long charging hours.
The hub comes with 4 ports which are USB 3.0 certified. While guaranteeing good speeds, the hub is also backward compatible to work with USB 2.0 and USB 1.1 devices, which makes it a very handy addition to your gadgets. Another goodie included by Amkette in the package would be a power adapter, which means you can use your USB hub to charge up to 4 devices without having to turn on your computer, or use a separate charger for all 4 devices.
The hub will ship with a power adapter (as mentioned above) and a USB 3.0 cable which will be 1m long. The hub will be compatible for use with most popular operating systems like Windows 8/7/Vista/XP, Linux and Mac OS X, and would come with a warranty of 1 year.
The USB 3.0 Superspeed Hub is priced at 2,299 INR, and availability is expected to start soon.