Google launched Nexus 5 (Quick Review) couple of days back which will soon be available on India's Playstore and will give stiff competition to all the Snapdragon 800 high end performance devices out there. This Phone is also manufactured by LG whose recent Flagship device LG G2 (Full Review) was also a performance beast with same chipset. Let's put these phones against each other to see to what extent LG G2 will justify its higher price tag against Nexus 5.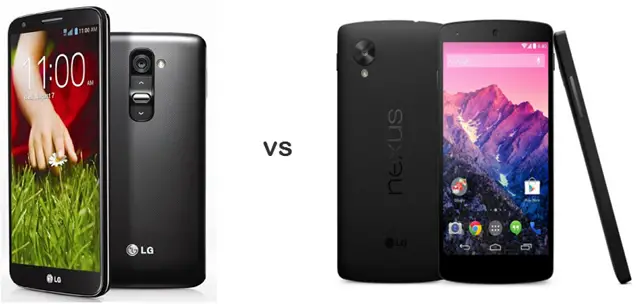 Weight and Dimensions
LG G2 has body dimensions of 138.5 x 70.9 x 8.9 mm which is almost similar to Nexus 5's 137.9 x 69.2 x 8.6 mm form factor. The Difference is that LG G2 has thinnest bezel at the front and houses a 5.2 Inch display while nexus 5 manages a 4.95 inch screen. Also, LG G2 is slightly heavier at 143 grams as compared to 130 grams Nexus 5.
LG G2 has an unconventional placing of the power key and Volume rocker at the back, which takes some getting used to. The idea is to conveniently increase or decrease volume while making calls, as index finger naturally rests at the back. The features wasn't very well received and has not made it to the Nexus 5.
Display and Processor
LG G2 with True HD IPS LCD Display with Full HD resolution and 5.2 Inch diagonal size had one of the best and crispiest displays that we have come across. Since LG has provided us with 4.95 inch Display Nexus 5, based on similar technology and Full HD resolution we expect this display to be equally good!
Yes the LG G2 has a larger display but the difference is not much and quality of both of these displays will be equally good. LG G2's wonderful display even though bigger, appeared over crowded, especially the notification bar, because of its cluttered UI. Nexus 5 with Android 4.4 KitKat won't have this issue.
The Processor of both of these devices is the latest and the best Snapdragon 800 MSM8974 with 4 fast and efficient Krait 400 cores clocked at 2.3 GHz. The GPU is Adreno 330, the best offering from Qualcomm. LG G2 was extremely snappy. In spite of the custom UI, we did not find any hint of lag even while extensive gaming. The Nexus 5 with stock Android 4.4 KitKat optimized for lower RAM system can only be better.
Camera and Memory
Both phones come from LG so we expect the camera Tech to work with similar efficiency and quality. The LG G2 camera with 13 MP sensor, auto focus and Optical image stabilization is capable of Full HD video recording at 60fps. The front camera of 2.1 MP is also capable of Full HD video recording for quality Video chat.
The Nexus 5's 8 MP primary camera has lesser pixels but also features Optical Image stabilization, to eliminate the motion blur. The MP count wont effect your camera quality and details much, especially on the 5 inch screen. We will have to wait to find out how much better the camera will perform, but LG G2 camera will certainly be better with the additional options you get in the camera UI.
The Internal storage in both of these phones is not extendable. Both of these phones will provide you with 16 GB and 32 GB internal storage variants with 2 GB RAM for efficient multi tasking.
Battery and Features
LG G2 has a mammoth 3000 mAh battery which will easily give you more than 1 Day of usage. LG has also used GRAM in this device which is a cache between GPU and display and it helps conserve battery by up to 10 percent.
Battery seems to be a limitation in Nexus 5, with a battery capacity of 2300 mAh. However Android 4.4 provides with hardware sensor and Wi-Fi batching, but it's too soon to know how effective these techniques will be. Independent testing by Google claims 17 hours of talk time and 7 hours of LTE Browsing which is not bad at all.
LG G2 will expectedly receive 4.4 update in coming weeks, but Nexus 5 will feature this software out of the box which makes it extremely alluring. LG G2 has almost all the software tweaks that you have seen in TouchWiz UI from Samsung and much more. Several multitasking features like Slide Windows are quite handy.
Key Specs
| | | |
| --- | --- | --- |
| Model | LG G2 | LG Google Nexus 5 |
| Display | 5.2 inches Full HD | 4.95 inches, full HD |
| Processor | 2.3GHz quad core | 2.3GHz quad core |
| RAM | 2GB | 2GB |
| Internal Storage | 16 GB/32 GB | 16GB/32GB |
| OS | Android v4.2 | Android v4.4 |
| Cameras | 13 MP/ 2  MP | 8MP/1.3MP |
| Battery | 3000mAh | 2300mAh |
| Price | Around 37,999 INR | Starting 28,999 INR |
Conclusion
LG G2 and Nexus 5, both will give you similar performance but Nexus 5 will cost you a lot less and will deliver where it matters. With brilliant display, Android 4.4 and Snapdragon 800 at your service it's not as hard to settle for slightly lesser camera and battery backup.