Present day Mobile and Tablet devices offer different alternatives to the user in regards to the types of button he can have on his device based on his selection of the particular device. While devices on stock android OS tend to have on-screen buttons, manufacturers like Samsung, and devices on Windows 8 OS provide a mixture of Capacitive and Hardware buttons to the user. Apple devices have become synonymous with the home button – the only hardware button on the iPhone and the iPad which faces the user. Similarly Samsung, which is another manufacturer known for providing a hardware home button on its devices has launched the new Samsung Galaxy S5 with a fingerprint scanner on its home button. LG has launched its new high end model, the  LG G2, with hardware buttons for volume and power on the very back of the phone.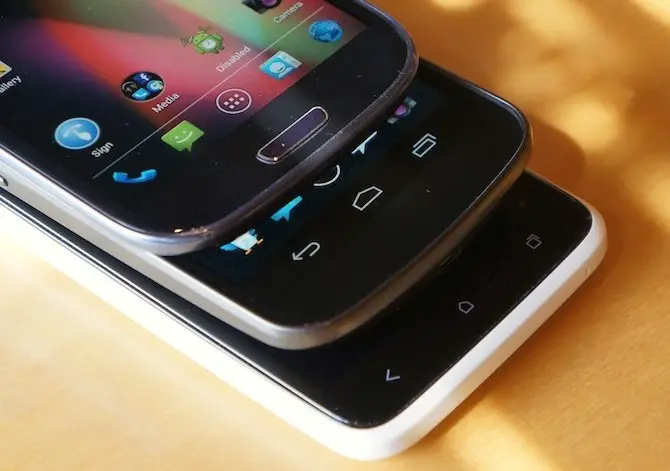 It can be deduced by looking at these new models that hardware buttons might be here to stay – the functions they perform may change or multiply, such as the home button also incorporating a fingerprint scanner – but more or less manufacturers are sticking with the ongoing trend of having some, if not all of the buttons required to navigate the interface of the device as hardware buttons. Similarly, capacitive and on screen buttons have also caught up, with many premium devices discarding hardware buttons and preferring to use capacitive, on-screen or a mixture of these two assorted with hardware buttons.
Each user who has used these three categories of buttons might have his own preference and opinion. Let us consider some factors which can be applied to figure out the disadvantages and advantages associated with each category of buttons.
Physical durability
One of the known problems with users who use their phones and tablets for a longer duration of time is the wearing off of the hardware buttons. Over time, the buttons may become unresponsive. With better placement of the few hardware buttons on smartphones this problem has reduced but hasn't completely gone away.
On screen buttons are pictorial representations of hardware buttons on your phone screen and they aren't without their own risks in this department either – they live and die with the screen. If the screen has completely shattered then you might not be able to use hardware buttons or on-screen buttons, but if your screen has suffered merely a few cracks particularly only in the region where the on-screen buttons have been placed then you will not be able to use the buttons even though the screen is visible. However with stronger screens turning up every other day on devices the probability of this risk is becoming smaller.
Capacitive buttons have a similar problem – a fall may crack that particular corner of the device where the button is placed, resulting in an unusable capacitive button.
Customization
With more and more users opting for phones which provide them with better abilities to customize their devices, On-screen buttons are fast becoming a preference for users. The position of On-screen buttons can be changed with the orientation of the screen and as per the desire of the user. This advantage is naturally not available with Capacitive and Hardware buttons and therefore they lose out on this feature in comparison to on-screen buttons.
On-screen buttons are completely dynamic – they will go into low profile mode or almost hide while on videos or during gaming and a a particular button may appear or disappear whenever needed such as the Menu button on the Stock Android OS which comes with the Nexus series. Hardware and capacitive buttons on the other hand are permanent and there is no scope of any physical customization on these.
Display
On-screen buttons however come with a very important disadvantage – they reduce the actual screen size of the device. For example, the new Nexus 5 might come with a 5 inch screen size specification but only about 4.6 inches of this screen will be actually usable.
Moreover, these screen buttons may not go away even when there is no need for them to be present. Consider watching a movie on the MX Player app – the buttons on the Nexus 5 would stay down below, in low profile mode but still very much present, eating up the screen. Similarly, they will be visible during many games. Google, in response to this problem has come up with the immersive mode which allows users to go truly full-screen, hiding both the navigation and status bars. But as app developers will have to specially add support for this functionality on a per app basis, it would take some time for the immersive mode to work on every app.
Although Capacitive and Hardware buttons may not have this specific problem, they have a very similar issue which is discussed in the section below.
Bezel Size
Capacitive and Hardware buttons need space on the body of the device. Apart from a few innovative designs, most hardware 'Home' and 'Back' buttons face the user and are situated beneath the screen. This results in an increase in Bezel size. While some users might prefer the extra bezel for a comfortable grip, increased bezels imply loss in screen size – bigger screens could have been provided on devices within the same phone dimensions if bezels were reduced. But then again, having bigger screens which extend to the edges increases the risk of damages to the screen.
Therefore there is always a trade-off between the presence of the on-screen buttons, hardware buttons and capacitive buttons as they all reduce the actual display size in their own way.
Accidental triggering
Hardware buttons, specifically the Volume and Power buttons are generally situated on the sides. Moreover other hardware buttons and capacitive buttons such as the Home button or the Back button are also present on the edges of the device. This may lead to accidental triggering of these buttons. For example, consider Nokia Lumia 1320 – the presence of the shutter button on the side means that you might trigger the camera on in the pockets of your pants or while fiddling for a tissue paper inside your purse.
On screen button do not suffer from this problem. Once your screen is switched off, so is any functionality concerned with them.
Conclusion
A lot of factors are in the minds of manufacturers while they produce a device, regarding the presence and placements of the different types of buttons. For example, consider the case of HTC and some other manufacturers, who had to do away with the 'Search' and 'Menu' buttons in compliance with Android building guidelines by Google. Similarly, Samsung realized that having an extra hardware button for the Camera on the phones is of no use at all as they graduated into the current age of actually 'smart' smartphones.
Some hardware buttons are currently both essential and logical – for example the Power button which can be used to both Switch on and Shut Down the device and the display. However there is a definite push from Google to reduce the number of Hardware and Capacitive buttons to a bare minimum, and to concentrate on better placement of the on-screen buttons. Likewise, Apple provides a single 'Home' button facing the user and has continued with the same trend on all its devices. The Nokia Lumia series devices have no hardware buttons on the front at all – they use capacitive buttons instead (Support for on screen buttons is coming soon with Windows Phone 8.1).
On Android devices at the very least, there is a growing need of consistency for a unified experience for the end user. A navigation mechanism which is similar if not exactly the same will not only help existing users, it will also assist in attracting new, first time users who stay away from the android platform due to their presumed complexity of android devices.
Overall the best choice for you will depend on your usage. If you like gaming and watching videos more often, stay away from the capacitive buttons as you might accidentally press them while playing games or they will irk you for the space they acquire. If you like to read more, capacitive buttons will be beneficial as they are aligned on the edge of your screen. Opt for hardware buttons if they are in line with your taste, but most people will disagree with the presence of numerous physical buttons on their devices.