Touchscreen are devices are the present and future of smartphones but there is still a whole crop of consumers who would go in for the old school physical QWERTY keypad any day over any other form of typing. It's pretty rare that the two come together to create a success story but the smartphone manufacturers like to have such a device in their lineup. Intex intends on bringing a device of this form factor on a budget soon and has started teasing the same as well.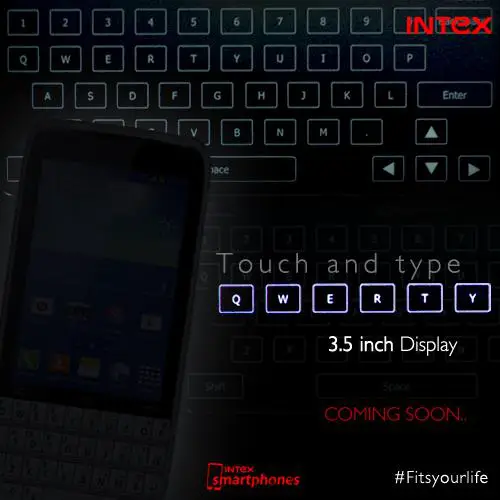 It has teased its  'Touch and Type QWERTY' phone on its Facebook page. It has just posted a teaser image with the device being in the background. There are not much details available about the smartphone  but Intex has stated that will have a 3.5 inch touch screen (unknown resolution) alongside a QWERTY keyboard taking charge of input duties. It will run on Android 4.2 Jelly Bean and ticking inside it will be a 1.2 GHz dual core processor.
Like is the case with every other budget smartphone these days, it will also come with the Dual SIM functionality. It will be the first time that Intex will be venturing into the QWERTY + Touchscreen arena for a smartphone. This form of smartphones gained some sort of popularity about 2-3 years ago when Android was expanding its market share rapidly and it gave an alternative form which was better and more functional than the regular one.
BlackBerry has been the only company that has been able to strike a chord with this form globally with its QWERTY cum touch devices but the same can not be said about the likes of Samsung and HTC who made similar attempts. The launch details of the device have not been revealed by Intex as of now and we expect the device to be launched either later this month or early next month.