Flipkart announced the In-a-day delivery last year and now, the e-commerce portal has come up with the Same Day Guarantee Delivery in 10 cities across India. With this Flipkart will be the only player in the e-commerce industry to provide this service in India and stand ahead of competition.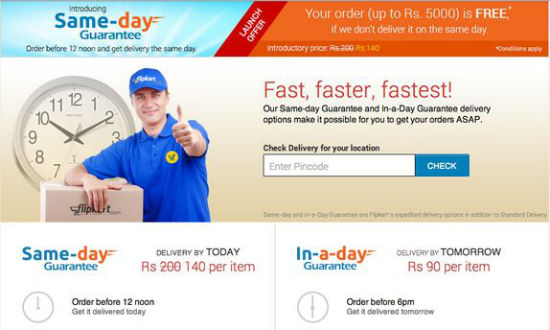 To avail the same day guarantee delivery, users ought to place their order before 12 noon on a business day and their orders will be delivered by 9 pm the same day. Also, users will have to shed Rs 200 per item for shipping on the same day and there is an introductory offer charging only Rs 140 till April 30.
This service will be available in cities such as Bangalore, Mumbai, Delhi, Kolkata, Gurgaon, Noida, Manesar, Faridabad, Thane and Navi Mumbai along with more cities in the pipeline.
Additionally, Flipkart has also announced that if they fail to deliver the ordered in the same day guarantee service on the same day, the users will receive the product for free provided that the amount is not more than Rs 5,000. However, this is also a promotional offer and it is applicable only till April 30.
Flipkart has extended the In-a-day Guarantee Delivery even to Sundays to cater to the needs of its consumers and this service is available in 10 cities. Also, in Bangalore the online retailer has announced the useful Try and Buy service.