It can be said that the Indian smartphone arena has become a playground for numerous manufacturers across the globe. The main reason for the vendors to venture into this market is that it is one of the potential rich places to do business. There are many key players in the market at this point of time that are joined by the likes of the homegrown vendors as well. The ultimate reason for the rapid growth in the market is due to the budget smartphones and this particular market segment is growing by the minute with new offerings that are pushed in. Now, we compare the latest entrant Xiaomi Redmi 1S with the hottest favorite Moto E to judge which one could be the best offering in the sub Rs 7,000 price bracket.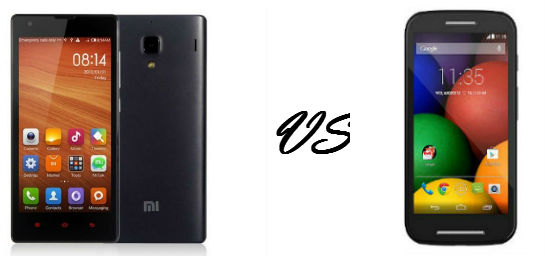 Display and Processor
The Redmi 1S is given a relatively larger 4.7 inch IPS LCD display that packs in HD resolution housing 1280×720 pixels and a decent pixel density of 312 pixels per inch. Going by comparison, the Moto E includes a 4.3 inch display with a qHD resolution of 960×540 pixels resulting in 256 ppi pixel density. Though the pixel count is more on the Xiaomi phone, the Moto E's display is great and as it delivers crisp and sharp content on screen. Otherwise, both the displays are topped with Corning Gorilla Glass protection to resist scratches and damage to a great extent.
The Xiaomi Redmi 1S uses a Qualcomm Snapdragon 400 chipset that houses a 1.6 GHz quad-core Cortex A7 processor supplemented with Adreno 305 graphics engine and 1 GB of RAM for efficient multi-tasking. On the other hand, Moto E draws power from a 1.2 GHz dual-core Qualcomm Snapdragon 200 chipset paired with Adreno 302 graphics engine and similar 1 GB of RAM. It is evident that the Snapdragon 400 SoC can deliver better graphics performance, efficient browsing experience and good set of features with four cores.
Camera and Internal Storage
There is an 8 MP primary camera at the back of Redmi 1S along with auto focus, LED flash, HDR shooting mode and FHD 1080p video recording capabilities. This is teamed up with a 1.6 MP front-facing camera that can make HD 720p video calls. In comparison, the Moto E becomes a weak contender with a 5 MP primary snapper that does not feature LED flash and there is no front-facing camera in the device while the smartphone industry has started witnessing selfie oriented handsets.
Again, the Redmi 1S features 8 GB of internal storage space, whereas the Moto E bundles only 4 GB of memory capacity. However, both the devices come with expandable storage support up to 32 GB by means of a micro SD card.
Battery and Features
In the battery department there seems to be not much difference as the Xiaomi offering comes fueled by a 2,000 mAh battery and the Moto E features a 1,980 mAh battery. We expect both the batteries to deliver a decent backup though not long hours of life.
While the Moto E runs on Android 4.4 KitKat out-of-the-box, the Xiaomi Redmi 1S is based on Android 4.3 Jelly Bean. But, the UI on both the devices is pretty much responsive making them on par with each other. We do expect the latter to receive the KitKat update sometime soon, but there is no word from the vendor regarding the same. Moreover, the Moto E comes with unique features such as Moto Migrate to transfer the content from the old smartphone to the new one and AfterMe navigation service. Also, the Xiaomi phone comes with the USB OTG feature that helps in easier transferring of content between two devices.
Key Specs
| | | |
| --- | --- | --- |
| Model | Xiaomi Redmi 1S | Moto E |
| Display | 4.7 inch, HD | 4.3 inch, qHD |
| Processor | 1.6 GHz Quad Core Snapdragon 400 | 1.2 GHz Dual Core Snapdragon 200 |
| RAM | 1 GB | 1 GB |
| Internal Storage | 8 GB, Expandable up to 32 GB | 4 GB, Expandable up to 32 GB |
| OS | Android 4.3 Jelly Bean | Android 4.4 KitKat |
| Camera | 8 MP/ 1.6 MP | 5 MP |
| Battery | 2,000 mAh | 1,980 mAh |
| Price | Rs 6,999 | Rs 6,999 |
Price and Conclusion
Both the Xiaomi Redmi 1S and Moto E are priced similarly at Rs 6,999 and hence, they would be suitable for those price conscious consumers who are looking for an upgrade. Of course, both are impressive smartphones in the entry-level market segment, but they are good enough in their own kind. For instance, the Xiaomi Redmi 1S is better in the processing segment and it has a better camera set and increased internal storage space. On the other hand, the Moto E has a good and clear display and Android KitKat OS. Finally, the buying decision depends on the user based on their requirements.