It's well established fact that Xiaomi Redmi 1S is offering much more than the asking price. Xiaomi will retail 40,000 units of Redmi 1S in India on September 2 which are expected to run out of stock very soon. This poste is meant to address all your Xiaomi Redmi 1S queries and before we proceed let's take a quick look at the hardware you will get for only 5,999 INR.
Xiaomi Redmi 1S Quick Specs
Display Size: 4.7 Inch  IPS LCD, 1280 X 720p HD resolution,  312 PPI
Processor: 1.6  GHz Quad Core Snapdragon 400 MSM8228 processor with Adreno 305 GPU
RAM: 1 GB
Software Version: Android 4.3 Jelly bean based MIUI 5.0 ROM
Camera: 8 MP, Can record 1080p Full HD videos
Secondary Camera: 1.3 MP, can record 720p Videos
Internal Storage:  8 GB
External Storage: 64 GB using MicroSD card
Battery: 2000 mAh
Connectivity:  HSPA+, Wi-Fi, Bluetooth, aGPS,  Micro USB 2.0
Dual SIM (Both Normal SIM)
QnA Redmi 1S Free RAM, Available Storage, Call Recording, Internet Sharing, Add More Home Screens
Question – Does Xiaomi Redmi 1S have Corning Gorilla Glass Protection?
Answer- No, the Smartphone was earlier reported to have Gorilla Glass 2, but the Indian version will come with Ashai Dragontrail scratch resistant glass. Buy a scratch guard.
Question – What comes inside the Box?
Answer- There are no headphones inside. Box contains micro USB cable, 2 Ampere wall charger, SIM adapters, Warranty card and Battery.
Question – Does Xiaomi Redmi 1S has Mi3 like heating issues?
Answer – No, we didn't observe any unconventional heating.
Question –What size SIM card is supported? Do both SIM support 3G?
Answer – Redmi 1S accepts 2 Normal sized SIM cards and only one SIM slot supports 3G. 3G Video calling option is not present.
Question – How is the call quality?
Answer – We didn't face any issue regarding signal reception or call quality. You can record all calls you make or receive.
Question – Does it have LED notification light?
Answer – Yes, It does have LED notification light on the bottom edge. LED light also supports multiple colors for different notifications.
Question – How much is Free Storage?
Answer – Out of 8 GB about 6.14 GB is available at user end. You can also use up to 64 GB MicroSD card as well.
Question – Can Apps be transferred to SD Card
Answers – No, you will have to remain content with little more than 6 GB of internal storage for Apps. Media and other content can be stored on SD card.
Question – Does lack of backlit capacitive keys affect Usage?
Answer – Not really, Since there are only 3 capacitive keys, your muscle memory will be adapted to it in no time and it won't make much of a difference.
Question – Does it support USB OTG?
Answer – Yes, Xiaomi Redmi 1S supports USB OTG
Question – How is the Display of Redmi 1S?
Answer – The 10 point Multi Touch IPS LCD display from Sharp Technologies has 720p HD display and everything looks crisp and clear. Colors are also very good. The touch is very smooth and responsive, but the glass is slightly reflective which effects outdoor visibility. Overall the display is impressive at these prices.
Question – How is the Build Quality?
Answer – build quality hasn't been compromised to accommodate budget price. The round side edges coupled with matte finish back cover gives a nice grip. The phone feels sturdy and poses enough heft to feel substantial.
Question – How is the Camera Quality?
Answer – The smartphone camera is the best you can hope for at this price range. The 8 MP rear shooter gives very good low light performance and can record 1080p videos. Advanced mode in Camera App gives you more options to toggle with including Macro Mode and an option to capture fast moving videos.
Redmi 1S Camera Review, Features, Photo Samples and Recorded Video Sample [Video]
Question – How much Did Redmi 1S score on Antutu and Nenamarks 2?
Answer – Antutu Score is 18,507. But irrespective of the score everything played fine. High end games work without any lag, but due to limited storage you can't keep many of them on board. Nenamark score was 43 Fps.
Xiaomi Redmi 1S Benchmark, Gaming Review with MC4, Blood and Glory, FC D Day and Temple Run Oz [Video]
Question –  How many sensors does Redmi 1S have?
Answer –  You can see all Sensors listed in the screenshot below
Question – How much RAM is available on first boot?
Answer – Around 500 MB RAM is free on first boot. RAM cleaner in MIUI Ram works smoothly.
Question – How is GPS Locking?
Answer – GPS locking was instantaneous. We got GPS locked in no time.
Question – How Loud is Loudspeaker on Redmi 1S?
Answer – Loudspeaker is good. Loudness doesn't reduce drastically when the phone is resting on its back. We are satisfied with the loudspeaker performance.
Question – Can Xiaomi Redmi 1S play Full HD 1080p Videos?
Answer – Yes, it can smoothly play full HD and HD videos.
Question – Can Redmi 1S be connected to Bluetooth headsets?
Answer – Yes, you can connect it to Bluetooth headset
Question – Is WiFi Display supported?
Answer – Yes, WiFi display is supported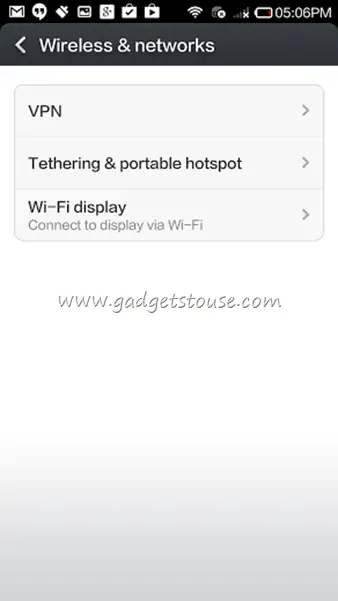 Questions – How is the Battery backup?
Answer – Battery backup is decent. We got 2.5 hours of backup with HD videos playing in loop. This will translate to 1 day usage for all basic  and moderate users. Good thing is that the 2050 mAh battery is removable and replaceable, Xiaomi will soon sell Redmi 1S battery on flipkart. Since a 2 A charger is bundled with the device, charging is fast.
Question – What kind of accessories will be available with Redmi 1S?
Answer – Xiaomi Redmi 1S back covers, cases, silicone gel cases, Scratch Guard, etc will go on sale along with the smartphone on 2nd September 2014.
QnA Xiaomi Redmi 1S Free MicroSIM Adaptors, OTG, Nenamark Score, Sensors List, Camera Resolution [Video]
Conclusion
Xiaomi Redmi 1S is undoubtedly a steal at 5,999 INR. You can register and buy the phone from flipkart on September 2. The phone is expected to run out of stock in matter of seconds. In case you have any other questions regarding Redmi 1S, let us know in the comment section below.
Xiaomi Redmi 1S India Unboxing, Full Review, Benchmarks, Gaming, Camera, MIUI Features and Overview [Video]