Oppo appears to be quite restless for its upcoming launch event to be held on October 29 in Singapore. The firm has been teasing the same since last month confirming the various aspects of its next flagship smartphone, Oppo N3. Lately, a teaser posted by the vendor revealed that the firm is eyeing to launch not one, but two smartphones at the event.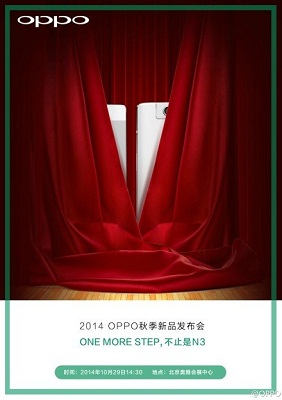 Now, it is claimed that the China based vendor will be unveiling the Oppo N3 and R5 smartphones with the latter speculated to boast a sleek and slim design as the other devices in the R lineup. Both the smartphones are believed to support 4G LTE connectivity, making the R5 the slimmest 4G phone launched in the market. However, Oppo has not officially revealed any details regarding the R5.
Talking about the earlier teasers, Oppo divulged the details regarding the camera module confirming a cylindrical rotating camera design, fingerprint scanner and other aspects of the N3. From the latest teaser showing two phones behind a curtain, one is bleived to incorporate a lithium aluminum alloy build, while the other to employ a stainless steel design.
With couple of days left for the unveiling, Oppo has already started accepting pre-orders for the N3. Also, the advertising campaigns of Chinese mobile stores reveal that the smartphone will arrive with a 5.5 inch FHD display, 16 MP camera module with the ability to rotate up to 206 degrees and a pricing of 4,928 Yuan, translating to approx. Rs 43,000.