These days, portable chargers or power banks are becoming popular we tend to rely more on the smart devices such as smartphones, tablets and others. Though such chargers are pretty easy to carry around, they do require us to take along the USB cord, adapter and other such necessities. Here is a device that can resolve all these issues.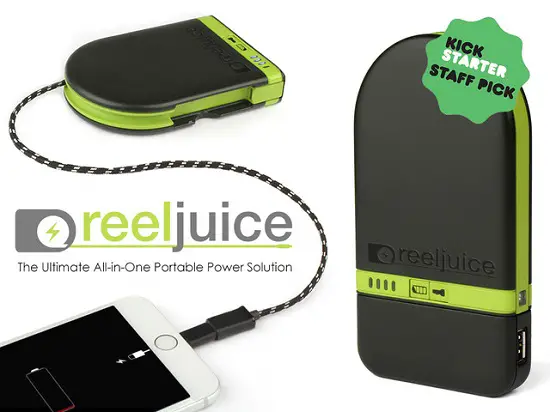 Reeljuice is the world's first battery backup pack that features inbuilt universal charging cable. There is a 48 inch long retractable charging cable that will charge many popular devices that are available in the market.
Reeljuice is the only portable power solution to integrate the patented retractable cord feel technology. It is claimed that the battery pack can also charge non-USB devices such as iPhones with Lightning adapter.
The backup battery pack comes with a 10 Watt rapid wall charger that can be used to charge the device. The Reeljuice is claimed to be capable to power the smartphone up to six times on a full charge. It comes in two variants – 4,800 mAh and 10,400 mAh respectively.
Reeljuice is designed by Lynktec and is launched by Kickstarter, a funding campaign held in October. The shipment of the device to investors is expected start by April 2015.