Xiaomi Mi4, launched yesterday for 19,999 INR will be up against some great phones like OnePlus One and Huawei Honor 6 in India. While we stacked it up against OnePlus One in India yesterday, let's take a look at how Mi4 compares to Huawei's globally appreciated Honor 6 in India.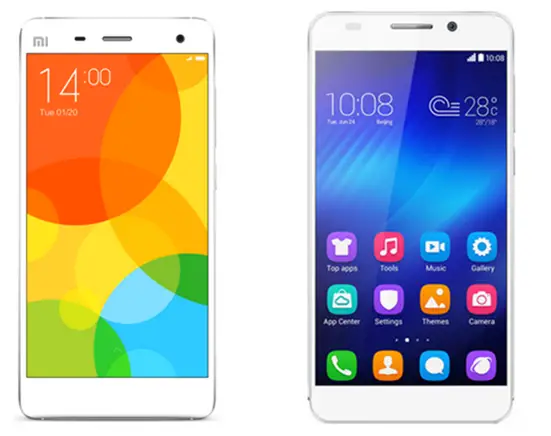 Key Specs
| | | |
| --- | --- | --- |
| Model | Xiaomi Mi4 | OnePlus One |
| Display | 5 Inch Full HD, 441 PPI | 5.5 Inch Full HD, 401 PPI |
| Processor | 2.5 GHz Snapdragon 801 Quad Core | quad core 1.7 GHz Cortex-A15 & quad core 1.3 GHz |
| RAM | 3 GB | 3 GB |
| Internal Storage | 16 GB | 16GB, expandable by 64 GB |
| OS | Android 4.4.4 KitKat based MIUI 6 | Android 4.4 KitKat based eMOTION ui 6 |
| Camera | 13 MP/ 8 MP | 13 MP/ 5 MP |
| Battery | 3080 mAh | 3100 mAh |
| Dimensions and Weight | 139.2 x 68.5 x 8.9 mm and 149 Grams | 139.6 x 69.7 x 7.5 mm and 130 |
| Connectivity | 3G, Wi-Fi, Bluetooth | 4G, Wi-Fi, Bluetooth, NFC, |
| Price | 19,999 INR | 17,999 INR |
Display and Processor
Both Honor 6 and Xiaomi Mi4 comes with a very vibrant 5 Inch IPS LCD display with Full HD resolution. The Honor 6 does not sport a Gorilla Glass 3 protection layer on top unlike Xiaomi Mi4. Both displays are excellent in quality and are comparable to other high end flagship phones. The blacks on Mi4 are slightly darker than Honor 6, but that would be nitpicking.
Xiaomi Mi4 comes with 2.5 Snapdragon 801 quad core processor with 3 GB RAM, which is great for day to day usage and high end gaming both. Huawei Honor 6 on the other hand is powered by Kirin 920 big.LITTLE octa core processor (1.7 GHz Cortex-A15 & quad-core 1.3 GHz)with Mali T628 MP4 GPU and 3 GB RAM.
While it's really hard to find any fault with these chipset in day to day usage, the Adreno 330 GPU performs better in high end gaming as compared to Mali T628 MP4 which results in some noticeable frame drops. Those serious about high end mobile gaming can prefer Mi4 in this regard.
Camera and Internal Storage
Both Handsets use the same 13 MP Sony Exmor IMX214 camera sensor and can capture great quality images. We have no qualms about the rear camera quality for both of these smartphones in their respective price range. The front camera performance of both 8 MP front camera in Xiaomi and 5 MP camera in Huawei is also great, irrespective of the difference in Megapixel count.
Internal storage of Xiaomi Mi4 and Huawei Honor 6 is 16 GB, but Huawei Honor 6 has a huge advantage of 64 GB MicroSD expansion. For all Mi4 glories, the limited 16 GB internal storage could be a deal breaker for power users and gaming enthusiasts.
Battery and Other Features
Battery capacity for Mi4 is 3080 mAh while the Honor 6 houses a similar capacity 3100 mAh battery. The battery backup from both these smartphones is also similar in performance mode.
The Xiaomi Mi4 runs on Android 4.4 KitKat based MIUI 6, while the Honor 6 runs on Emotion UI 3.0, also based on Android 4.4 KitKat. Xiaomi has a reputation for regularly updating the software and thus you can expect better software support for Mi4. Which one of the two you like will depend on your taste. For us, MIUI 6 seems more palatable.
Honor 6 has 4G LTE and NFC connectivity, which are not present in Mi4. You won't be able to use 4G LTE on Honor 6 in India, so this advantage will be nullified.
Conclusion
Both Xiaomi Mi4 and Honor 6 are great devices for day to day usage, and it is hard to go wrong with either of the two. The honor 6 will be more readily available on Flipkart as compared to Mi4 and will cost you 2000 INR less. This is again a big advantage for Huawei Honor 6. MI4 offers a better processor and a more robust software, but Honor 6 isn't far behind in any of these areas and additionally offers microSD card support and    a slimmer and lighter body.