Windows 10 Preview for smartphones is out for everyone who would like to peep and find out where the ambitious update is heading. The biggest attraction is proposal of universal apps and a beta store for the same is also under construction. We download the preview on Lumia 640XL and here are some changes that we observed.
More quick action toggles
While Windows 8 had 4 handy quick setting toggles, neatly placed in the action center, the upcoming Windows 10 will increase this number to 16! In Windows 8 there is option to customize these 4 quick setting toggles, but now, you can keep them all at the same time.
Swipe away individual Notifications
The new Windows 10 allow you to separately swipe away different notifications from single app. So if you have 10 Facebook or Gmail notifications, you can swipe them off one at a time instead of clearing the whole bunch at a time.
Keyboard cursor
Windows 10 Phone keyboard comes with an innocuous dot on the keyboard, you can tap it and extend it in four direction to navigate cursor across multiple lines of text in any direction. It doesn't work very smooth in the present preview build, but once it is perfected, some people will definitely perceive it as a more convenient and seamless option over conventional taping.
Quick reply
When you get a new message, you can swipe it down from where you drag action center and directly reply from a small text box. This doesn't work for all apps as of now but works well for messaging apps.
Search bar in app drawer
Windows 10 interface is more refined and breaks monotony with several small improvements, but a few deserve a mention. The search button in the app drawer has been replaced by a search bar which is again something we had been wanting for a long time. Now we find ourselves scrolling for apps less often.
More space for tiles
After we installed Windows 10 preview on Lumia 640XL, we were greeted with a homescreen which had room for one more column for adding tiles. This is again great as with reduced fonts and refined tiles, you can conveniently place all frequently used apps one touch away on home screen.
If you liked the old version better, you can turn this off from Settings>> Personalization>> Start, where a toggle for more tiles has been added.
More organized settings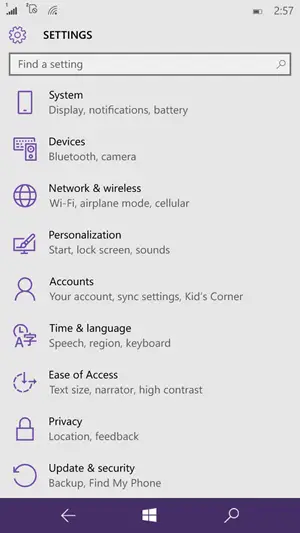 The settings pannel gets a redesign with more layers added and now looks more organized and better. There are not many new options added or old ones eliminated, but yes a lot has been shifted and rearranged. For example, option to change color of navigation bar and other setting swas placed in "input+accessibility" before and has now been shifted to personalization>>colors where it makes more sense.
Refreshed start screen customization options
Besides adding the background image on start screen you can choose whether this image will be painted in the background or on tiles. If you select tile picture, background will be white where no tile is present. A slider for tile transparency has also been added.
New battery saver settings
The new battery saver settings allow you to choose specific percentage at which you wish to trigger it. You can also allow apps to push notification in battery save mode and whitelist apps you wish to run in background even when battery saver is on.
Add Offline Maps In Settings
Under system settings, an option for offline maps has been added. You can directly download, update and manage everything related to your offline maps from here. The option was available for some Windows Phone 8 devices too, but now it is available for everyone and is placed in lime light.
Device encryption
Device encryption option has also been added under System settings. You can toggle it On and encrypt your phone for better security of your personal data.
Conclusion
since Cortana is not available in our region, we didn't talk about voice inputs and related changes. Windows 10 preview for phones is still in its nascent stages and we strongly recommend you to not download it on your daily driver.