Your Android phone can also act as a Dictaphone. You can use them to record books, study material, messages, memos, notes or stealthily record conversations. The ability to record voice memos and notes his high on priority list of many people and in case you are looking for free Android apps for voice recording, here are a few good options.
Tape-a-Talk Voice Recorder
Tape-a-Talk Voice Recorder is a very handy voice recorder which records high quality sound in .WAV format and low quality audio in .3GP. The app also includes a widget which can be used for stealth recording without opening the app.
Pros
Allows you to set recordings as ringtones
you can repair recordings to an extent
Cons
Can skip recordings sometimes
Evernote
If you are looking for a voice recorder app to save quick notes and memos, you can try Evernote App. The app is one of the best apps for taking all kinds of notes, can sync with Evernote cloud and is available across all platforms.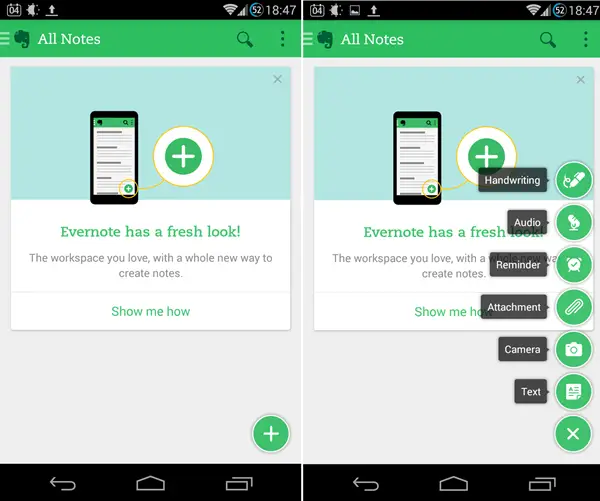 Pro
Best suited for taking notes
your data will sync across all devices
Cons
Not suited for long duration recordings
Easy voice recorder
Easy voice recorder is another popular Android app recorder which can automatically skip long silent periods from your recordings. The app can also filter background noise and output clear audio files. A widget is also present which lets you swiftly turn on audio recording.
Pros
can filter noise
a widget is included
Send recordings for transcription
DictomateLite
Dictomate recording app lets you bookmark places in your recording while you record. You can later get back to these specific bookmarks instead of hearing the whole recording again. Recording quality is pretty good too.
Pros
Allows you to bookmark points while you record
A widget is included
Cons
The free version expires in 30 days
Smart Voice Recorder
Smart voice recorder is quite popular and well suited for stealth audio capture. The app can continue recording even when the screen is off. The app can also eliminate long silence periods from your recordings. The quality of recording is very good.
Pros
Can skip long pauses
can record with display off
Conclusion
These are some of the best audio recording apps you can use on Android. If some other app works better for you, share with us in the comment section below.