LTE, commonly known as 4G, is a complicated technology. Its implementations are way more diverse than radio technologies preceding it. Justifiably, a consumer might tend to get perplexed about whether their phone, or the one they're about to buy. Let's break it down piece by piece and help un-complicate things a bit.
Which Telecom Has 4G License and Where?
The chart below will give you can idea about the 4G circle in india by different telecom operators.
What is LTE?
LTE stands for Long Term Evolution. Its a radio technology that essentially provides high throughput and low latency to give you a speedy data connection. Airtel and Aircel are the only 4G networks in India right now ( at the time of writing this post) and Reliance Jio Infocom Ltd.(RJIL) will soon be a part of that list.
What makes LTE so fragmented?
Every radio wave propagates through the air at a certain frequency. An easy distinguisher of a radio wave, ad a common way to address it, is by referring to it as the frequency that it works on. In LTE, each frequency range is given a band name. En example would be Band 3: 1850-1910MHz.
With LTE, there are a wide range of such bands available. Carriers operate on a variety of bands in various areas.Airtel 4G LTE works on 2300 MHz TD-LTE and is operational in around 15 cities. In Chennai and Hyderabad, Airtel operates on Band 40; Delhi observes its Airtel 4G radios operating on 2300MHz. RJIL will operate on Band 3, when it rolls out, as well.
Types of 4G LTE in India ?
4G LTE is a set of two technologies, TDD-LTE and FDD-LTE. TDD-LTE runs on 2300 MHz band, where as FDD-LTE uses different bands (1800, 2100, 2600, 700,800) to operate.
4G Bands and Frequencies They Operate At ?
4G frequencies (LTE) There are more than 30 frequencies are used worldwide for 4G/LTE. From Indian perspective most important are listed below.
On FDD-LTE:
Band 1: 2100 MHz (IMT)
Band 2: 1900 MHz (PCS)
Band 3: 1800 MHz (DCS)
Band 4: 1700 MHz (AWS)
Band 5: 850 MHz (CLR)
Band 7: 2600 MHz (IMT-E)
Band 8: 900 Mhz (E-GSM)
Bands 12-17: 700 MHz (USMH, LSMH)
On TDD-LTE:
Band 38: 2600 MHz (IMT-E)
Band 40: 2300 MHz
Band 41: 2500 MHz
Band 42: 3500 MHz
Can 4G Phones Support 3G, 2G?
Yes, all 4G phones are backwards compatible with 3G and 2G networks. In the event of failure to establish a 4G connection, your smartphones default to 3G or 2G connections(unless an overriding mechanism is in place).
So does my phone support 4G?
Since there are a wide variety of bands that can be used to implement 4G, only the phones that also communicate over that band can be used to take advantage of LTE. It is always  recommended that you check whether the frequency used by your Carrier is supported by the phone you want to buy, in your specific region. The last factor, the region where you're interested in getting 4G coverage, is a key variable since a phone that supports LTE in one location might not do so in another. The Nexus 6, for example, supports Airtel's 4G in Chennai and Hyderabad but not in Delhi. Your phone denotes a successfully established 4G connection by displaying a '4G' or 'LTE' icon in your phone's status bar.
Here is a list of major phones that support 4G in India currently.
Apple iPhone 5C, 5S, 6, 6S, 6 Plus, 6S Plus
HTC One M8, M9 Plus, E9+, Desire 826, 820, 820Q, Eye
Gionee Elife S7, E7, E8, Marathon M4
Intex Aqua Ace, 4G+, Trend, Turbo 4G
LG G4, G4 Dual, G3, G3 Beat, G2 4G
Samsung Galaxy Note 5, Note 4, S6, S6 Edge, S6 Edge Plus, Alpha, S5 4G
Sony Xperia Z3, Z3 +, Z3+ Dual, Z3 Compact
Lenovo Vibe Z2 Pro, X2
Motorola Moto X Play, Moto X Style, Moto G (3rd Generation), Moto E (2nd Generation)
Oppo Find 7, 7a
OnePlus One, Two
Xolo LT900
Xiaomi Redmi Note 4G, Note 2
How To Check if Your Phone Supports 4G LTE or Not ( Android, iOS and Windows Phone )
Please Note: Before you do the follow the steps below, make sure to insert the SIM which has a 4G active connection or plan activated. 
For Android – You need to go to Settings >> Mobile Networks >> Check the supported Network Modes.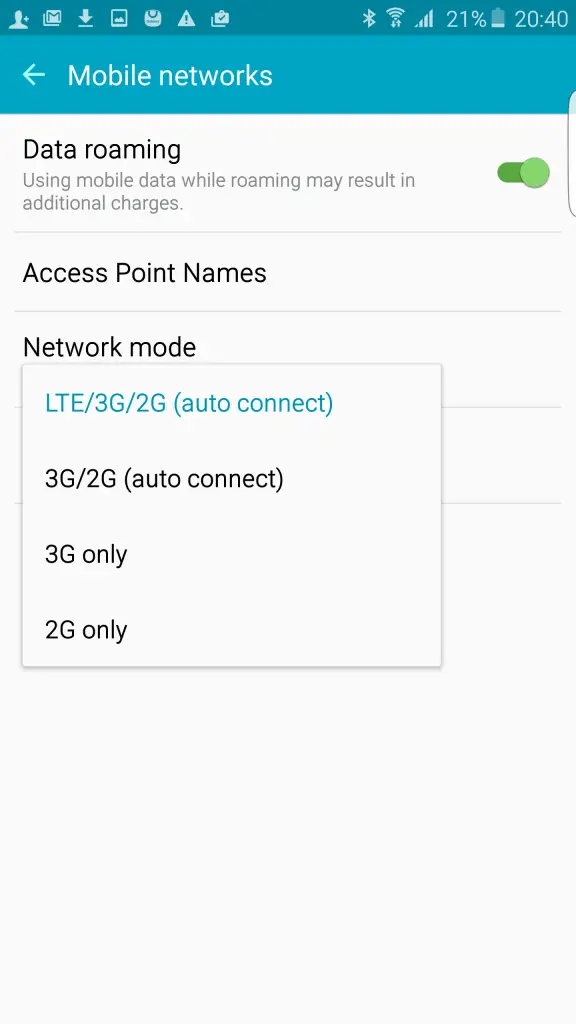 For iOS or iPhone  – You need to go to Settings >> Mobile. If you see Enable LTE – your iPhone supports LTE or 4G.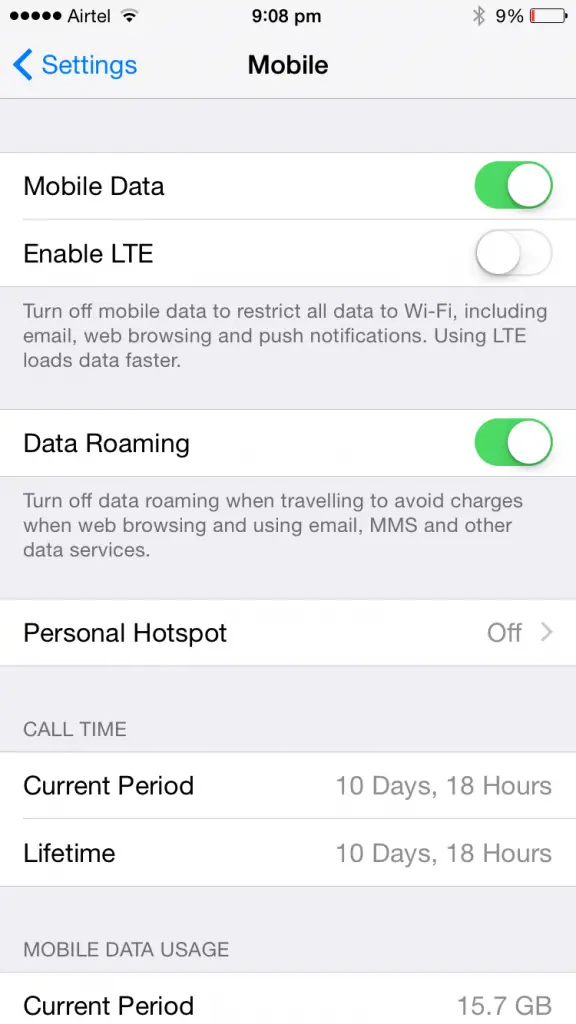 For Windows Phone – You need to go to Settings >> Mobile and SIM >> SIM Settings. Under Highest connection speed you should see 4G option.