Micromax has made a powerpacked comeback to the Indian market after almost 2 years, the launch of the last flagship was Canvas 4, now after a long wait Micromax has launched a successor, the Canvas 5. Unlike the previous phone that was priced at Rs 17,999, Micromax has priced this one quite aggressively at INR 11,999. The latest Canvas has all the qualities to impress the consumers, lets find out what does it has to offer.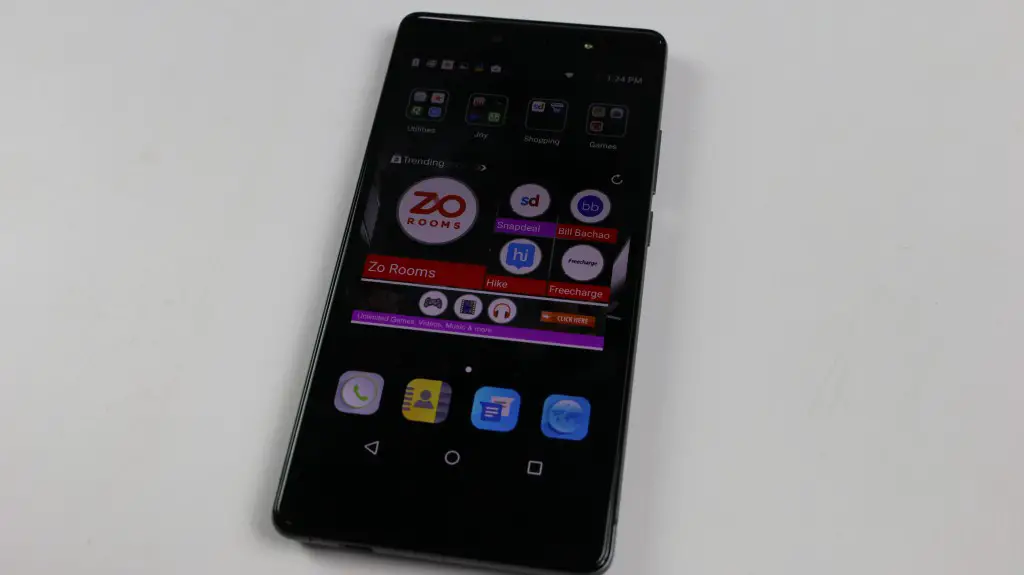 Micromax Canvas 5 Full Specs
[table id=242 /]
What is Usage Review, Tests and Opinion?
This review is based on our quick tests and usage done with the phone, we try to push the device to its limits and find out the results which will matter if you plan to buy this phone. We hope this review helps you to get your queries answered about the device.
Box Contents
The box includes Handset, Battery, Charger, Earphone, USB Cable, User Manual, Warranty Card.
Performance
This device is powered by a MediaTek MTK6753 chipset with octa-core 1.3GHz processor, and comes with 3GB RAM and 16 GB internal memory. Canvas 5 scores full marks in this department as it handles almost all the tasks with an extraordinary ease.
App Launch Speed
We launched several apps which included few light apps and some heavy apps like chrome, camera, music, Asphalt 8, Play store etc. None of the app took very long to launch in fact the experience was really snappy.
Multitasking and RAM Management
Out of 3 GB RAM, 2.1 GB was free on the first boot, multitasking was smooth and snappy. We noticed small lags in the pre-installed animations while swiping through the menu. Switching between apps was buttery and we opened almost 10-15 random apps in the background, but the Canvas 5 handled it pretty impressively.
Scrolling Speed
We did a lot of browsing over the internet, which included heavy WebPages with a lot of media content including HD images and videos. The response was smooth, we did not face any lag or hiccup while scrolling the pages from top to bottom.
Heating
There was no abnormal heating during our tests, the plastic back cover with faux leather finish acts well to restrict the heating. This device does not possess any heating issues in casual usage, but in conditions when you play HD heavy graphic games it does heat up slightly more than normal.
Benchmark Scores
[table id=254 /]
Camera
The Micromax Canvas 5 comes with a 13 MP rear camera with Phase Detection Auto Focus, and a 5 MP front camera, both the cameras are paired with an LED flash. Overall, it is a good camera module for the price it comes for. It performs convincingly in different conditions, and the autofocus speed is quick and it works quite accurate. Shutter speed is not very fast but it can be changed to fast using the Zero Shutter Delay option in camera settings.
Camera UI
The Camera UI on this phone is good for two handed handling, the front/rear camera toggle, flash options, shooting modes and camera settings icon is on the left side of the viewfinder where the video/ photo toggle, shutter button and photo gallery shortcut is on the right side. It offers a lot of shooting modes for both front and rear camera.
Day Light Photo Quality
In day light, the rear camera performs well, focus speed is good, and refresh rate is quick, details and colours look just fine. Overall, it sports a satisfying camera that has a capability to capture great day light images.
Low Light Photo Quality
Low light photos are above average and slight amount of grains can also be noticed in the pictures, and once we turn on the camera in low light, the refresh rate of the camera turns low, due to which the image on viewfinder starts hanging and the camera shutter speed is also reduced.
Selfie Quality
Selfies on this phone are good. We captured images in different lighting conditions and surprisingly, the images in all the conditions were worth a round of applaud. The colour production, saturation, details and highlights were great for the price. The front camera also boasts of an LED flash which makes clicking selfies in low light more easy and fun.
Micromax Canvas 5 Camera Samples
Video Quality
It can record video up to [email protected], which produces good quality video. The frames are clear and details are sharp on the video. The focus works just fine and works with tap, it takes no time in focusing once you tap on the screen and the accuracy is also good. If we consider the price, this camera matches the quality that is produced by phones costing much more than this.
Battery Performance
It packs in a 2,900-mAh non-removable battery. Canvas 5 manages to survive a day with calling, email, social networking and camera usage.
Charging Time
It takes about 2 hours and 30 minutes to get fully charged from 0-100%.
Screen on Time
We recorded around 3-4 hours of screen on time during our usage.
Battery Drop Rate Table
[table id=253 /]
Looks and Design
The Canvas 5 doesn't feel like an INR 11,999 smartphone. It is sleek light weight and looks quite premium. It has curved edges and the front has a 2.5D curved display glass which makes it look more amazing. Buttons and ports are placed well under the reach of the users.
Micromax Canvas 5 Photo Gallery
Quality of material
It has got premium metal on edges, 2.5 D curved display glass, and a faux leather back cover. This combination looks great altogether and gives a premium touch to this affordable device.
Ergonomics
With a 5.2 inch display, the Canvas 5 weighs 143 grams and measure 148 mm x 73 mm x 8.3 mm. The dimensions of the phone are very fine, it is a slim phone without any extra bulk and holding on this phone is always easy. One hand usage is also fairly good.
Display Clarity, Colors & Viewing Angles
It comes with a 5.2 inch IPS LCD display, with a FHD resolution (1920×1080 pixels) and pixel density of 423 ppi. This display is still isn't common in the under this price category. The colours appear bright and vivid, viewing angles also look amazing. The text appears crisp and the black levels were excellent. Even the touch response was great, but it does cts as a fingerprint magnet.
Outdoor Visibility (Max brightness)
Visibility in outdoors is good but the screen starts twinkling when you are under the sun, which makes it difficult to view the display.
Custom User Interface
Micromax has added a custom UI based on Android Lollipop operating system and there isn't any app tray. All the apps are placed on the homescreens and can be browsed by swiping vertically. Swiping between the homescreens was quick while using the basic animation but it started lagging when we changed the effect to wave, roll, flip and windmill.
Sound Quality
The sound quality from the speaker is about average, nothing extra ordinary. The placement of speaker isn't wise as it is on the back of the phone which restricts the volume when it is placed on the back.
Call Quality
Voices on the call were clearly audible at both ends, we did not face any issues.
Gaming Performance
Micromax stand tall when it comes to gaming, no matter it is high end games or light games. We ran Asphalt 8 on this device and it was running very smooth even in the high resolution format. The game started quickly and  none of the screen took abnormal time to load. In my opinion, there are very few phones in this range which can deliver such performance for gaming.
Game Lag & Heating
While in the gameplay, we didn't felt that we are gaming on a phone that comes at such low price. We did not notice lags in the beginning of the game but when we continued gaming for 30 minutes without a pause, the phone started lagging in some graphic greedy frames. This amount of lag is very normal for a phone like this, and the heating was pretty low as compared to many other phones.
Conclusion
Micromax Canvas 5 is an amazing phone for its price, it looks good, performs great, offers satisfactory camera and battery performance, comes with a great display and all this sums up to be a perfect smartphone for the price. There is a lot of competition in this range, but still this smartphone stands out in most of the areas and its aggressive pricing has added the X factor to it.