CES is in progress right now in Las Vegas and it is a joyous time for any technology enthusiast because we get to see so many new products being launched every day that it's just impossible to keep with all of them. Withings Thermo is a temporal artery thermometer which combines a new super fast 16-sensor array to deliver some of the fastest and most accurate temperature readings.
The Withings Thermo is equipped with WiFi and Bluetooth so that users can log their temperatures on their smartphones using their app. Along with the temperatures, it will show information about the symptoms and medications that can be beneficial to users. It also allows you to enter reminders for having your medication at the specified time in the settings.
The Withings Thermo is designed to make managing your temperature during fever with ease. The thermometer needs only 2 seconds to report the body temperature and this is possible because it uses 16 infrared sensors to locate and measure the IR signature and the heat being emitted. Within those two seconds, the device takes 4,000 measurements and then an algorithm corrects for biases like the skin heat loss and ambient temperature to produce a reliable single temperature reading.
When the device is done measuring your temperature, it will give a short vibration so you know that it has done its job. It will then show you the temperature on a digital LED display on the thermometer itself, either in Celsius or Fahrenheit. The colour code, green for normal, orange for moderate and red for elevated makes it easier to understand the temperature reading. The company claims that the thermometer is capable of recording the temperature of a child, even in a dark room.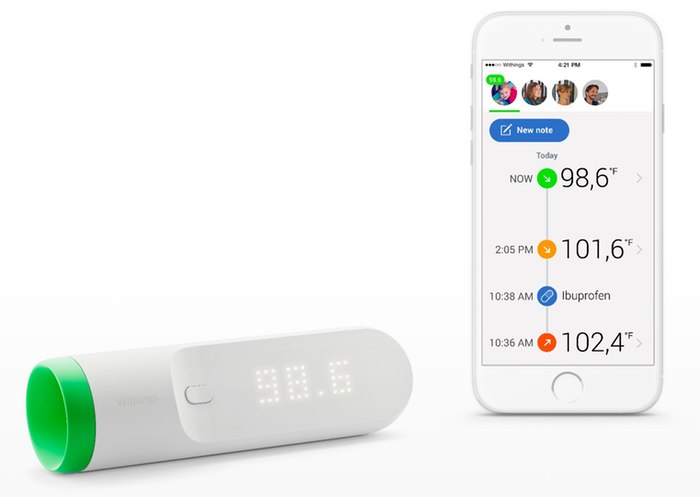 The Withings Thermo is powered by two AAA batteries that are expected to last 2 years. This thermometer would not be an interesting device if it did not boast WiFi or Bluetooth technologies, but it becomes really interesting because it has both these technologies right inside the small thermometer. With the help of these technologies, the device can send the temperature readings directly to an iOS or Android smartphone, so that the user can keep a track of the temperature for later use.
Pricing and Availability
The Withings Thermo is all set to go on sale in the first quarter of 2016 and is priced at USD 100, roughly INR 6700. The pricing might seem high at first, but keeping mind the features that the device has to offer, the price is manageable. There is no other product like the Withings Thermo yet, and hence this device has the monopoly right now.
Conclusion
Devices like Withings Thermo are really innovative and provide much ease to the consumers. This device has also won 2 innovation awards at CES and that was expected with this technology in the device. Looking forward to customer reviews and ratings of this device when it becomes available in the near future.