Snapdragon 660 will reportedly be Qualcomm's mid-range offering for the upcoming year. The future SoC is rumored to succeed the highly acclaimed Snapdragon 652 and 653 chipsets. According to the leaked specs, SD 660 codenamed as MSM 8976 Plus will bring significant upgrades over its predecessor. The new chip is set to launch in Q2 of 2017 and OPPO, and Vivo may be the first OEMs to get it.
With the Snapdragon 835 announced just a couple of days ago and the Snapdragon 660 being speculated now, we can easily get an idea about the processing power of 2017 smartphones. The upcoming chip will be built upon a smaller processing technology for enhanced efficiency. Read on to know about the detailed specification of the forthcoming SoC.
Snapdragon 660: Specs
The Snapdragon 660 will come with an octa-core setup with two set of quad-core processors. It may be the first mid-range chipset to sport Qualcomm's Kyro architecture which shall overwhelm the exclusivity of the Snapdragon 800 series. However, analysts suggest that the SD 660 might instead be powered by a set of four ARM's latest Cortex A73 cores and four Cortex A53 CPUs. This will make it a lot similar to the Huawei Kirin 960 SoC.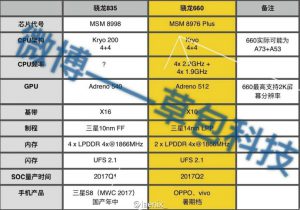 Speaking of the clock speed of the upcoming processor, the high-performance cluster is speculated to run at 2.2 GHz while the power saving quad-core set will have a peak frequency of 1.9 GHz. The Snapdragon 660 is presumed to be built upon Samsung's 14nm LPP manufacturing process. This will be a great improvement over the present Snapdragon 65x line-up which is still made using the old 28 nm process.
The graphics division of the Snapdragon 660 will be powered by a new Adreno 512. Needless to say, this will be a more powerful version of the Adreno 510. Coming to the memory, the upcoming SoC will reportedly support dual channel LPDDR4X RAM modules with 1866 MHz clock speed. The SD 660 shall be compatible with high-speed UFS 2.1 storage solutions.
The forthcoming chip will be equipped with dual ISP and shall support up to 24 MP camera units. The Snapdragon 660 will be able to run displays with up to 2560 x 1600 resolution. Speaking of connectivity, the upcoming SoC will support Cat. 10 LTE networks with a top download speed of 450 Mb/s. It shall feature three-carrier aggregation. Other than these, there will be dual-band Wi-Fi, the latest version of Bluetooth, NFC, etc.
Snapdragon 660: Release Date and Availability
According to speculations, Qualcomm will release the Snapdragon 660 in the second quarter of 2017. Coming to availability, you can expect SD 660 powered devices in the Q3 of the next year.