Incumbent telco Vodafone has introduced a new plan for international roaming called Vodafone i-RoamFREE. The plan offers unlimited calls and Data in the US, UAE, UK, Singapore, Malaysia & 13 European countries at Rs. 5,000 for 28 days or Rs. 500 for 24 hours.
While the new plan from Vodafone offers seamless connectivity and free calls and data across major countries, it also offers nominal calling and data rates in 40 more countries around the globe. Apart from the countries where this plan is free, you have to pay just Rs. 1 per minute for outgoing calls and Rs. 1 per MB data in other 40 countries.
Countries with i-RoamFREE plan validity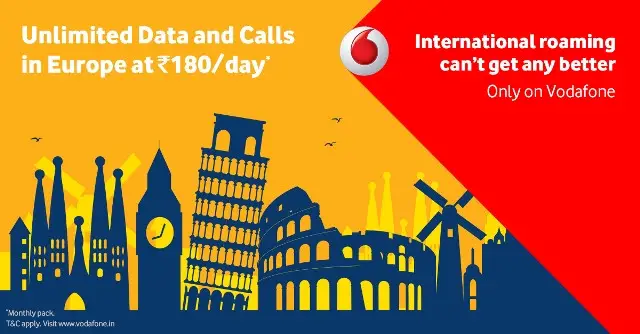 The Vodafone i-RoamFREE pack offers unlimited calls and data in the US, UK, UAE, Singapore, and Malaysia. In Europe, the pack covers all major countries including Germany, Spain, Italy, Greece, Turkey, Portugal, Romania, Czech Republic, Netherlands, and Hungary.
Recent additions to this plan include Japan, Qatar, Denmark, Norway, Sweeden, and Egypt. With free offers in 18 countries, the plan is valid across 42 more countries with Rs. 1/min outgoing calls, Rs.1/MB data, and free incoming calls.
Vodafone i-Roam FREE plan charges
Now when you travel to any of the above-listed countries with a Vodafone number, you can avail the i-RoamFREE plan depending on your travel schedule and duration.
You can get the pack worth Rs. 5,040 which is valid for 28 days and costs you Rs. 180 per day. In case you're travelling for a shorter duration, you can go for a daily plan which costs Rs. 500 with 24 hours validity.
How to get the Vodafone i-RoamFREE plan?
When you are set to travel, you can apply for the i-Roam FREE plan from My Vodafone app or via Vodafone website. Prepaid, as well as Postpaid users, can apply for this pack.
Associate Director – Consumer Business, Vodafone India, commented on the launch,
"With calls and data becoming completely free in these countries, we are eliminating the hassle of carrying local SIM cards or looking out for public WiFi during overseas travel. Customers can freely upload photos and videos, look up places on maps, check emails and stay connected back home using their Vodafone number without worrying about high international roaming bills."