Reliance Jio has now improved one of its pocket-friendly plans, which is priced at Rs. 149. Earlier, the plan used to offer 2GB 4G data with a validity of 28 days. The Rs. 149 plan now offers 2GB data and unlimited calls with the validity of 28 days. After finishing the 2GB limit, users will get post FUP speed of 64 Kbps.
Earlier, Reliance Jio did not offer any post FUP speed for this plan, which means after you use the allotted 2GB data, you will not get any additional data. But, now you can get unlimited data even after using the 2GB data at a reduced speed of 64 Kbps.
Reliance Jio already offers low-speed data of 128 Kbps in its other plans. You get post FUP speed of 128 Kbps in Rs. 309 plan after the completion of daily data limit. Similarly, in Rs. 349, Rs. 399 and other higher plans you can get the same low-speed unlimited data after using the allotted data.
Coming to the Rs. 149 plan, it is for users who don't need heavy internet usage but need a connection anyway for some daily needs. Earlier, they did not get the access to the internet after consuming 2GB, now this post FUP speed of 64 Kbps will be quite useful for them. With this speed, they can send and receive WhatsApp messages, and other lighter tasks.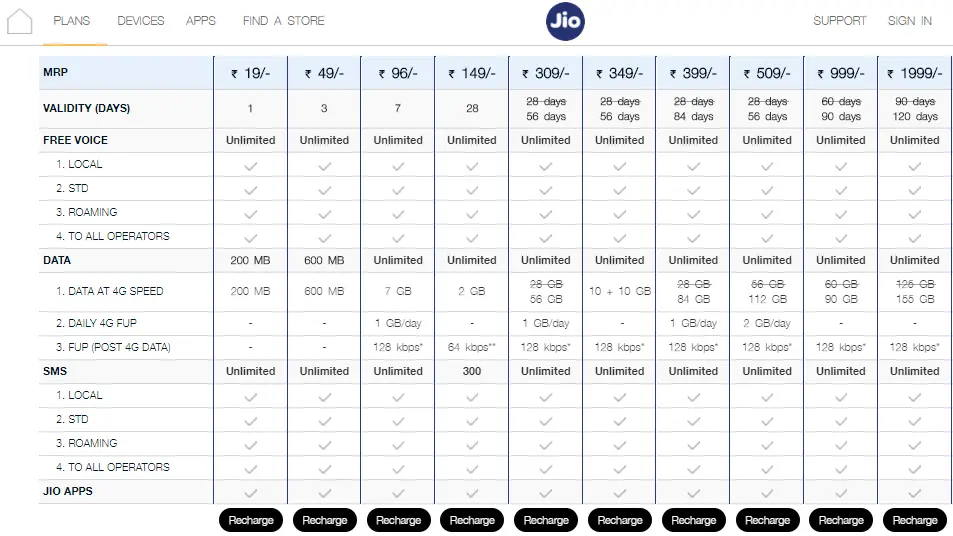 Moreover, the Rs. 149 plan offers unlimited local, STD and roaming calls to all operators. It also offers 300 local and STD SMS. As mentioned, the validity of this plan is 28 days.
If we talk about other cheaper plans of Reliance Jio as well. There is Rs. 96 plan which gives 7GB data (1GB data per day) and unlimited voice calls for 7 days. It also comes with a post FUP speed of 128 kbps. Also, there is a Rs. 49 plan as well which offers 600MB 4GB data for 3 days.