Belkin, the popular consumer electronics company has introduced the new Boost Up wireless charging Pad. It uses Qi-certified transmitting coils to charge your phone wirelessly. With this charging pad, you will no longer need to plug in your charger when it's time to power up the phone and instead, you can just lay your phone on the charging pad. It can charge all Qi-enabled devices delivering charging speed up to 5W.
Wireless charging has been around for years, but companies like Apple and Samsung have recently popularized the technology with their latest devices by incorporating a glass back. So, users can now ditch the cables and charge their phones conveniently using this charging pad. The wireless charging pads use an electromagnetic field to power up compatible devices on contact. In this post, we will review the Belkin Boost Up 5W wireless charging.
What's inside the box
The Belkin wireless charging pad comes bundled with a Belkin micro USB cable. It supports a 2-amp or above wall adapter, but it doesn't come with an adapter and users have to buy that separately. The adapter and cable can be used independently of the charging pad to charge any device with a micro-USB input.
Compact Design
Starting with the design of the pad, it is compact and travel-friendly. The design allows the wireless charging pad to easily fit in a pocket or bag. Its small footprint takes up a minimal space and the elegant design looks great.
The Belkin Boost Up has a non-slip surface on both the top and the bottom, with plastic surrounding the outer sides. It has the larger space to put the phone on with extra room to line up the phone correctly. There is a LED indicator in a spot on the front where it's easy to see without having to lift up the charger.
Key features
The Belkin Boost Up works with any device that is Qi-enabled allowing you to charge that wirelessly. The pad is also case compatible with most lightweight cases including Apple and Belkin cases. So, there is no need to remove your phone from its case to charge it. It takes about four hours to charge the device fully. The charging pad also supports fast charging with 2amp or above adapter.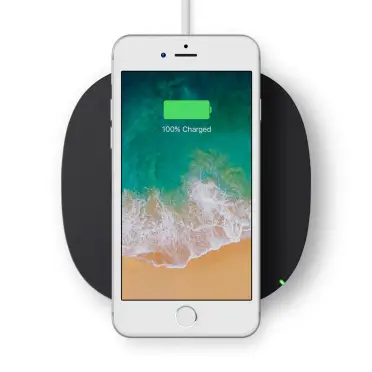 As mentioned, it is Qi compatible. Qi is one of the popular wireless technologies in the market and is used by the leading smartphone manufacturers including Apple. Some charging pads aren't optimized for Qi and may charge slowly, overheat, or stop charging before your device fully charged but, this is not the case with the Boost Up 5W Qi wireless charging pad. It safely and fully charges your phones, tablets and other accessories compatible with Qi tech.
If you own any of the Apple iPhone X, iPhone 8/8Plus, Samsung Galaxy S9/S9+, Galaxy Note 8 etc., you can use this Belkin Boost Up wireless charging pad which is available online on Amazon India.