Data usage on smartphones has increased drastically with the evolution of video streaming services and data-hungry social media apps like Facebook and Instagram. In fact, even updating those apps requires a lot of data, making it difficult to reduce data usage on Android.
Now there's no doubt that most of us rely on mobile data for the internet, which is relatively more expensive than broadband and other services. While unlimited plans have gained immense popularity in recent times, we still have to go through monthly data capping or throttling. Hence, it's always better to keep a regular check on the data usage.
Having said that, here are some simple yet useful tips on how to reduce data usage on Android.
Reduce Data Usage on Android
Set data usage limits in Android Settings
If you're running on a limited data plan or have a speed capping over a specific limit, it is advisable to set data usage limits in Android settings. Once you employ limitations on internet usage, you'll be warned whenever it exceeds the set threshold. Besides monthly limits, you can also set up everyday reminders that'll notify you about your daily data usage.
This will help you in keeping track of your internet consumption throughout the day so that you know if it's the time to save those extra gigs for the unfinished errands. Interestingly, some phones even offer an option to turn off mobile data automatically after the limit is over, which further helps in preventing unnecessary charges.
Restrict Background Data using Data Saver
Even if your phone is in the pocket, some apps still tend to use mobile data in the background for obvious reasons. In this case, you can simply jump into your phone's settings and turn on the native Data Saver mode. The option can generally be found in the Data usage section under "Wireless & Networks."
The Saver, when turned on, helps reduce the data usage by preventing apps from sending or receiving data in the background and limiting data for the apps that are being used. This will save you a huge chunk of data, provided that it only allows data access to the apps running in the foreground.
Restrict data access for some apps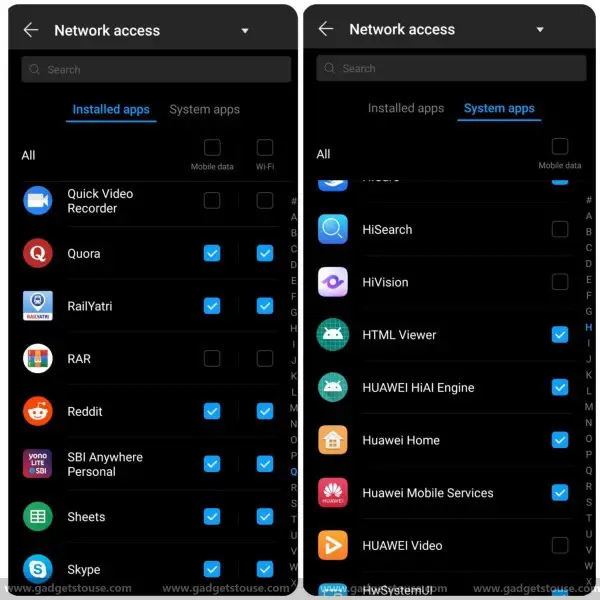 Many smartphone manufacturers, including Huawei, Xiaomi, Realme, etc. offer granular controls for apps installed on your device. This also includes the option to cut data connectivity entirely for any particular app.
So, go through your data usage settings and pick out apps that are needlessly eating your data bandwidth. Thereafter, you can disable their ability to access network based on your device settings. I generally do it for offline games that tend to show annoying video ads here and there. You can also use it as a privacy tool to block data usage for apps that you don't trust upon.
Update Apps over WiFi only
Doubtlessly, apps have evolved a lot over time in terms of features and so have their sizes. Additionally, app developers have now started giving faster updates than ever, taking a significant toll on your data usage.
In fact, even updating just a bunch of apps can cost you over a GB of data, that too within a day. Therefore, the first thing you should do is turning off the auto-update feature for mobile data in the Google Play Store.
To do the same, navigate to Play Store Settings > Auto-update apps > Auto-update only over Wi-Fi. That's it; from now, it will only update apps when connected to Wi-Fi, ultimately reducing mobile data usage on your Android.
Reduce Data Usage in Social Media Apps
Well, there's no denying that Facebook and Instagram are two of the most data-hungry social media apps as they're loaded with media content, including photos and videos. And while its difficult to stop using them just for the sake of saving data, here's how you can tweak the app settings to limit the data used by a considerable margin.
To reduce Data usage on Facebook: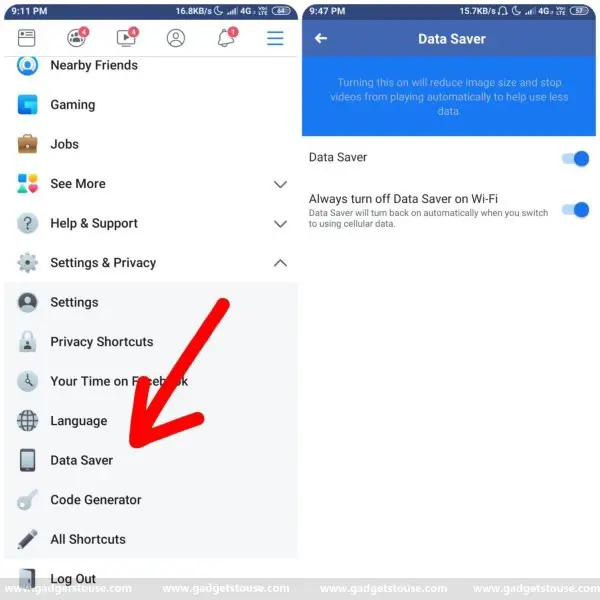 Open Facebook
Tap the hamburger menu in the top right corner
Now go to "Settings & Privacy" option
Select Data Saver and toggle it on.
To reduce Data usage on Instagram: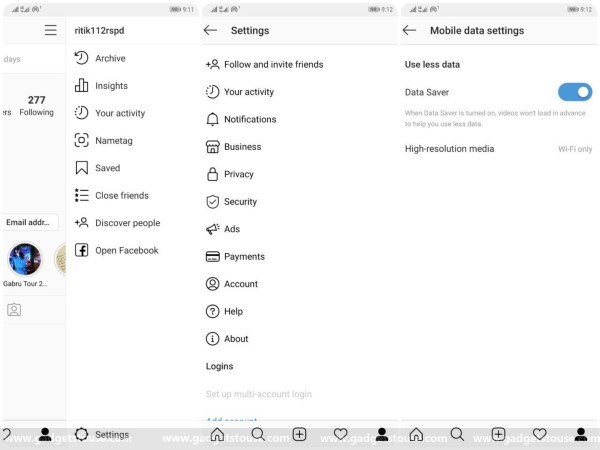 Open Instagram and go to your profile section
Open Settings (present at the bottom in the hamburger menu)
Click on "Account"
Select "Mobile Data Use" and turn on the Data Saver.
To reduce Data usage on Twitter: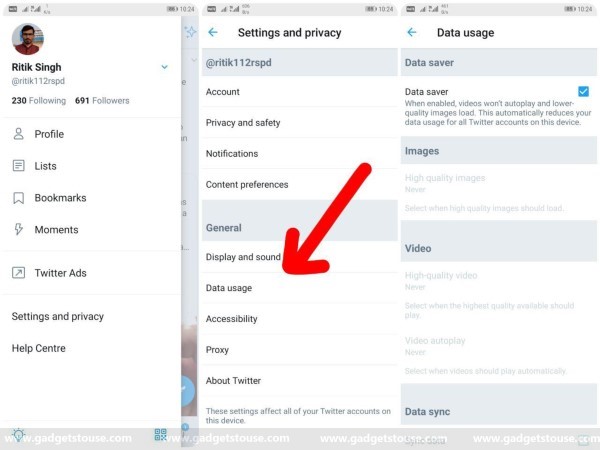 Open Twitter
Open the sidebar
Navigate to the "Settings and privacy" section
Tap "Data usage" and check the Data saver box.
Once you enable data saving mode in these apps, the image quality will be lowered down by a significant margin. Also, videos will no longer play automatically and will load only if you want them to, reducing data usage by a noticeable margin. Additionally, you can also use the lighter version of these, i.e., Facebook Lite and Twitter Lite to stay connected even on low bandwidths.
Save Google Maps Offline
Do you know that caching Google Maps can help reduce your data usage? Well, most of us use Google Maps for navigation while commuting, which does consume a sizable amount of data. Hence, it's always advisable to save your route offline, which can save both your time as well as data.
So, the next time you're on WiFi, open Google Map's sidebar menu and tap on Offline maps. After that, select the region and proceed with the download. Once the map is saved, you can navigate offline by just using the GPS on your phone. And if by chance you're out of data balance, you will still have access to the Map including turn by turn directions and information about places in that area.
Keep a check on Playback Quality in Streaming apps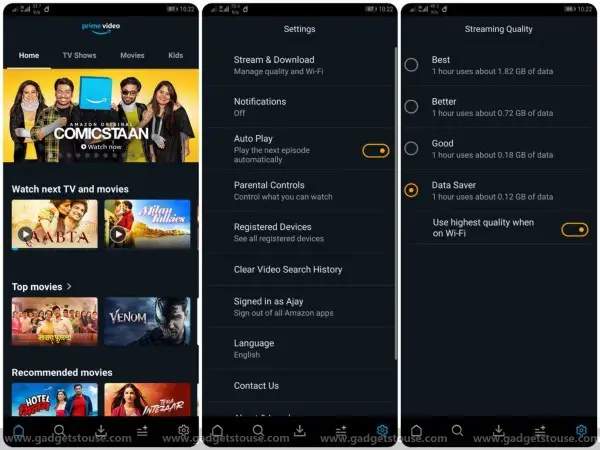 Almost all video streaming apps, including Netflix and Amazon Prime Video, offer options to tweak the playback quality. When on mobile data, make sure to open respective settings of both the apps and change the streaming quality to Data Saver in order to shell out the maximum of your data plan.
In Data Saver mode, Prime Video uses about 0.12GB of data per hour of streaming. Netflix, on the other hand, lets you watch about 6 hours per GB of data in the Save Data mode. So whenever you're low on data yet want to enjoy your favorite shows, turn on the data saver mode and you're good to go.
Same goes with audio streaming apps like Spotify and Google Play Music. You can not only alter the streaming quality but also save the content offline when on WiFi to enjoy them later without wasting any extra data.
Use Google's Datally app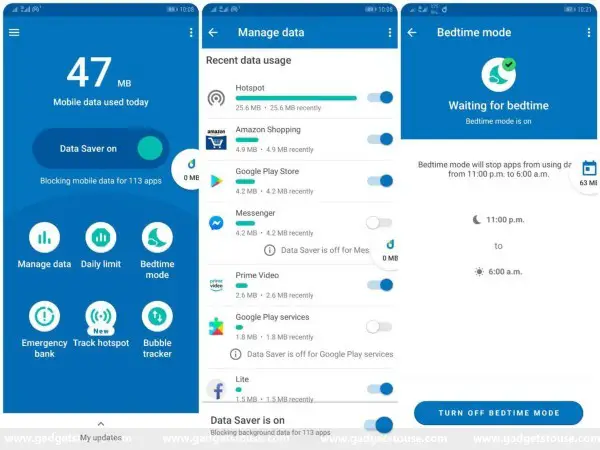 Google lately released its own solution for reducing data usage on Android, dubbed as Datally. Notably, the Datally app lets you track data usage and block it on an app-by-app basis. It also notifies you of real-time consumption of apps that are being used through a floating bubble on the screen.
Furthermore, there's a Bedtime Mode to turn off mobile data at night automatically and an Emergency Bank to save a little data for later use. Overall, Datally is an enhanced version of Android's data saver that offers you multiple ways to track, as well as save your data. And since it's using a VPN connection, it can literally block any app from accessing the internet even if your phone doesn't offer a dedicated option for the same.
Wrapping Up
So these were some quick hacks on how to reduce data usage on Android. Do let us know if you've anything to add via comments below. Also, don't forget to reach out in case of any doubts or queries.
Also, read 5 Best Android Apps That You Can Use Offline.