Every time you watch a new video on YouTube, it automatically gets saved in your watch history for obvious reasons. This not only makes it easy for you to find recently watched videos but also improves video recommendations and suggestions on the platform.
Having said that, are you uncomfortable with YouTube keeping track of what you've searched or watched lately? Well, here's how you can delete your YouTube watch history.
Delete YouTube watch history on Android/ iOS
1] Open the YouTube app on your phone. If you aren't logged in already, tap on the sign-in button and select your Google account.
2] Now, tap your profile icon given on the top right corner of the screen.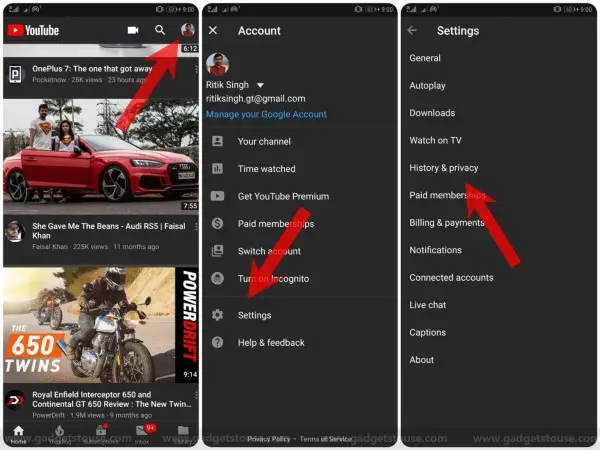 3] Tap on Settings and navigate to the History & Privacy section. On iOS, the history and privacy options are directly given under the Settings, unlike the separate section on Android.
4] Now, to delete your YouTube watch history, click on Clear Watch History and confirm when prompted. This will clear the list of videos you've watched previously alongside resetting YouTube recommendations.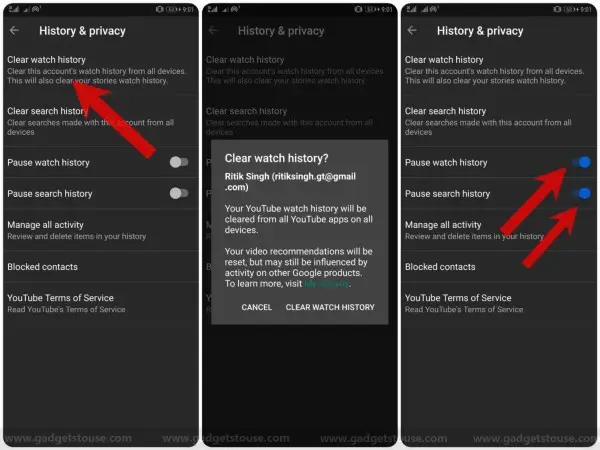 5] Furthermore, click on the Clear Search History button and confirm the same to remove the list of things you've searched so far on YouTube.
In order to prevent YouTube from tracking your watch & search history in the future, you can enable the Pause Watch history and Pause Search History options by clicking the toggle.
Delete YouTube watch history on Desktop
1] Visit https://www.youtube.com/ on any browser. If you aren't logged in yet, click the Sign in button in the top-right corner of the screen and select your Google account.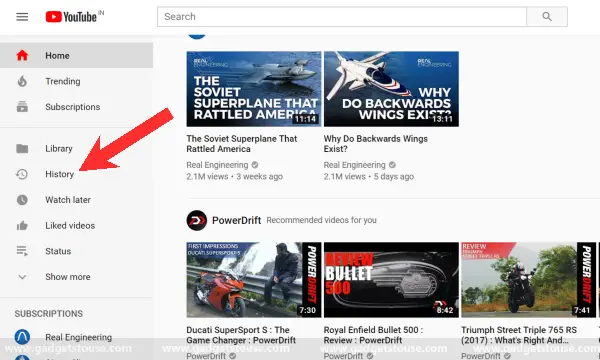 2] Once you're logged in, tap on the History option under Library in the sidebar on YouTube home page.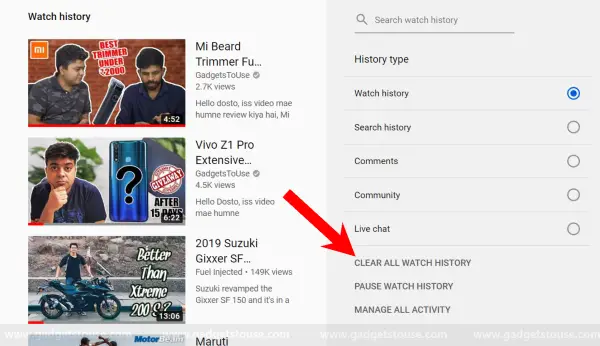 3] Look for the Clear Watch History option on the right side of the page and click on it. This will clear your entire watch history.

You can alternatively remove specific videos from the history by merely hovering your mouse over them and pressing the cross button. Moreover, you can click on Pause Watch History to stop YouTube from tracking your activity.
After following the above steps, all your watched videos, searched texts, as well as recommendations, will be cleared for the time being. Also, if you've paused the watch history, YouTube will no longer record things you've searched for or watched on the platform.
Tip- Use YouTube's Incognito Mode
YouTube has lately introduced the Incognito mode in its YouTube app for Android as well as iOS. So if you are about to watch something which you think shouldn't appear in your watch history, simply tap your profile icon and click Turn on Incognito.
Once in incognito mode, you can browse in a session that will not be influenced by or reflected in your signed-in search and watch history in any manner. This way, you can enjoy the perks of privacy for the most part while still being served by personalized YouTube recommendations in normal mode.
Wrapping Up
So this was all about how you can delete your YouTube watch history on a smartphone as well as desktop. By the way, pausing YouTube watch history all together vs. using incognito mode, what do you prefer? Let us know in the comments below. Also, feel free to reach us in case of any doubts or queries.
Also, read How to Stop Facebook from Tracking Your Location.