The latest Windows 10 operating system is now the most popular desktop OS across the globe, beating Windows 7's market share. And this makes it a new favorite target for malware coders and hackers around the world. Nonetheless, Windows offers a number of ways to secure your computer so that you don't have to deal with data loss or theft due to lack of security.
Having said that, here's a simple guide on how to keep your data secure on Windows 10 PCs.
Also, Read | Understanding Samsung Secure Folder With Best Tips
How to keep your data secure on Windows 10 PCs
Update your PC
Windows 10 updates generally bring in necessary fixes for security and reliability issues. Plus, they also include occasional virus definition updates, vulnerability fixes, and optimizations which are required for the smooth functioning of your PC.

Hence, you should always keep your PC up to date with the latest Windows version. And it's always recommended to keep automatic updates turned on so that the computer automatically grabs the OTA update, the next time you connect to the internet.
Encrypt your data
Apart from common online threats, your PC is also vulnerable to unauthorized access, data stealing, and unforeseen theft. So, even if a thief or an unauthorized person manages to have access to your computer, it will be theoretically impossible for him to read the data, provided that it's encrypted.
Therefore, always use a password for your lock screen- a strong one. And don't forget to encrypt sensitive files which can be done using built-in tools such as BitLocker, and Encrypting File System (EFS). Alternatively, you can also opt for a third-party encryption software for systems where built-in methods aren't viable.
Create a System Restore Point
Creating a system restore point is a must, especially if you're not sure about computer's endurance in the long run. So in case if anything goes wrong with your system, you can always use the last created system restore point to roll back your system settings and files to a previous date or time.
However, this feature is disabled by default on Windows 10. To turn it on-
Search for "System recovery" in the Cortana search box.
Tap on "Create a restore point."
In the following dialog box, choose your Windows installation drive (usually C) under System Protection tab.
Now, select "Configure system restore" and check "Turn on system protection."
Hit the Create button to initiate a system restore point.
Backup Files regularly
Creating a system restore point is nearly ineffective for non-system data which includes your images, videos, documents, and more. Therefore, you need to have a different backup solution for your personal files so that you can recover them in case if anything goes wrong.
That being said, there are a lot of ways to backup your data- you can create hard disk copies, use cloud services, or can even keep it separately in USB drives. Almost any secondary space with good endurance and enough security could be an effective backup solution for your data.
Ensure that Windows Defender is active
For starters, Windows 10 has a built-in protection feature dubbed as Windows Defender. This includes anti-virus, firewall, and other necessary security features, made to prevent any malicious code or software from harming your computer, especially if it's connected to the internet.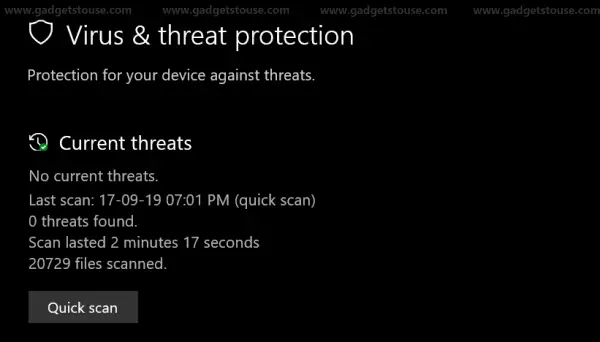 According to a report by AV-Test, Windows Defender currently offers 99.6% protection against zero-day malware attacks. And hence, it is more than enough to be relied on for peace of mind in general. Anyways, you can also opt for reputed third-party security software such as Bitdefender, Avast, McAfee and more.
Use a VPN while on Public WiFi
Open WiFi networks are a great convenience to have at cafeterias, railway stations, hotels, and other public places. However, they aren't ordinarily secure, implying a potential risk of spying on your web activity. This is why it is advised not to use credit cards or any other personal information while on public networks.
Anyways, this is where you can use a Virtual Private Network (VPN) for securing your private data. Notably, a VPN creates an encrypted tunnel for secure data flow, eliminating the risk of being tapped on the way. There are a lot of free/ paid VPN software available in the market with NordVPN, ExpressVPN, and CyberGhost as the reputed ones amongst others.
Disable App Permissions in Settings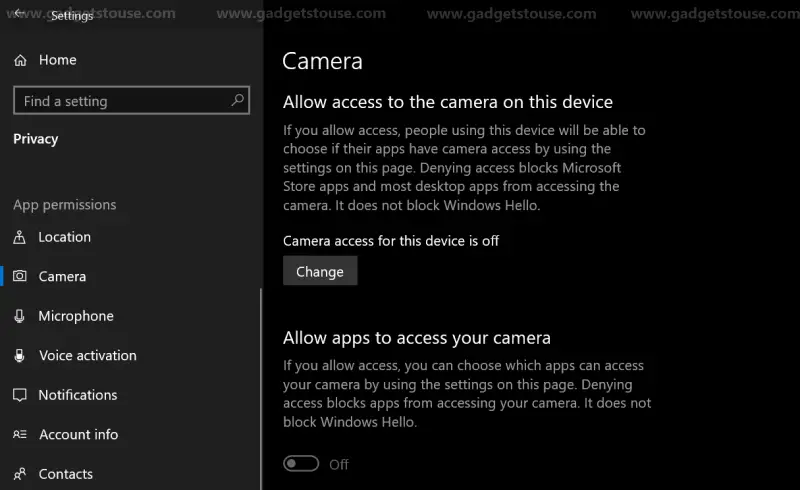 Windows 10 offers a full-fledged permission control suite using which one can limit what an application can access on the device. To access the permissions manager, just open your Windows settings and navigate to the Privacy section. Now, scroll down the left sidebar and check out all the options under "App Permissions" tab.
Here, you can enable or disable access to location, camera, microphone, phone calls, voice history, documents, images, files, and more for applications on your PC. It can be either done individually or in bulk, for all. This allows you to have granular check over what an app can access, aiding for better privacy control on your device.
Be cautious of phishing attacks
At times, you might receive pop-ups on your screen which might look legit but are phishing scams in reality. These are generally disguised as support pages and giveaway forms employed to pull your private information.
Apart from that, always keep an eye on your e-mails and check twice before opening any suspicious attachment. Also, do check the URL of the page you're visiting through any direct link before entering any private information. Always keep your anti-virus software handy, and follow necessary precautions to secure your data.
Wrapping Up
So these were some useful tips on how you can keep your data secure on Windows 10 PCs. By the way, what are the things you've done in order to secure your computer? Let us know in the comments below. Moreover, feel free to reach us in case of any doubts or queries.
Also, read Microsoft Your Phone App: How to Sync Text Messages and Photos from Smartphone to Windows 10.