Realme has launched its first truly wireless earbuds dubbed as Buds Air in India. The Buds Air come with a wireless charging compatible case just like Apple's earbuds and also mimic the AirPods' signature design. However, the Buds Air are way cheaper than Apple's AirPods and come in a few other color options than white, including black and yellow.  Ahead of the launch, we used the Buds Air for a few days, and we have found some reasons why you can buy these wireless earbuds from Realme.
AirPods Like Design
The Realme Buds Air look exactly like Apple AirPods. Everything from the charging case to the earphones themselves is inspired by Apple's popular earbuds.
Maybe that's why Realme Buds Air also come in black and yellow colors. Our review unit which came in white looks just like the AirPods and it can be hard to differentiate from the Apple ones.
Realme has gone with the same minimalist design language. There is no logo on the earbuds and only the charging case has 'Designed by Realme' text as the only branding.
The charging case is a little bit shorter and a bit wider than that the Apple. It has a pairing button at the front and the bottom has a USB Type-C port for charging.
Comfortable Fit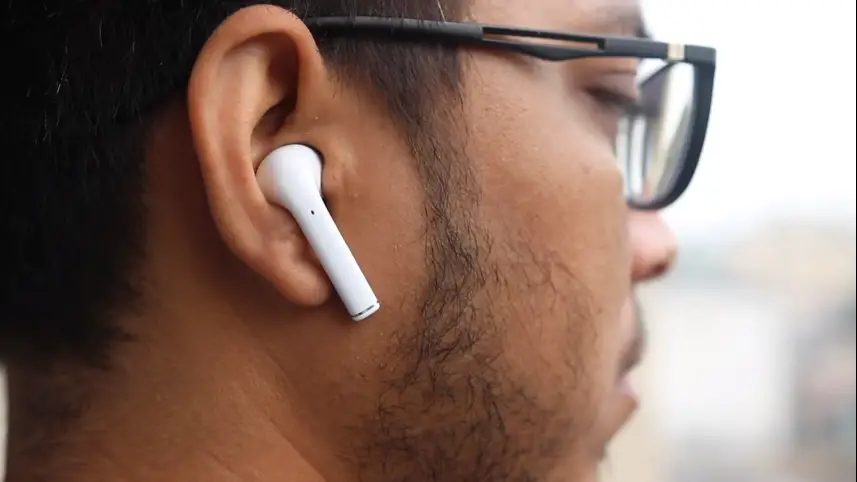 The fit of the earphones is very comfortable and they sit comfortably in normal-sized ears. Though it is not as secure as the proper in-ear headphones, it is overall good for regular use. However, sometimes the Buds Air become loose, especially during walking.
Wireless charging case
Wireless charging is another good feature on the Realme Buds Air. It is surprising to see such a feature coming to wireless earbuds that cost only Rs 4K. The AirPods with the same feature cost four times to it. You just put the case on the wireless charger and they start getting charged. However, if you don't have a wireless charger, you can use a USB-C cable.
Easy Pairing
There is Bluetooth 5 for connectivity, with support for AAC Bluetooth codec. The earbuds can work with both Android smartphones and iOS devices. Simply turn on Bluetooth and keep pressing the button on the Buds Air case to connect.
Low Latency Gaming Mode
There is also a low latency gaming mode which is activated by a long-press on both earphones at the same time. It is said to reduce connection latency and Realme uses what it calls its R1 chip to improve the stability.
If we talk about other features, the earphones have 12mm dynamic drivers and they offer decent sound and bass. truly wireless earbuds. Surprisingly, the Buds Air are also good at blocking the background noise.
Coming to the battery life, Realme claims the Buds Air will offer 17 hours with the charging case and I think it will be enough for anyone.
Wrapping Up
Realme Buds Air are an affordable truly wireless earbuds costing just Rs 3,999. Realme's Buds Air are really for the masses as other wireless earbuds like AirPods and Galaxy Buds cost way too high. With features like wireless charging case, AirPods like design, low latency mode, Realme Buds Air could be a good buy for you.