Magic video creators are a great way to unleash your creativity and kill boredom, especially in these quarantine days. But unfortunately, the majority of apps available in the market often turn out to be rogue and are quite the opposite of what's advertised. Therefore, to save your time, we are here with the three best magic video effects apps for Android that are really worth downloading.
Best Magic Video Effects Apps for Android
1. Likee
Likee is a popular and feature-packed app that lets you create amazing videos using magical effects and share them with millions of users across the globe.
It comes with a 4D magic option with an AI-powered body movement tracker that lets you use special effects, create dynamic backgrounds, and interact with multiple people in a single video. You can make yourself jump, fly, disappear like ghosts or take off with a jet throttle. You can even change the background to be in a world of your own and yet there'll be a lot left to explore.
Apart from special effects and animations, Likee lets you dub songs, act, and mimic the dialogues from famous actors. There's also a FaceMagic feature using which you can become a superstar or actor you like with a single tap. Later, the same can be shared with the Likee community.
2. Magi Video Editor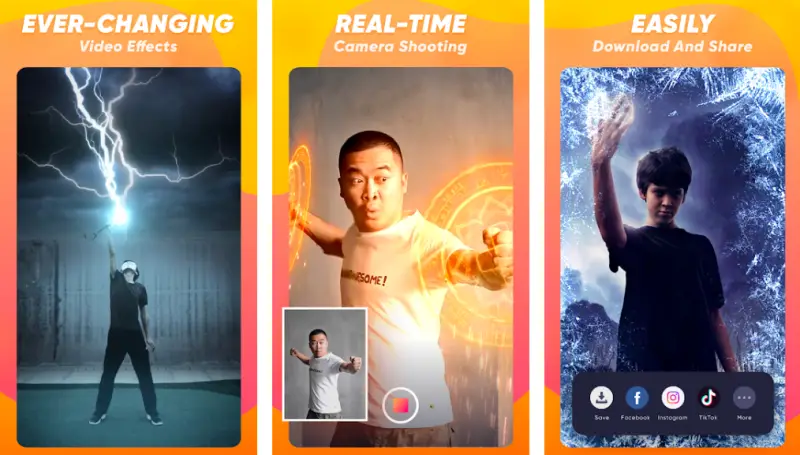 Magi+ is a powerful video builder that lets you create videos using tons of fictional movie effects and editing options available onboard.
For starters, there's a wide variety of free and paid effects, including superpowers like energy balls, magic shields, and flash, followed by natural powers and disasters such as wind, fire, thunder, etc. Furthermore, there's sci-fi and fantasy, weapons, vehicles, and other magic effects that can be used in the video.
You can instantly become a superhero and play with special effects to create fantastic-looking magic clips. Simply choose an effect, start the camera and follow up as the app guides you with action to record clips. Now, polish it with the given editing tools, and you're good to go.
3. MojoPro- Magic Video Editor
MojoPro is an AI-powered video editor that comes with a vast collection of realistic themes with special effects. You can use them to become a superhero or superwoman with magical powers within minutes. And not only that, but it also offers movie VFX effects that look quite graphic.
To create a video, choose an effect you want to dub and select a scene. Now, imitate that unique superheroes scene by following the given steps. Once you're done, add special effects and style using powerful editing tools onboard. You can then share the amazing video on social media or with your friends and family.
Wrapping Up
So these were some of the top apps to create magical videos on Android. Out of all, Likee is my personal favorite as it keeps you entertained with the creations of other users across the globe. Anyway, what's your choice? Do try them and let us know in the comments below. Also, feel free to reach out in case of any queries.
Also, read- Top 5 Apps to Create Slow Motion Videos for Android