Almost every other modern smartphone is capable of recording slow-motion videos. Slo-mo not only offers a unique viewing experience but also lets you unleash your creativity and watch things with a whole different perspective.
That being said, some devices, including budget phones, may not have native support for recording slow-motion clips. Fortunately, there are several apps available in the market that can help you with the same. In this article, let's talk about the top five apps to create slow-motion videos for Android.
Best Apps to Create Slow Motion Videos for Android
Now, there are tons of apps available on Play Store that let you record or create slow-motion videos on Android. However, only a few of them live up to the expectations. Below, we've mentioned some handpicked slow motion video apps for Android that you can download from Google Play Store.
1. Slow Motion Video FX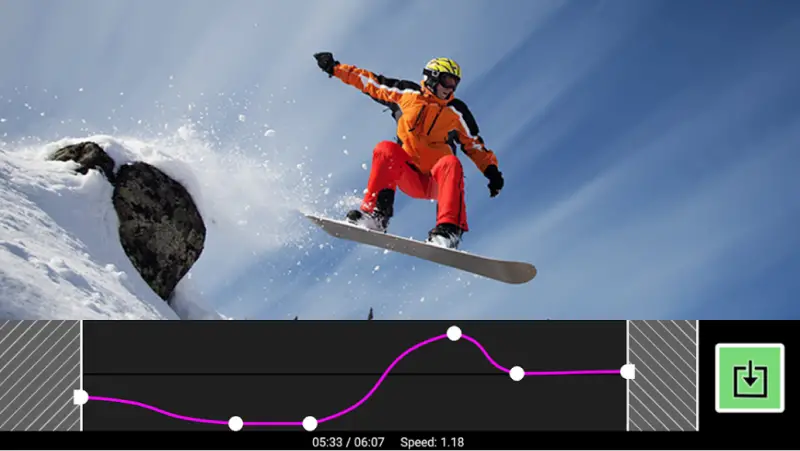 Slow Motion Video FX is undoubtedly one of the best slow-motion video apps for Android at the moment. It not only lets you record videos in slow motion but can also convert your existing videos into slo-mo clips.
After adding a video, you can define its speed between 0 and 1, depending upon how slow you want it to be. Selecting a rate higher than 1 will rush the video, which can be used to create hyperlapse.
Interestingly, you can create multiple points with different speeds in one movie, i.e., the video can be varied from slow to fast throughout the timeline, using set points. Plus, the app also lets you add sound and video filters to your clips.
2. Efectum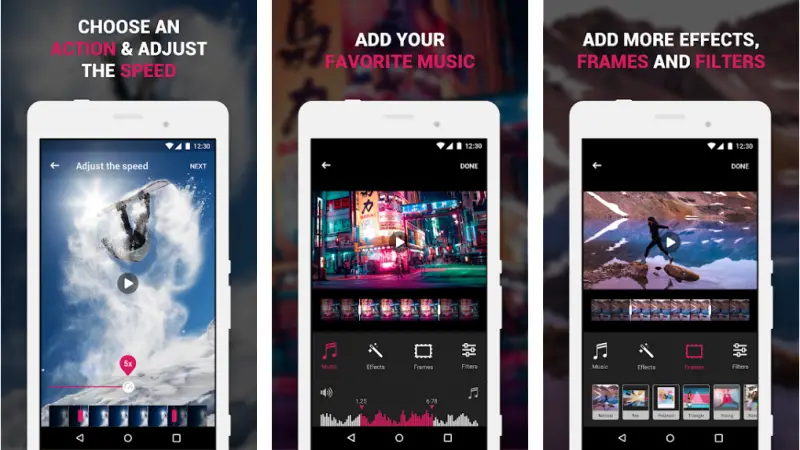 Just like the app above, Efectum allows you to edit videos from your gallery or capture from the app and save it on your phone. It comes with a highly intuitive interface and is quite easy to use.
You can use Efectum to create unusual slo-mo, as well as fast action and reverse video edits. There's a built-in editor that lets you cut & trim, add music, customize frames and add filters to the clips. Moreover, it also comes with timelapse video effects, which can be used to create some cool-looking clips.
3. Coach's Eye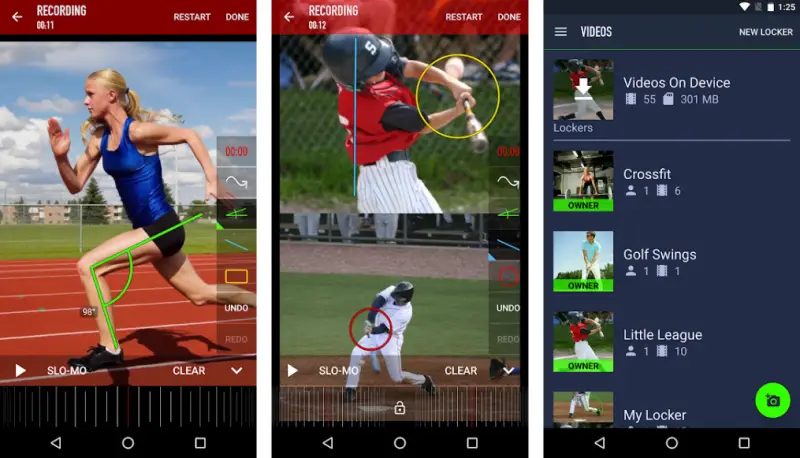 Coach's Eye is made for athletes and professionals to record videos while performing a specific action and watch it later. Though, it can also be used to record casual slo-mo clips.
You can make slow-motion videos of your performance and later examine it by going frame by frame. There's also an option to add illustrations and voice-overs in the video. And you can even play and compare two videos side by side.
Apart from that, you get 2GB of cloud space on its free version and 150GB on subscription-based VIP version to upload your videos. While Coach's Eye doesn't offer fancy video effects or music, it's quite a fantastic app to mainly record performances, be it for sharing with others or self-improvement.
4. Slow Motion Video Maker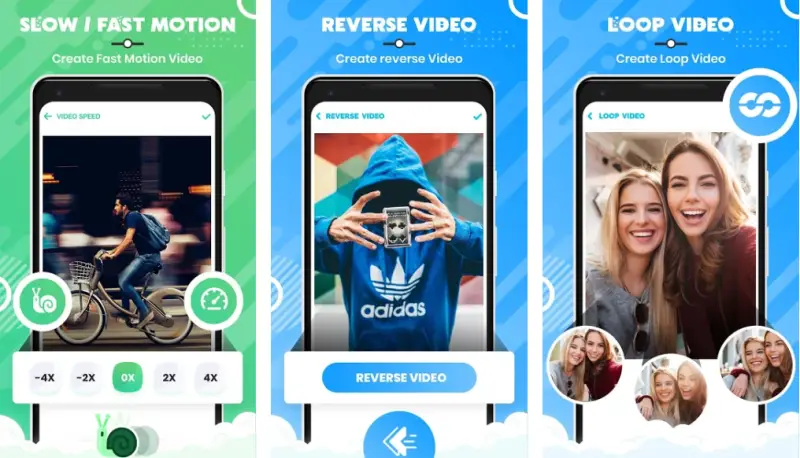 This particular application comes with tons of useful features for those who want to do much more apart from just creating slow motion. It has got options to create fast motion videos, reverse videos, and loop feature followed by tons of stylish video filters.
Slow Motion Video Maker also comes equipped with a built-in video compressor and video to GIF converter, which can be handy at times. As for other editing options, you can cut & trim videos, edit the music or flip & rotate them as per your needs.
Besides, you can record beautiful videos with preloaded motion effects, including slow motion, fast motion blur, and many more. The app is free to use and has no paywall as such.
Download Slow Motion Video Maker
5. VideoShop- Video Editor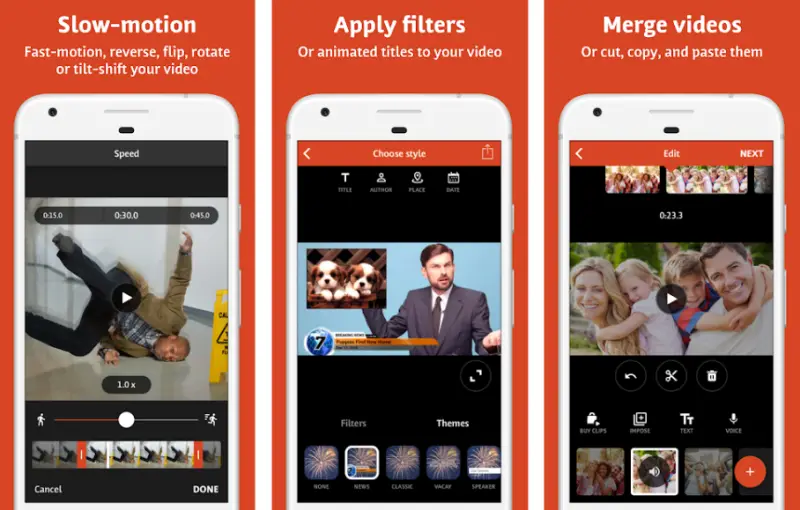 As the name suggests, VideoShop is a full-fledged video editing app that can also create good quality slow-motion videos. It offers a complete package of features you need to edit a video.
You can create high-quality slow-motion movies that can be trimmed in real-time. And then, there are usual features like adding music, merging multiple videos into one, and adding filters. It also lets you play with brightness, contrast, saturation, and make other adjustments while editing.
You can directly share your creations with friends and family through Messenger and WhatsApp & Instagram stories. VideoShop is our overall pick when it comes to the best apps to create slow-motion videos on Android, all thanks to the slew of features it has on offer.
Wrapping Up
So, these were some of the best apps that you can use to create slow-motion videos on your Android phone. Do note that for good quality slow-motion clips, you need to record videos with a high frame rate, preferably 60 or more.
If you take a video with a lower frame rate, say 24fps, and slow it down by four times, the frame rate will decrease even further, making the resultant video clip appear choppy. Hence, for smooth output, it's always recommended to shoot at a high frame rate.
Anyway, which app did you like the most? Do you have anything else to recommend? Let us know in the comments below. Also, feel free to reach us in case of any doubts or queries.
Also read-