According to WhatsApp, an account can only be verified with one number on one device. And if you try to login with the same number on another device, it will automatically get disabled on the first one. So, is there any way to use the same WhatsApp number on multiple devices? Let's find out.
Use Same WhatsApp Number on Multiple Devices
To be honest, there's no 'direct' way to use the same WhatsApp number on two or more devices at a given time. However, we do have a workaround in the form of WhatsApp Web that will help you log on to your account on another device without disturbing the primary phone.
As of now, WhatsApp Web allows only one additional device. Therefore, apart from your current smartphone, you can use it on either of your secondary phone or PC. So, based on the device you want to use it on, proceed with the methods given below.
1. Laptop or Desktop (Windows/ macOS)
To access WhatsApp on your Windows or Mac alongside the primary phone, you can directly use the WhatsApp Web feature, as follows.
1] Open the browser of your choice and head to web.whatsapp.com. You'll see a QR code to log in to your account.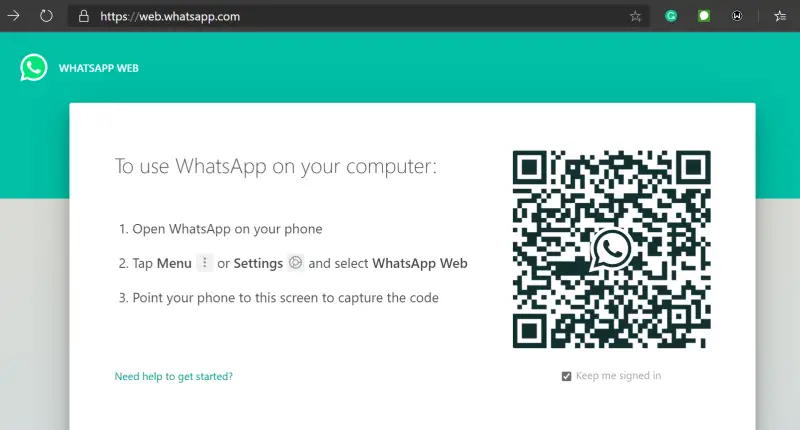 2] Now, open the WhatsApp app on your phone and tap the three-dot menu on the top right corner.
3] Click on WhatsApp Web, and point your phone's camera at the QR code displayed on your PC. While doing so, check the "Keep me signed in" box below the code so that you don't have to scan it again for future logins.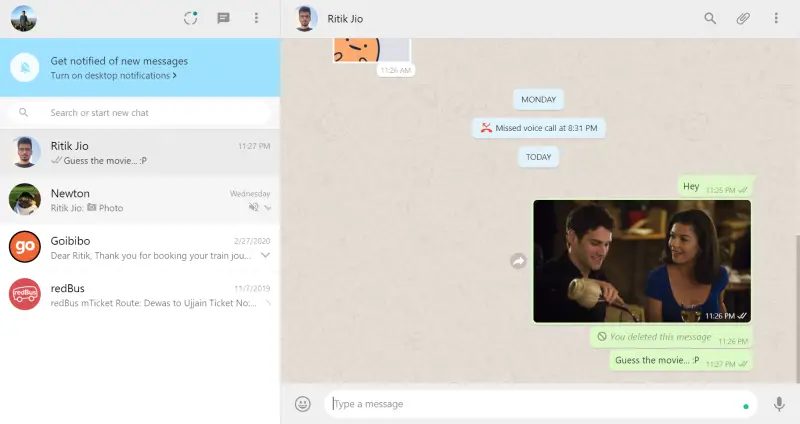 Within seconds, you'll be logged into your WhatsApp account on your PC. All the messages will be synced across both the devices, and you can use either of them to chat with your contacts. However, it requires a stable internet connection, not only on your PC but also on your smartphone.
Alternatively, you can download the official WhatsApp app for Windows and Mac. It works similar to the web version but is more feasible for regular use.
Download WhatsApp for Windows | Download WhatsApp for Mac OS X 10.10 and higher
2. Smartphone (Android/ iOS)
Using Web Browser
Just like the method above, you can use the WhatsApp Web feature on your secondary phone's web browser to access your WhatsApp account.
1] Open the web browser of your choice on your secondary phone and navigate to  web.whatsapp.com. Note that you'll be automatically redirected to www.whatsapp.com. To get back to WhatsApp Web, click on the 'Request Desktop Site' option in your browser's menu.
2] Now, open WhatsApp on your primary phone. Tap the three-dot menu on the top right corner and click on WhatsApp Web.
3] Scan the QR code shown in your secondary phone's browser. Give it a few seconds, and you'll be able to access all your chats and contacts on the other phone.
Using Third-party Apps
The other option is to install one of the third-party apps that offer WhatsApp Web feature more linearly. If you aren't very comfortable with the browser method above, use this instead.
1] Download and install the Whats Web Scan app from Google Play Store. Those using iPhone and iPad can install the Whats-Web scanner app from the App Store.
2] Once installed, open the app and click on the scanner option. Wait for it to load the QR code on your screen. Make sure to check the "Keep me signed in" box.
3] Now, open the WhatsApp on your main phone and head to the WhatsApp Web section. Scan the QR code through the scanner, and you're good to go.
Wrapping Up
So this was a quick guide on how you can use the same WhatsApp number on multiple devices. Interestingly, reports say that WhatsApp may soon get multi-device support, allowing the same number on two phones or tablets simultaneously. However, we are yet to see any official announcements regarding the same. Till then, you can use the workarounds mentioned above.
Also, read- Working Method to Restore WhatsApp Chats on Another Phone