Brought yourself a new phone and don't want to lose old WhatsApp conversations? Well, for obvious reasons, simply installing and signing up on WhatsApp won't restore your old messages. And you need to have a backup option ready for the same. In this guide, let's check out a couple of working methods to restore your WhatsApp chats on another phone.
Restore WhatsApp Chats on Another Phone
On Android
Restoring your WhatsApp chats from one Android phone to another is just a piece of cake as you don't need any extra tools or trickeries. Based on your preference, you can choose to backup locally or on the cloud, as described below.
Local Backup & Restore
You can easily create a local backup of your WhatsApp chats and move it to your new phone using the traditional method. Kindly proceed as follows:
1] Open WhatsApp on your old Android phone. Tap the three-dot menu on the top right corner and head to Settings.
2] Here, click on Chats and select Chat Backup. Tap the Backup button and wait for the process to complete.
3] Now, open your phone's internal storage and look for the "WhatsApp" folder. Transfer this folder to your new device's internal storage via PC or file-sharing apps such as Files Go and Xender.
4] Open WhatsApp on your new device, enter your phone number, and follow up with the sign-in process. It'll soon notify you that a local backup has been found. Tap Restore, and you're good to go.
Google Drive Backup & Restore
The other way is to let WhatsApp backup your chats, including photos, documents, audio, and more, to your Google Drive storage, as given below.
1] Open WhatsApp, click on the three dot-menu on the top right corner, and select Settings.
2] Navigate to Chats > Chat Backup section.
3] Here, choose your Google account, customize the backup frequency, and select if you want to include videos as well. After that, click on Backup, and it'll start uploading your data to the cloud.
4] Once the process finishes, open the freshly installed WhatsApp on the new device, verify your mobile number, and it'll automatically prompt you to recover your WhatsApp chats from Google Drive.
Click on Restore to start the recovery. Messages will appear instantly, while the media files, including images and videos, will take time to open as they download in the background.
On iPhone
Akin to Google backup on Android, you can use Apple iCloud on iPhone to restore WhatsApp chats from one device to another. That said, ensure that you're signed with the Apple ID you use to access iCloud and iCloud Drive must be enabled on your device.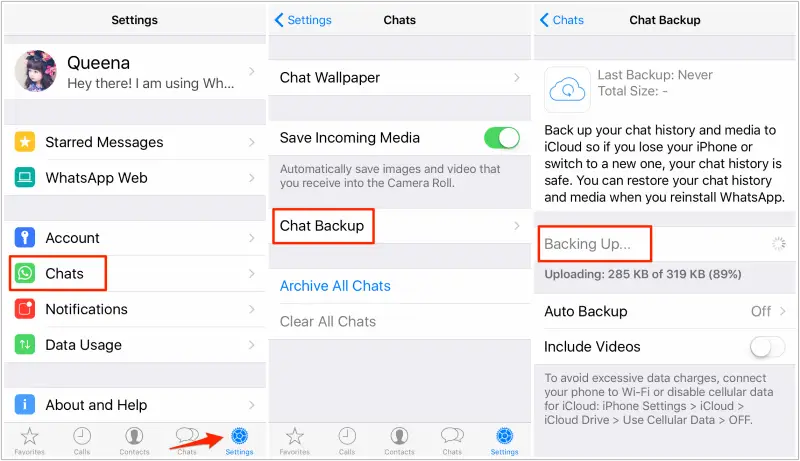 1] On your iPhone, open Settings and click on your Apple ID on the top. Enable iCloud Drive if not already, and turn on the toggle for WhatsApp.
2] Now, open WhatsApp and click on the gear icon on the bottom right to open Settings. Tap the Chats button and select Chat Backup.
3] Here, click on Backup Now to upload your WhatsApp conversations and media to your iCloud storage.
If you want automatic backups, turn on the Auto Backup feature and select the backup frequency you'd prefer. You can also enable backup for videos if required.
4] Once you're done with the backup process, launch WhatsApp on your new iPhone, verify your mobile number, and follow the on-screen prompts to restore your WhatsApp chat history.
Alternatively, you can use iTunes and other third-party tools like Dr.fone and Syncios to facilitate WhatsApp data backup on iPhone.
Transfer WhatsApp Chats from iPhone to Android/ Android to iPhone
Things might get quite tricky when it comes to cross-platform WhatsApp migration. Since encoding on both devices is different, there is no native solution to transfer WhatsApp data from Android to iPhone or vice versa.
However, you can still check out some paid tools like Wazzap Migrator and more, which claim to facilitate Android to iOS WhatsApp transfer. Nonetheless, we would suggest not to trust them with your private data without proper research.
Wrapping Up
So this was all about how you can restore your WhatsApp chats from one phone to another. On Android, you can use local backups and your Google Drive, while iPhone can use iCloud backups to transfer chats. However, moving conversations between the two platforms is quite difficult and has no direct method available for now.
Anyway, what's your preferred mode for backups- offline or online? Let us know in the comments below. Also, feel free to reach out in case of any doubts or queries.
Also read: How to Backup Your WhatsApp Pictures in Google Photos & Texts in Google Drive.