Apart from clicking pictures, listening to music, and making calls, you can also use your phone to measure anything, ranging from a small pen to a huge building. This can be highly useful, especially when you don't have a measuring tape or ruler lying around. In this article, let's see how to measure objects with your phone's camera.
Measure Anything With Your Phone using AR
Back in 2018, Google launched its Measure app that uses augmented reality to measure the length and height of objects. If you have a smartphone that supports Google's ARCore platform (most modern phones do), then you can use it to measure an object without even touching it, as follows.
1] Download and install Google's Measure app on your phone through the given link.
2] Open the app and grant it necessary permissions, including access to camera and storage.
3] Once the app is ready, move your phone slowly from left to right for the app to scan for flat surfaces.
4] Click on "+" and set the pointer at the desired location. Now, either move or tilt your phone across the object's length or height. You can also tap and drag the height and length measurement tools manually to fit the object.
The app will show the object's estimated length or height measurements in real-time as you set the pointers. That said, make sure not to shake your phone as you may have to scan the surface again.
Also, note that Google Measure generally measures horizontal and vertical distances with tentative accuracy. So, a measuring tape or ruler should always be the first choice if you're looking for ultra-precise units.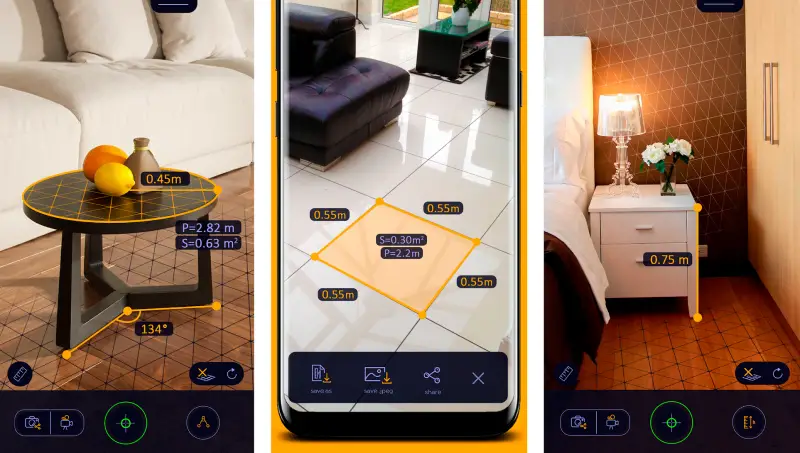 Alternatively, you can use the AR Ruler app, which not only lets you measure dimensions of an object but also measures corners on 3D planes, perimeter & area of the room, size of 3D objects, and supports an on-screen ruler for small objects. You can also generate plan projection for drawn objects and export them to PDF format.
If you have an iPhone, you can download the Measure app from the App Store, which uses Apple's ARKit to help you with quick everyday measurements, just like Google Measure.
Wrapping Up
So, this was all about how you can measure any object's length, width, or height with your phone's camera, using augmented reality. Anyway, which app worked the best for you? Have any better tools to recommend? Do let us know in the comments below. Also, feel free to reach out for any doubts or queries.
Also, read- How to Capture 3D Photos From Your Phone Camera