Being one of the salient features of WhatsApp, the WhatsApp Web lets you stay connected even while working on your laptop or PC. Now, while the Facebook-owned giant's Android and iOS apps have already received the much anticipated dark mode feature, the web version is yet to see the same. And, if you can't wait any longer, here's a quick trick to get dark mode on WhatsApp Web.
Also, read: Facebook Changes Website Design; Get Facebook Dark Mode Now
Trick to Get Dark Mode on WhatsApp Web
As noted, WhatsApp Web hasn't officially received the dark mode feature yet, though it's already in the pipeline for the coming time. For now, you can enable dark mode on WhatsApp through Inspect Element option, as follows.
1] Open WhatsApp on your phone and head to Settings > WhatsApp Web.
2] Next, navigate to web.whatsapp.com on your computer. Scan the QR code through your phone to log in.
3] Now that you've logged in, right-click on the WhatsApp web page and click Inspect Element. Alternatively, you press Ctrl+Shift+I to toggle the Inspect Element screen.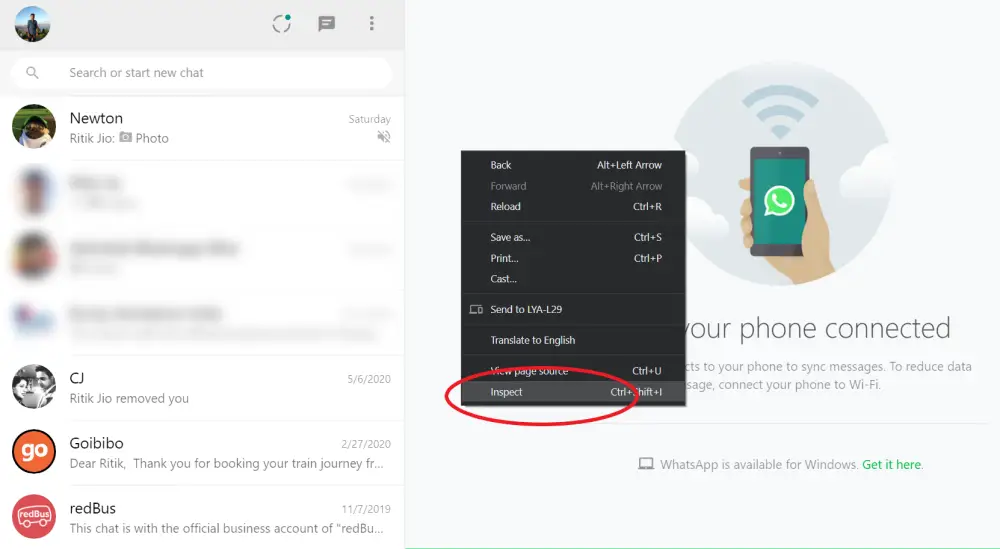 4] Click on Elements from the top menu. Right below it, you'll find a string named body class= "web" within the first few lines (shown in the screenshot below).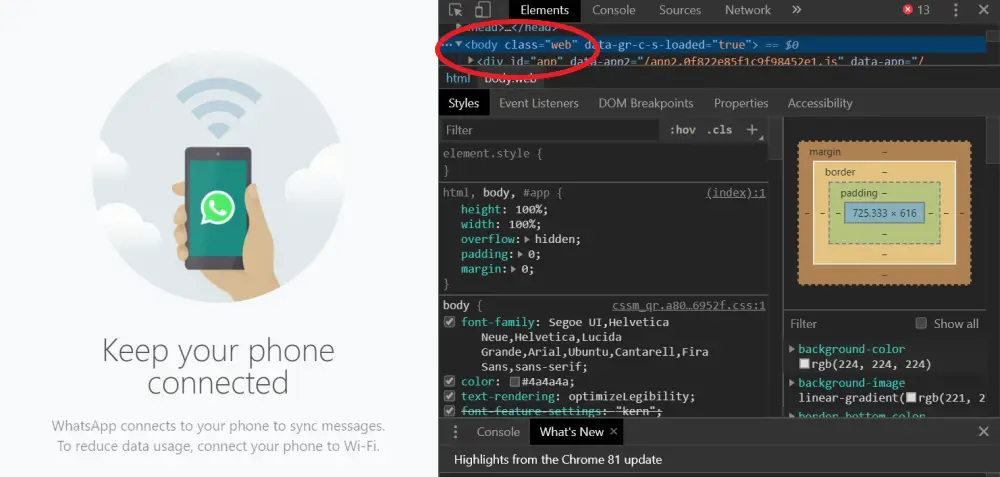 5] Right-click the line, tap Edit Attribute, and change"web" into "web dark," i.e., body class=" web dark."
6] Click anywhere on the screen or press Enter to save.
That's it. You should now be able to use the dark theme on WhatsApp Web. Note that reloading the page will bring you back to the default light mode. And you'll need to follow the same steps again to switch to the dark interface.
Wrapping Up
This was a quick guide on how you can enable dark mode in the WhatsApp Web. Anyway, what do you prefer- dark mode or light mode? Do let us know in the comments below. Moreover, feel free to reach out for any doubts or queries.
Also, read- Guide to Stop Showing WhatsApp Images and Videos in Gallery