If you have an Android phone, you may be curious about digging into your RAM's hardware details and capabilities, be it to compare with other phones or to check its performance. In this article, we'll tell you how to check your Android phone's RAM type, Speed, and Operating Frequency.
Find Phone's RAM Type, Speed and Operating Frequency
1. Check RAM Stats on Android
The first thing you may want to check on your phone is your RAM's total capacity and the space being used at a given time. Now, there are two ways to check the same- either through developer options or by using a third-party app.
Through Developer Options
Firstly, enable developer options on your phone by tapping on Build Number seven times under Settings > About Device. Once enabled, head to back to the Settings main page and open the Developer Options menu.
Find and tap the Running Services option. Here, you'll be able to see the current status of your Android's RAM, including space used by the system, apps, and remaining for use. You can further tap the button on the top right to check RAM occupied by cached processes.
Using Third-party App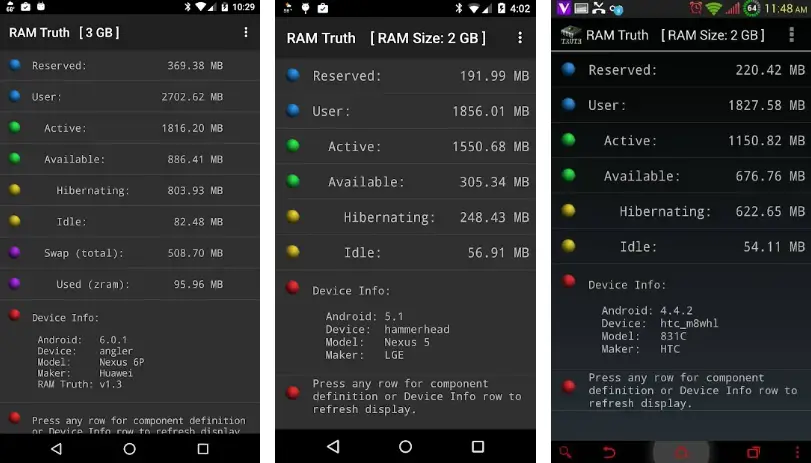 There are several third-party apps available on Google Play Store that give you a detailed overview of your RAM use. One such app is RAM Truth, which tells you actual RAM capacity, followed by other space allocations including active, hibernated, idle, etc.
'Reserved' is the hidden area allocated for kernel functions. Whereas, 'User' is the usable RAM on your phone. Furthermore, 'Active' is the amount of RAM currently in use by the system, 'Hibernating' denotes the space being used as cache memory (using no CPU or power resources) and 'Idle' is the space left unused by the system.
2. Find RAM Type, Operating Frequency
You can easily check the RAM type, operating frequency, and other details using the DevCheck app. Just download and open the app, go to the 'Hardware' tab, and scroll down to the 'Memory' section. Here, you'll be able to see the RAM Type, bandwidth, and channels.
The RAM Type mentioned as "LPDDR" defines the generation of low power DRAM technology. Newer the generation, better will be the speed and power efficiency. Most smartphones these days use LPDDR4 and LPDDR4X standard, followed by LPDDR5 on some flagships like Galaxy S20, OnePlus 8, iQOO 3, etc.
LPDDR3-  Up to 1,066 Mbps
LPDDR4-  Up to 3,200 Mbps
LPDDR4x- Up to 4,266 Mbps
LPDDR5-   Up to 6,400 Mbps
On most phones, it'll also show the RAM frequency in MHz, besides the RAM type. Then comes the RAM Bandwidth, which is mentioned in GB/s. It defines the maximum rate at which data can be read from or stored into the memory by the phone's processor.
3. Check RAM Speed on Android
You can further test your Android phone's RAM speed by using A1 SD Bench. Install the app from Google Play Store, open it, and tap on RAM to start the benchmark. Within a few seconds, it'll tell you the memory's R/W or copy speed. You can compare the same with other benchmarked smartphones in the results tab.
Wrapping Up
So this was all about how you can check your Android phone's RAM stats, type, and speed using few simple applications available in the market. Anyway, what RAM type is your phone using? Do let me know in the comments below. Stay tuned for more such articles.
Also, read- 5 Non-Chinese Alternatives to Clean Master & DU Cleaner