Want to check your kid's location or trace a lost mobile phone? Well, if you use Android, several tools can be used to track the device's location. In fact, some even let you take pictures, see app activity, and monitor the battery level. Below, we've compiled a list of the top five apps that you can use to track any Android phone or tablet for free.
Best Apps To Track Any Android Phone For Free
Before we start, you must note that the target device must be turned on and have an active internet connection, either via mobile data or WiFi.
Also, you must not use phone trackers for any illegal activities- we do not encourage spying or stalking others without prior consent.
1. Find My Device
Find My Device by Google is meant for users to trace their Android phone's location. You can use it to find a lost phone or track the location of your family or friends, provided that the phone is online and you have access to its Google account.
To track other's locations, you'll need the login access of the account currently being used on their device. After this, you can head to google.com/android/find to get its accurate location.
Features:
Track your phone via GPS
Erase all the content from the device
Play sound for nearby detection
Lock it remotely
Offered by: Google LLC, USA
2. Family Locator by Life360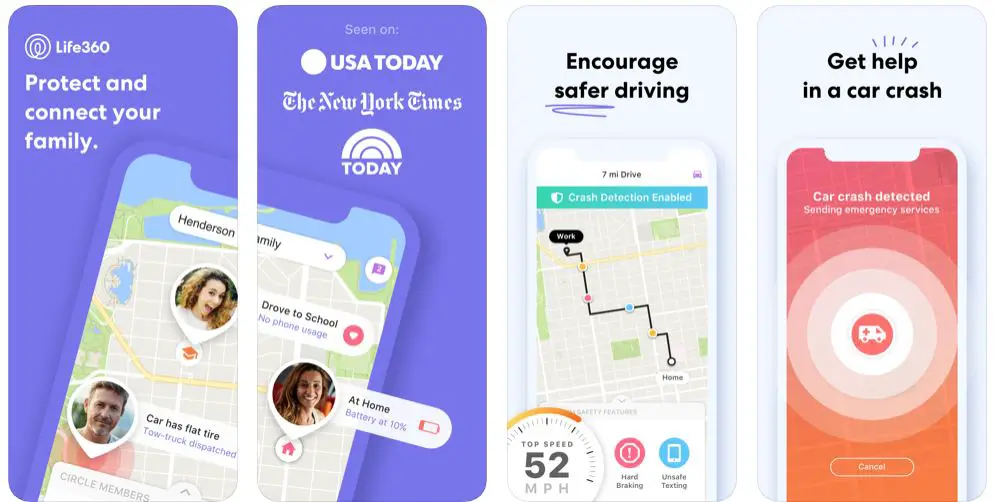 Family Locator is a family-oriented GPS tracking app where you can create your own private group by adding your friends or family members. You can chat with them and also see their real-time location.
People in a circle can access each other's location history and set arrival and departure alerts. The app also facilitates emergency help during a crash or lockout. It works with both Android and iOS.
Features:
Track the phones of your family & friends
Get alerts when someone arrives at the destination
Chat in a private channel
Offered by: Life360 Inc, San Francisco
3. Where's My Droid
Where's My Droid is a full-fledged anti-theft application that can help you track down a lost phone. You just need to install and set up the app on the target device, post which you can use SMS commands to lock the device and get its GPS coordinates.
Once you're near enough, make it ring to find where it exactly is. The free version lets you track location, add GPS flare (get location when the battery is low), ring, lock, and wipe.
On the other hand, the Pro version gets extra features like taking pictures, motion alarm, access to location history, contacts, device stats, and more.
Features:
GPS Tracking via SMS Commands
Remotely ring, lock and wipe the device.
Take on-command pictures
Get location history, contacts, etc.
Offered by: Alienman Technologies LLC, USA
4. Famisafe Location Tracking
Famisafe is a parental control app that tracks location with high accuracy. The location on the map also shows you the last update time and battery level of the phone.
You can access the device app usage, limit screen time, and block websites. It even detects & notifies you of suspicious photos and texts, which can be useful for guardians who want to keep an eye on their children.
As of now, Famisafe offers a limited trial for free access, making it a good choice for one-time use.
Features:
Tracks live location with accuracy
App Blocker, App Usage Report
Detects explicit content
Limit screen time, Web filtering
Offered by: Wondershare
5. Google Maps Location Sharing
Google Maps is the most widely used map service across the globe. However, apart from navigation, it can also be used to share your live location with others.
All you need to do is open Google Maps, head to the 'Location Sharing' Menu, and choose a Google contact. Make sure to check "until you turn this off" for permanent sharing.
Once you have selected the person, they'll see your real-time location in their Google Maps app alongside your phone's battery level. Further, they'll be able to share their location in turn. This way, you can track your friends using Google Maps while on a trip or commute.
Note that it cannot be used to secretly monitor one's location as Google sends out regular reminders via email.
Features:
Track live location
Share with multiple people at once
Check battery life
Offered by: Google LLC, USA
Wrapping Up
This was all about apps that can help you track any Android phone free of cost. Out of all, Google's Find My Device should be enough for most people. However, those who want advanced features can go for other options. Anyway, which one do you prefer? Let me know in the comments below.
Also, read- How to Unlock Your Android Phone After Forgetting Pattern or PIN.