Like other social media platforms, including Facebook, Instagram lets you delete your account permanently if you want to. Once you delete the account, all your profile data will also be removed, contrary to temporary deactivation. Here's a quick guide on how you can permanently delete your Instagram account.
Delete Your Instagram Account Permanently
Before you proceed with account deletion, we'll advise you to take a full backup of your Instagram account. This will include all your photos, videos, profile information, and other data. Read detailed steps here.
Step-by-Step Guide to Delete Instagram Account
1] Launch browser and open the Instagram website on your phone or PC and log in with your account credentials (this cannot be done on the mobile app).
2] Follow the link to Instagram's account deactivation page.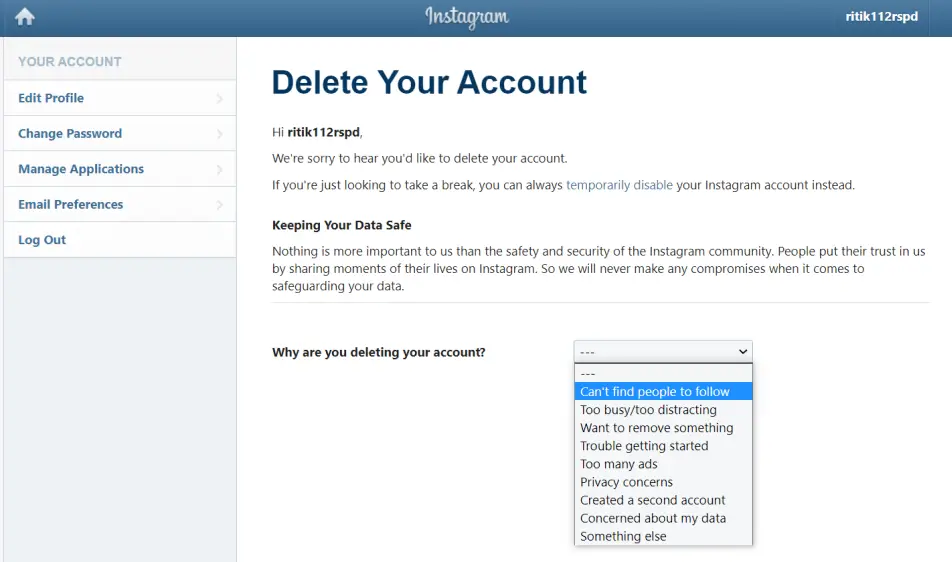 3] Specify the reason you're deleting your account from the options available in the drop-down menu.
4] Re-enter your Instagram password. Then, click on Permanently delete my account.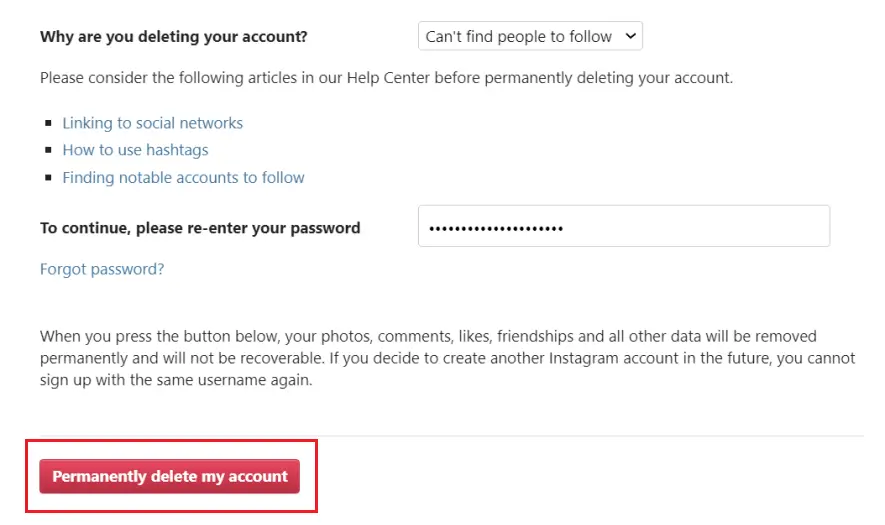 If you don't want to lose your profile forever, you can resort to temporary deactivation. To do so, open Instagram.com, tap your profile on the top right corner, and select 'Settings.' Here, click on 'Edit Profile,' scroll down and hit "Temporarily disable my account."
What happens when you delete your Instagram Account?
Your account and all your information will be permanently deleted after 30 days of the deletion request. After that, you won't be able to retrieve any of your data. Note that it may take up to 90 days for Instagram to remove all the data from backup storage. Nevertheless, it won't be visible to other people on Instagram.
Once the account is deleted, you won't be able to sign up again with the same username or use that username for another account. So, keep a note of it.
Wrapping Up
We hope that you're now aware of how to delete your Instagram account permanently. As mentioned, there's always an option for temporary deactivation in case you're willing to take a break from social media but don't want to lose your account. That said, feel free to reach out in case of any doubts or queries.
Read- Stop Others from Logging Into Your Instagram With Your Password