If you have been looking for buying the new iPhone SE, this is probably the right time. You can buy iPhone SE 2020 in India for only Rs. 26,500 right now. To be noted, the new iPhone SE is originally priced at Rs. 42,500. But you can buy this with Apple Trade In program in India.
Apple has officially launched its online store in India that will provide same services as the offline Apple Stores. Most importantly, the online Apple store is offering trade-in options in India for all new iPhone models which means you can exchange any smartphone towards a new iPhone available on the site.
How to Buy iPhone SE with Apple Trade-in in India
1] Visit the official Apple online store.
2] Click on the Apple Trade In section.
3] A pop-up will open with list of smartphones and their estimated trade in value.
4] Below the list, you will see Shop iPhone option, click on it.
5] Here, a window with all iPhone models appear. Click on 'Buy' button below iPhone SE.
6] Enter your PIN code to check trade in availability.
7] The page will ask "Do you have a smartphone to trade in?" Here select the box with 'Yes' and EMI and trade-in option.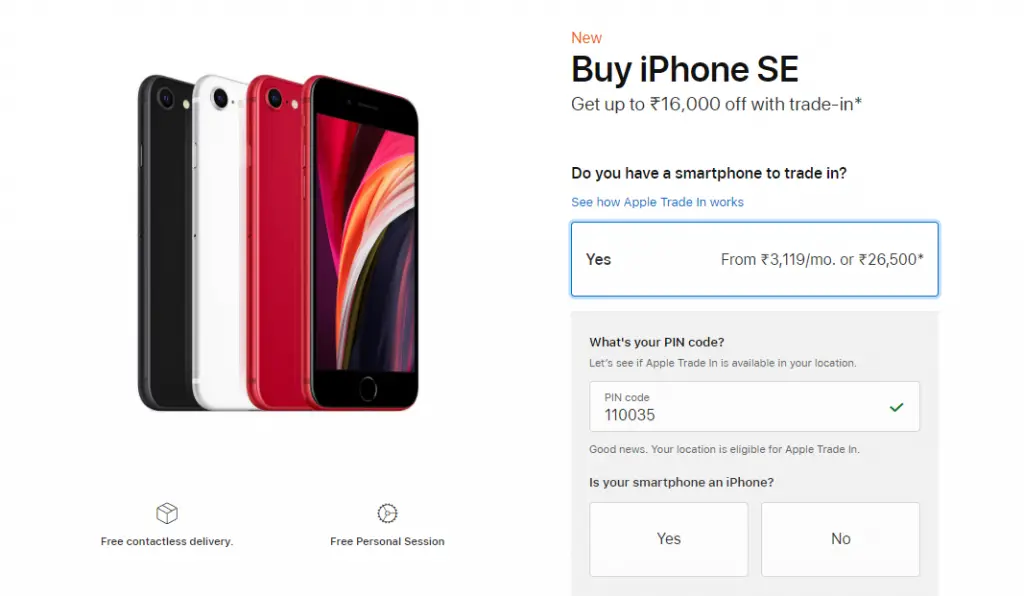 8] Now it will ask 'Ís your smartphone an iPhone?', select accordingly.
9] Enter your serial number or IMEI number of your smartphone.
10] After that it will show your device's trade-in value.
Select your finish and capacity and click on 'Continue' to make payment.
You should know that trade-in value is computed on MRP and may change based on the condition and configuration of your device.
Apple provides various modes of payment on online store. You can pay with credit/debit card, EMI, UPI, Net Banking and card on delivery. All orders will ship with contactless delivery also.
Other services of Apple online store include direct customer support, student discounts, customize orders for Mac, contactless delivery and more.