We all have personal pictures and videos on our phones, which we don't want to share with others. This may include pictures with friends, family, and others, which are not meant for public viewing. Now, if you have left these pictures in the gallery, then there's a good chance of them being accessed by anyone having your phone. Therefore, it's always good to hide sensitive media using apps available in the market. In this article, let's have a quick look at top free apps to hide photos and videos on Android.
Free Apps To Hide Photos, Videos On Android
1. KeepSafe Photo Vault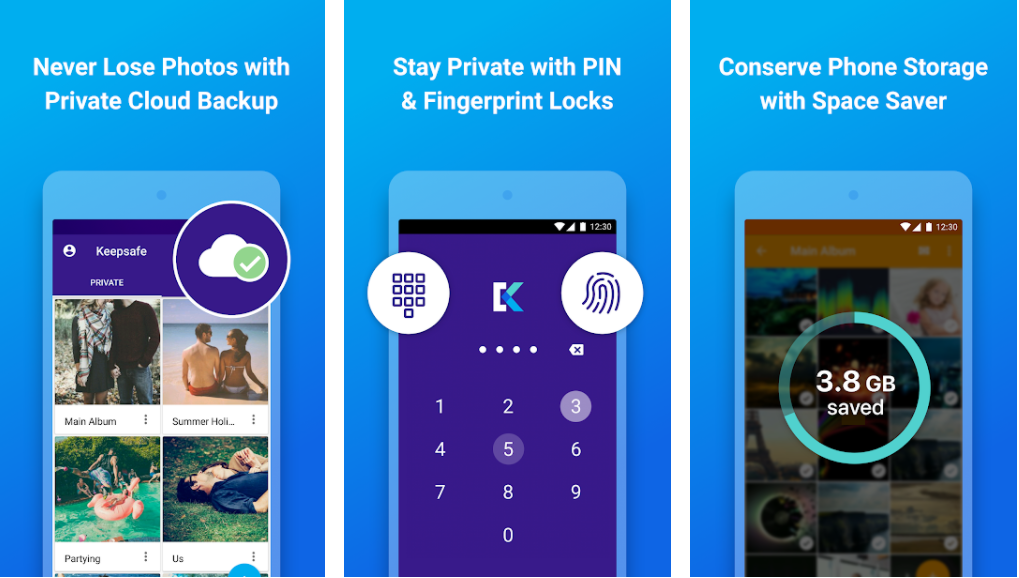 KeepSafe is one of the most popular photos and video vault apps for Android. Using it, you can import photos and videos from your phone's gallery and secure them with a PIN, pattern, or fingerprint.
All the media is synced and can be accessed across all your devices. It also supports shared albums with auto-disappear control. Interestingly, the app doesn't appear in the recently used apps menu to maintain your privacy. It's free to use but contains ads.
Key Highlights:
Lock with PIN & Fingerprint
Sync across devices
Shared Albums
Hidden in the Recents Menu
2. LockMyPix: Hide Photos & Videos
LockMyPix works similarly to KeepSafe but is a tad easier as you don't have to delete photos manually from your gallery. All you need to do is set a PIN and import photos and videos directly to the app. It uses AES encryption to secure the media.
Having said that, the free version is quite basic, and you'll have to buy the premium plan if you want to use face or fingerprint unlock.
The premium plan also unlocks features like Disguise mode and Intruder Selfie, followed by FakeVault, which lets you open another decoy vault if someone forces you. Note that the free version is ad-supported.
Key Highlights:
Easy to Use
AES Encryption
Face/ Fingerprint Unlock (Premium)
Disguise Mode, FakeVault (Premium)
3. Calculator Photo Vault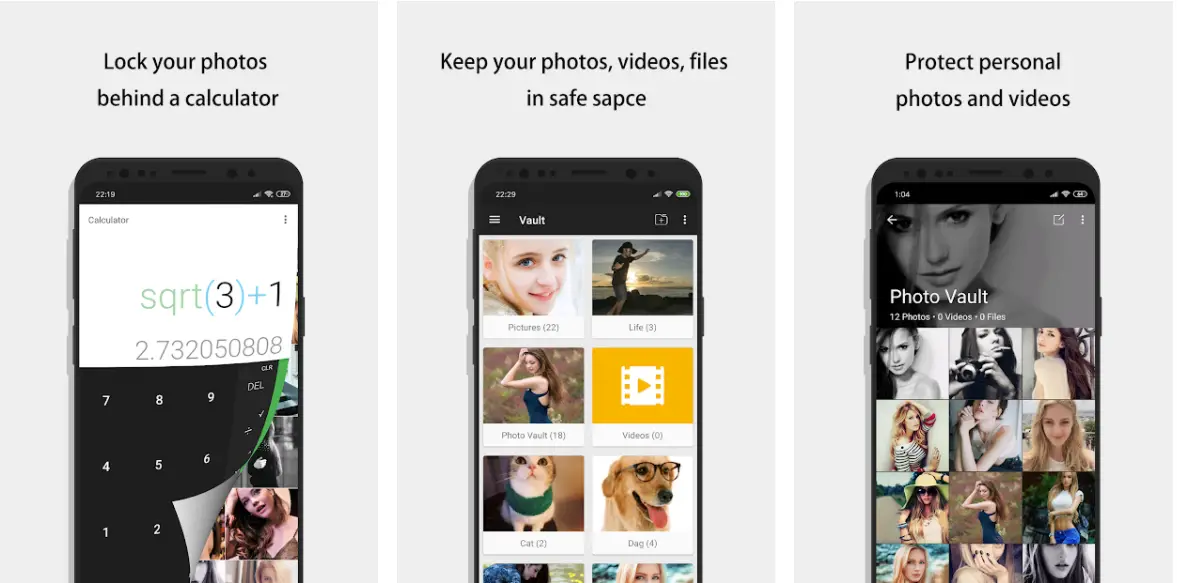 Calculator Photo Vault by FishingNet lets you disguise your photos and videos behind a calculator. The app works like those typical calculator vault apps where you can access hidden files by tapping the calculator button.
The main advantage of using it is that nobody will even know if any such app exists on your phone. Furthermore, it offers a quick private camera shortcut on the homescreen, which automatically encrypts the clicked pictures into the vault.
The app also comes with a private browser, notes, and recycle bin. Advanced features like Intruder Selfie, Fake Password, and Prohibit Screenshots are available but require the Premium version.
Calculator Photo Vault is a disguised version of SGallery.
Key Highlights:
Disguised into a Calculator
AES Encryption
Quick Private Camera Shortcut
Private Browser, Notes, etc.
4. PhotoGuard Photo Vault: Hide Photos
PhotoGuard is another free app to hide photos and videos that come with a clean and responsive UI. You can lock pictures with a PIN, password, pattern, or fingerprint using Military Grade Encryption AES-256 bit.
The app offers a dedicated camera that hides all the photos you take directly to your hidden photo vault. While the free version has all the necessary features, you can pay to unlock private cloud backup with unlimited space, break-in alerts, and a fake vault.
Key Highlights: 
PIN, Password, Pattern, or Fingerprint
AES Encryption
Private Camera, Dark Mode
Cloud Backup (Premium)
Break-in Alerts, Fake Vault (Premium)
5. 1Gallery: Photo Gallery & Vault
1Gallery is a photo-viewing app with a beautiful UI and a secure folder where you can hide all your photos and videos using AES encryption.
Since it's primarily a gallery app, it contains all the features like photo editor, video editor, and the ability to view different media types. It has a built-in dark mode and can also be used as a full-fledged alternative to the gallery app on your phone.
Key Highlights:
Clean UI
Secure Folder to Hide Photos & Videos
Lock using Pin, Pattern, Fingerprint
Photo Editor, Video Editor
Dark Mode
Wrapping Up
These were some of the best apps to hide photos and videos on Android. Out of all, my favorite is the 1Gallery app since it also functions as a full-fledged gallery app while giving the option to hide all the sensitive media. Anyway, what's your choice? Do let me know in the comments below.
Also, read- Hide WhatsApp Photos, Videos on Android, and iPhone.