Does the Instagram app keep crashing on your phone? Well, several Android and iPhone users have reported that Instagram is crashing or closing automatically while uploading stories, posts, scrolling through reels, or trying to open the DM. It may happen due to multiple reasons but can be fixed easily through some simple troubleshooting steps. In this article, let's have a look at some quick ways to fix the Instagram crashing issue on Android and iOS.
Related | Recover Deleted Instagram Photos, Videos, Reels, and Stories
How to Fix Instagram Crashing Issue On Android & iOS
1. Restart Your Phone
The first and most basic step to fix Instagram crashing is to restart your Android or iPhone. Rebooting the phone will clear out any temporary errors or glitches, giving a fresh start to the app. Then, open Instagram again to see if it's crashing or force closing. If yes, proceed with the other steps below.
2. Update the Instagram App
If Instagram is crashing on your phone due to an intermittent bug or glitch within the app, it'll likely be solved by updating the app to the latest version. Android users can head to Google Play Store to install the update. At the same time, iPhone users can open App Store to download the new version.
3. Clear Instagram Cache
If you have recently updated the Instagram app, it'd be better to clear its cache. It's one of the common ways to prevent an app from crashing.
On Android
Long-press the Instagram app icon.
Click on App Info.
Here, click on Storage and tap Clear Cache.
You can also open the App Info page through Settings > Apps > Instagram.
Now, re-open Instagram to see if it's working fine.
On iOS
Unfortunately, there's no option to clear the cache of apps in iOS. Instead, you can delete the app and reinstall it from App Store- this will wipe out all the related data, including cache.
Long press the Instagram app icon.
Click on Remove App.
Click on Delete App.
Open App Store and reinstall Instagram.
Login with your account to see if it's working normally.
4. Check Free Storage
Having a low storage space on your phone can result in app freeze, lag, and crashing issues. So, make sure that you have at least 10-15% of free storage space on your smartphone. You can use the steps below to check the remaining storage space on Android and iPhone.
On Android
Open Settings on your Android phone.
Go to Storage.
Here, you'll see the remaining storage on your phone.
You'll also see what stuff is consuming how much storage.
On iOS
Open Settings on your iPhone.
Click on General > iPhone Storage.
Here, check the remaining storage.
If you don't have enough storage, consider deleting a few apps or unwanted files. Then, open Instagram again to see if everything is working fine.
5. Uninstall and Re-install Instagram
The other solution is to uninstall and reinstall Instagram on your phone. This will likely fix all the app-related problems, including force stopping and crashing issues.
Long-press the Instagram app icon.
Click on Uninstall or Remove App.
Confirm the prompt to delete it.
Re-install it from Google Play Store or App Store.
6. Instagram Crashing While Uploading Post or Story?
Is Instagram crashing when trying to post an image, video, or story? Well, the issue could be with the image or video file you're trying to upload. So, try to convert the video to a more compatible and popular codec.
If it's a HEIF or HEIC image, convert it to JPEG or PNG. Similarly, in the case of videos, you can try toning down the resolution and frame rate. For instance, if it's a 4K 120fps video, try converting it to 1080p 60fps. You can use third-party apps to do it.
iPhone users can try changing the format from "High Efficiency" to "High Compatibility" in Settings > Camera.
7. Leave Beta Program
Are you on the Instagram beta? Well, beta versions are generally unstable and may have bugs that can cause random crashes. So, if you're enrolled in the beta program, it'll be better to leave it and revert to the stable version.
On Android
Launch Google Play Store.
Open the Instagram page.
Scroll down to "You're a beta tester."
Here, click on Leave. Give it some time.
Then, uninstall and reinstall the Instagram stable version.
On iOS
To enroll in the beta program on iOS, you need to have Apple's TestFlight app. So, if you ever enrolled in beta, open TestFlight, and roll out from the program. Don't have the app or never used it? No worries, you're not on the beta version; you can skip to other solutions.
8. Check if Instagram is Down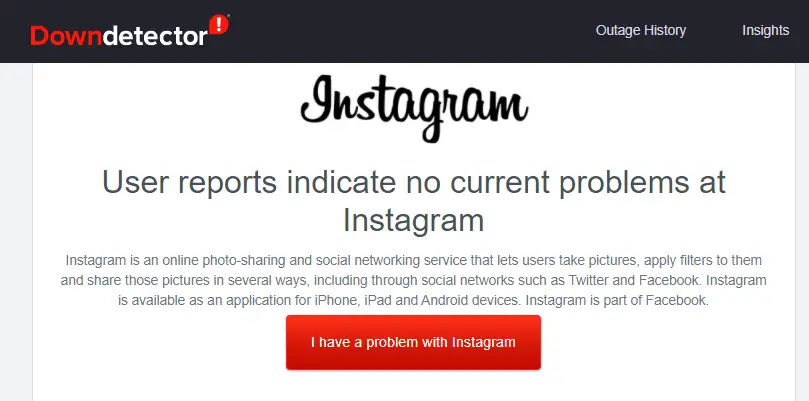 Is Instagram crashing only for you or for everyone? A simple Google search will show you whether Instagram is down for everyone around the world. If yes, give it some time. It usually happens due to technical issues in the background.
You can also visit DownDetector to check for any outage issues with Instagram.
9. Other Apps Causing Instagram Crash
Sometimes, other apps may cause Instagram to crash on your phone. For example, recently, a buggy Android System Webview update caused apps to crash randomly for some users. This included Facebook, Instagram, and other applications.
A simple Google search would be enough to find if there are any such issues. You'll also likely find the solution to the problem. In the above example, users were asked to uninstall the Android System Webview update to prevent apps from crashing.
10. Update Your Phone
Is your phone pending a software update? Well, it'd be better to update your phone to the latest available version. This will fix any intermittent bugs or glitches with the current firmware.
On Android
Open Settings on your phone.
Scroll down and click on System & Updates.
Tap on Software Update (steps may vary across devices).
Check if any updates are available.
On iOS
Open Settings on your iPhone.
Go to General > Software Update.
Here, check for updates and install if available.
Wrapping Up- Fix Instagram Crashing Issue
These were some quick solutions to fix Instagram crashing issues on Android and iOS. We hope that you're now able to use the Instagram app without any issues on your phone. Anyway, which method worked for you? Do let me know in the comments below. Stay tuned for more such tips, tricks, and how-tos.
You can also follow us for instant tech news at Google News or for tips and tricks, smartphones & gadgets reviews, join GadgetsToUse Telegram Group or for the latest review videos subscribe GadgetsToUse Youtube Channel.