Spotify is a go-to music app for millions of people across the globe, thanks to the polished UI and handy features. Interestingly, it also supports other apps and services which you can use to enhance your streaming experience. In this article, let's have a look at some of the best third-party apps to use with Spotify on Android.
Related | [Guide] How to Recover Deleted Playlists on Spotify
Top Third-Party Apps to Use With Spotify on Android
Spotify lets users connect their accounts with other apps and services. Thanks to third-party developers, we have apps to show better stats around your playing habits, audio equalizers, apps to mute ads, and more to get the most out of the streaming platform. Below are some handy apps you can use with Spotify on your phone.
1. Spotistats for Spotify
Spotistats is a useful app for those who don't like waiting until the end of the year for Spotify Wrapped. It provides insights about your most played songs and artists, followed by the streaming history and the number of times you've listened to a song or artist.
You can also see what genres you listen to and music type (lively, energetic, speechful, danceable, instrumental, etc.). Furthermore, it shows global charts and lets you share your quick stats over Instagram or other social media.
Overall, it's an amazing app where you can see stats about your listening behavior, including top tracks, artists, albums, and detailed information per song. All you have to do is log in and connect to your Spotify account.
2. SpotifyTools for Spotify
SpotifyTools is a similar but simple app that lets you quickly view your top songs, top artists and search for an artist or song in your playlists and library. It shows you stats about the songs you've listened to the most in weeks, months, and years. You can check the same for artists.
Each song shows details like its popularity, valence, acoustic, energy, liveliness, and more. It is followed by the track's tempo, loudness, release date, and genre.
There's a unique song-monitoring feature that lets you monitor how long you listen to a specific artist or song with milliseconds of precision. However, to do this, you'll have to let run the app in the background.
Like Spotistats, you can share your streaming stats on Instagram stories and other social media apps. Overall, it's a good alternative to Spotistats.
3. SpotiQ- Equilizer for Spotify
SpotiQ is an equalizer designed specifically for Spotify. It comes with several presets, including Classic, Heavy Metal, Pop, Jazz, Hip Hop, etc. You can also tweak the highs, mids, and lows manually. Plus, there's a built-in Bass Boost System and Automatic Gain Control.
SpotiQ automatically retrieves the song info from Spotify. This allows you to set a particular equalization for each song or album. For instance, you can set one song to play with a higher bass while the other plays with high treble- the app will remember it.
Since Spotify does not have a built-in equalizer, you can use SpotiQ to adjust the audio playback and enjoy the music the way you want.
4. Mutify- Mute Spotify Ads
The free version of Spotify comes loaded with annoying audio advertisements. Thankfully, you can mute these ads without paying for Premium using the Mutify app.
For starters, Mutify does not block the advertisements- that's something available only for Spotify premium users. Instead, it relies on silencing the audio every time an ad plays.
All you need to do is install the app, enable the service and grant the required permissions. It will then automatically silence the repetitive audio advertisements during the playback. Here's our detailed guide to mute Spotify ads without paying for premium.
5. Makromusic- Find Your Music Buddy
Makromusic helps you find your music buddy. You can use it to discover and chat with people having the same music taste as you.
Once you connect your Spotify account, the app pulls your favorite artists and songs that you've listened to before. It then matches you with the people who are closest to your taste or listen to the same music simultaneously.
You can start chatting after viewing the profiles of the people you match with. The matching is done via instant pairing with people listening to the same song as you simultaneously, matching by profile, or using the Discover page.
Give it a try if you love socializing with people having the same music taste as yours.
Remove Access to Apps from Your Spotify Account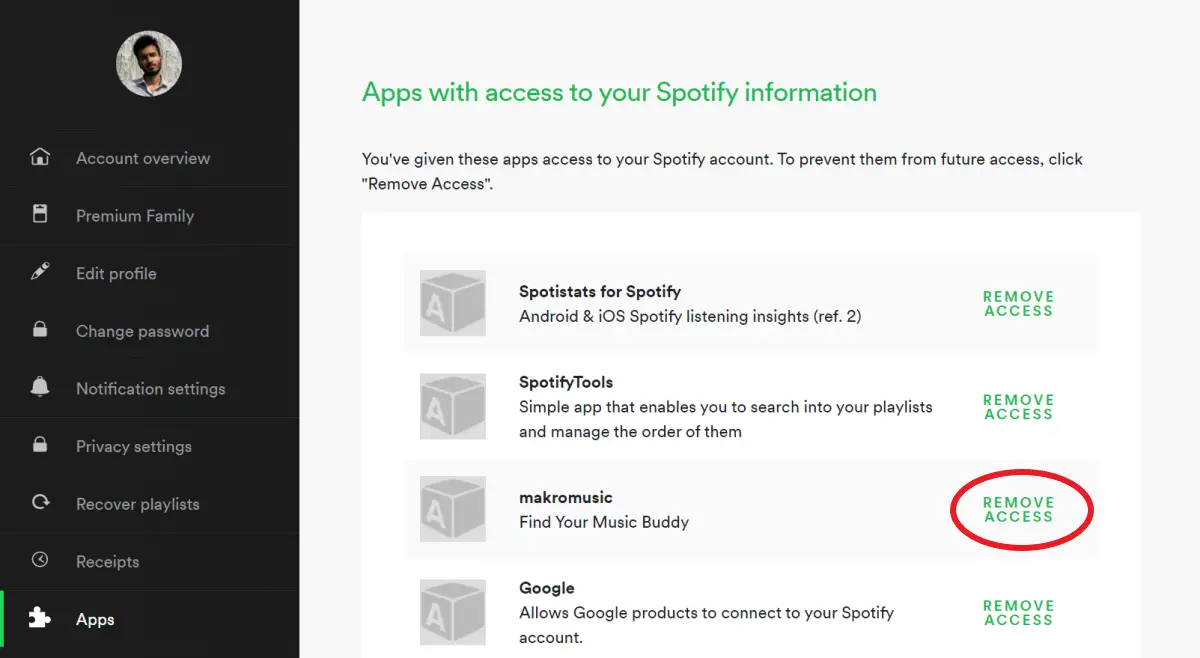 Some of the apps above require you to log in and connect with your Spotify account. If you don't like the app, make sure you remove its access from your Spotify account.
To do so, go to the Apps page. Sign in with your Spotify account if not already. You'll now see all the apps with access to your Spotify information. To disconnect an app, click Remove Access next to its name.
Wrapping Up- Enjoy Enhanced Spotify Experience With Apps
These were some of the top third-party apps you can use with Spotify on your Android phone. Out of all, my favorite is Spotistats, purely for the stats its offers. Anyways, which app did you like the most? Have anything else to recommend? Let me know in the comments below. Stay tuned for more.
You can also follow us for instant tech news at Google News or for tips and tricks, smartphones & gadgets reviews, join GadgetsToUse Telegram Group or for the latest review videos subscribe GadgetsToUse Youtube Channel.