If you are a keen Snapchatter and wish to increase your Snapchat score, then this article is for you. Earn those bragging rights among your friends by learning these 4 effective methods to quickly increase your Snap score on the Snapchat app. You can also learn to recover lost Snapchat streak.
Also, Read | 5 Quick Fixes for Snapchat Camera Not Working.
Snapchat Rules for Increasing Profile Score
Before we start stating the best methods to increase your profile score, we want you to know about the official rules from Snapchat for gaining profile points. According to the official Snapchat website, you will gain a profile point if you:
Post a Story on your Snapchat Profile.
Send Snaps to your Snapchat friends.
Receive Snaps from your Snapchat friends.
Do note that sending text messages to your friends on Snapchat DO NOT contribute to the Snapscore.
How to Check the Snap Score?
With the help of the Snapchat app, you can easily know about your Snapscore. This profile score is an indication of how active you are at using Snapchat. Additionally, you can also check the profile score of your Snapchat friends. Follow these easy steps to check the snap score on Snapchat.
Open the Snapchat app and tap on your profile icon at the top left corner.
Under your profile name, locate and tap on the ghost icon with numbers written next to it.
A popup will now appear telling you the number of snaps that you've sent/received.
You can also check the profile score of your friend by tapping on their profile and following the above-mentioned steps to know about their snap score. However, you will not be able to determine the number of snaps sent and received by your friend on Snapchat.
Ways to Increase the Snap Score on Snapchat
Send Snaps to Multiple People at Once
Each snap that you send on the Snapchat app contributes to a point in your profile score. If you send a single snap at a time to multiple people simultaneously, you will instantly earn multiple points. Repeating this process frequently will help you to gain a higher snap score on the app. Follow these easy steps to send a snap to multiple people simultaneously.
Open the Snapchat app on your phone and tap on the camera shutter button to take a snap.
Tap on the Send To button and check multiple friends to send your snap to.
Further, tap on the Send button to send snaps to multiple friends at once.
Be Consistent and Creative in Sending Snaps
The ultimate secret behind popular Snapchat profiles is consistency and creativity. If you constantly keep exchanging snaps with your friends, it will significantly improve your Snapchat score. To make your snaps more interesting and creative, you should learn about these hidden features and tricks to create the best snap for sharing.
Don't Leave any Unread Snaps
Did you know that each snap that you open on Snapchat makes your profile gain a new point contributing to the overall profile score? Therefore, you must remember to open all the unread snaps sent by your friends or even from Team Snapchat themselves. All the unread snaps are displayed with a red text stating a New Snap.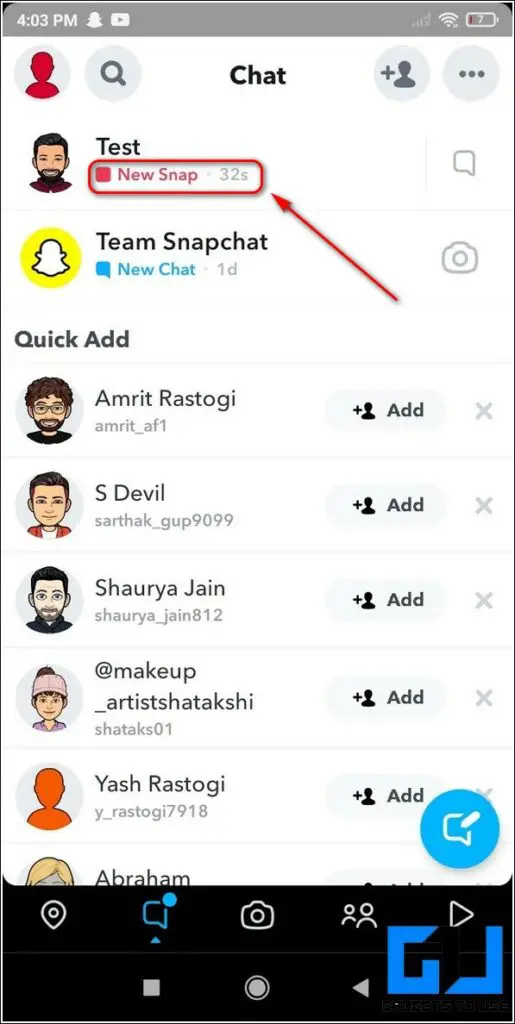 Pro-Tip: To open an unread snap collection, you can continuously keep tapping to move to the next snap in that collection. It is not necessary to view the full duration of the received snap. For each opened snap in a collection, you will gain a new point that adds up to your Snapscore.
Frequently Add Stories to your Snapchat Profile
In addition to sending and receiving snaps on the Snapchat app, you can also post stories to your profile to gain additional points for the Snapscore. Each story that you post on your profile will help you to gain a point for your overall profile score. Follow these steps to post a story on your Snapchat profile.
Open the Snapchat app and tap on the camera shutter button to take a snap. You can try being more creative while taking a snap using different Snapchat filters.
Tap on the Story button at the bottom of the app screen to add it directly to your story.
You can add multiple stories to your profile by following this method and each story post will contribute to an increment in your Snapscore.
Try to frequently add stories to your Snapchat profile to boost your profile score.
Bonus Tip: Add More Friends, Celebrities to Your Snapchat Account
If your friends are annoyed at you for sending them too many snaps, you can try to add other friends or even follow a celebrity account on Snapchat. Usually, celebs do not open all the snaps sent to them by millions of their followers and therefore you can use this fact to your advantage. You can share unlimited snaps with them to increase your Snapscore without worrying about them being annoyed at you.
Wrapping Up: Become a Pro-Snapchatter
We hope that you've now learned and understood the 4 best methods to quickly increase your profile score on Snapchat. If this article has helped you in unlocking new trophies on Snapchat, then like it and share it with your friends. Stay tuned for more such reads.
You can also follow us for instant tech news at Google News or for tips and tricks, smartphones & gadgets reviews, join GadgetsToUse Telegram Group, or for the latest review videos subscribe GadgetsToUse Youtube Channel.