When it comes to fast charging or high-speed data transfer, the USB cable plays an equally important role as the port or charging adapters. Now if you are unsure whether the USB cable you have supports fast charging or not, this guide will help you find it out. In this read, we have demonstrated methods to check if a USB cable supports fast charging or high-speed data transfers. Furthermore, you should learn to enable Adaptive charging to conserve the battery of your smartphone.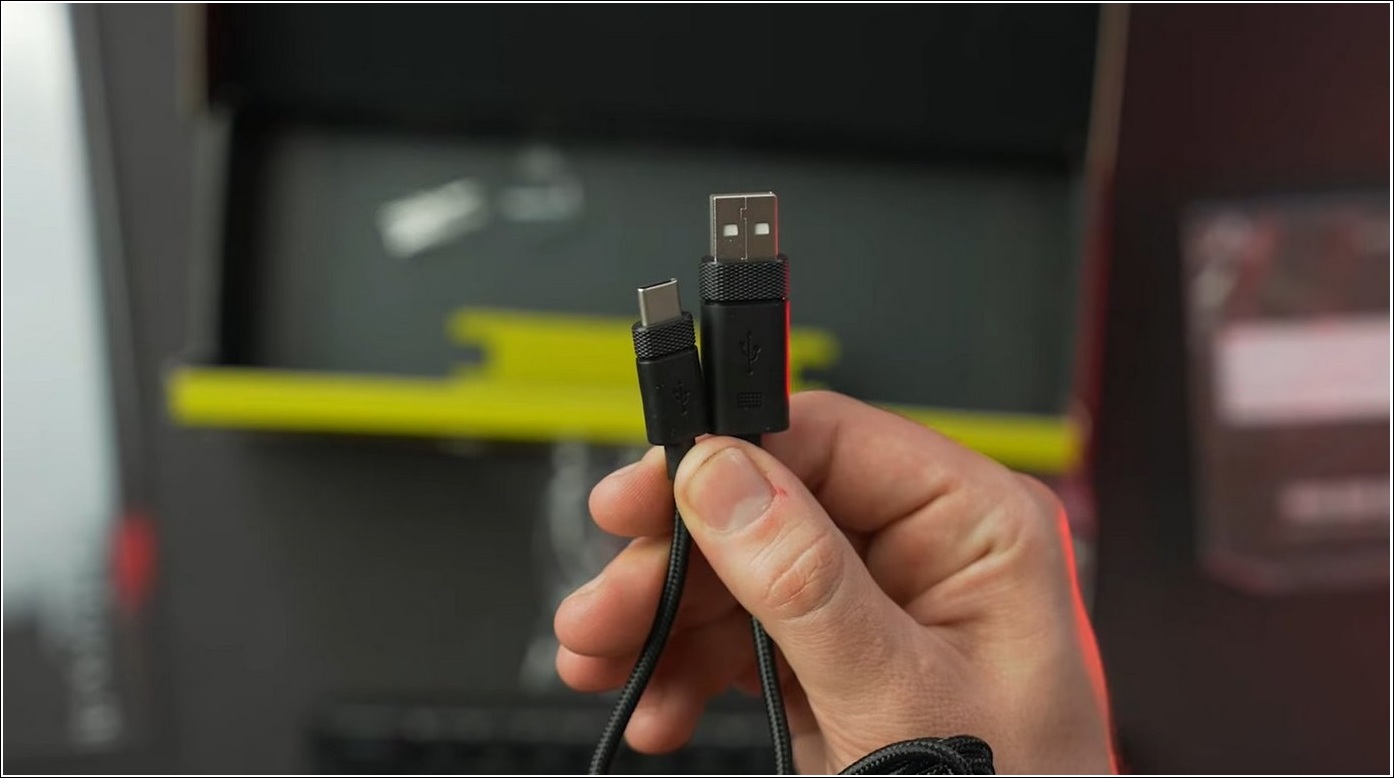 Check Fast Charging and High-Speed Transfer for USB Cable
Besides various fast-charging myths such as its harmfulness to your phone, it has become a significant part of our daily lives helping our phone to charge in an incredibly short amount of time. However, if your smartphone is charging slowly even after using a fast-charging adapter, there might be an issue with your USB Cable. With that being said, let's look at various methods to check if your USB cable supports fast charging or high-speed data transfer.
Check USB Cable Fast Charging support by Physical Inspection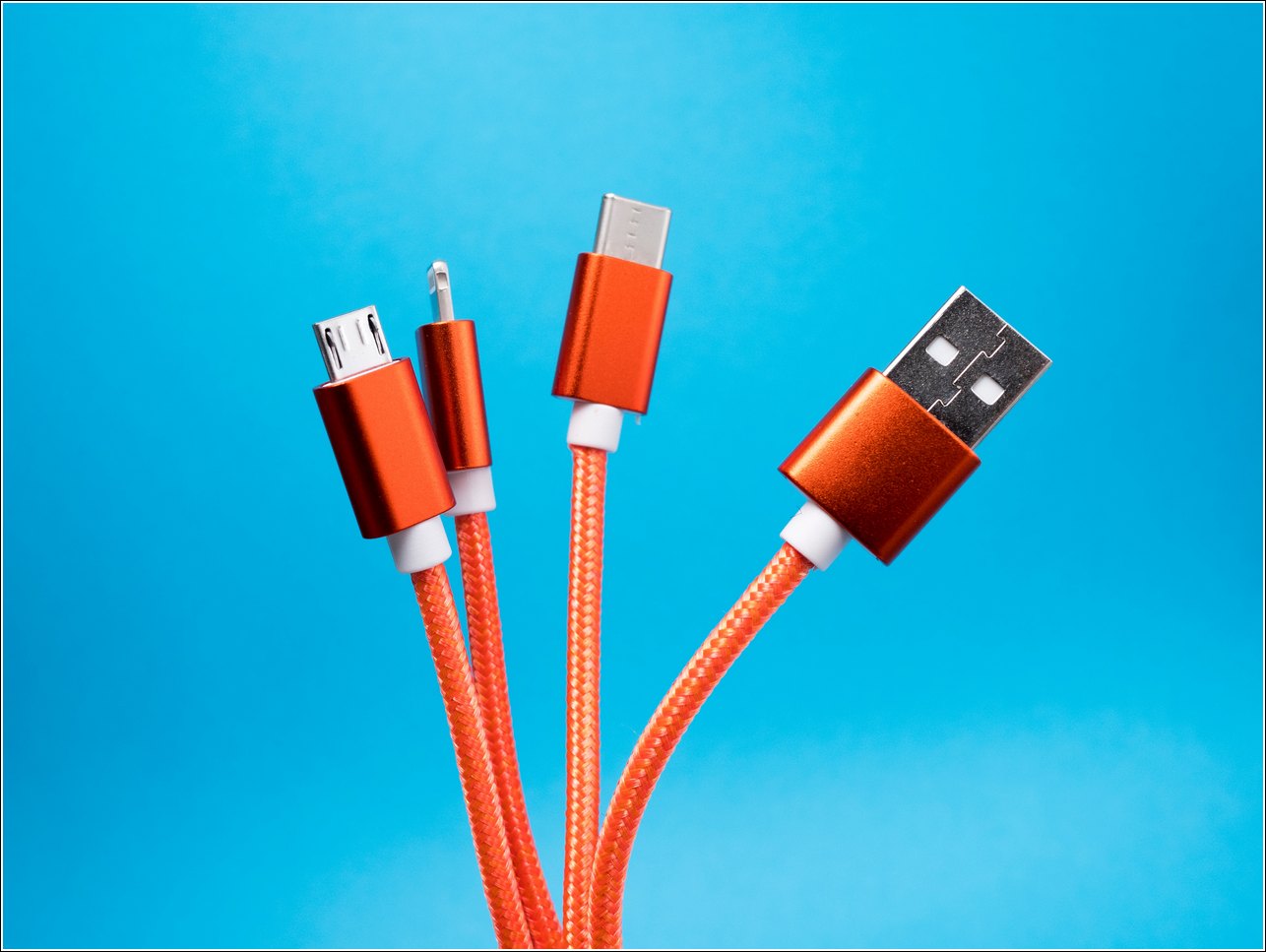 The first step to determining the fast-charging compatibility of your USB cable is to perform a physical inspection. You need to look at the following indicators to verify the same:
1. Firstly, a fast-charging or High-Speed Data Transfer USB cable is comparatively thicker than normal cables comprising a dense network of wires within them.
2. Check for any existing text engraved on the cable connector. If you find a 'SS' mark on the connector head, it stands for 'super-speed' which verifies that the cable supports fast charging and high data transfer speeds.
3. Some USB cables also have a specific number engraved on the connector end such as 5, 10, 20, etc. to state their transfer speeds (in Gbps).
4. Finally, you can also check the label on the original box to verify its compatibility with fast charging standards.
Check USB Cable Fast Charging and Data Speed from Cable Connectors
You can also determine whether your USB cable supports fast-charging or high-speed data transfer by looking at its connector end. Generally, there are six different types of connector ends that you might come across: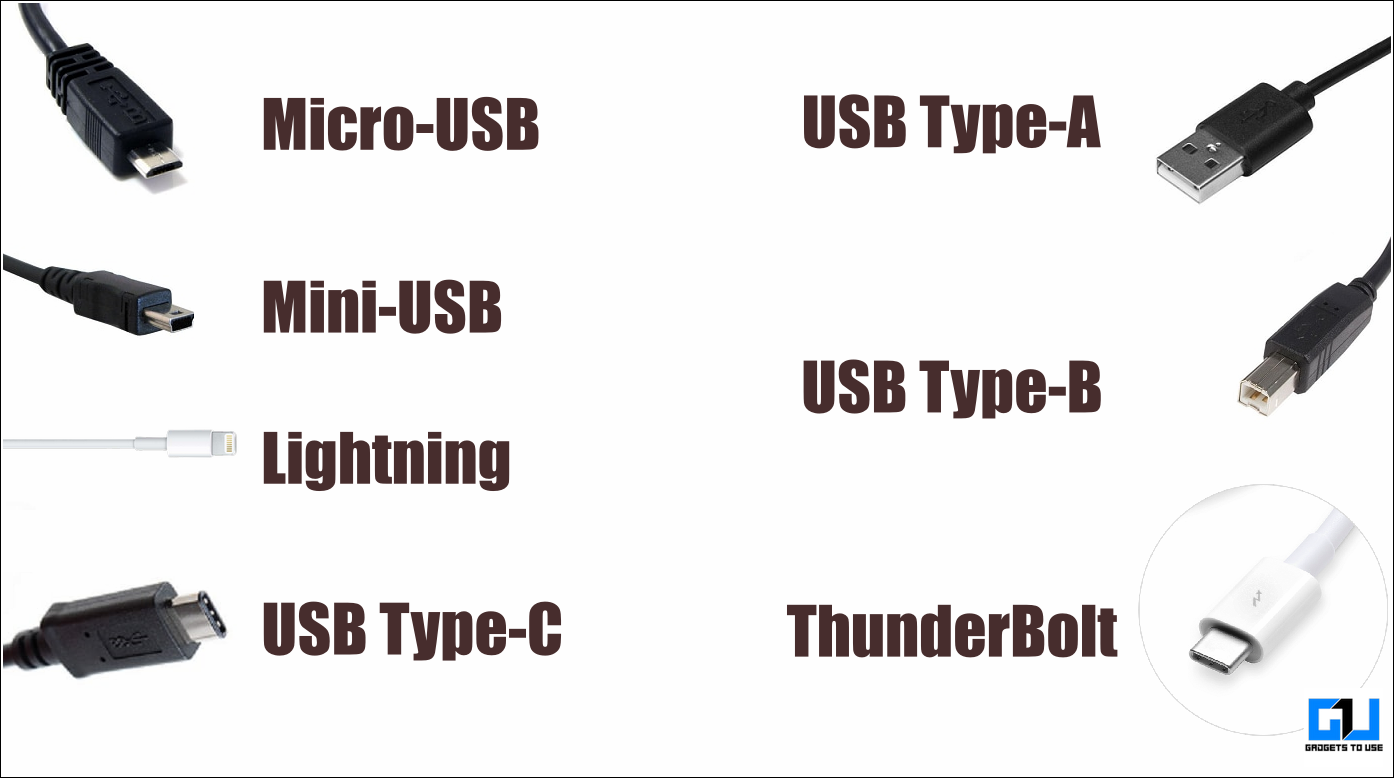 Micro-USB: It is mostly found in older smartphones and external drives offering a max data transfer speed of up to 480 Mbps.
Mini-USB: It is commonly used by portable electronic devices, like cameras and MP3 players offering the same speed as Micro-USB.
Lightning: Found on Apple products, and offers USB 2.0 transfer speeds with a maximum speed of up to 480 Mbps.
USB Type-C: Widely used on new generation smartphones and laptops with a max data transfer speed of up to 10 Gbps.
USB Type A and B: These are the most common connectors that you will find on a USB cable offering a maximum data transfer speed of up to 12 Mbps.
Thunderbolt 3 or 4: It is an advanced USB cable with the same connector as USB C. It is used widely on Macbooks, and premium laptops offering data transfer speeds of up to 40Gbps!
Check USB Cable Fast Charging from Power Adapter
Another method to verify the fast charging compatibility of a USB cable is to check the power output rating of the adapter that came with it. You can multiply the volts (V) with amps (A) written on the adapter label to get the power output value in Watts (W). If the calculated value ranges above 10 Watts, it will be counted as fast charging.
Check USB Cable Fast Charging Via Third Party Apps
The easiest method to check if a USB cable supports fast charging is to connect it to your smartphone and wait for a few minutes to track the charging speed. You can either trace it manually or install free third-party Apps such as Ampere, or Accubattery to get it done. Here's how:
1. Install the Ampere app (Android, iPhone) on your smartphone.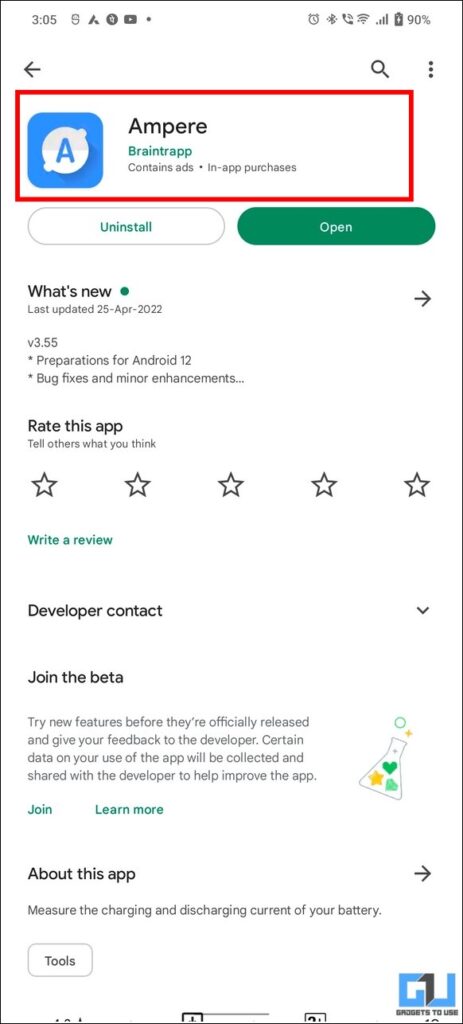 2. Launch the app and connect your phone to the charger to analyze the charging speeds.
3. Wait for a few seconds, to see charging details such as Input ampere, voltage, and battery health. You can multiply the input ampere value (mA) with the charging voltage (V) to obtain the power output (W) your phone is charging at.
4. If the calculated output value is greater than 10 watts, your phone is charging at a fast rate.
Use Fast Cables to Check Power Output (Android/iPhone)
If you don't wish to install any third-party app to check the fast-charging compatibility of a USB cable, you can buy a customized fast-charging cable from Amazon with an in-built display. Check out the best buy links USB-C and Lightning Cable on Amazon.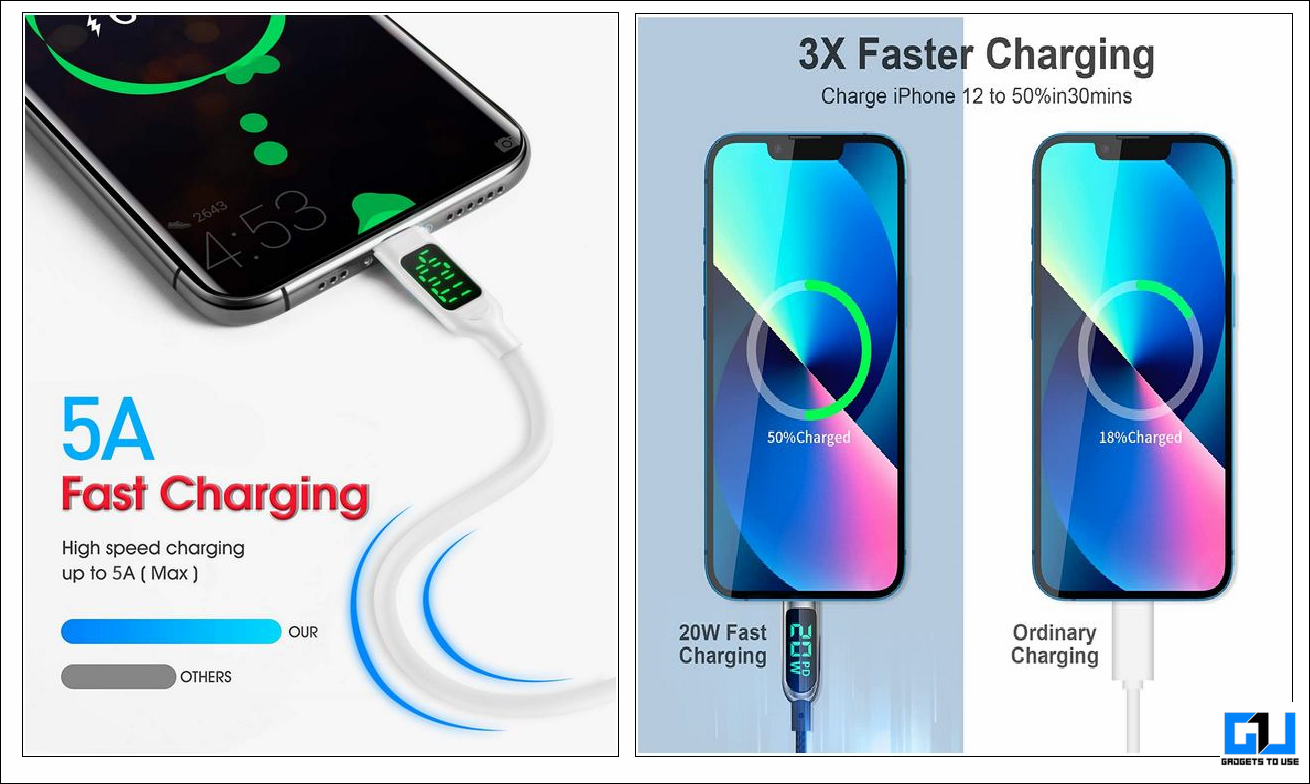 Bonus Tip: Check if your Phone Supports Fast Charging
Now that you've learned how to check a USB cable for fast charging and high-speed data transfer speeds, you must verify if your phone supports fast charging as well. Read our detailed explainer to check Fast Charging support on phone to learn about the same.
FAQs
Q: How to identify a Fast Charging Adapter?
A: You can check the Ampere (A) and volt (V) values on the adapter to check its power output (W). Further, refer to the steps mentioned above to verify if your cable supports fast charging with it.
Q: How to Check the Charging Speed of the USB Cable?
A: The Ampere or Accubattery app can help you measure the charging current and speed in real-time.
Q: What makes the phone charge faster, the USB cable or Plug?
A: Both, incompatibilities in both situations will not charge your phone faster.
Wrapping Up
So these are the six ways to check whether a USB Cable supports fast charging or high-speed data speed transfer. We hope you've grabbed something valuable from this read, to help you differentiate between normal and fast-charging USB cables. If you find this explainer useful; hit the like button and share it. Check out other useful tips linked below, and stay tuned for more such tips.
You should also check out:
You can also follow us for instant tech news at Google News or for tips and tricks, smartphones & gadgets reviews, join GadgetsToUse Telegram Group, or for the latest review videos subscribe GadgetsToUse Youtube Channel.