Following the footsteps of the National Payments Corporation of India (NPCI), after BHIM UPI Lite, now Paytm has introduced UPI Lite. It allows users can carry out a large number of small-value UPI payments in a superfast manner without worrying about the cap on the number of bank transactions. This makes way for a hassle-free payment experience. Meanwhile, you can also about e-RUPI and how it works.
What is Paytm UPI Lite?
To facilitate quick, easy payments without requiring UPI PIN, and a high success rate Paytm has launched its Paytm UPI Lite. It is built on the UPI Lite feature announced by the National Payments Corporation of India (NPCI) in September 2022.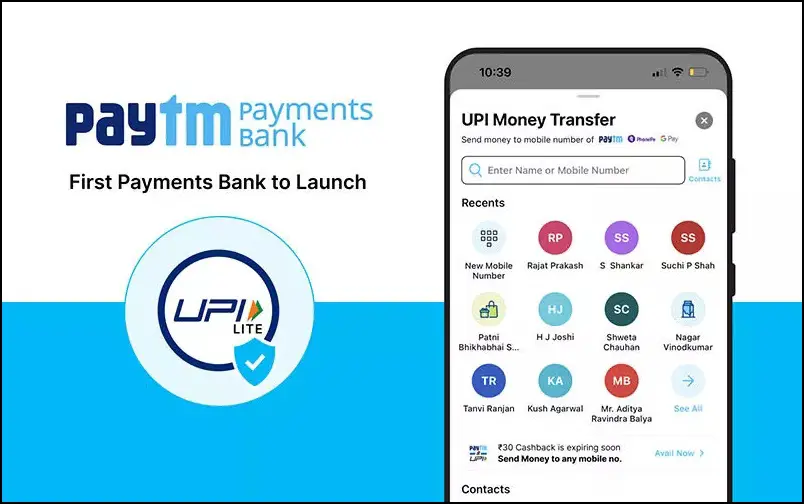 This allows users to make small payments under ₹200, via QR Code, UPI ID, and phone numbers, generally used for street hawker shopping, short-distance auto or cab payments, etc. without the need to enter UPI every time. The added advantage it offers is such transactions will not fill up your bank passport statement.
Steps to Setup Paytm UPI Lite and Add Money
1. Launch the Paytm app (Android, iOS) on your phone, and tap on your Profile Picture from the top left corner.
2. Under the Profile menu, tap on UPI and Payment Settings, to navigate to UPI Lite under Other Settings.
3. Once on the UPI Lite page, select your bank account, which is eligible to use UPI Lite, and tap on Proceed to Setup UPI Lite.
4. Next, tap on the Add Money to Activate UPI Lite button, where you can add up to ₹2000 in a single transaction, and a maximum of ₹4000 per day.
5. Finally, authenticate the process by entering your MPIN, to add your money to UPI Lite.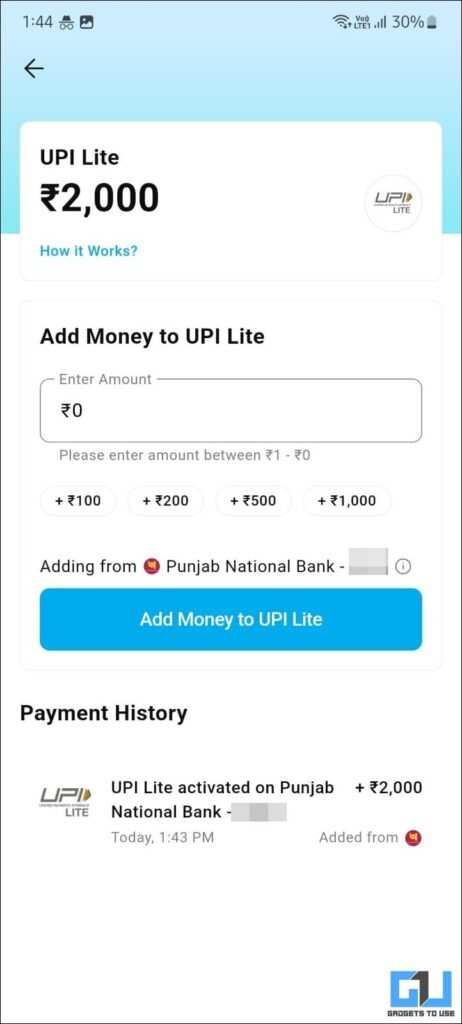 Now, you can use the balance added to your UPI Lite wallet to make petty transactions under ₹200 per transaction, and they won't be recorded in your bank's passbook statement.
Steps to Transfer money from Paytm UPI Lite to Bank Account
Unlike Paytm Wallet balance, there's no direct way to transfer the UPI Lite balance back to your bank account. However, you can use the UPI gateway to move the balance from UPI lite to the bank account. Here's how it can be done:
1. Initiate a payment process in the Paytm app, on your own UPI ID.
2. Here, select UPI Lite as the payment method. However, do note the maximum amount you can transfer in a single transaction is INR 200 only, else you will not get UPI Lite as a payment method.
3. Now, you transfer back your UPI Lite balance to your bank account. The same will be reflected in your passbook.
FAQs
Q: What is Paytm UPI Lite?
A: Based on NPCI's UPI Lite feature, Paytm UPI Lite allows users to make fast real-time transactions under ₹200 per transaction without entering UPI PIN. These transactions also don't show up in your bank passbook.
Q: How to Activate Paytm UPI Lite on my account?
A: The process to activate Paytm UPI Lite is very simple as you need to link your bank account only once, with the Paytm app. You can refer to the detailed steps mentioned above to set it up on your phone.
Q: What is the daily limit of Paytm UPI Lite transactions?
A: There are no daily transaction limits for UPI Lite. However, unlike BHIM UPI Lite, the maximum amount you can transfer via Paytm UPI Lite is 4000 per day.
Q: Why can't I add more than 2000 to my Paytm UPI Lite?
A: According to NPCI, you can add only up to 2000 per single transaction in UPI Lite.
Q: Can I transfer my UPI Lite Balance to my Bank Account?
A: Yes, you can transfer the balance from your UPI Lite to your Bank account. Although the option is not available directly, you can follow the method mentioned in this article to do so.
Q: Why can't I use Paytm UPI Lite?
A: UPI Lite is rolling out gradually to all users, starting with Android, with a selected number of banks. Make sure to keep your Paytm App updated, and wait for your bank to be on the compatibility list.
Wrapping Up
So this was all about Paytm's newly introduced UPI Lite feature, built on NPCI's UPI Lite feature. BHIM also comes with a similar feature, but with Paytm's adoption, it is available to the masses because of the huge user base. This will help to cut down the transaction load on banks. It is rolling out gradually starting with Android users, you just need to make sure to have the latest app, and a compatible bank. Stay tuned to GadgetsToUse for more such reads, and check the ones linked below.
You might be interested in:
You can also follow us for instant tech news at Google News or for tips and tricks, smartphones & gadgets reviews, join GadgetsToUse Telegram Group or for the latest review videos subscribe GadgetsToUse YouTube Channel.