Artificial intelligence is making its way to every domain, like AI logo generation, where the biggest section affected by this is "creative content creation". Whether it is writing, graphic designing, or even video editing, it is revolutionizing everything. There are hundreds of AI video tools available on the internet which could be very helpful for today's content creators. The majority of them work on media whether pictures or videos to create something completely unique.
Today we will discuss some of the best AI video tools you may need in your next project. We have listed different AI video tools to do different types of tasks for video editing so you can choose the appropriate tool according to your needs.
Best AI Tools for Video Creation
Here is the list of all the AI video tools that you may need for your next project. We are listing all the options including some premium ones so you can choose the one that suits best your project.
Steve AI: Script to Videos
Steve AI is a video creation tool that lets you create videos from any text you feed the tool. This tool basically turns your written text or script into a video format using different text styles and images. There are four options available right now to create a video from the text; script to video, script to animation, blog to video, and blog to animation. It also provides you with an option to choose different animated avatars that will speak your script.
Steve AI Features
With Steve AI you get to choose between a bunch of options, but all of them work about the same. These are all the features that Steve AI provides right now.
Script to Video
Script to Animation
Blog to Video
Blog to Animation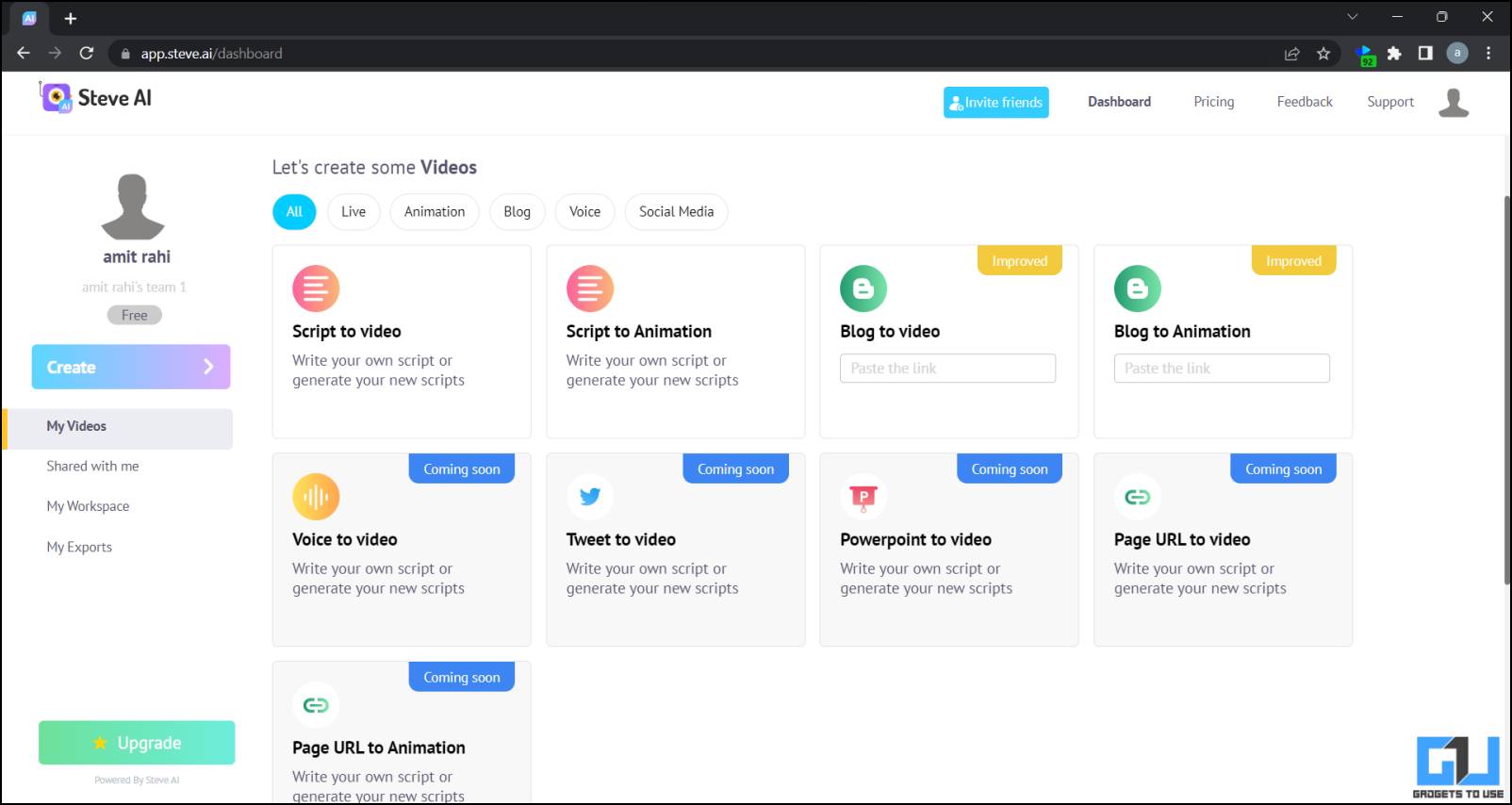 Our Experience with Steve AI
Signing up is pretty easy, as you can sign up using your Google account, Facebook account, or using your email ID. Once logged in, you get a dashboard where all your current projects are saved for easy edits. From here, you can select the one option you need and provide the script or the text you want to convert into a video.
You can split the script into different slides so it fits the video perfectly, the AI also helps you do the same. There's an option to add voice-over in the video and a few customization combinations to perfectly fit with your content. Once the video is processed, the video editor window allows you to make graphics and text adjustments. Finally, you can download the video in HD resolution on your device.
The interface is very simple and easy to navigate through, you can easily go back and forth during the process anytime to change the settings. There are more features coming to the Steve AI that will be even more helpful to everyone working in the content creation domain.
What is Free with Steve AI
The best part about Steve AI is that it gives you a free plan at sign-up. This free plan has some video limits but it works exactly like a paid plan, with all the features available with any paid plan. You get to create and export three videos a month and the video resolution of these videos is capped at 720p.
Steve AI Pricing
The basic plan of Steve AI starts from USD 15/month and goes all the way up to a Pro membership costing up to USD 60/ month. You get to create five 720p videos/ month on the basic plan and with the pro, you get 40 videos to download at 2K resolution. There is also an Enterprise plan with up to 4K video support, the pricing of which is available on demand.
Steve AI: Pros and Cons
Pros
The free plan includes all the tools
Converts a whole blog directly to a video or animation
Generate videos quickly
Cons
Limited media library for free plan
The free plan lacks a collaboration feature
Synthesia
Synthesia is a really great tool for someone who wants a video to be made for them. It lets you create videos with a presenter speaking the text you've input. This tool uses artificial intelligence to make it look like that the person is speaking the script you've uploaded. It removes the need to hire actors in order to create a video with the script and then post-process it into a useful format. This all can be done using this simple online tool.
Synthesia Features
Synthesia comes with a lot of customization options to create your video. It lets you choose from 85 different AI avatars, and multiple voice profiles and you can even create your own custom avatar to fit your needs best. The avatars can even talk in more than 120 languages which is a really big deal.
Our Experience with Synthesia
Synthesia is a very basic yet powerful tool to create videos for your work or personal use. The Synthesia website doesn't ask for any signup before trying the tool. You can just click on Create an AI Video button and input your data. It will ask for a little bit of your information, like an email ID. The video then goes to production and after some time based on the content of the video and then you get the link to the video. One downside is, that you cannot download the video, as it can only be shared on social media websites or embed the code to your website.
What is Free With Synthesia
Synthesia doesn't need any signup to try the service for the first time, however, the trial version has its limitations. You only get to choose from a limited number of video templates and AI avatars. The script limit is also capped at 200 characters limiting the video length. The free version of Synthesia comes with a watermark as well without a subscription.
Synthesia Pricing
Synthesia comes with only two plans; Personal and Corporate, out of which Corporate prices are only available on demand. The personal plan is Rs. 1,999/month which unlocks options like 120+ languages, 65+ AI avatars, and 55+ templates. There are limitations to this plan; as you get 10 credits/ month which varies according to the video length. This means, with 10 credits, you can either make a 10-minute video or create 10 one-minute videos.
Synthesia Pros and Cons
Pros
Life-like AI avatars for video creation
35+ AI avatars to choose from
120+ languages to choose from
Cons
Free try has limitations
Long video processing time
Runway
Runway is a free tool that uses machine learning and artificial intelligence to apply some really cool effects to your video clips. It comes with a bunch of AI-powered tools to transform your videos, audio, and image content into unique results. You can either create a new project or create a new video using the magic tools and other features of the video editor. Or you can easily select any tools to add a particular request.
Runway features
Runway comes with features that let you transform your videos, images, text, and audio in minutes. Below is the list of all the tools and features that Runway service offers.
Remove background from videos
Remove objects and people from videos
Create Super slo-mo videos
Blur faces in a video
Add bokeh
Clean audio
Remove silence
Replace background
Generate transcript and subtitles
Our Experience with Runway
Runway has a library of tools to edit your videos using different AI-powered effects. Once you sign up on the website with your Google account, the dashboard is where you can create new projects and work on them. A separate AI tools section is available which lets you use one tool at a time. Using these tools is also pretty easy, as you only need to upload your video and it will be processed right away.
Once the video is processed, it will show you a preview of the final video. Here you can make some adjustments to the features like intensity or feather. After making the adjustments, the video will be ready in minutes and you can easily download them on your device. You may also be able to use those edited videos to create a master video using the provided video editor tool. Overall the experience is pretty smooth with all the tools and these effects apply very quickly so no need to wait for hours to get your video.
What is Free with Runway?
You can actually do a lot of things for free on Runway, compared to other AI services. The tool gives you a free account upon signing up with all the tools available for free with a limit. You can only export videos with HD resolution, with a storage limit of 5GB of data per account. Only three projects can be kept active at a time in the free version and export options are also very limited with the free plan. You also get access to an AI image generator to create images using your text with a limit of 25 images.
Runway Pricing
Runway comes with three plans to choose from; Pro for USD 12/per month, the Team plan for USD 28/ per month, and the Enterprise plan. There aren't many differences between these plans. The Pro plan lets you create unlimited projects and it also unlocks 4K video exports. You get 500 GB of space and 125 image generations per month. The Team plan comes with the same features, only the server space increases to 1TB and you get 450 image generations per month. The price for the Enterprise plan is available on demand and it comes with a bunch of extra features.
Runway Pros and Cons
Pros
A lot of AI features to use in the free plan
Tools work flawlessly
Processing is quick
Allows to collaborate
Cons
Only 3 projects can be created at a time
Wisecut
Wisecut is one of those specific AI video tools,  for content creators who don't have much time in hand to edit out the unimportant parts. This tool takes your long video and processes it with the instructions given to the tool. There are some specific tools available to apply smooth cuts and auto-remove the silent parts from the video. The free plan is enough and also pretty useful for anyone using this tool for personal use.
Wisecut Features
Wisecut comes with a set of editing techniques that you can collectively apply to a single video. Below is the list of all the tools available on wisecut.
Ability to apply Smooth cuts
Auto cut silences
Smart Background Music
Auto Duck
Auto Punch in and out
Background Noise Cancellation
Burned in captions
Our Experience with Wisecut
Wisecut is a very specific tool so the working is very easy and straightforward. Anyone with basic video editing knowledge will be able to use this tool effectively. You need to sign up to use the tool to get a dashboard where all your project resides. Once you are in the dashboard area, you can easily create a new project.
After uploading the media to the Wisecut tool, it will show you a couple of available options and editing techniques. Finally, you get your video ready with the desired editing techniques applied and download it on your device.
What is Free in Wisecut?
Wisecut gives you a free plan when you sign up for a new account. This free plan lets you edit 30 minutes of video per month at 720p resolution. You get 2GB of free space on the server to keep all your media files to work on. The maximum file size is 1GB per video and a watermark will be applied to all your exported videos from the Wisecut Free plan.
Wisecut Pricing
Wisecut comes with two plans apart from the free one; Starter for USD 10/ per month and Professional for USD 29/ per month. You get 8 hours of video processing per month with the Starter plan and 30 hours on the Professional plan. You get 70 GB and 150GB of plan respectively for Starter and Professional plans. Along with this, there are even more artificial intelligence-powered video editing techniques to apply to your videos.
Wisecut Pros and Cons
Pros
Makes video editing effortless
Easy to use
Provide enough features in the free plan
Cons
Video processing takes some time
Not many customizations available to apply to processed videos
Elai
Elai is one of those rare AI video tools that create videos from a script but it uses AI avatars to narrate a few parts of the script in the videos. You just have to feed in the script and get the desired result based on a pre-built template. If you want you can create a new video from scratch using images, videos, graphics, and even avatars. This tool is best for those who want to make unique presentations for clients to create a good impression.
Elai Features
Elai provides some really powerful and unique features that other AI services do not provide. Here are all the features you get with the Elai tool.
Generate video from Chat GPT3
Generate video from URL
Generate an e-commerce video
Generate video from the presentation file
Our Experience with Elai
Elai needs signup to create an account and access the dashboard for making videos. Once you are in the dashboard, there are a bunch of options to choose from to create the desired video. You can even make videos from scratch and proceed with the editing.
Once you select the appropriate tool, simply open it and feed in the desired information, select a template, and start the video processing. The video will be generated in a few minutes and you can download it from the dashboard.
What is Free With Elai?
Elai comes with a free plan that offers one minute of video generation using any of the tools provided. You can also start to create your video from scratch and use all the tools to create the video. You can try prebuilt templates to create your video in the free plan. The video will have an Elai watermark which can only be removed by purchasing the premium plan.
Elai Pricing
Elai comes with two plans; Basic for USD 29/month and Advanced for USD 99/ month. You get 15 minutes of video per month in the Basic plan and 50 minutes of video per month in the Advanced plan. This duration can be increased but the prices of the plan increase accordingly. Except for the video duration and the resolution, both the Basic and Advanced plans are almost similar in terms of the availability of the feature.
Elai Pros and Cons
Pros
The only tool that provides ChatGPT to create a script
Generate videos quickly
A lot of Free avatars to use
Cons
Pictory
Pictory is another video generation tool powered by artificial intelligence to create presentation-like videos. The videos can be created using text scripts or from a URL provided. You can also upload your media files like images and videos to create the video using artificial intelligence. Video processing is done pretty quickly and you can download them on your devices as well.
Pictory Features
Pictory comes with four features that depend on the data input like text, URL, or media. Here is a list of all the features Pictory provides.
Script to video
Article to Video
Videos using text
Visuals to video
Our Experience with Pictory
Pictory is a very simple and straightforward tool that can be used by anyone without a deep understanding of technology and software. You can easily create a free account on the website and get yourself a dashboard. Here you can use the provided tools and input the information required to generate the video.
Then you need to select a template from the list to generate the video. Using the video editor you can make adjustments to certain parts of the video and then generate the video.
What's Free With Pictory?
Pictory provides 3 videos to be created for free where the video length is limited. Apart from this, you can also create one custom template and one hour of video transcription for free. This is way more than what other tools are providing in their free account, where all the tools are free to use.
Pictory Pricing
Pictory comes with two plans; Standard for USD 19/per month and Premium for USD 39/per month. In the standard plan, you get 30 videos per month, whereas 60 videos per month in the Premium subscription. The length of the videos can be up to 10 minutes in the Standard plan and up to 20 minutes in the Premium plan. You can increase the number of videos per month in the Premium subscription but that will increase the price accordingly.
Pictory Pros and Cons
Pros
Easy-to-use tool
Provides a lot of features in the free plan
Does not allow collaboration video
Cons
AI avatars are not available for free
Wrapping Up: Using AI Video Tools for Content Creation
These are the best AI video tools to create videos for personal or professional use. These will make your everyday tasks very easy and quick. You can try these tools for free before buying,  so as to know if the tool is perfect for your project or not. There is no download needed to use these tools. I hope these will come in handy for your next project. Stay tuned to GadgetsToUse for more such reads.
Read More
You can also follow us for instant tech news at Google News or for tips and tricks, smartphones & gadgets reviews, join GadgetsToUse Telegram Group, or for the latest review videos subscribe GadgetsToUse Youtube Channel.