With Artificial Intelligence increasingly taking over conventional tools, Microsoft Designer is the latest AI-powered tool designed to create unique and high-quality graphics on a web-based interface. This makes it more valuable than popular graphic design tools such as Photoshop and Canva, allowing users to generate images without prior experience. Today, we will discuss everything on Microsoft Designer with steps to use it in this explainer.
Features of Microsoft Designer
After its recent success with Bing Chat, Microsoft has developed a graphic design tool that uses the same AI technology to generate and craft artistic images from text inputs. Think of it as an automated AI graphic editor that can use an image description to generate various suggestions. The main highlights of the Microsoft Designer tool are as follows:
Microsoft Designer offers an easy-to-use interface to create still and animated graphics without any prior experience.
It uses user inputs to generate designs using DALLE-2, which can be used for presentations, posters, invitations, social media posts, and much more.
Unlike other image editors, such as Photoshop and Canva, it analyzes text input with AI to produce accurate graphics.
This 'preview' web tool is free without any waitlist and will soon be integrated into the Edge browser to help users design and post social media content.
In addition, you can personalize the generated image with its templates and visuals or add text with AI to make it more appealing.
Steps to Use the Microsoft Designer Tool
Microsoft Designer is relatively easier to use than any other graphic designing app. You need to simply, describe the image design in text and let the AI do its job. Here's how you can make the most of it:
1. Visit the Microsoft Designer website in your web browser and click the Try Designer for Free button.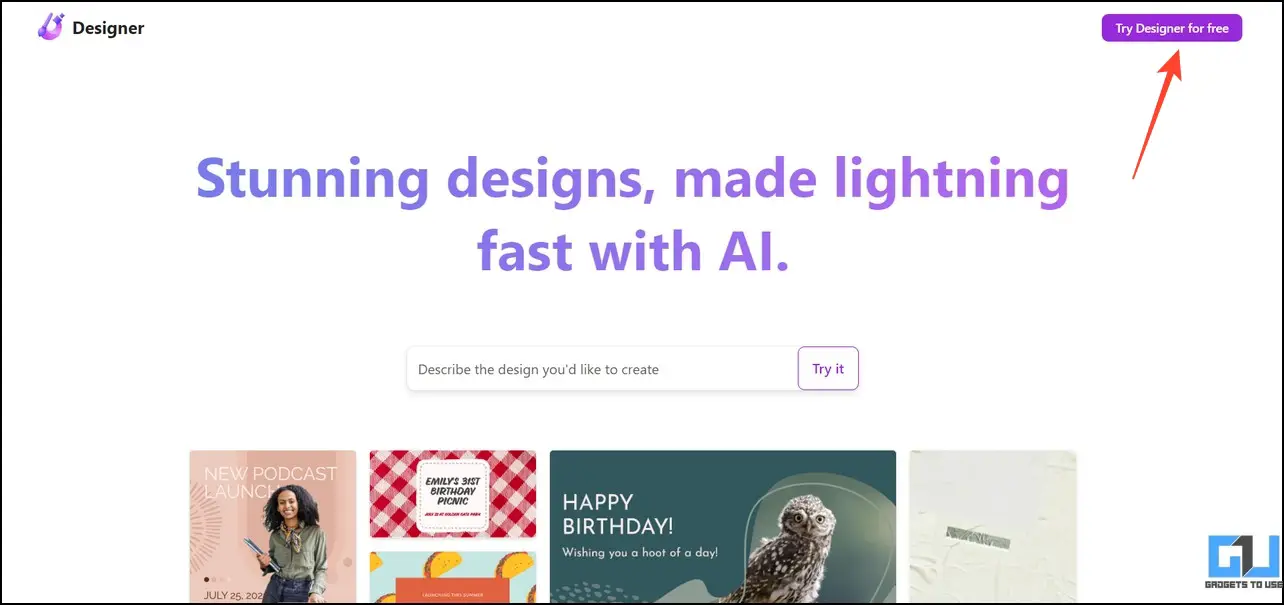 2. Next, sign in with your Microsoft account.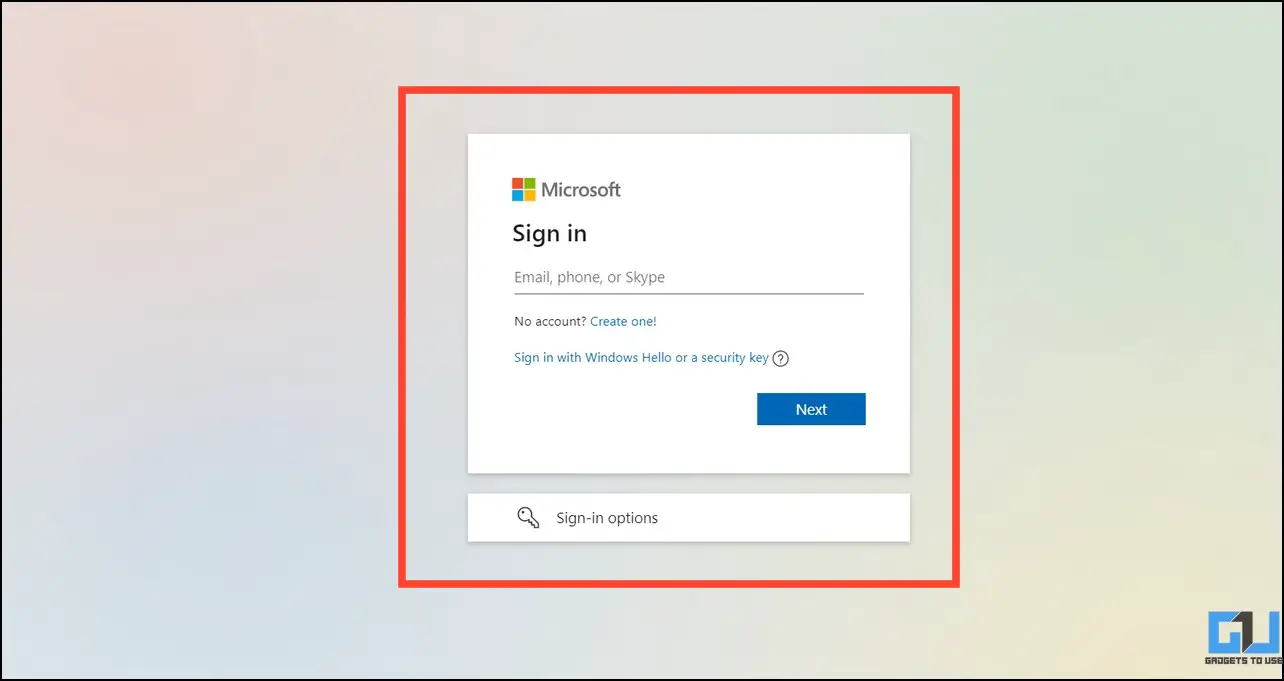 3. The tool interface is quite simple, where you will see a prompt section on the left to describe the image you wish to create. You can also add images from your device to personalize the generated results.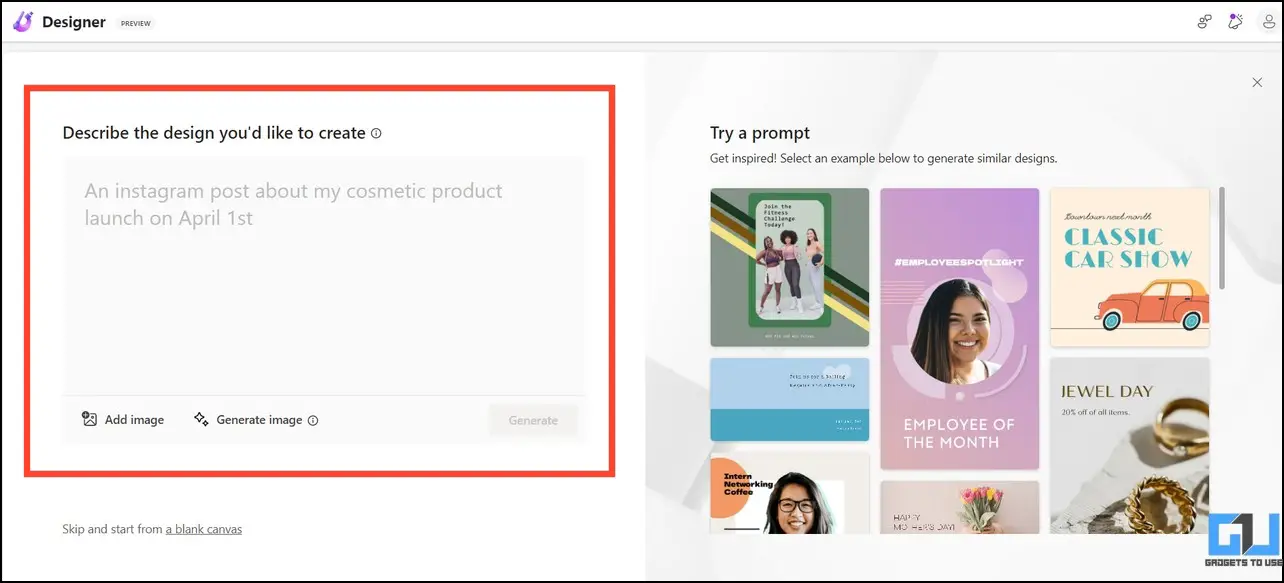 4. Enter your desired image description and images in the prompt and click the Generate button.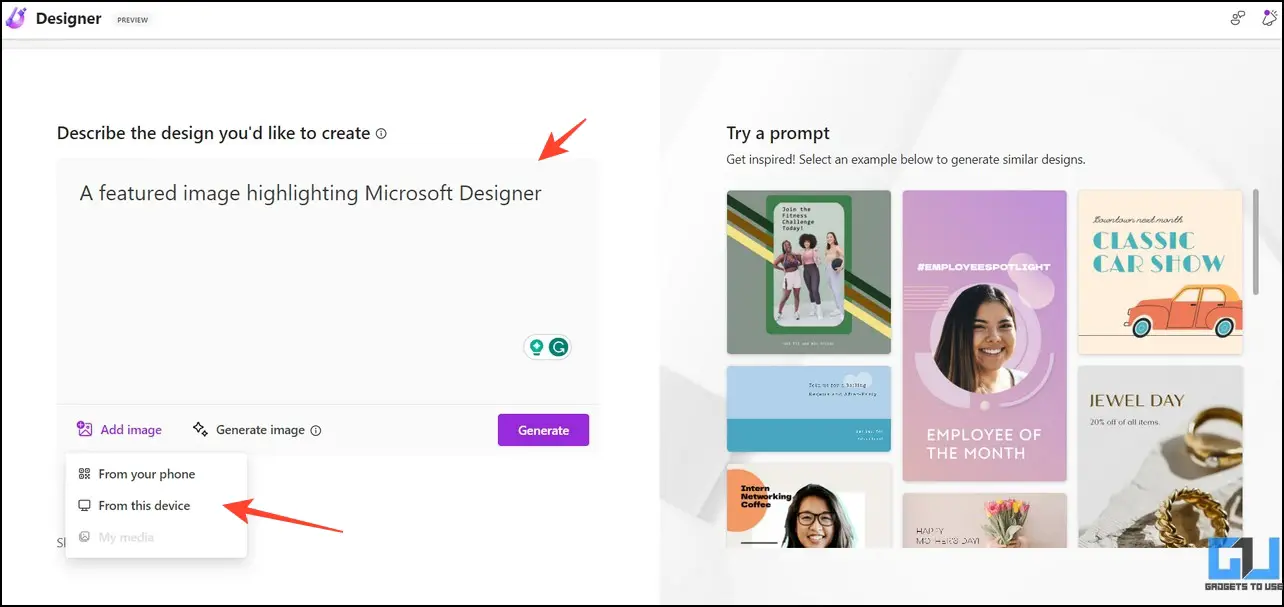 5. Based on your inputs, it will use DALLE-2 to generate multiple image suggestions. You can browse them to pick and customize the one that suits you.
6. Click on Templates in the editing workspace to use available presets for designing your image.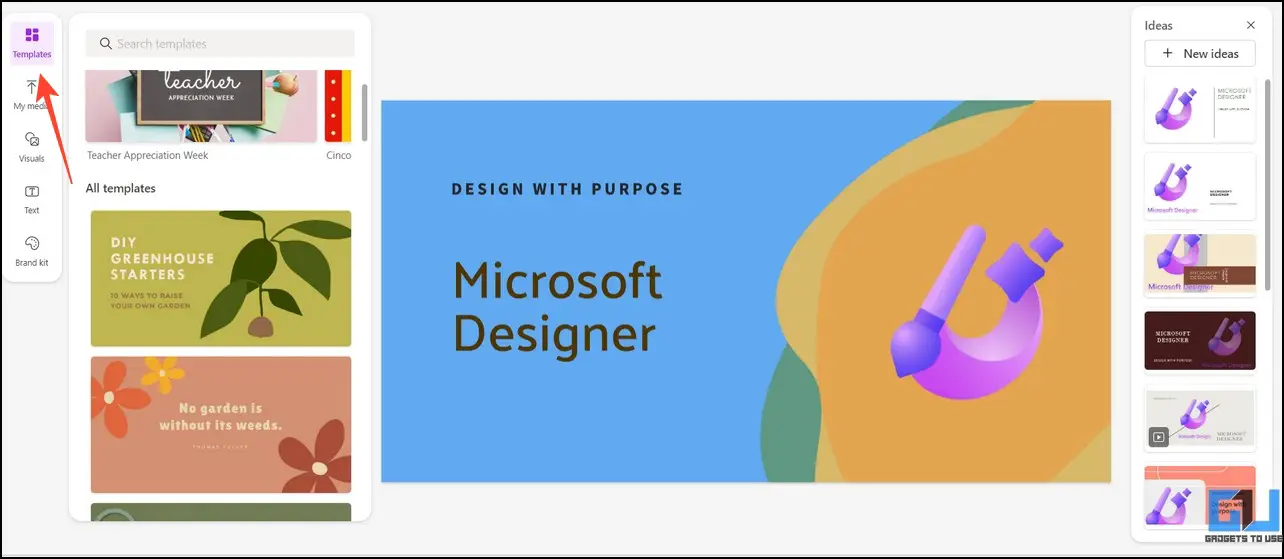 7. Alternatively, you can set up or use existing Brand Kits to change the color combination of the generated image.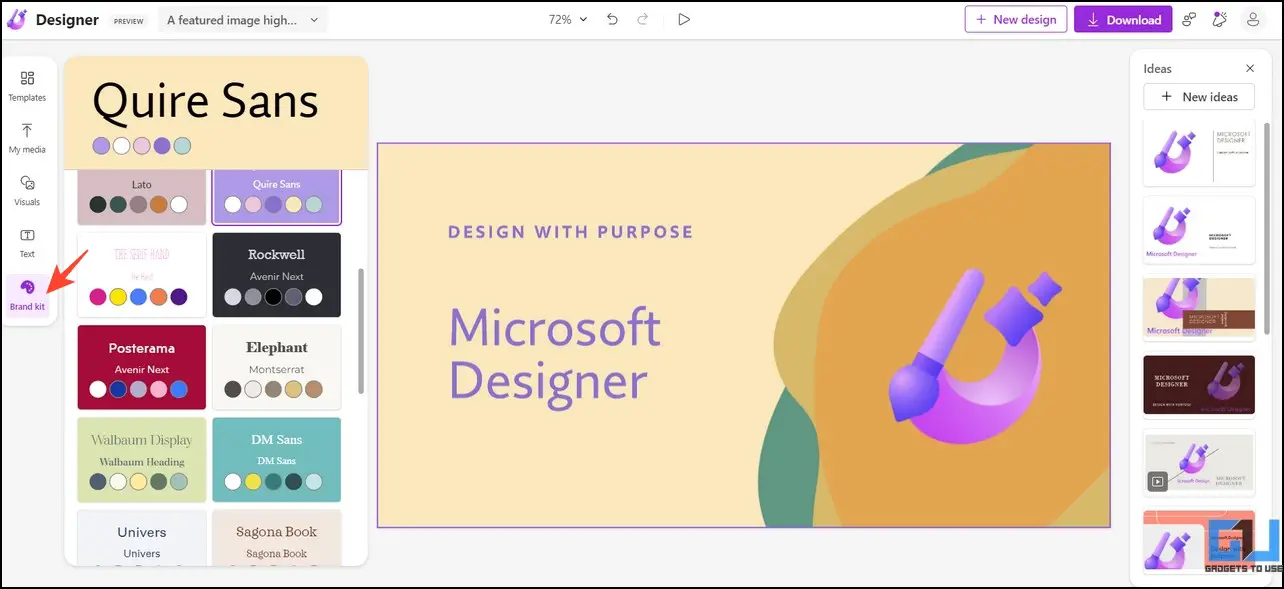 8. Finally, you can generate text with AI to add eye-catching captions to your image.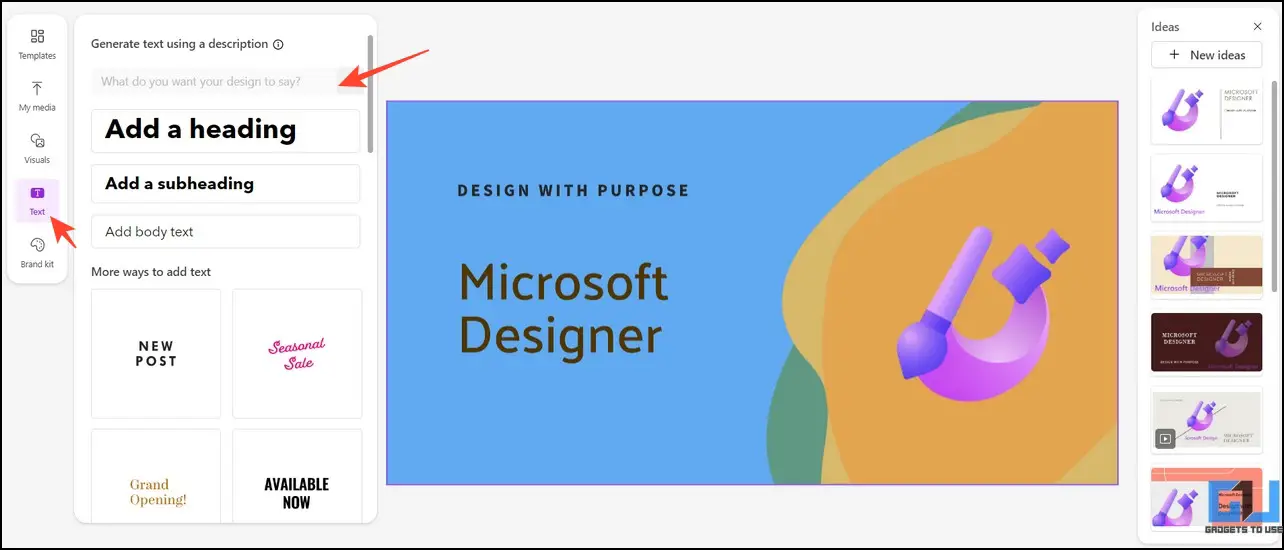 9. Once you are done with the editing, click the Download button in the top-right corner, select your desired file type, and press Download. That's it! You've successfully created a high-quality, artistic image using the Microsoft Designer tool.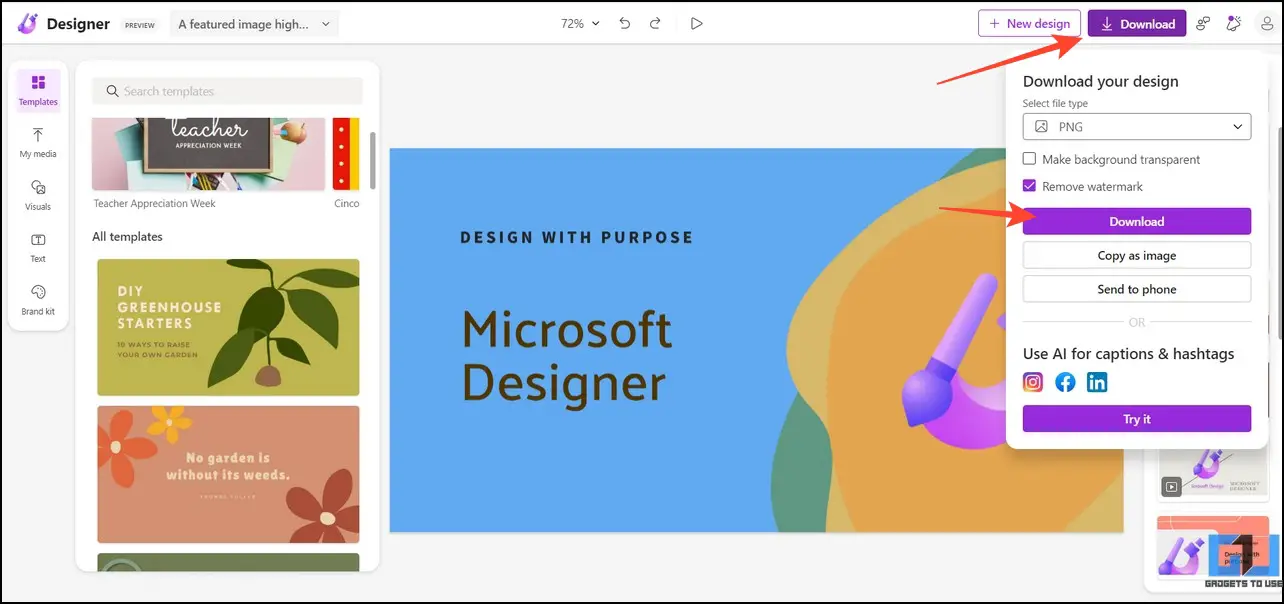 Our Experience
We loved using the new Microsoft Designer online tool. The fact that you can generate and edit AI-generated images on a single platform makes it super useful and saves precious time. If you're someone who has little or no knowledge of professional graphic designing tools such as Photoshop or Canva, we recommend you try it. While the tool is free and in its preview phase, it contains all the basic tools required to craft your ideas into beautiful, artistic images.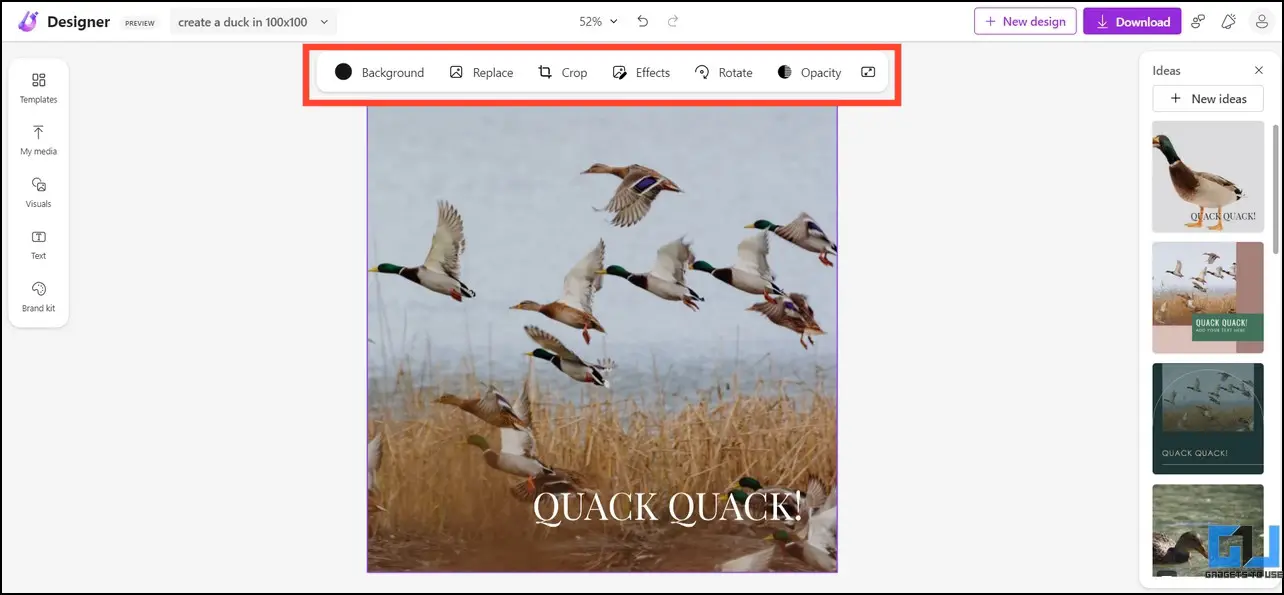 As an added benefit, you can export your designs in various formats, such as PNG, PDF, and MP4, or make the background transparent without requiring you to use or install other software.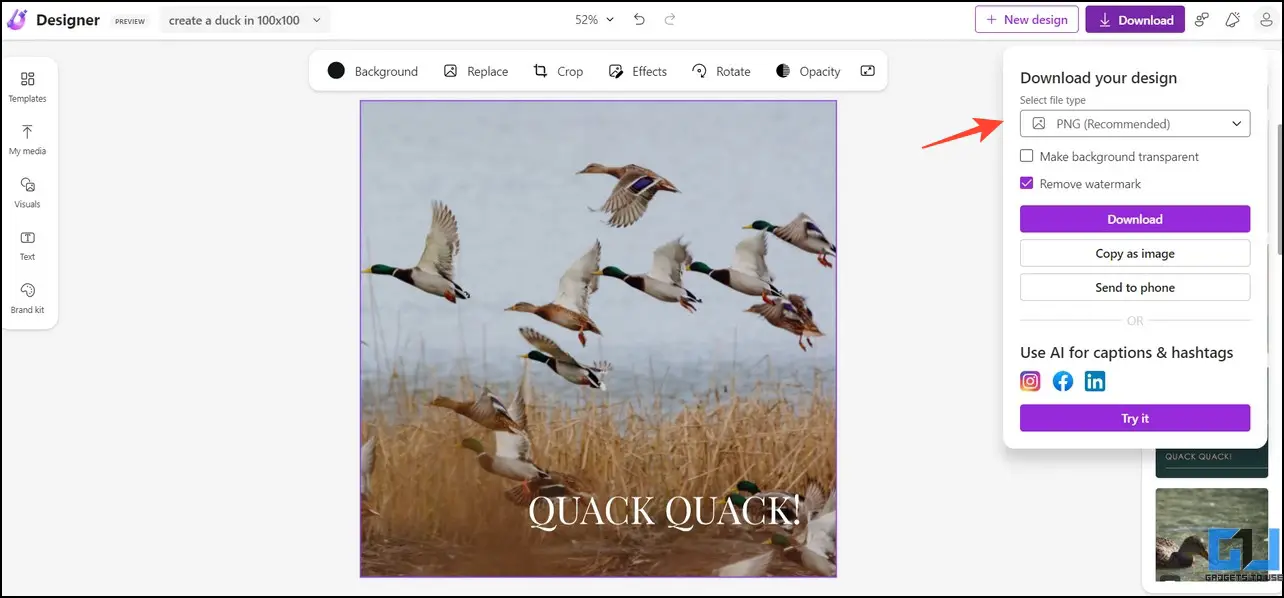 Pros and Cons
After thoroughly testing Microsoft Designer, we gathered its following advantages and disadvantages:
Pros
Completely Free
Easy-to-use Interface
It doesn't require installing any app and works on your browser
Uses the latest DALLE-2 AI model for image generation
No hidden charges for personalizing the generated AI content
No graphic designing experience is required
You can pick animated designs to export them as featured videos
Directly publish your design to various social media platforms
Cons
Lacks some enhancement tools widely available in Photoshop and Canva
Design export options are limited to specific file formats
Will not remain free, Once its development completes, you might have to pay for a subscription to use it
Wrapping Up
We hope this guide has provided you with the nits and grits of the Microsoft Designer tool. If you see it as a viable replacement for Photoshop or Canva, share it with your friends. Subscribe to GadgetsToUse for more interesting reads, and check the below links for more useful How-Tos.
You might be interested in:
You can also follow us for instant tech news at Google News or for tips and tricks, smartphones & gadgets reviews, join GadgetsToUse Telegram Group, or for the latest review videos subscribe GadgetsToUse Youtube Channel.