ChatGPT sometimes suggests brilliant solutions or amusing responses to questions worth sharing with others. However, its web interface offers limited sharing options. If you intend to do it, this explainer will demonstrate several methods to share ChatGPT responses with others. Additionally, you can learn to use ChatGPT with your voice without typing.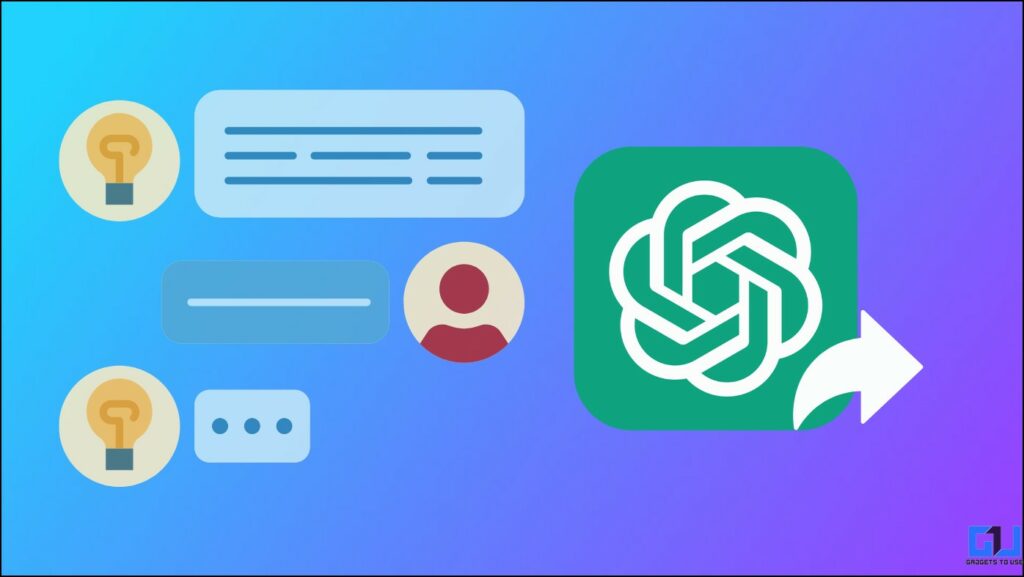 How to Share ChatGPT Responses With Others
Besides native interface options, sharing ChatGPT responses has become quite easy with various browser extensions and apps. That said, ShareGPT and SaveChatGPT are popular browser extensions to help you share the response. Let's look at these methods for more details.
Method 1 – Use Link Sharing to Share ChatGPT Responses
In its recent update, ChatGPT has introduced 'link-sharing,' allowing users to share a link to their ChatGPT conversation with others. This new feature is unique because other users can view and resume the conversation with ChatGPT from the same point from where it was shared. Here's how you can do it
On Desktop
1. Open your desired ChatGPT conversation and click the Share button.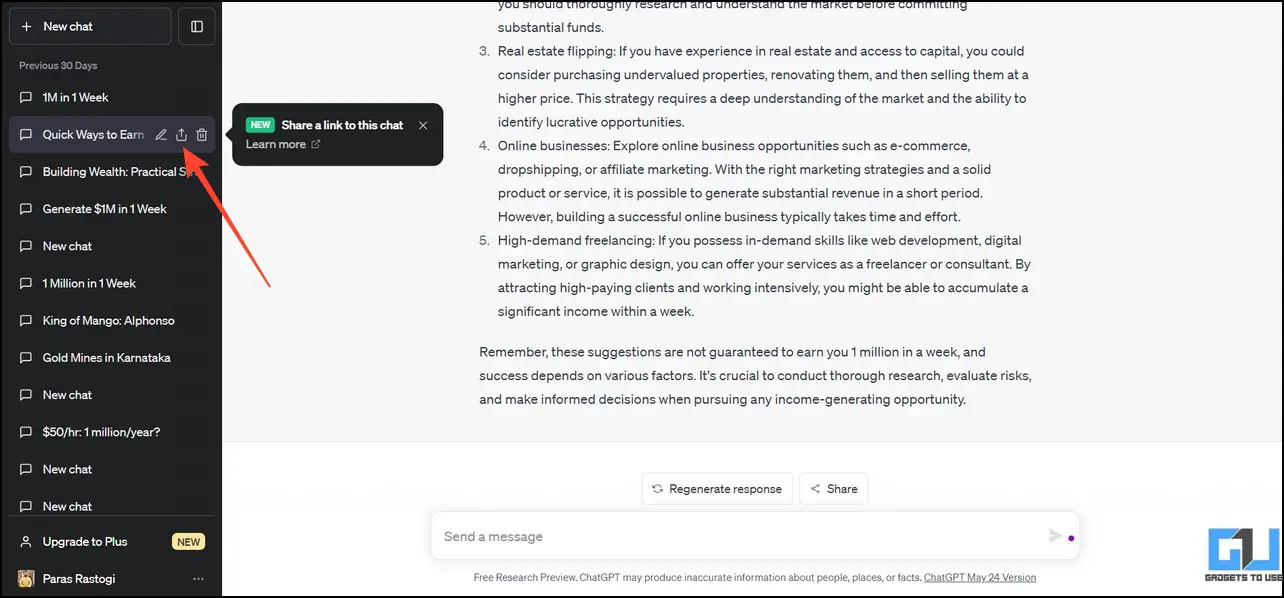 2. Next, click the Copy Link button to create and copy a sharable link to your clipboard.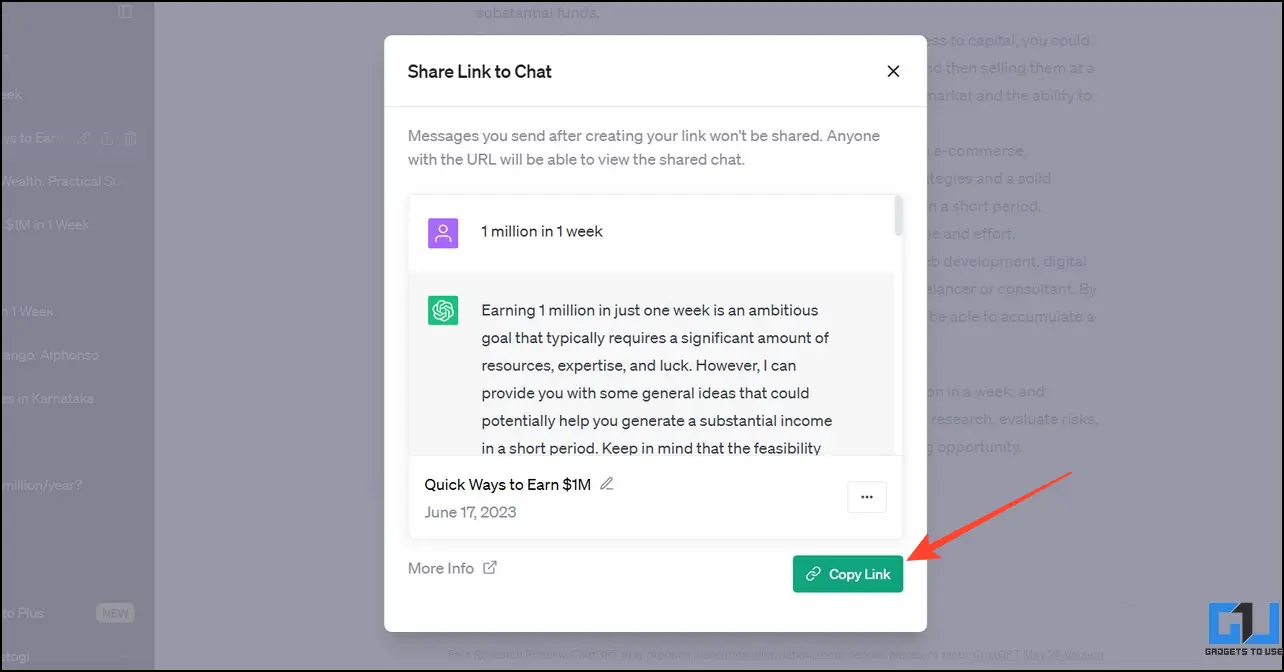 3. Share the copied link with your friend. Your friend can now view and resume the shared conversation using the 'Continue this Conversation' button.
Note: Messages you send to ChatGPT after creating a shareable link will not be visible to the shared person.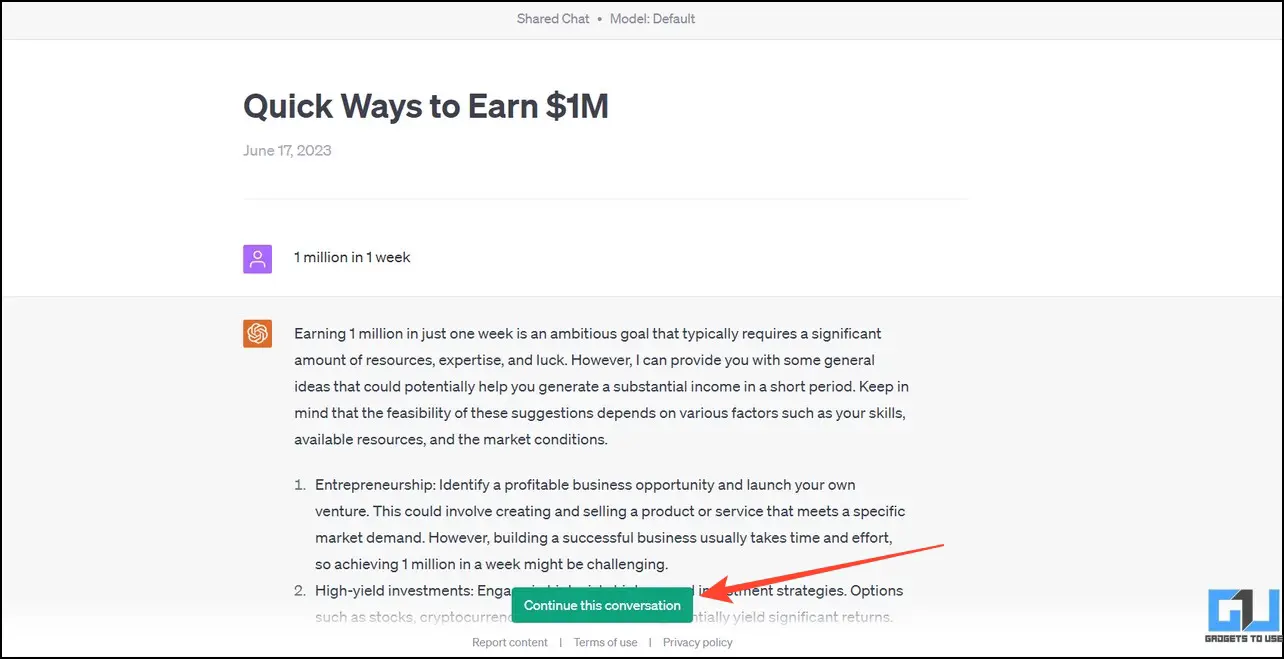 On Smartphone
1. Open the ChatGPT conversation in your phone's browser and tap the hamburger menu.
2. Press the Share button next to your ChatGPT conversation.
3. Tap Copy Link and share it with your friend.
4. When your friend opens the link, he/she can resume the conversation using the Continue this Conversation button.
Method 2 – Share ChatGPT Responses Using Copy-Paste
Another easy workaround to share your ChatGPT responses is to copy-paste and send them to others. Here's what you need to do:
1. Open your ChatGPT conversation and copy the AI response to your clipboard using the Copy button.
2. Paste it inside your desired medium to share it. For example, you can send it to your friend using email.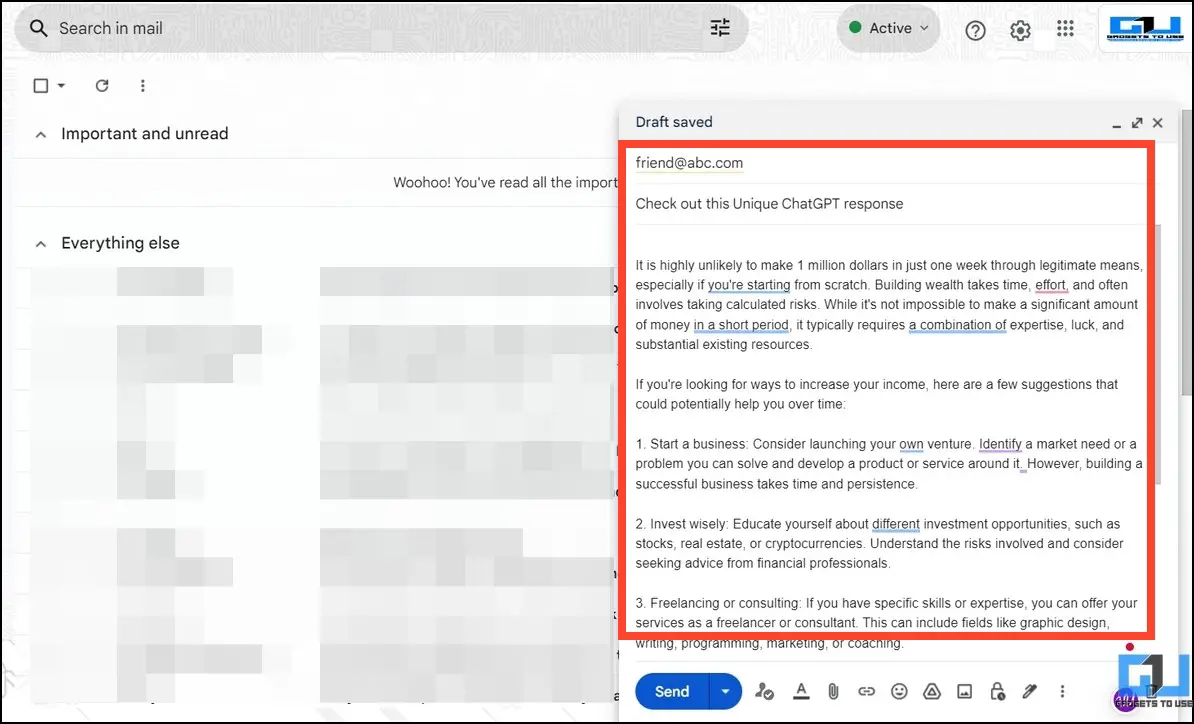 3. Alternatively, you can paste the ChatGPT conversation into Google Docs and share or publish it directly to the web.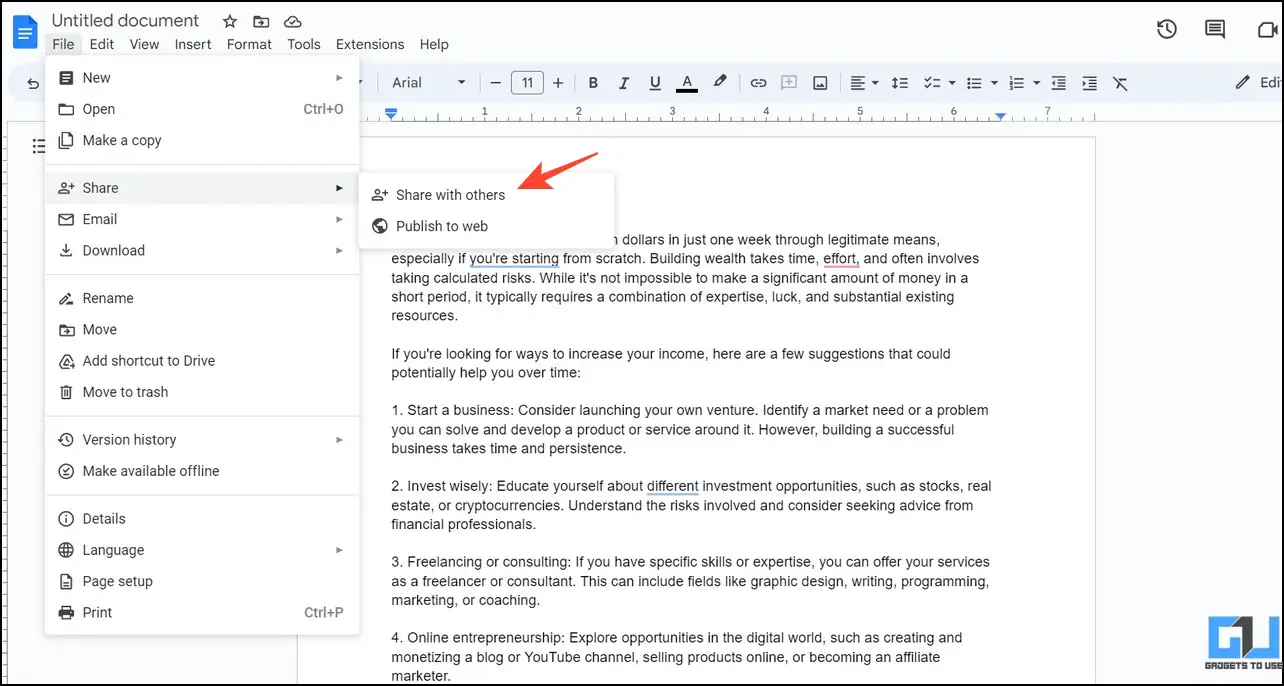 Method 3 – Use ChatGPT Prompt Genius Extension to Share Your Responses
ChatGPT Prompt Genius is a brilliant add-on that embeds a dedicated 'Share and Export' button to ChatGPT's web interface for easy and quick sharing. Once added, you can download a ChatGPT conversation in PDF/PNG or share it quickly with your friends by creating a link. Follow these easy steps to export ChatGPT conversations using the Genius browser extension.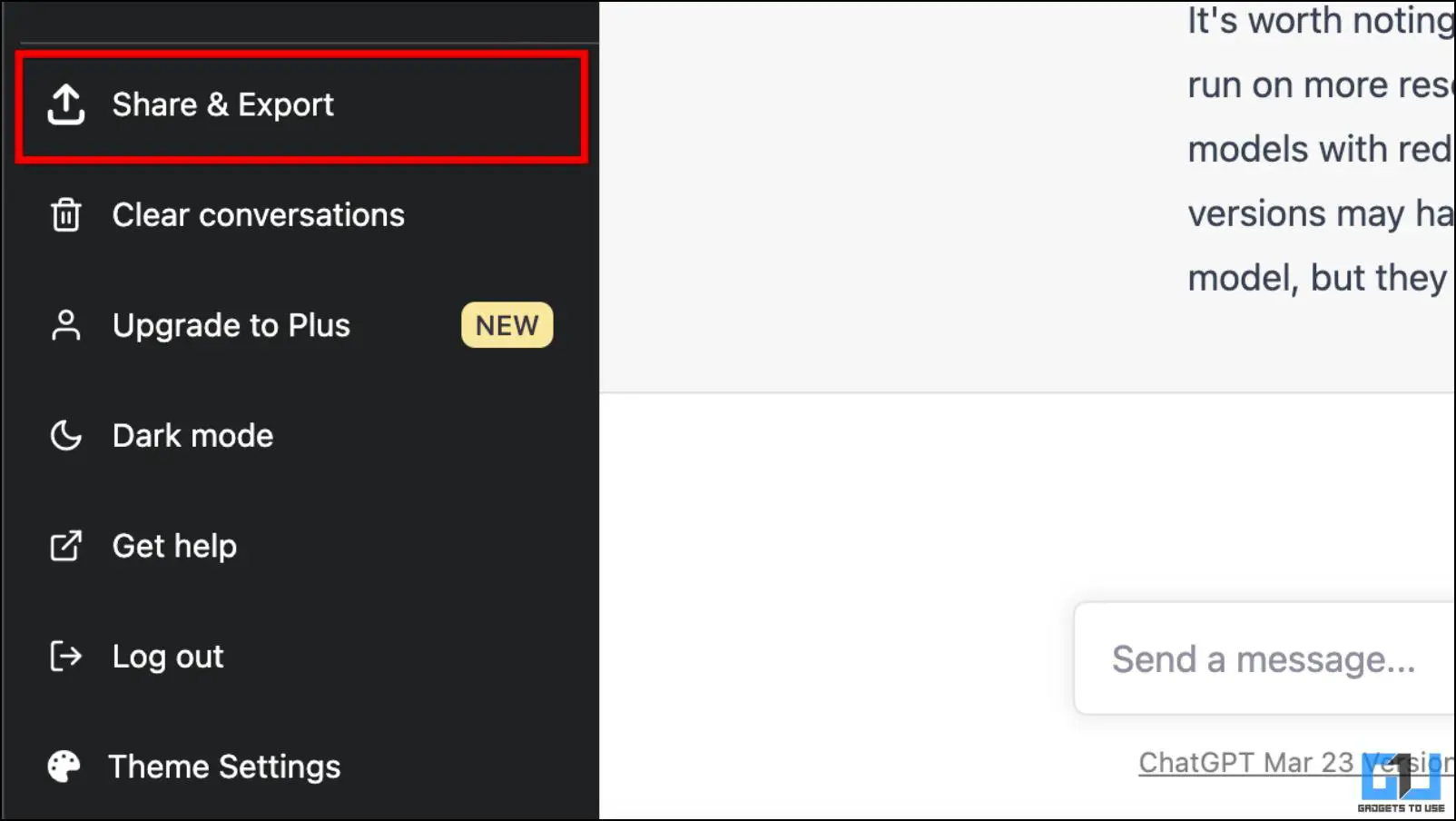 Method 4 – Share ChatGPT Responses With Others Using SaveChatGPT
Similar to ChatGPT Prompt Genius, SaveChatGPT is another useful browser add-on that helps you download and share your AI conversations with others. The extension allows you to save chat logs in TXT, Markdown, or PDF formats with a single click.
1. Install the SaveChatGPT extension from Chrome Web Store.
2. Next, open the ChatGPT thread and access the installed extension from the Extensions tab.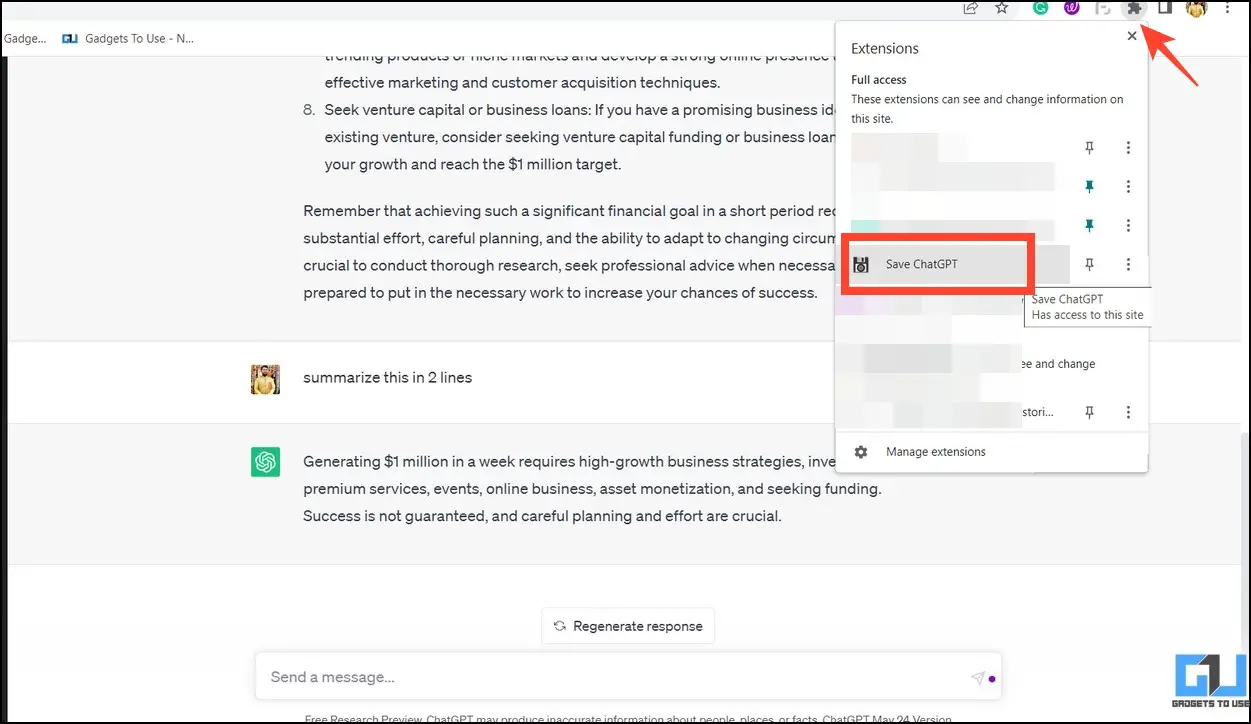 3. Pick your desired format to export/download the thread to your system.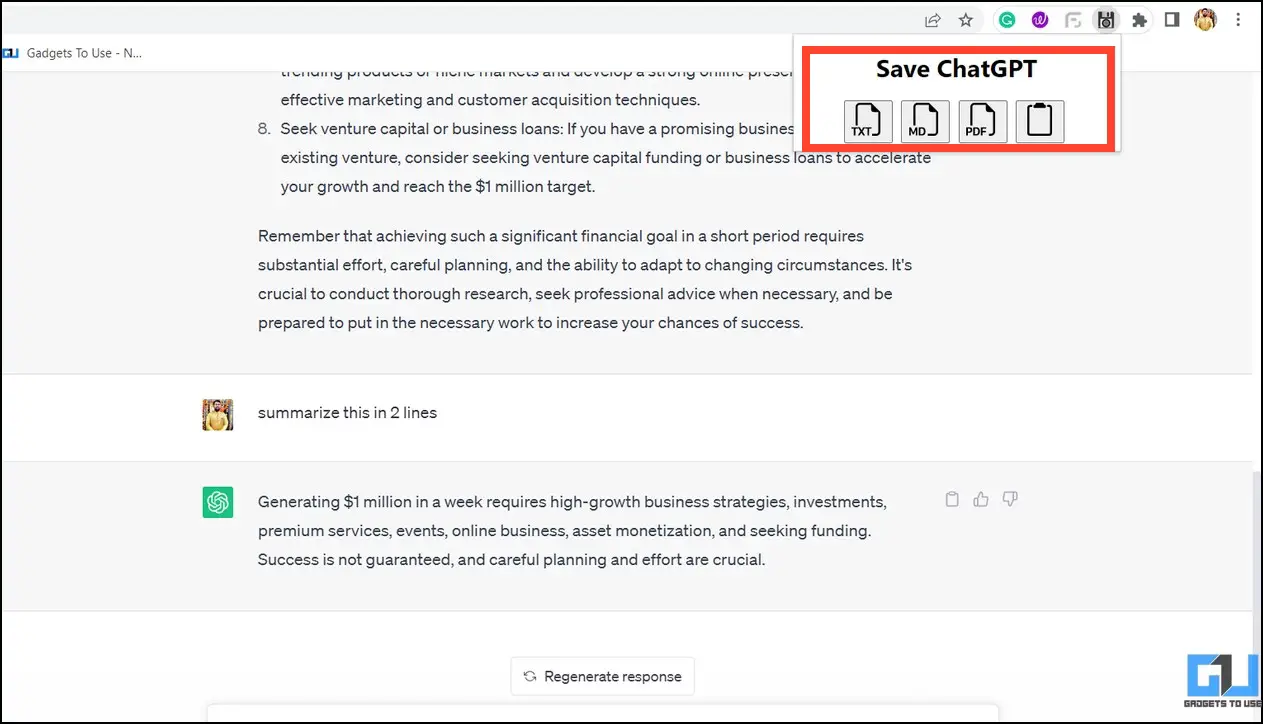 4. If you've picked PDF, set the destination to Microsoft Print to PDF and click Print.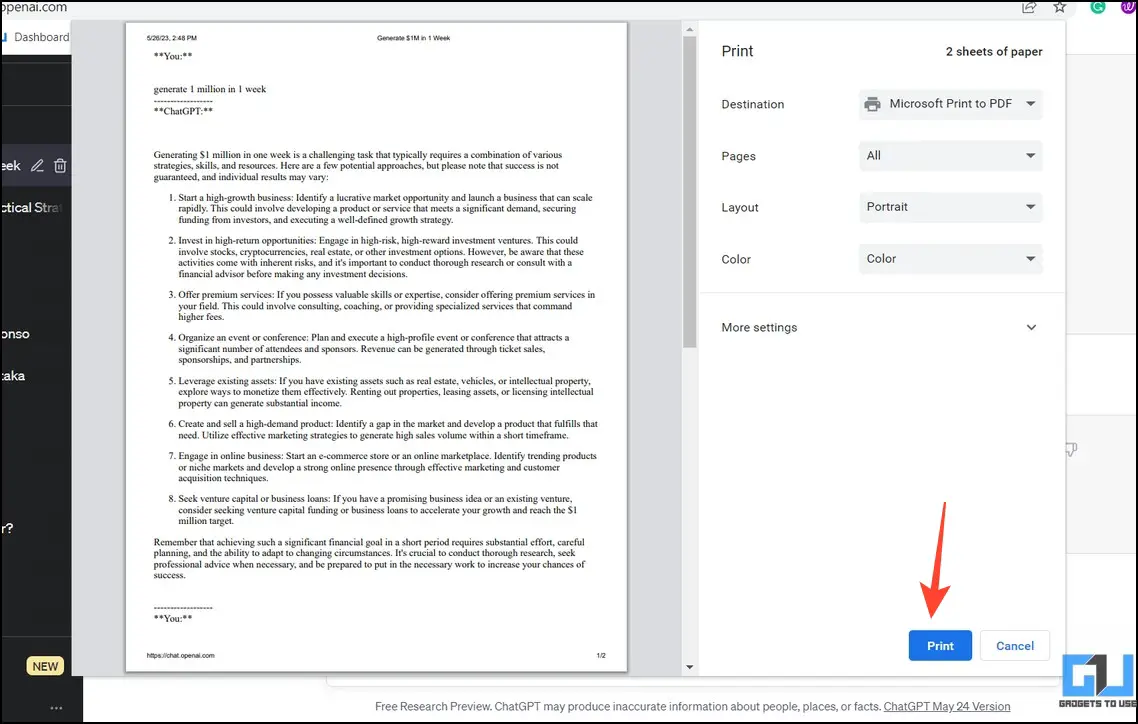 5. Provide a name to PDF the file and save it.
6. Once downloaded, you can share it with your friends via instant messaging apps or email.
Method 5 – Try the ShareGPT Browser Extension
If you wish to share your entire ChatGPT conversation with a friend without downloading it, ShareGPT is your one-stop solution. You can create and share permanent links to your conversations in a jiffy using this add-on. Here's how it can be done.
1. Install the ShareGPT extension on your web browser.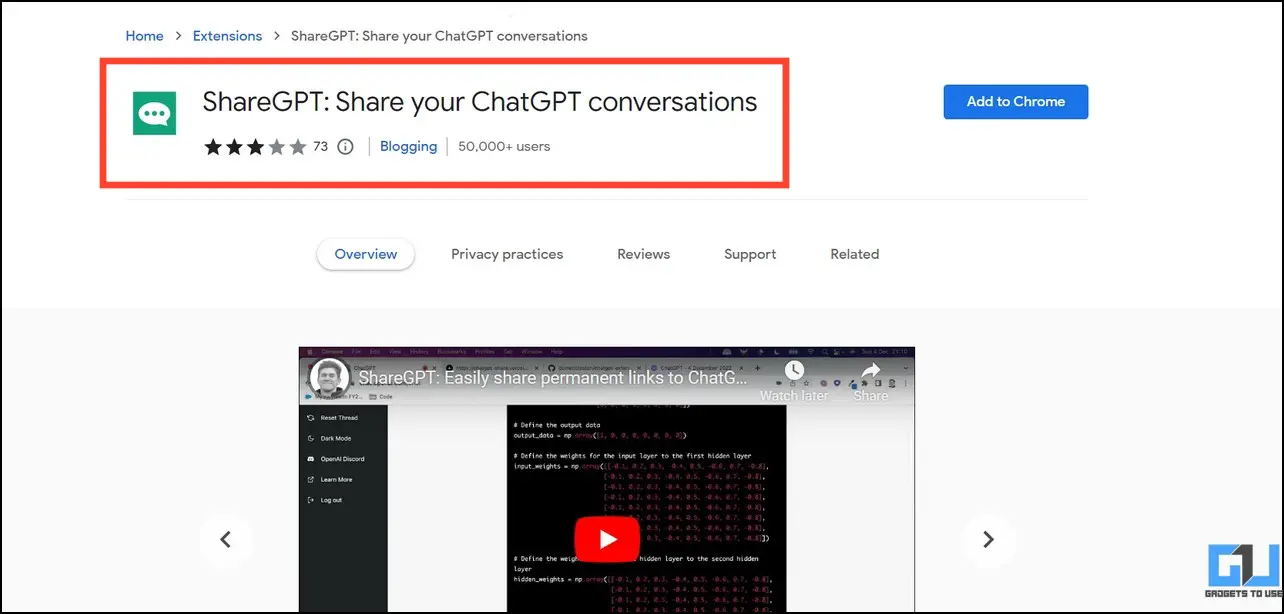 2. Open your desired ChatGPT conversation, scroll to the bottom, and click the Share button.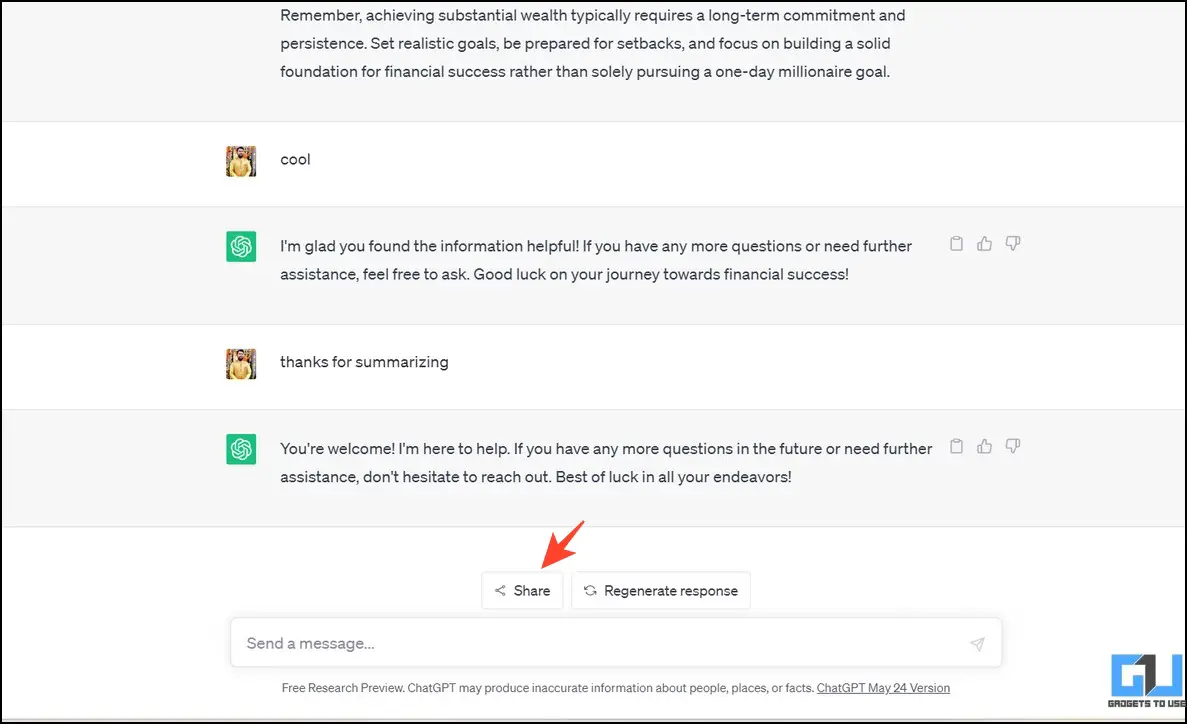 3. The share button will redirect you to a new link containing your entire ChatGPT conversation. Click the Copy button and share the link with your friends for instant viewing.
Method 6 – Use Long Screenshots to Share ChatGPT Responses With Others
If you're browsing ChatGPT on your smartphone and wish to share fascinating AI responses with your friends, you can take the help of scrolling/long screenshots. This will help you to capture the screenshot of the entire page containing the entire chat.
On Android
1. Open the ChatGPT thread in your phone's browser and take a new screenshot.
2. When the screenshot is captured, tap the long-screenshot button below it.
3. The screen will instantly start rolling to the bottom. Click Save to store this long screenshot to your device.
4. Finally, tap the Share button to send it to your friends.
5. If your Android phone doesn't have an in-built feature for long screenshots, install the Long Screenshot Easy app from Play Store to add this functionality to your phone.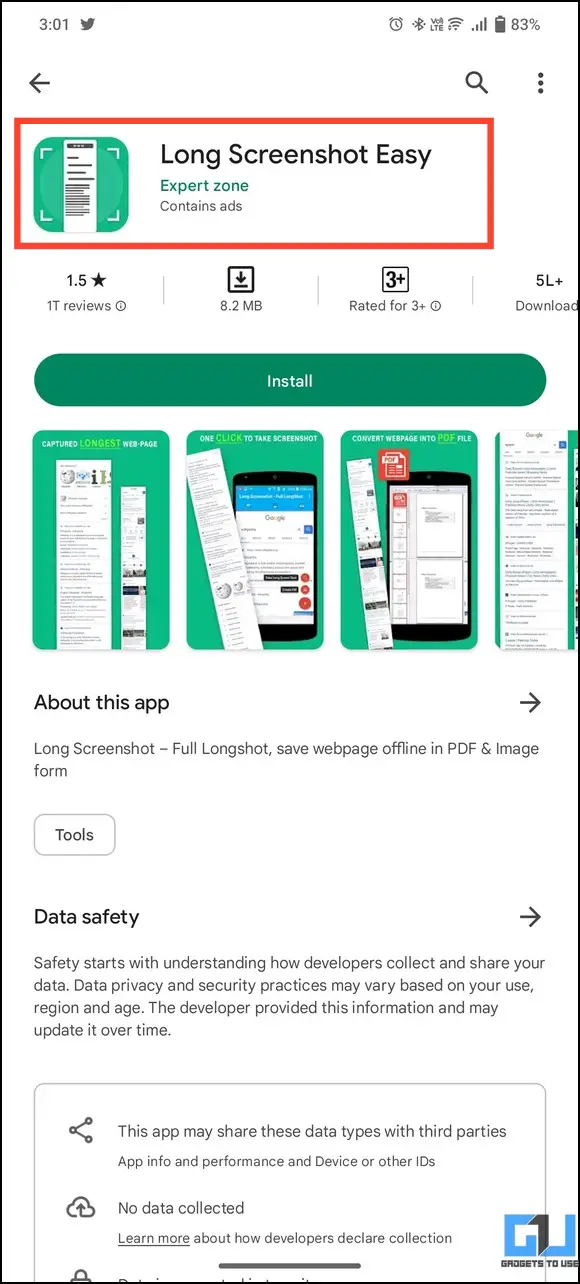 On iOS
Like Android, you can take a scrolling screenshot on your iPhone to save and share ChatGPT conversations. Check out our easy guide on taking a scrolling screenshot on iPhone for more details.
FAQs
Q. How to Share ChatGPT Conversations?
You can share ChatGPT conversations using the native link-sharing feature or install different browser extensions, such as SaveChatGPT and ShareGPT, to save the conversation and share it with your friends. For more details, refer to the steps listed above.
Q. How Do You Export ChatGPT Conversations?
Besides sharing, you can export and save any ChatGPT conversation to your device with various Chrome extensions. Check out the steps listed in this guide for more details.
Q. How to Save ChatGPT Conversations as PDF?
You can install ChatGPT Prompt Genius or SaveChatGPT add-on to your web browser to save any ChatGPT conversation as a PDF file. In addition, the extension also supports PNG and TXT file formats for easy saving. Check the steps listed above for more details.
Q. How to Use ShareGPT on Your Browser?
Head to the Chrome Web Store and search for ShareGPT to install it. Once added, scroll down to the bottom of any ChatGPT conversation to use the Share button by ShareGPT.
Wrapping Up
We hope this guide has assisted you in sharing ChatGPT responses with others. If you found it useful, spread the word with your friends, and subscribe to GadgetsToUse for more awesome explainers. Meanwhile, check the below links for more interesting reads:
You might be interested in the following:
You can also follow us for instant tech news at Google News or for tips and tricks, smartphones & gadgets reviews, join GadgetsToUse Telegram Group or for the latest review videos subscribe GadgetsToUse Youtube Channel.