HP upgraded its Omen 16 gaming laptop to Transcend 16 with the latest hardware for a hybrid lifestyle. It boasts a big, bright display with a 240Hz refresh rate, which you can only find in high-end gaming laptops. Transcend 16 has the latest Intel Core i7 13700HX processor and the powerful RTX 4070 mobile GPU. Powered by a huge 97WHr battery, HP claims you can get up to 9 hours of battery life. Does this laptop stay true to its claims? After testing it for a week, here's our in-depth review of the HP Omen Transcend 16 gaming laptop.
HP Omen Transcend 16 Review
The HP Omen Transcend 16, with Intel Core i7 13700HX processor and the powerful RTX 4070, and 16GB RAM paired with 1TB SSD, costs INR 2,09,990. Including Hyperx's Cloud II gaming headphones in the box is a nice touch and the best additional accessory for a gaming laptop. Let's see what else HP included inside the box for us.
HP Omen Transcend 16 Unboxing
HP Omen Transcend 16 laptop
A 280 Watts power adapter
HyperX Cloud II Gaming headset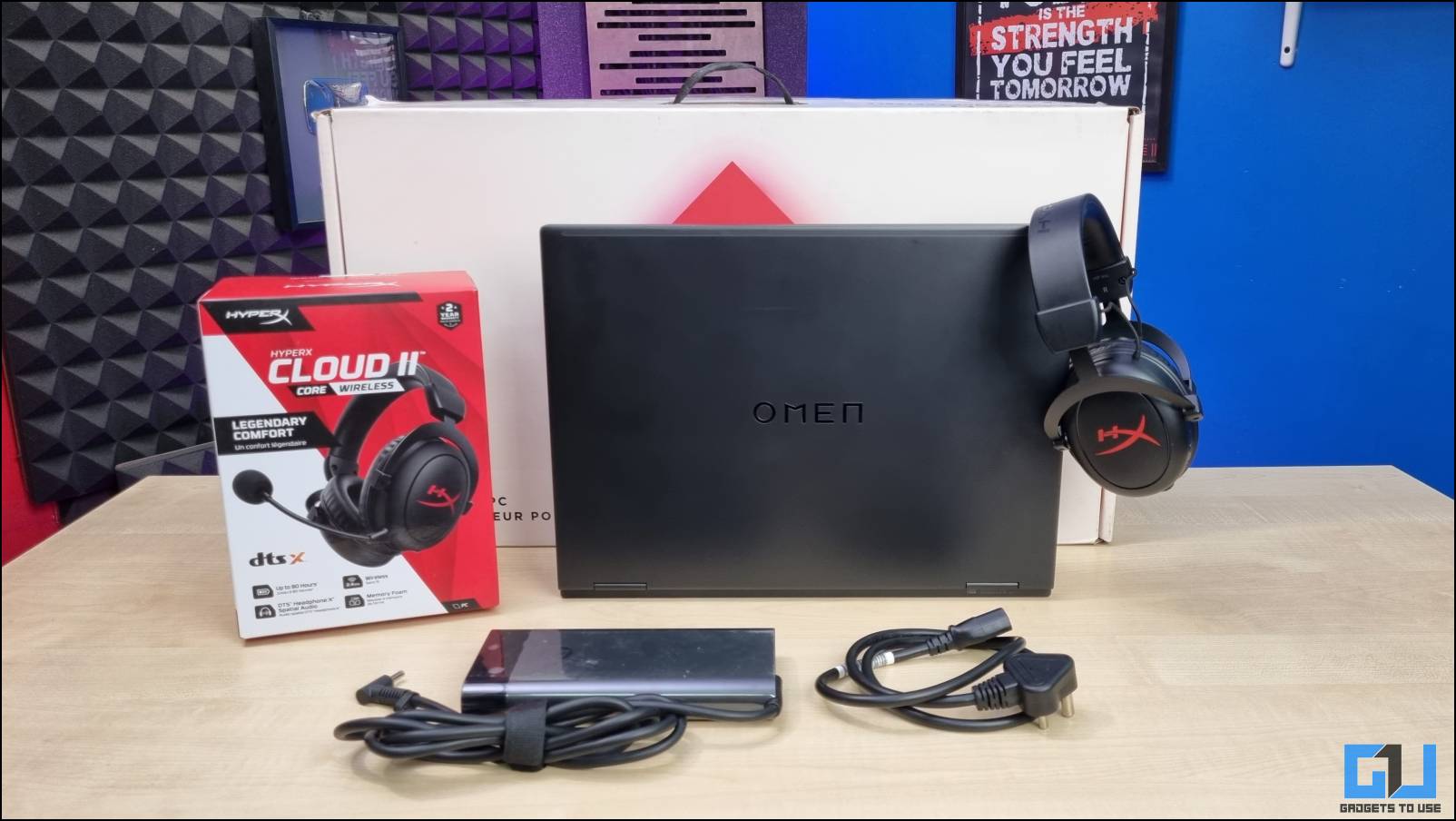 HP Omen Transcend 16: Design
The HP Omen Transcend 16 adheres to the design principles of its well-received Omen 16 series gaming laptops. The brand took all the positive traits of HP Omen 16 and carved a better and improved version of it. The laptop boasts a magnesium-aluminum alloy chassis to make the laptop sturdy while keeping the weight manageable for a gaming laptop.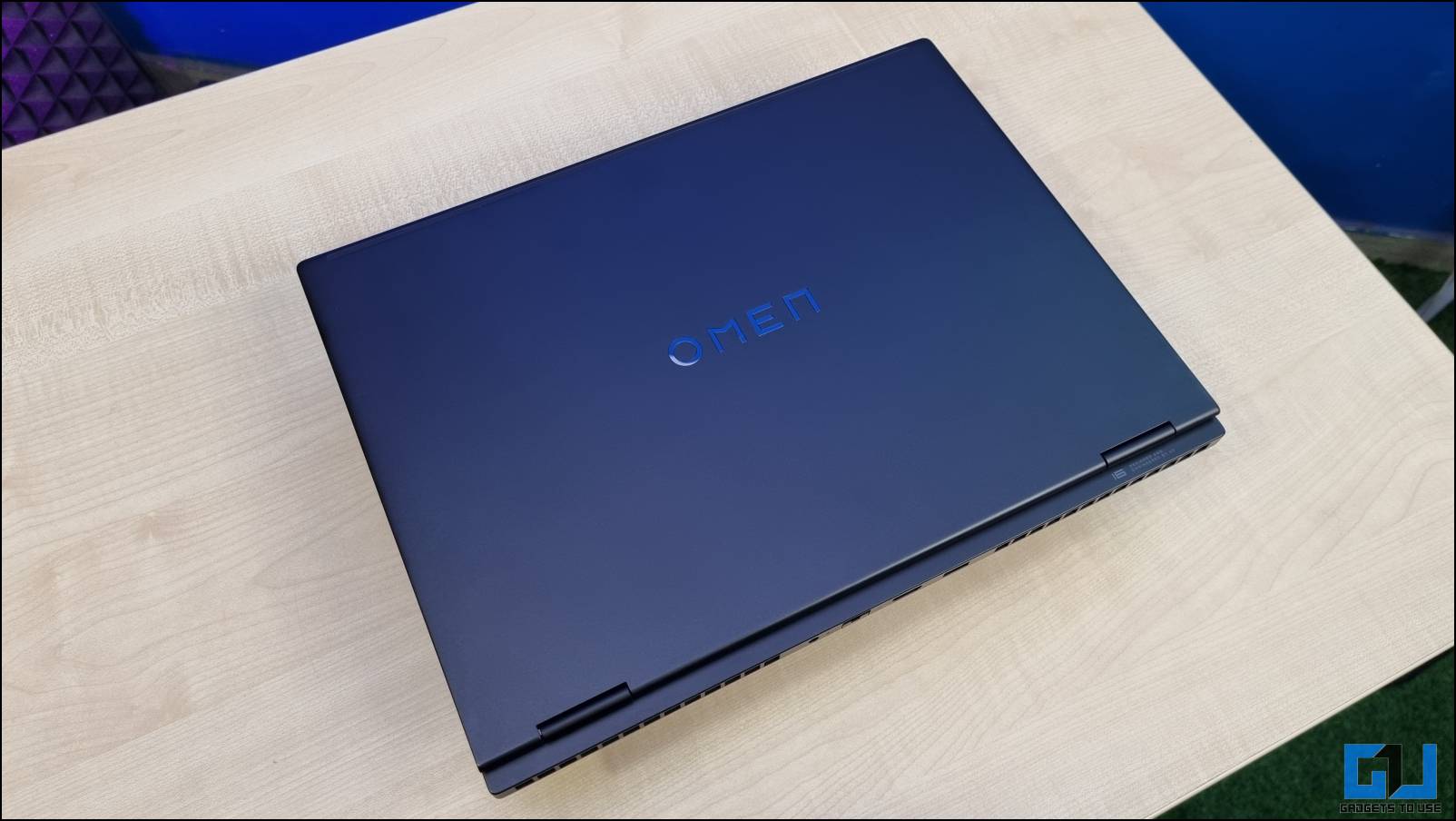 The minimalistic design approach for the Transcend 16 is without any flashy light strips or large glowing logos usually found on gaming laptops. Only an OMEN branding on the lid has a glossy finish. Also, a thin strip is placed toward the top and runs along the laptop's length. This must be the antennae line for better reception, and HP tried its best to blend it seamlessly with the lid's color and finish.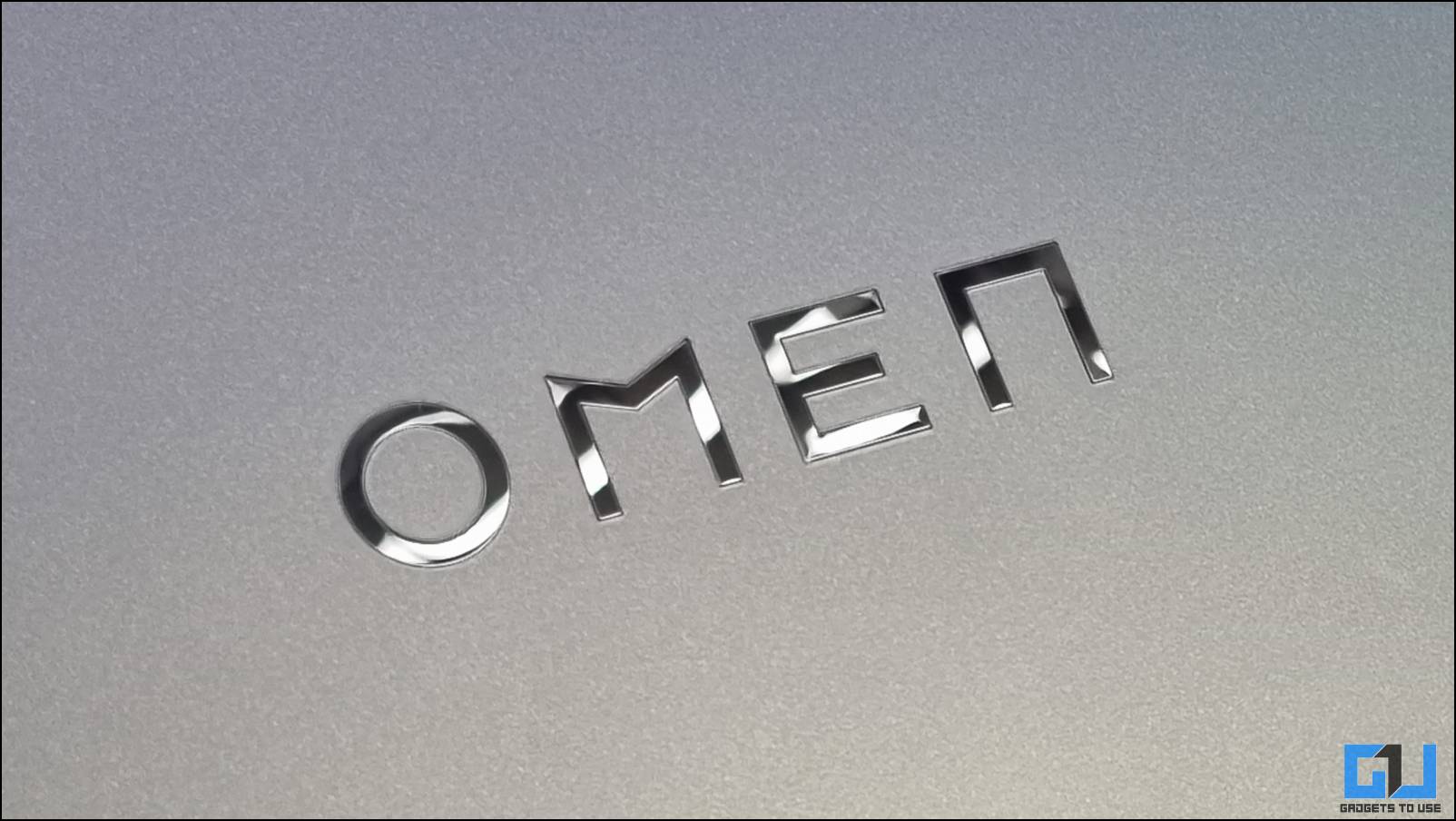 There is also very little going around at the bottom of the laptop. There are a lot of vents and long rubber feet at the bottom. The dual speakers are provided at the bottom on either side to create a wider sound profile. The back panel is beveled toward the edges to make the laptop appear thinner than it is.
Ports
When it comes to ports, things get interesting about this laptop, as the placement has been done beautifully on the Transcend 16. All the important ports are placed at the back, including the power port, HDMI port, ethernet port, and one USB 3.2 port. You can connect your devices to these ports and won't be bothered again while working or gaming.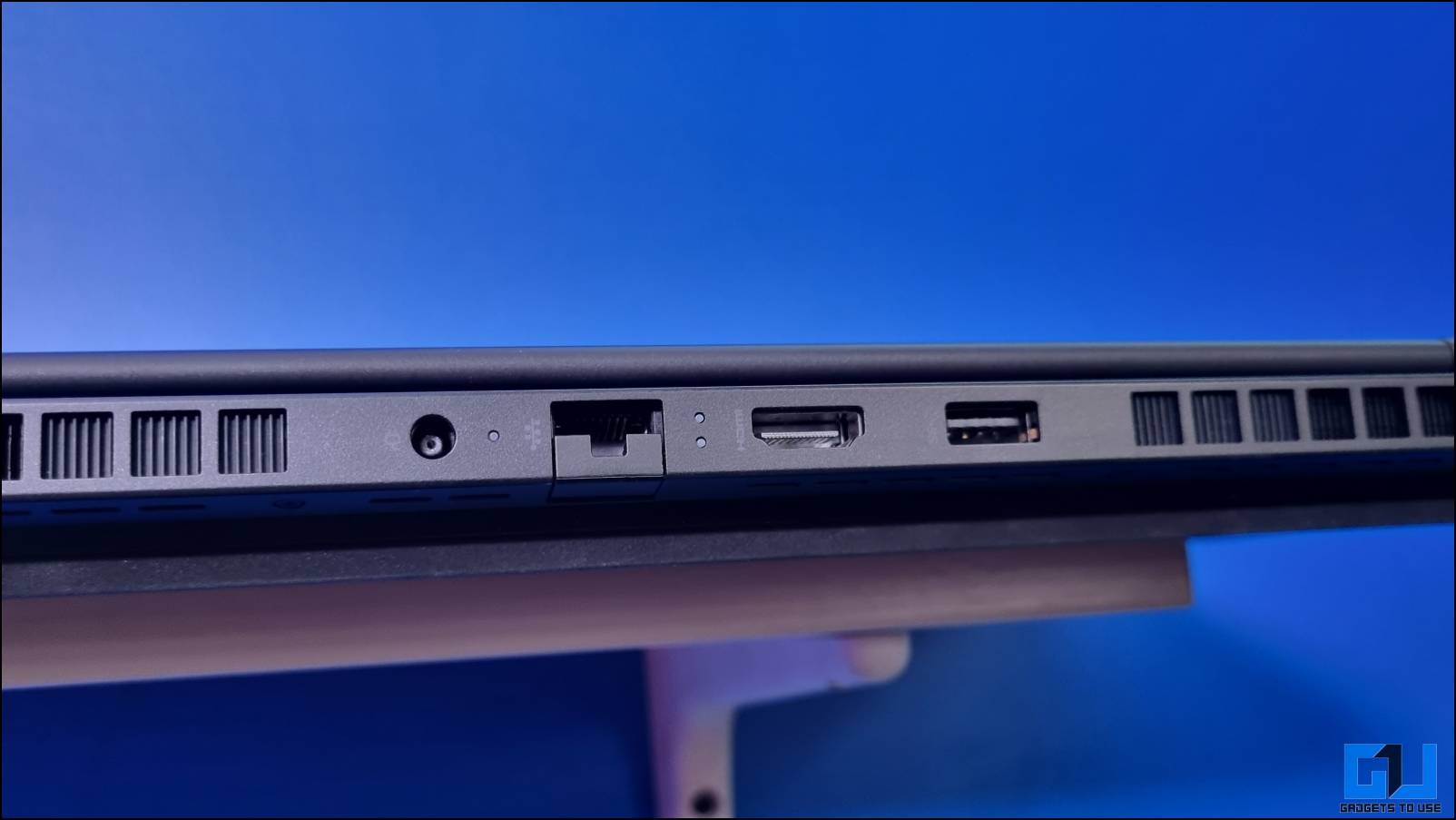 I like this type of port arrangement because usually when I work with creative software like Premiere, Photoshop, or Illustrator, I connect my laptop to an external monitor. Once connected, both the left and right sides of the laptop are free to use without being bound by cables and connectors. It is the same when gaming on this laptop with an ethernet connection. The USB port at the back helps to connect the mouse receiver to get a complete "cable-free" experience on this laptop.
And that's not all; you get an additional USB port on the right side and two Thunderbolt 4 ports on the left. A headphone and microphone combo port is also provided on the left side. Another thing that this laptop has plenty of are vents; two at the rear, one on either side, one above the keyboard, and one at the bottom. These cooling vents are enough to tame the two beefy chips inside; the Core i7 13900HX and RTX 4070.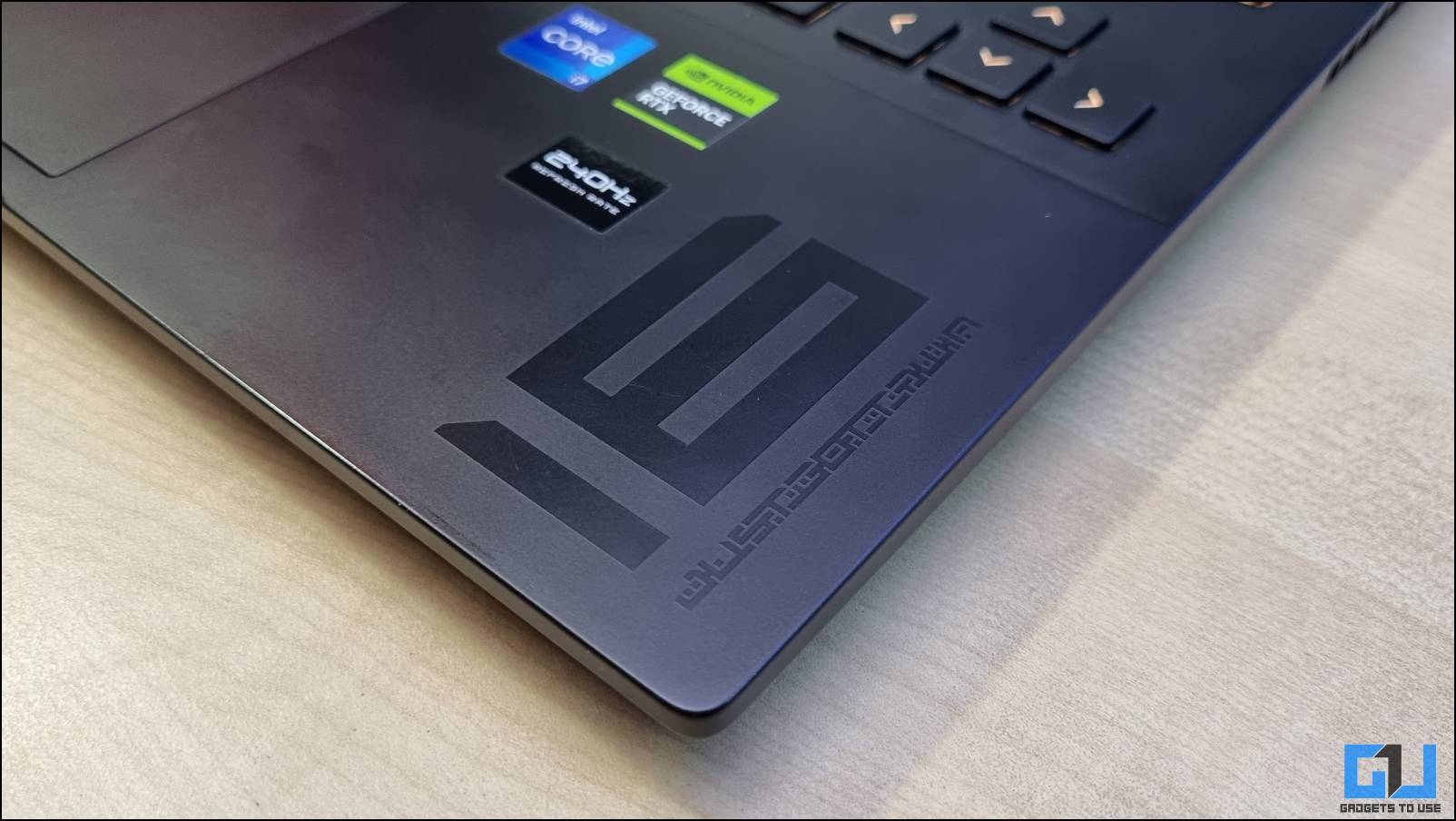 Tall Form Factor
The HP Omen Transcend 16 seemed a bit taller than a generic gaming laptop, and soon we realized why. Opening the laptop reveals a large 16 inches display with a 16:10 aspect ratio and thin bezels on three sides. The bottom bezel is significantly thicker than the other three sides. The top bezel houses a 1080p camera with Windows Hello support, letting you log in to the laptop with your facial scan.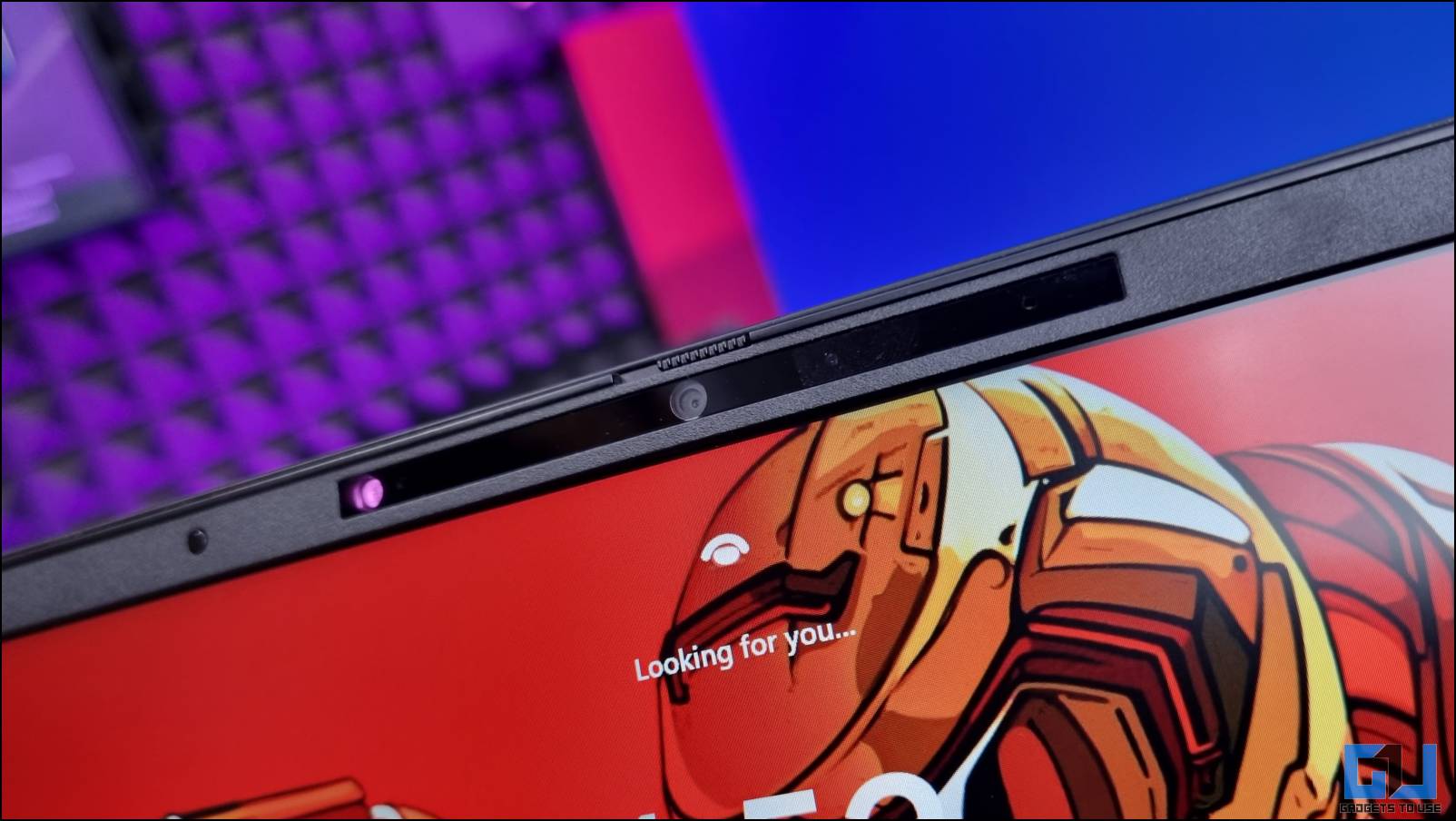 The microphone is placed on either side of the camera module for video calling and casual streaming. The light sensor present next to it detects ambient light and adjusts the display brightness accordingly. Thanks to the anti-glare coating, the outdoor visibility is pretty good as it eliminates reflections. I'll talk more about the display later in the review.
Premium Materials
The laptop's deck is also made of the same metal alloy as other parts, which looks great, and the elevated palm rest ensures the screen doesn't touch the keyboard when the laptop is closed. The keyboard has a unique layout I have never seen before on any laptop; more later. A large trackpad is placed a bit off-center to make it more reachable.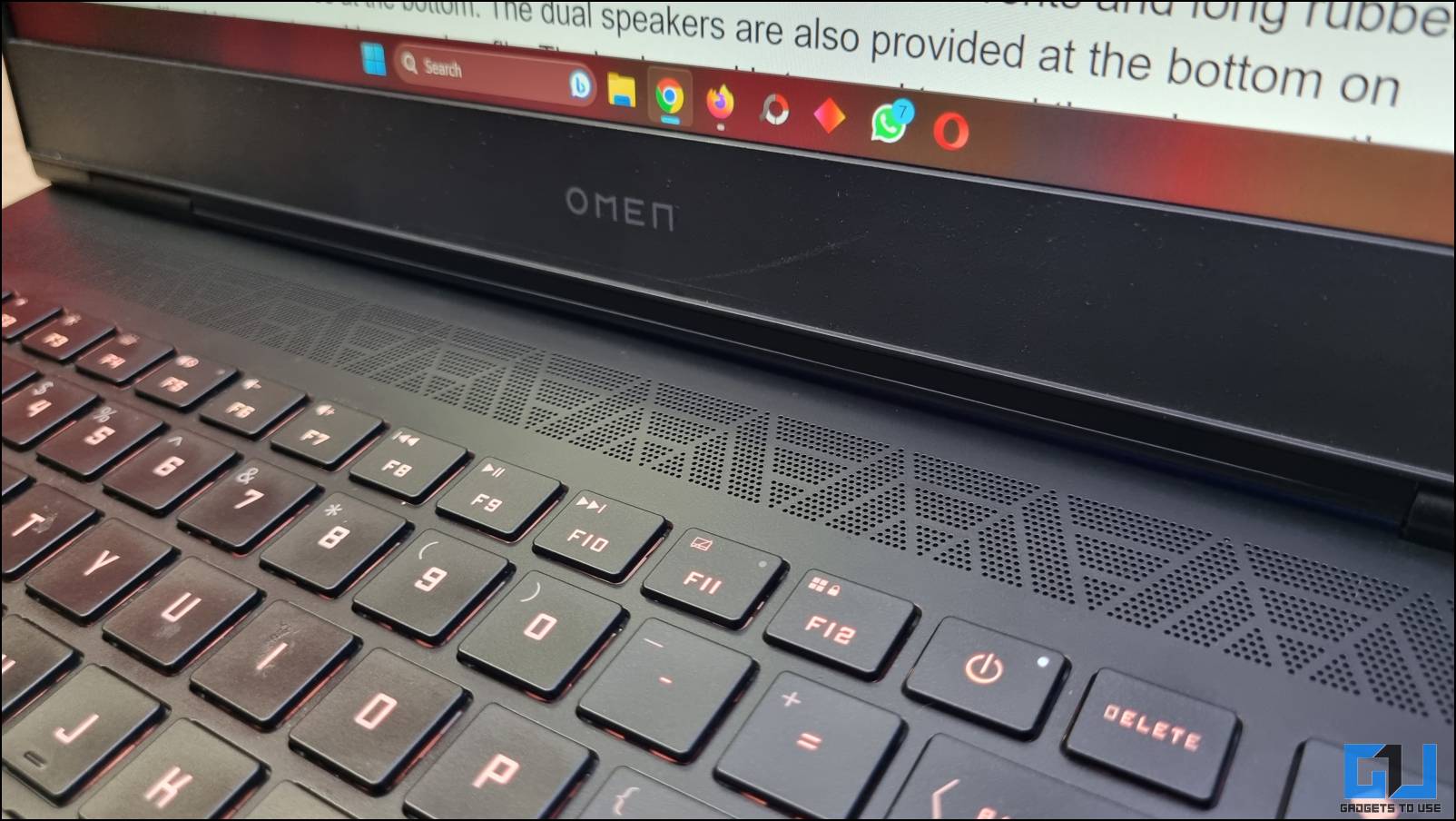 A large vent is placed above the keyboard to pull fresh air in for cooling the laptop. The whole deck has the same finish as the lid, which feels premium. Overall the laptop looks fantastic with its slim form factor and minimal design. Let's quickly look at the HP Omen Transcend 16's build quality.
HP Omen Transcend 16: Build Quality
In the case of gaming laptops, performance and portability are inversely proportional to each other; i.e., when one is enhanced, the other gets reduced. While HP couldn't break this law, the effort to close the gap between the two is appreciated. The laptop surely is heavy since t is a gaming laptop, after all.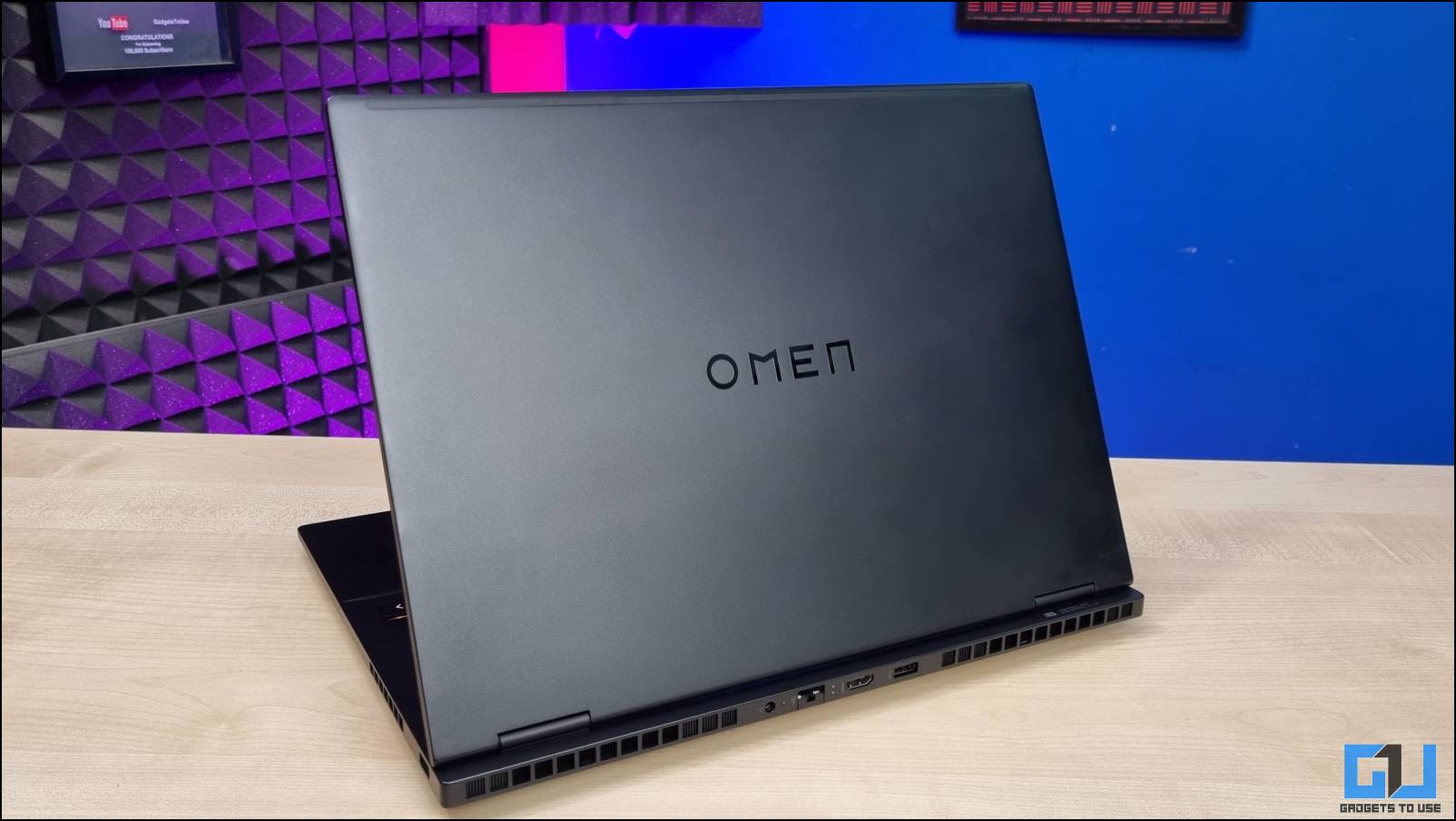 The HP Omen Transcend 16 is about 20mm thick and weighs above 2kg. Despite being taller, this laptop can easily be slid into your daily backpack. However, pairing the laptop with its power brick increases the total weight of the package to about 3 kilograms. You should be prepared for this one thing if you plan to buy this laptop.
As mentioned earlier, the laptop is built solid, and HP has used Magnesium-Aluminum alloy to keep the laptop sturdy and lightweight. There is little to no flex on the deck, even on the keyboard part. The display is also connected via a sturdy hinge, and I found the stiffness of this hinge to be perfect. You can lift the lid with one hand, keeping the display solid at any angle.
The display wobbles a bit when moving it to an angle, but it's not too much to be bothered about. The display can be opened to a maximum of 180 degrees which is great for using the laptop on a stand. The rubber feet at the bottom are big and sturdy enough to keep the laptop steady on any surface.
My Take On Design And Build

The HP Omen Transcend 16 is a good-looking gaming laptop with minimal design and solid build quality. With minimal design and a lack of RGB lights, it may fail to excite a gamer like me. I loved HP's choice of materials for this laptop, I love solid metal build on a laptop even if adds a little bit of weight to it.
HP Omen Transcend 16: Display
The display is one important part of a gaming laptop, and HP nailed it in every aspect but has caveats, but I'll tell you about them later. First, check out the specifications and what's good about this display. It is a 16 inches QHD display with 2560 x 1600 resolution and 240 Hz refresh rate.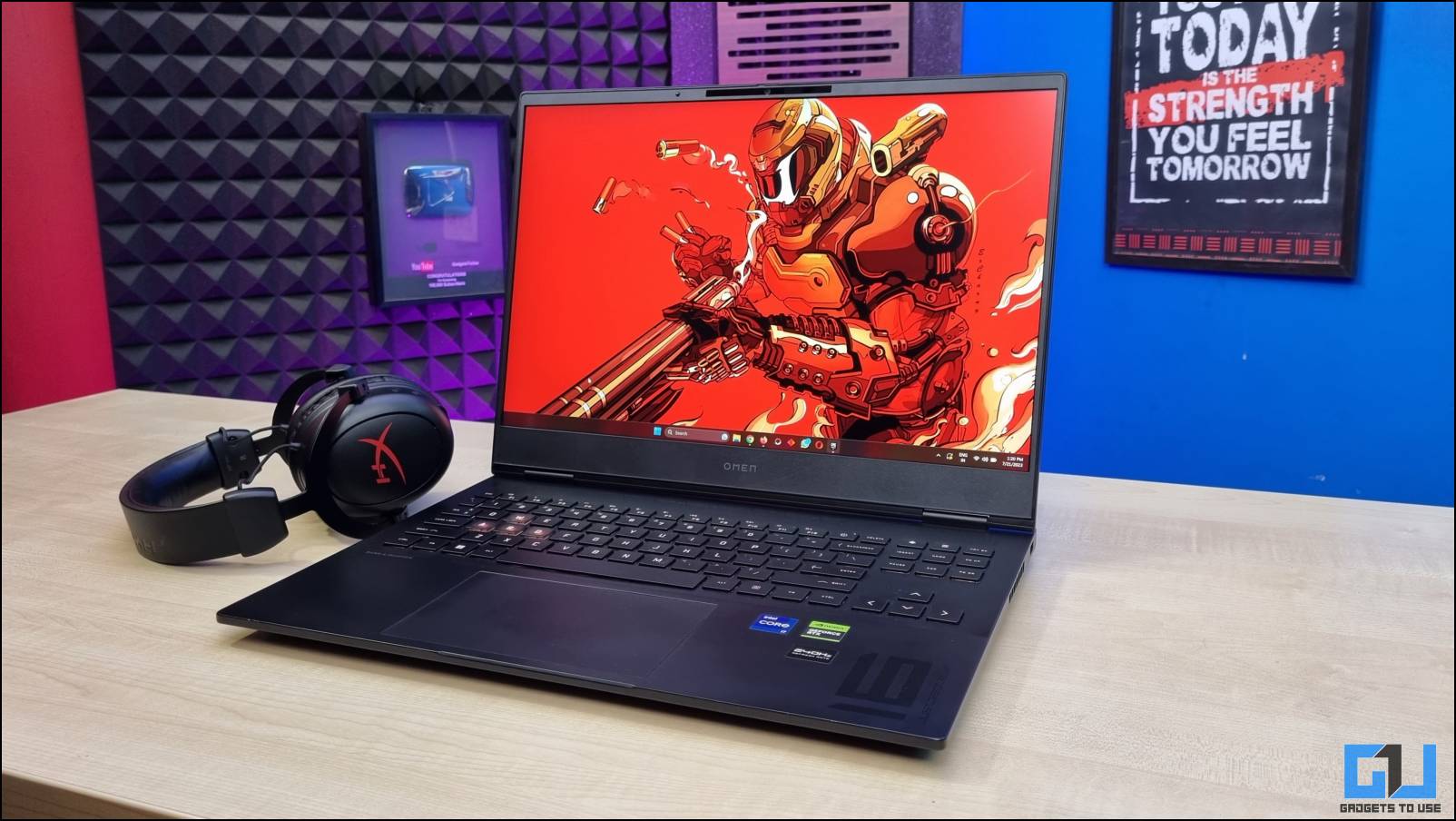 HP is calling it the first mini LED display on a laptop, but it is just a fancy way of saying IPS display with better backlighting. It comes with 1000 nits brightness and an anti-glare coating that enhances usability outdoors. The mini LED tech increases the brightness and contrast of the display.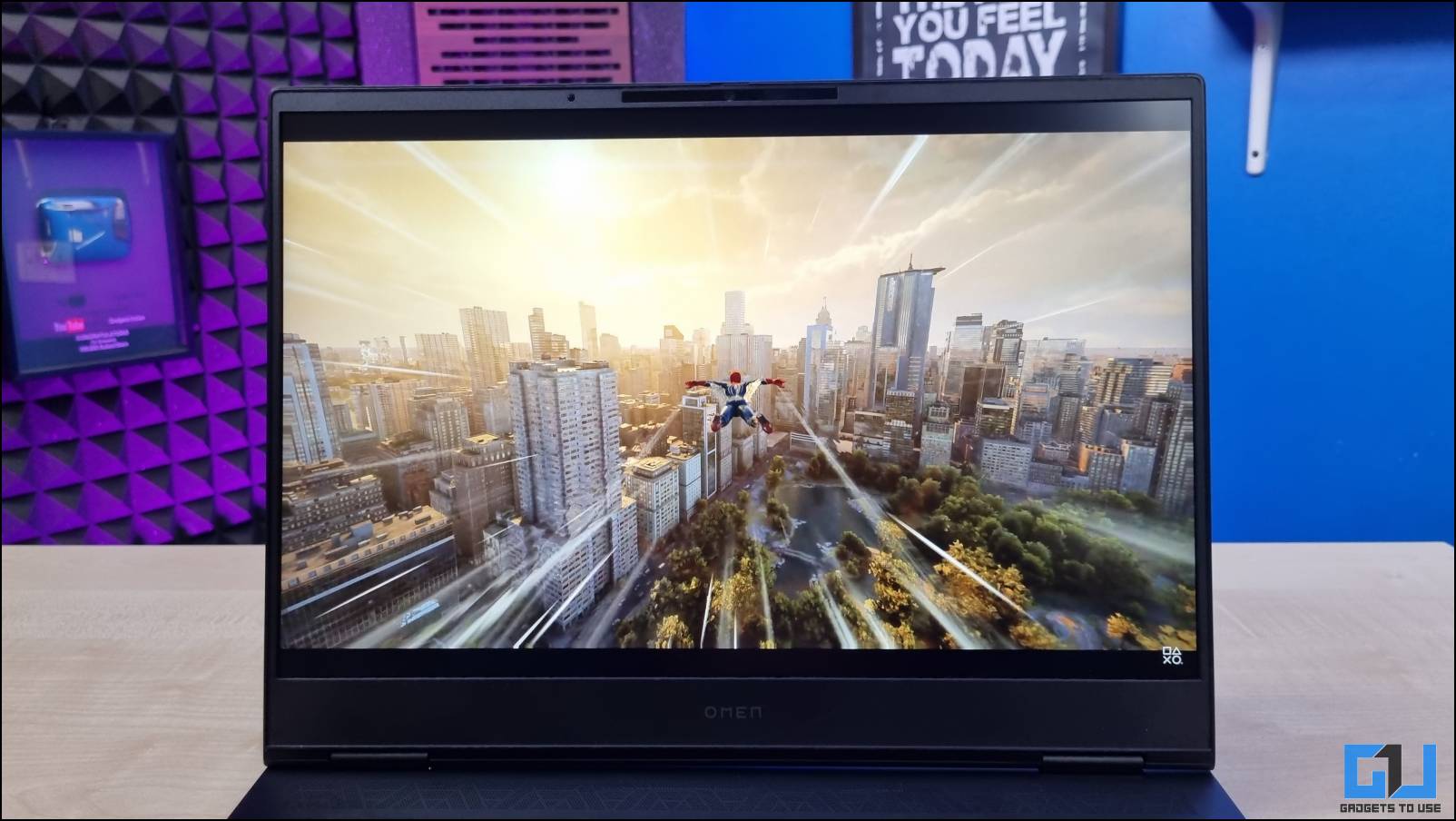 HP has used a display with a 16:10 aspect ratio to make the Laptop appealing to content creators. This gives an extra edge to the users when working with creative software like Premiere Pro. However, it does nothing in the games except if you are playing some MOBA or Strategy games like LOL or DOTA.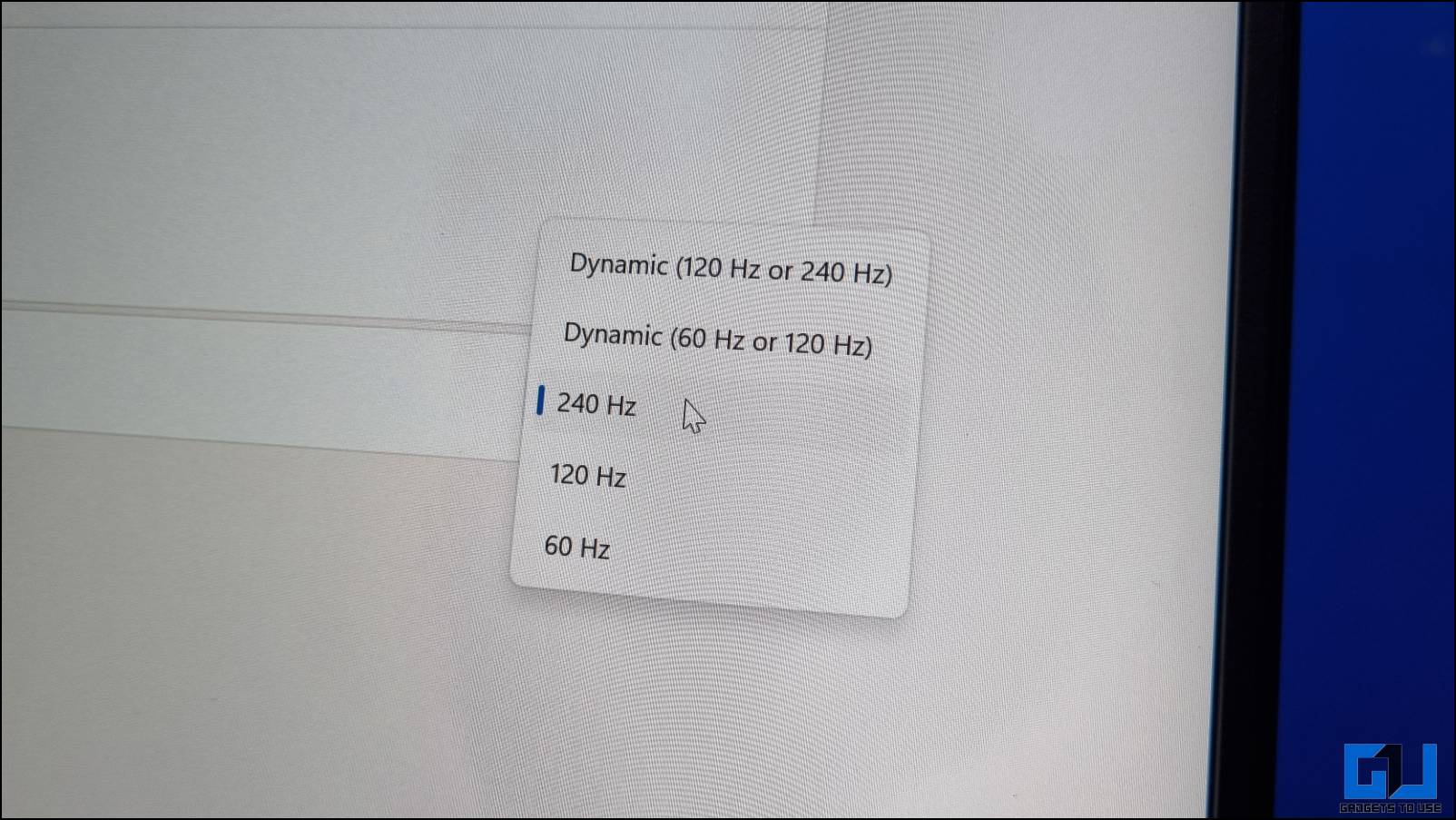 High Refresh Rate
The display has a dynamic refresh rate that lets you choose between 60Hz to 120Hz or 120Hz to 240Hz. You can fix the refresh rate to 60Hz or 120Hz to save a little bit of battery if you want. The display's refresh rate automatically switches to 60Hz to save the battery. It can be forced to stay on 240Hz even if the laptop is on battery.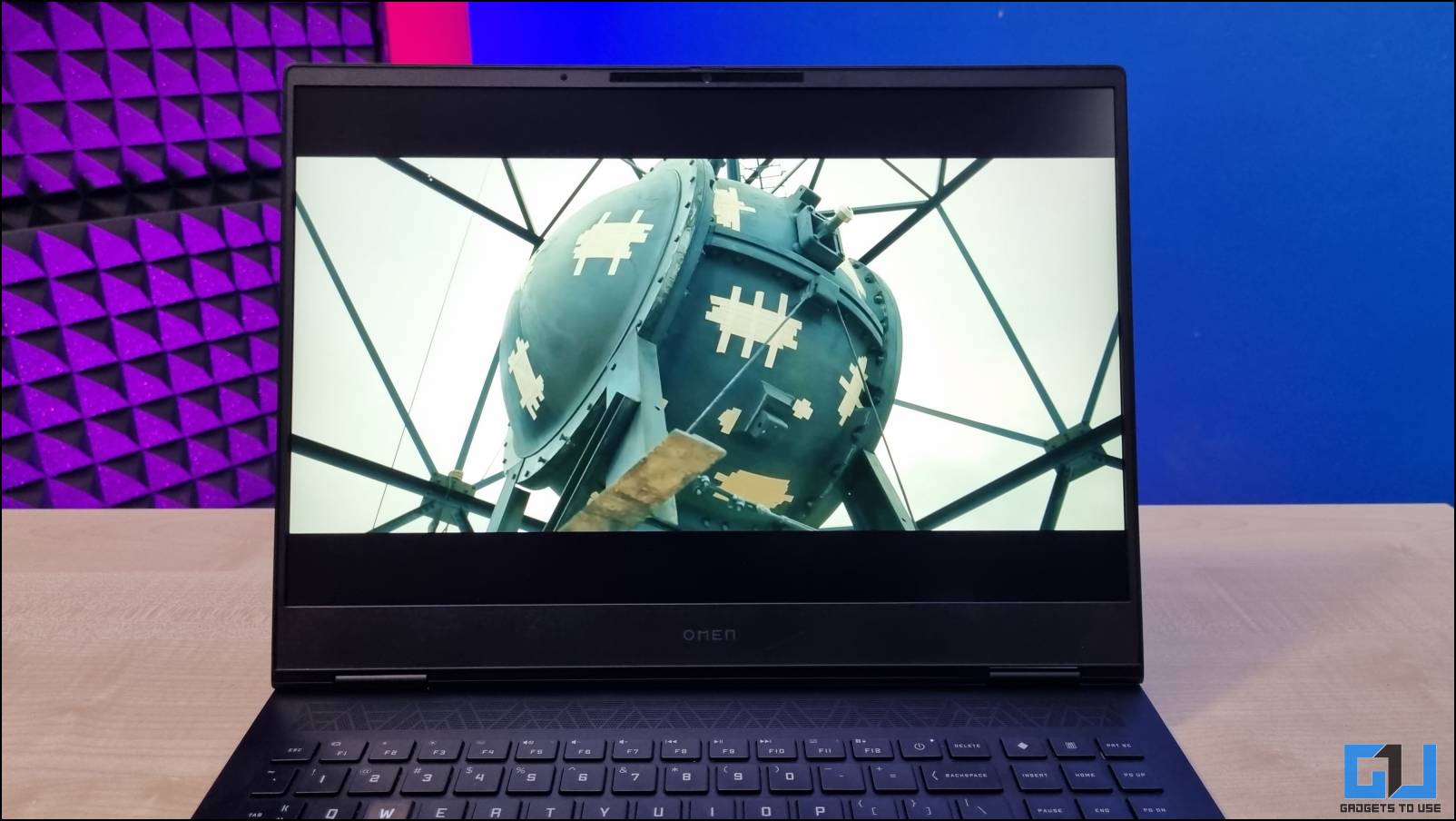 The display is bright, so watching movies or games is a delight, but I did find some issues during my review. First, this display does not support HDR, so no luck if you want to watch HDR content. Second, the colors on the display are not as punchy and natural as they should be. I tested this content from multiple streaming services, but the results remained the same.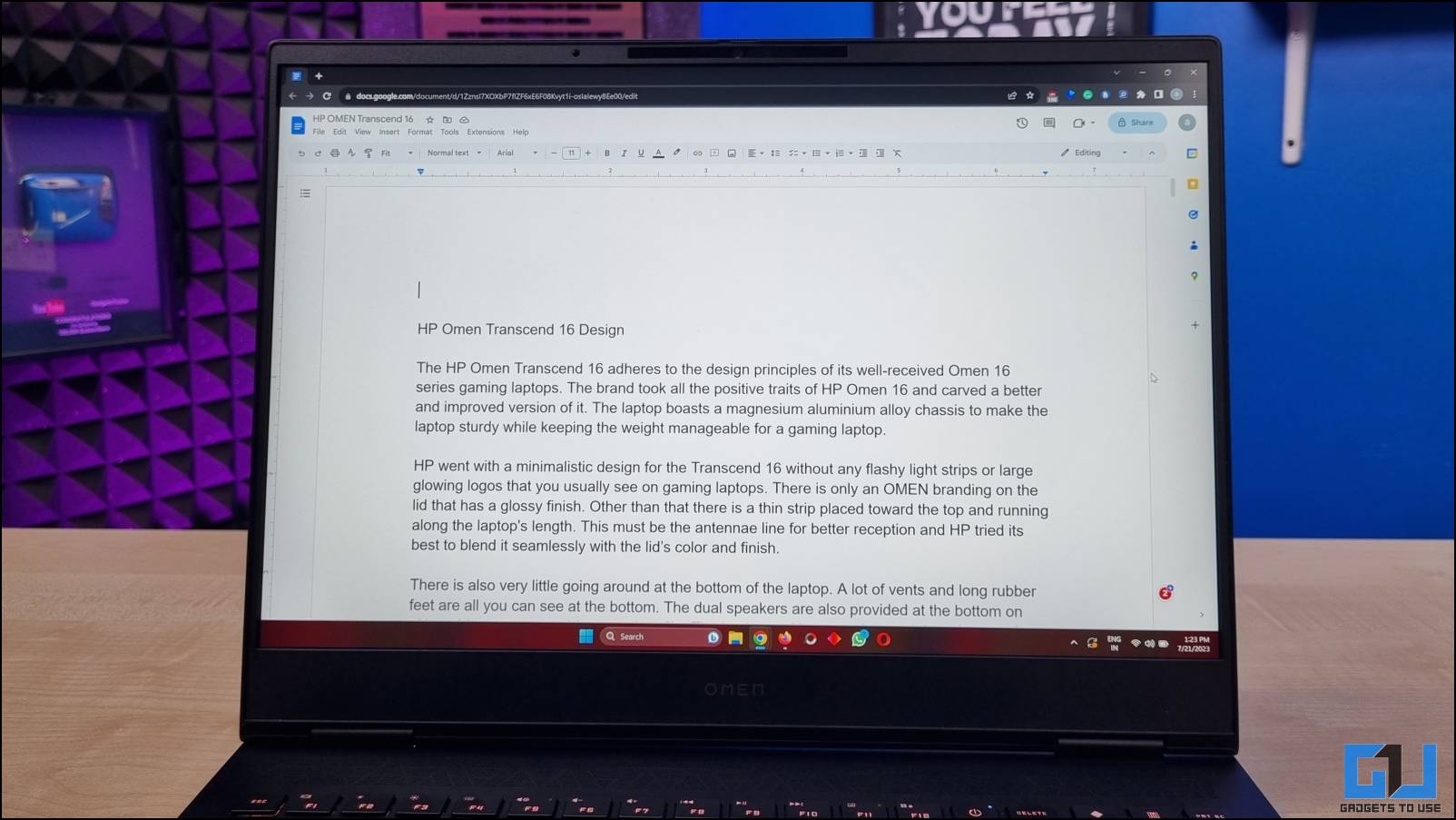 It is not that it matters on a laptop that will always be a couple of feet away from your face; the viewing angles are pretty great. The brightness gets affected a bit, but the colors stay the same, no matter from which angle you are looking at it. The display's response time is 7ms, which seems a lot compared to 1ms or 3ms, usually seen on modern gaming laptop displays.
A Good Display
I didn't find any screen tearing or motion blurring when gaming or scrolling through documents on this display. Overall the display is good enough for both the content creators and the gamers. But that doesn't mean this display is perfect; I have seen better displays on affordable laptops than this one.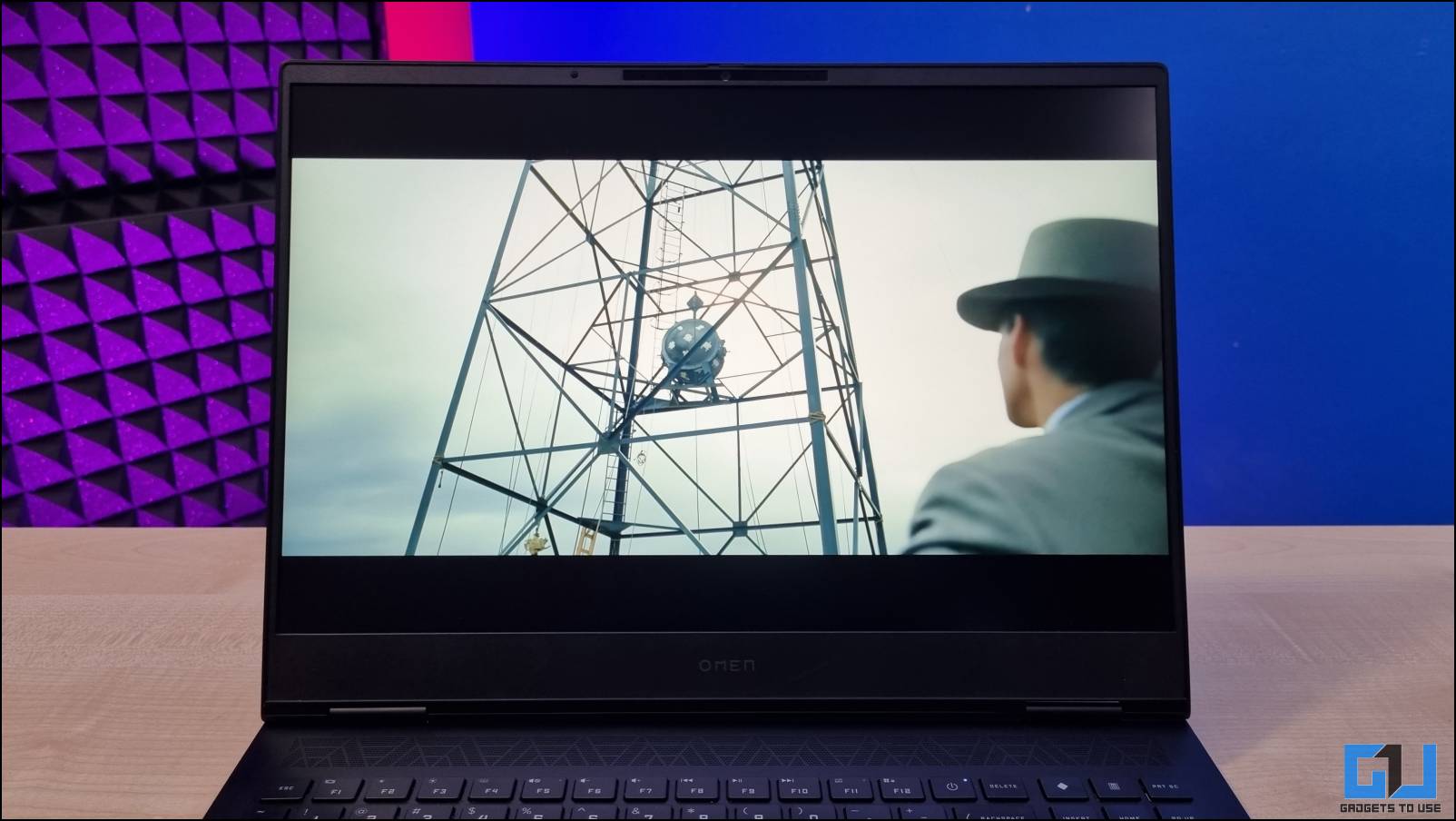 I always prefer to game in a dimly lit room at night. HP thought of this and provided DC dimming feature to reduce flickering. This display meets TÜV's low blue light standards to keep the eyes safe by reducing harmful blue light.
My Take on Display

HP Omen Transcend 16 seems like it's lacking in the display department. Modern gaming laptops provide exquisite displays with tons of colour accuracy certifications like GDR, Pantone or Dolby Vision. A high 240 Hz refresh rate is commendable, to be honest. But HP needs to improve their display, especially given the price of this laptop.
HP Omen Transcend 16: Keyboard and Trackpad
The Transcend 16 has an RGB keyboard with a unique layout I have never seen before. The keyboard looks like any other keyboard on a gaming laptop until you look at the right section. This right section includes an array of 9 keys on top and the arrow keys below it. This feels like a total waste of space, except the rest of the Omen Gaming Hub keys are useless.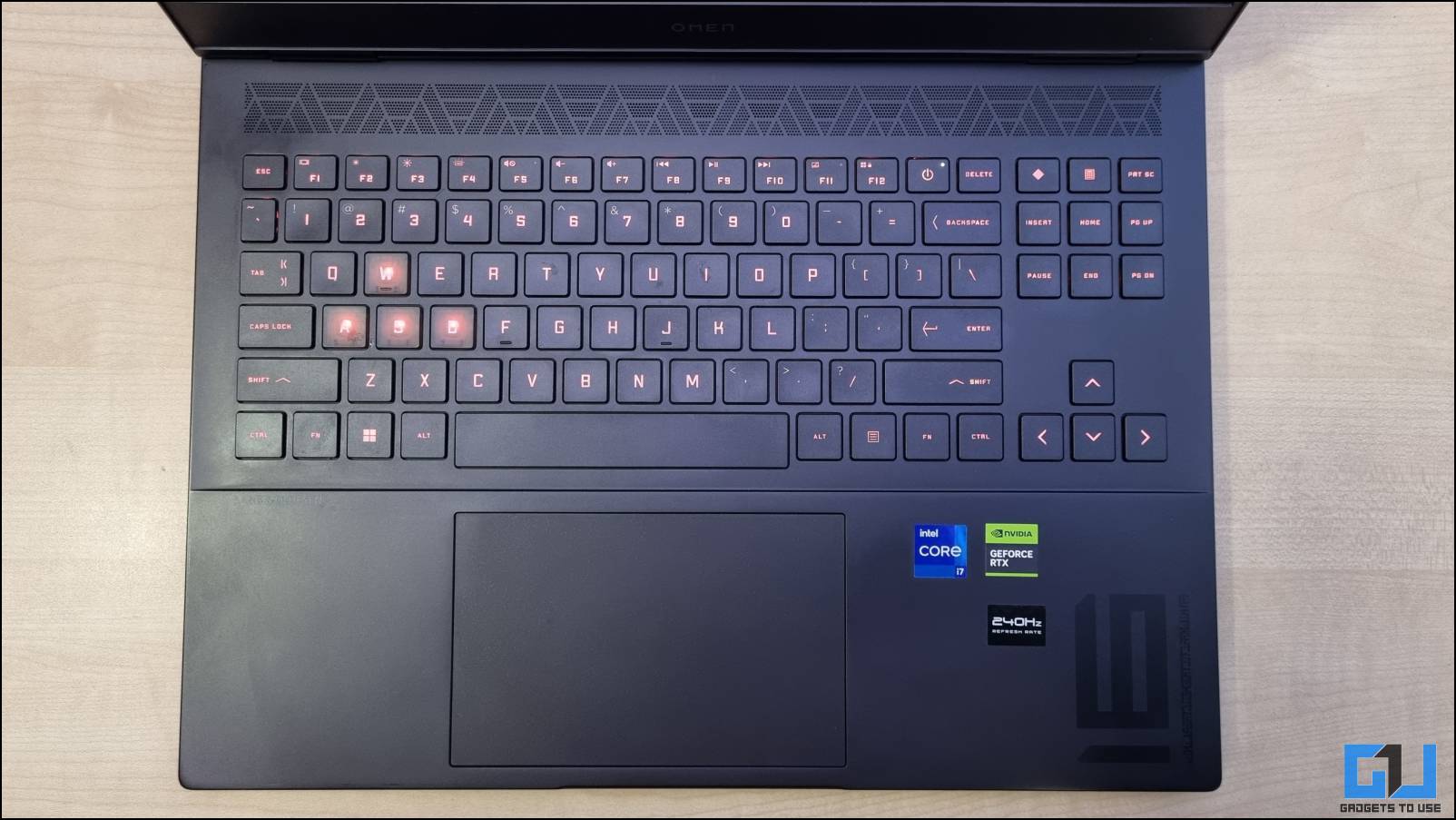 Instead of these keys, HP could have shifted the keyboard to the right and added a row of macro keys on the left. Or a numpad would have been a great addition to the right side instead of these keys. Another weird choice is to place the power button between F12 and Del keys. I had difficulty getting my hands on this keyboard to do my everyday tasks.
Carping aside, the keys are very clacky, which I love, and the keys don't wobble too much. They are well-spaced, and the key size is perfect for all hand sizes. The key travel is also very less, perfect for my liking. It comes with anti-ghosting tech built in, so no mis inputs have been experienced during my gaming sessions.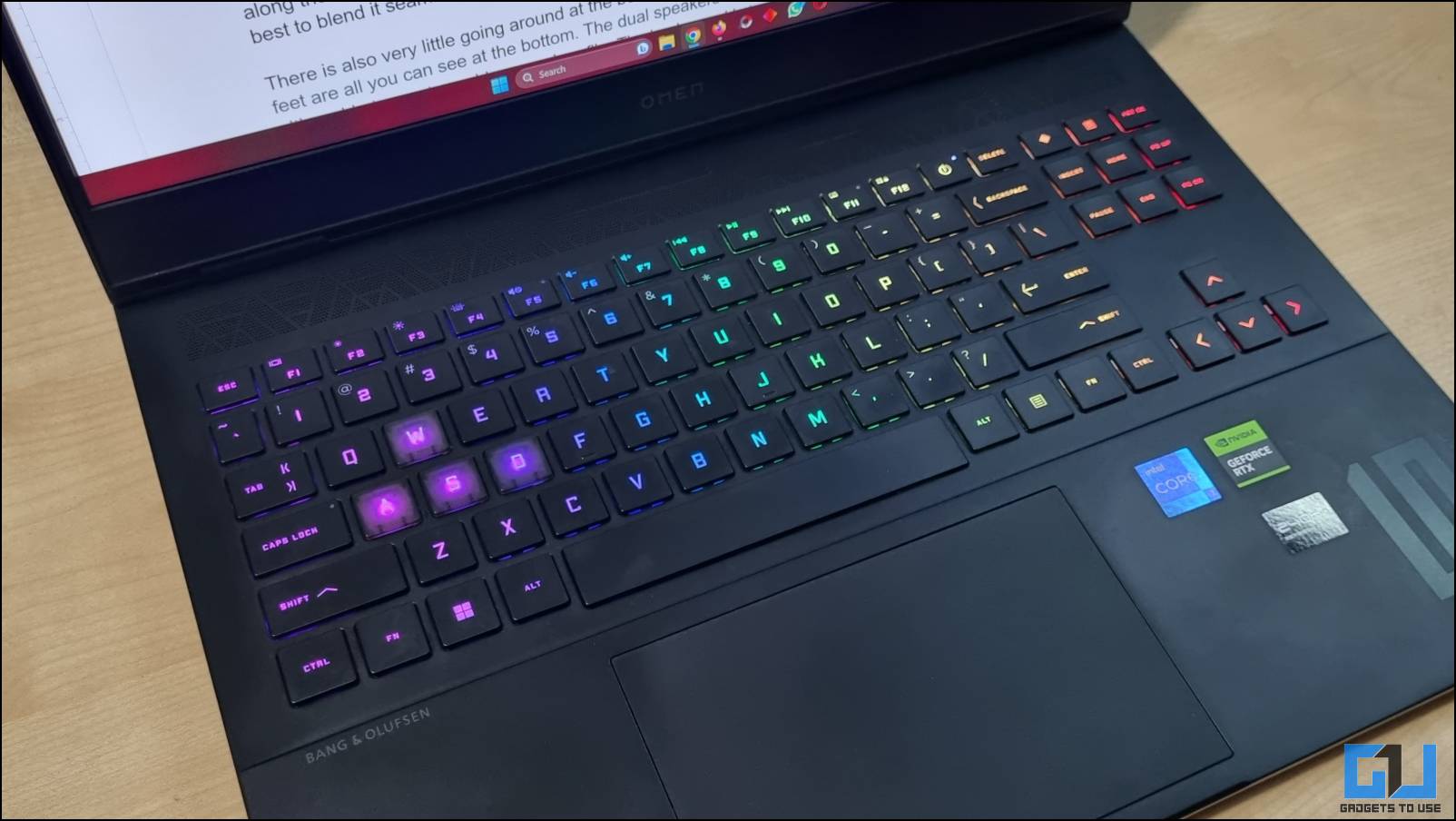 RGB Lighting
The keyboard comes with per-key RGB lighting, which can be customized more than you can imagine. I loved the implementation as w10 quick RGB light modes can be toggled quickly using the FN + Number keys. The software provides to create RGB profiles to let you set and control per-key backlighting. It also lets you control RGB lighting for supported accessories as well.
The trackpad is quite large, and the finish matches the rest of the laptop. Unfortunately, this is not a Glasstop trackpad, but it still feels great to touch. The sensitivity and palm rejection are perfect; I deliberately tried to tap my palm while typing on the keyboard. Surprisingly, never even once it detected my palm as a touch. Good job, HP!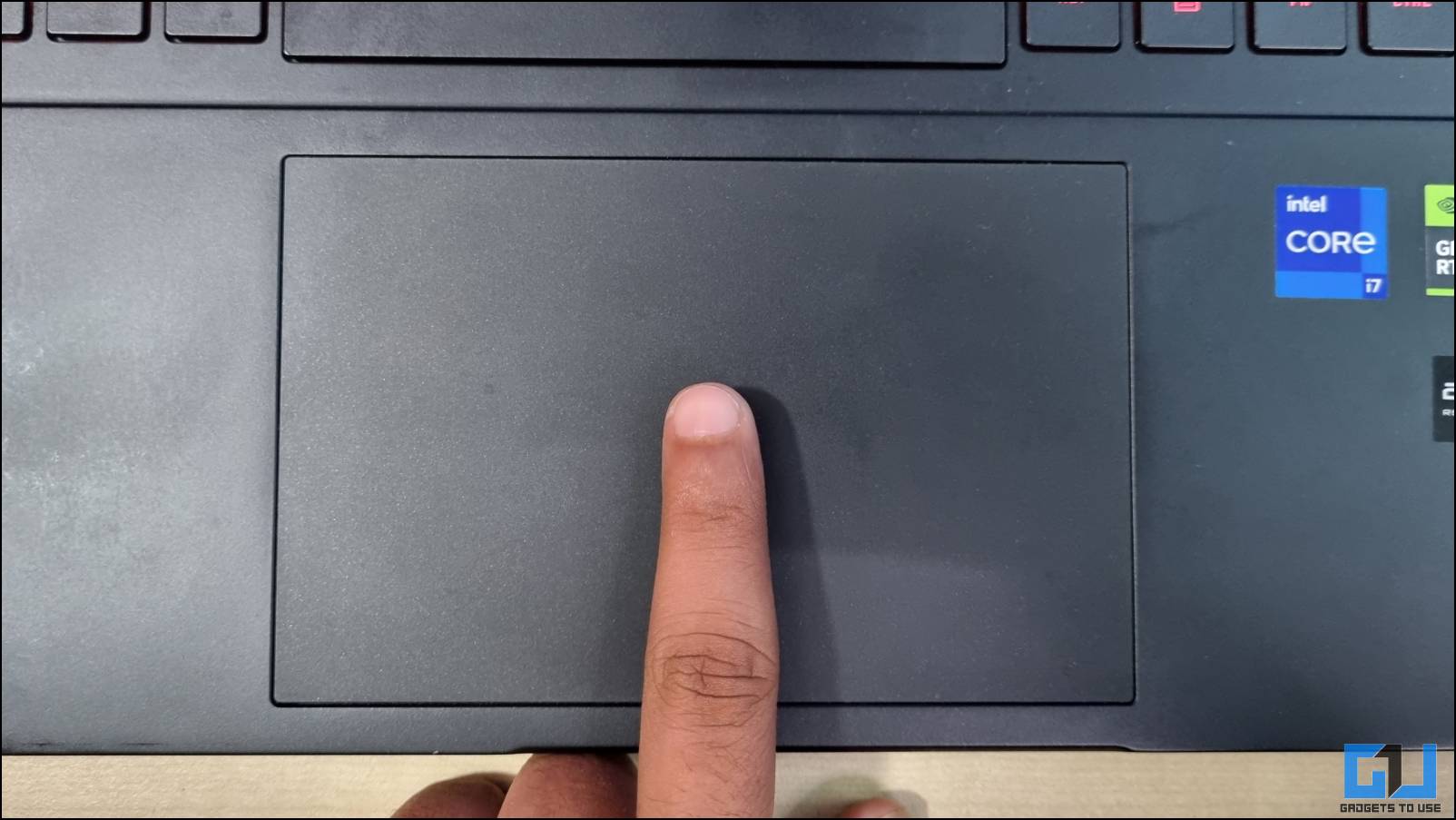 The trackpad supports multitouch, and there are no visible buttons on it. Clicks are not very satisfying, but it's ok because I was usually busy playing games on the laptop. It also supports gestures, and Windows 11 lets you customize the gesture.
My Take On Keyboard And Trackpad

Apart from the weird layout of the keyboard, I enjoyed almost every part of it. Keys are clacky and feel great while typing. I loved the RGB implementation with unlimited customizability. Trackpad is not too shabby either, it's the perfect size and the touch sensitivity is also perfect.
HP Omen Transcend 16: OS and Software
You get the Windows 11 Home edition preinstalled on this laptop with single language support. There are some bloatware, but they are not a big problem. Apart from HP's apps, I found a Dropbox app and a few of HP's apps, like HP Quickdrop. The Dropbox app is installed because of HP's collab to provide one year of free cloud storage. You can use the HP Quickdrop to share files between devices. So technically, these are not bloatware if you want to use them; otherwise, you can uninstall them.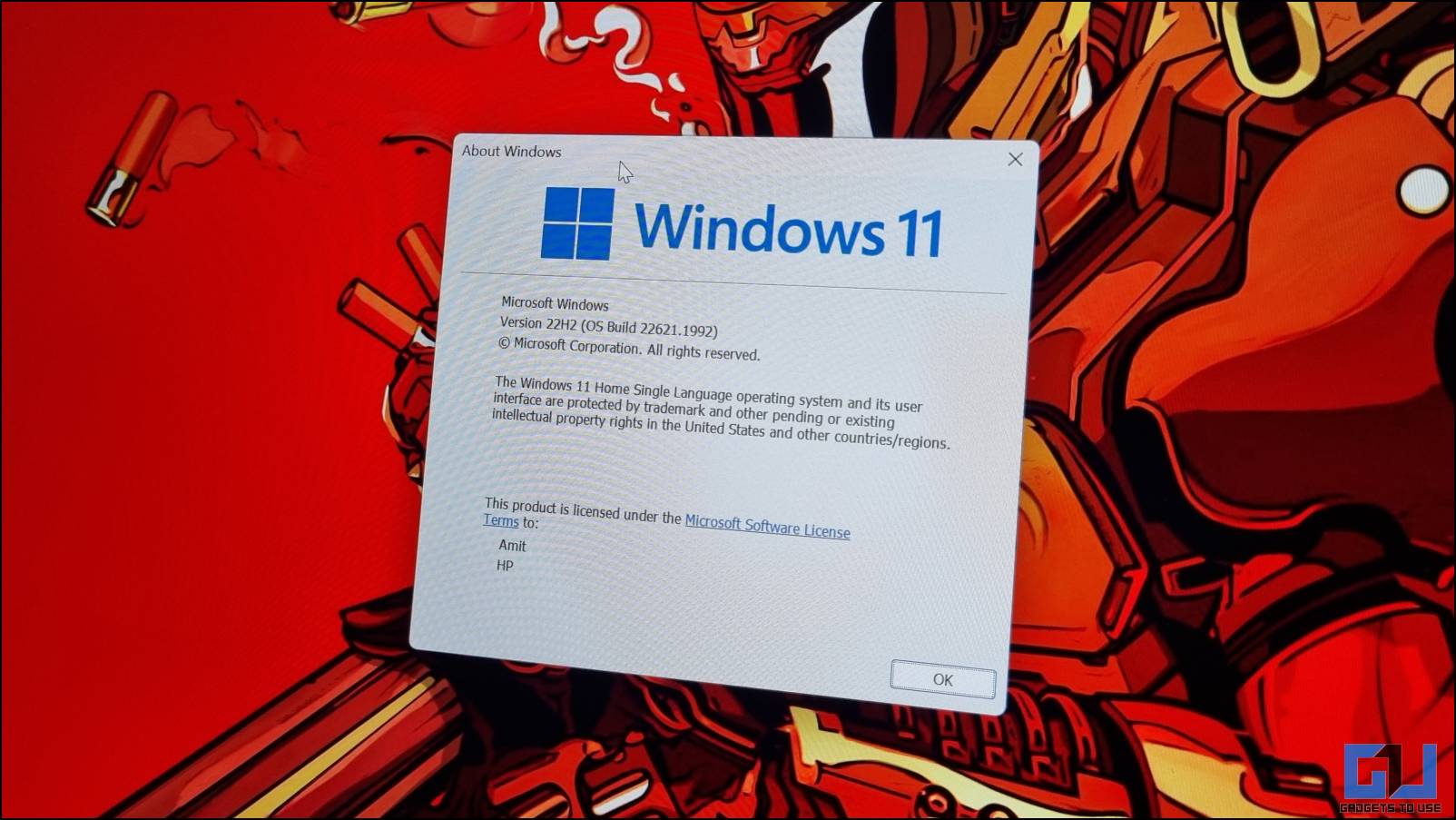 HP Omen Gaming Hub is a one-stop solution for various performance customization on Transcend 16. You can do a lot here, like check the laptop's vitals, customize the keyboard lighting, adjust the performance, and more. There is also a store called Fanatical to buy games at discounted prices. A quick launch key is provided on the keyboard to launch this utility whenever needed. This key is placed separately on the keyboard, which is better to avoid accidental launches.
For performance tuning, you get an auto performance boost while running games. The fan RPM can also be tuned to your liking. You can even create a custom fan curve; I have never seen a laptop that lets you do that. These performance-tuning options set HP apart from competitors. And that's the kind of performance tuning a gamer craves in a gaming laptop.
Goodies
HP bundled a few goodies with the laptop to help the user for a kick start. There's one month of XBOX Game Pass Ultimate, and it comes with 25GB of Dropbox storage for multitaskers for one year. It also comes with MS Office Home and Student 2021 bundled for college students. There is another goodie that I am going to talk about in the next section about the laptop's sound quality.
HP Omen Transcend 16: Sound Quality
HP is generous to the users by packaging their premium HyperX Cloud II gaming headphones within the laptop's box. We'll talk about them briefly; let's check out what kind of speakers we get in Transcend 16. There are dual bottom-firing speakers which are tuned by Bang & Olufsen.
HP skipped putting the speaker's power in the specification table, but I can assume these are not bigger than 2 Watts. These speakers can handle Dolby Digital sound and produce good bass. While these speakers are not great for gaming, you can enjoy movies in your room.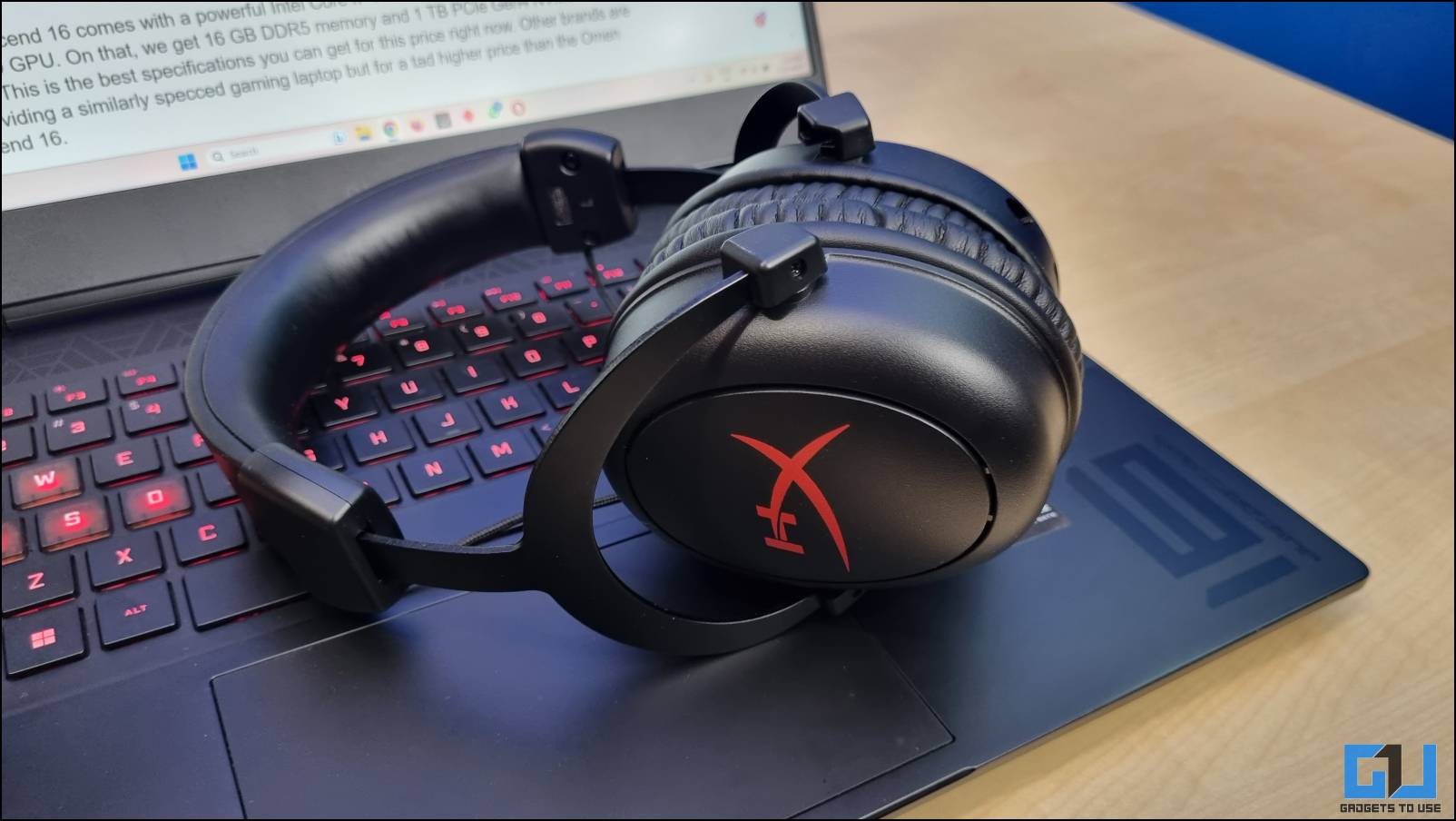 But why would you do gaming with laptop speakers when you get these amazing HyperX Cloud II headphones? This will give you a full-on gaming experience with a built-in microphone and large earcups. The microphone is detachable, so you don't have to stay connected the whole time. This is a well-thought addition to the laptop, while the main purpose of the laptop is to game on it.
HP Omen Transcend 16: Performance
The Transcend 16 has a powerful Intel Core i7 13700HX processor with NVIDIA RTX 4070 GPU. We also get 16 GB DDR5 memory and 1 TB PCIe Gen4 NVMe M.2 storage. This is the best specifications you can get for this price right now. Other brands also provide a similarly specced gaming laptop for a tad higher price than the Omen Transcend 16.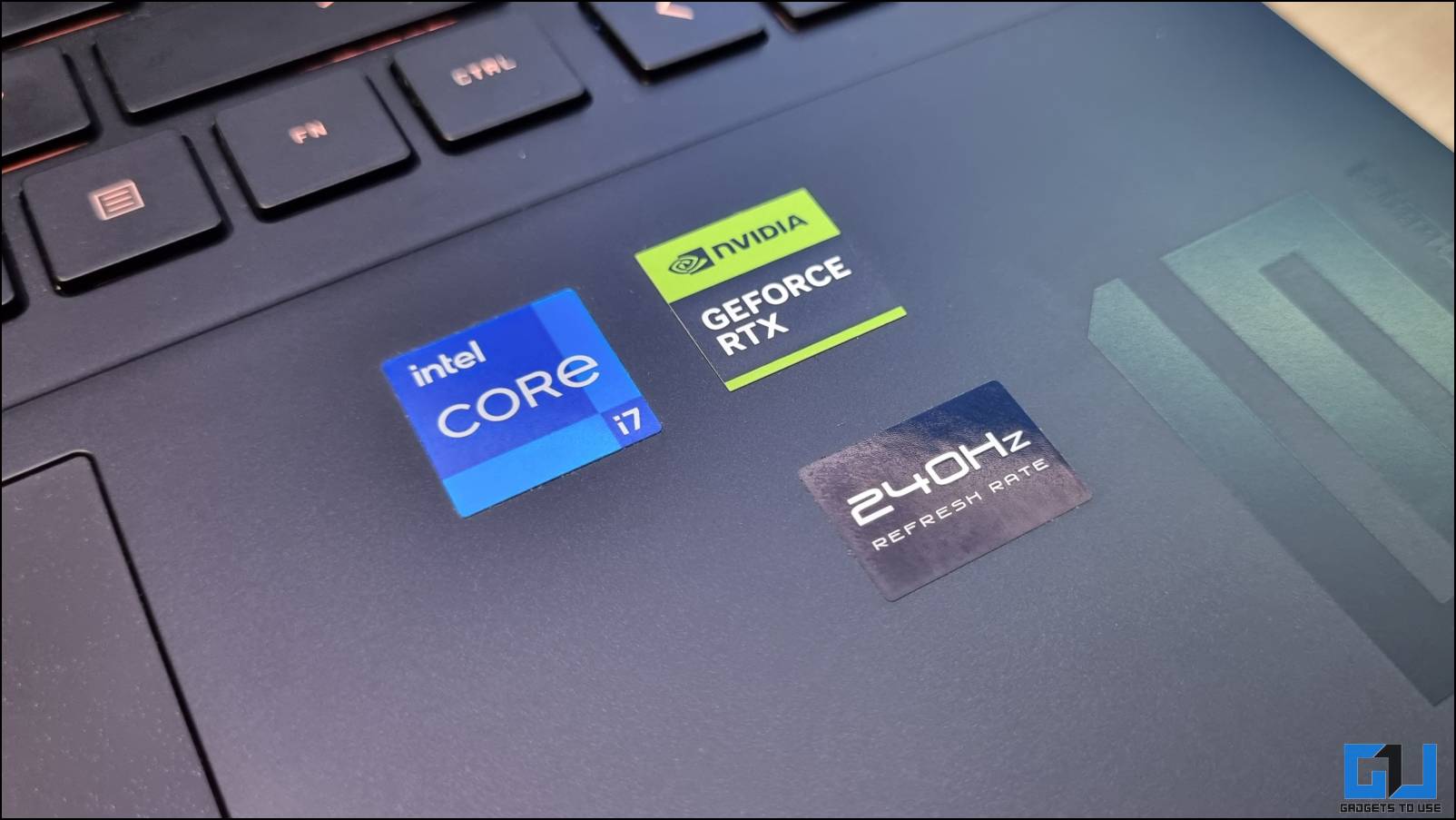 The Intel Core i7 13700HX is a powerful processor with 16 cores and 24 threads. It boasts a boost clock of 5.0 GHz. Although there was no need for such a powerful CPU on a gaming laptop, it's good that HP chose this processor for Transcend 16. This processor can perform CPU-heavy tasks like video editing, rendering, streaming, etc. It is also a very power-hungry processor, as it can run at 155W TPP max.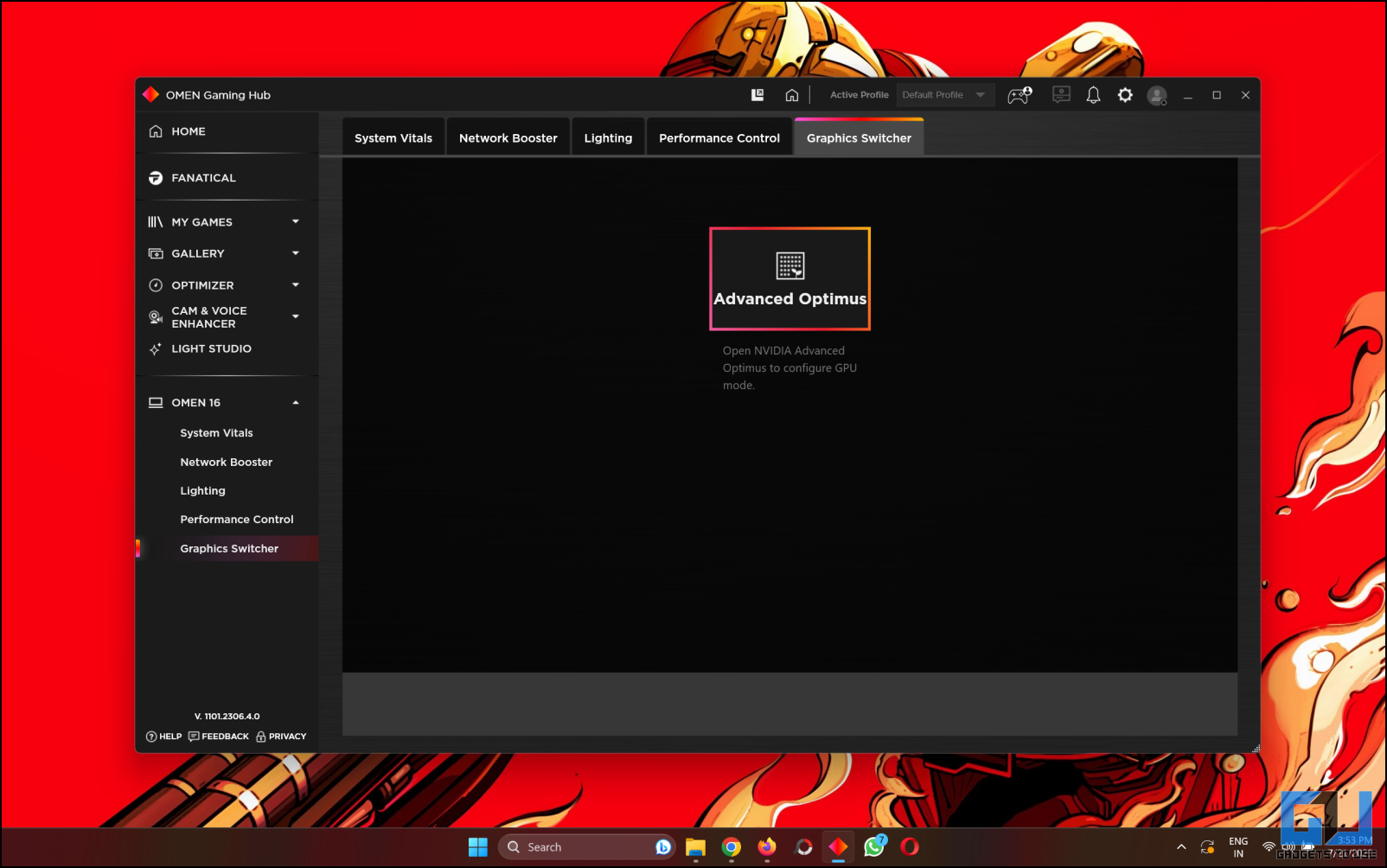 As for the GPU, this laptop has an NVIDIA RTX 4070 at its core which is, again, very powerful. It has 8GB GDDR6 video memory, enough to run all modern AAA titles smoothly at maximum settings. This GPU is also best for high-end video editing and content creation, which can draw 130W TGP when plugged in and running at its full potential.
Synthetic Benchmarks
Don't take my word for it; let the numbers do all the talking here. We ran a couple of benchmarks to test every hardware in this laptop.
PC Mark
PC Mark tests the device for all the day-to-day tasks. This includes working on media files, writing documents, video conferencing, etc. While this laptop is not limited to doing everyday tasks, it scored 6193 points. This score is 100 points above a desktop-class Core i5 12th gen processor.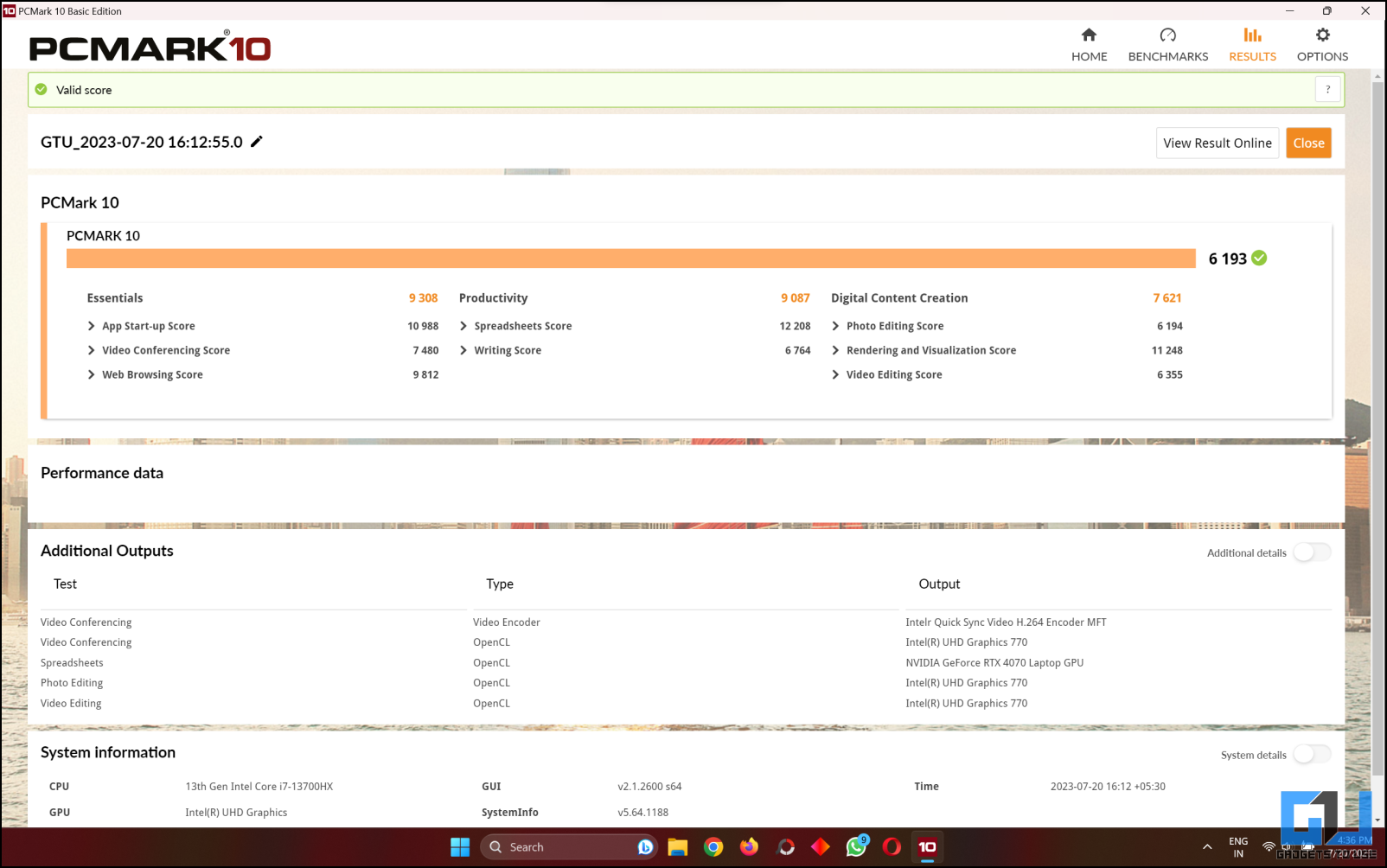 Geekbench 6
Geekbench 6 is a CPU-heavy benchmark and tests single-core and multicore performance. It tests the CPU for lightweight everyday tasks and heavy-lifting tasks like gaming. Here, the Transcend 16 scored as expected; it got 2510 on single core and 11495 on multicore performance. This outperformed the Core i9 12700KF in the single-core score, which is commendable.
Cinebench R23
We ran Cinebench R23 to test the rendering performance for single-core and multi-core environments. The score came out as expected again; it scored 13427 for multicore and 1780 for single-core performance.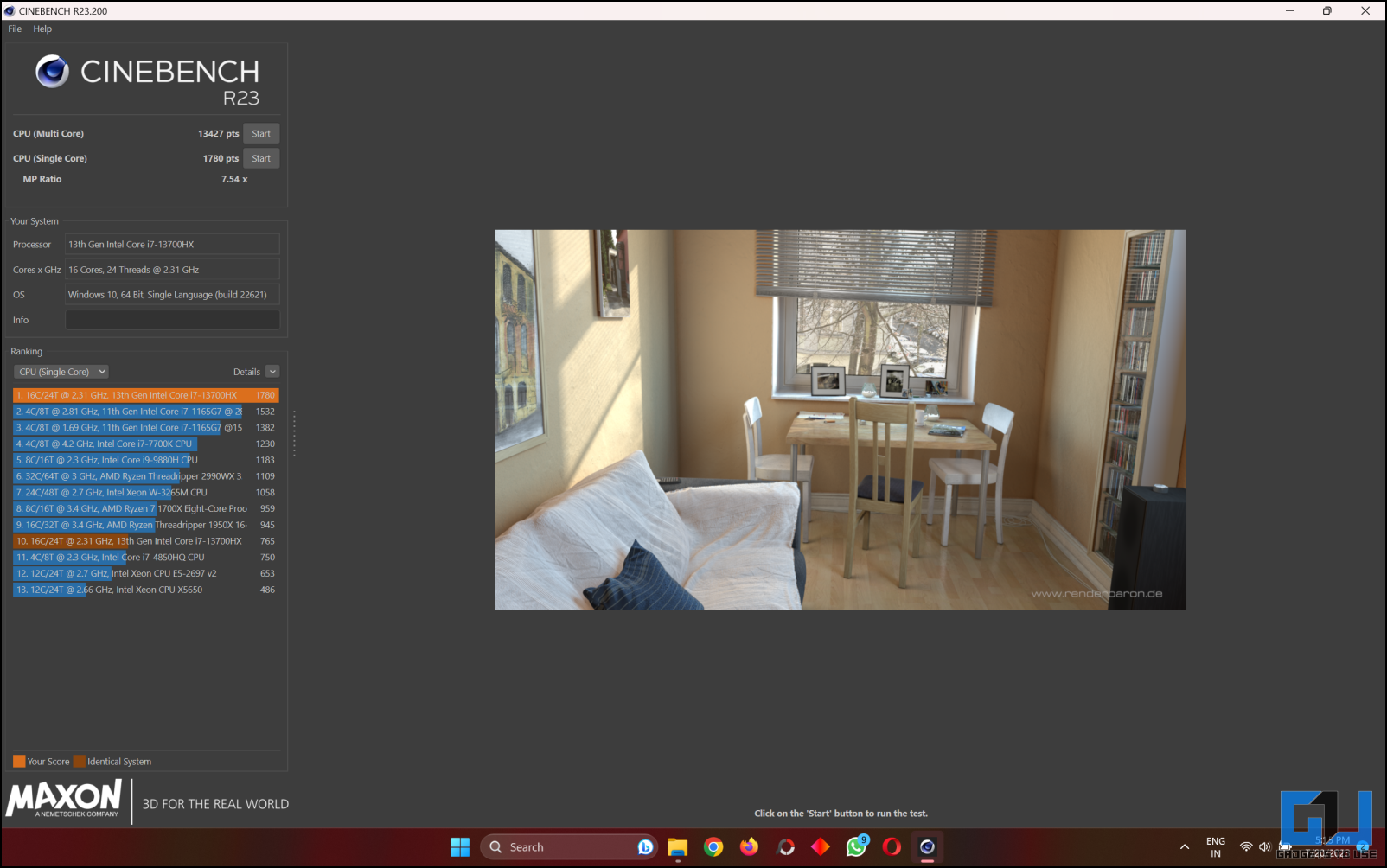 Crystal Disk Mark
We ran Crystal Disk Mark to test the storage, where the Transcend 16's performance truly shines. We got over 7000 MB/s read speed, and about 2200 MB/s write speed.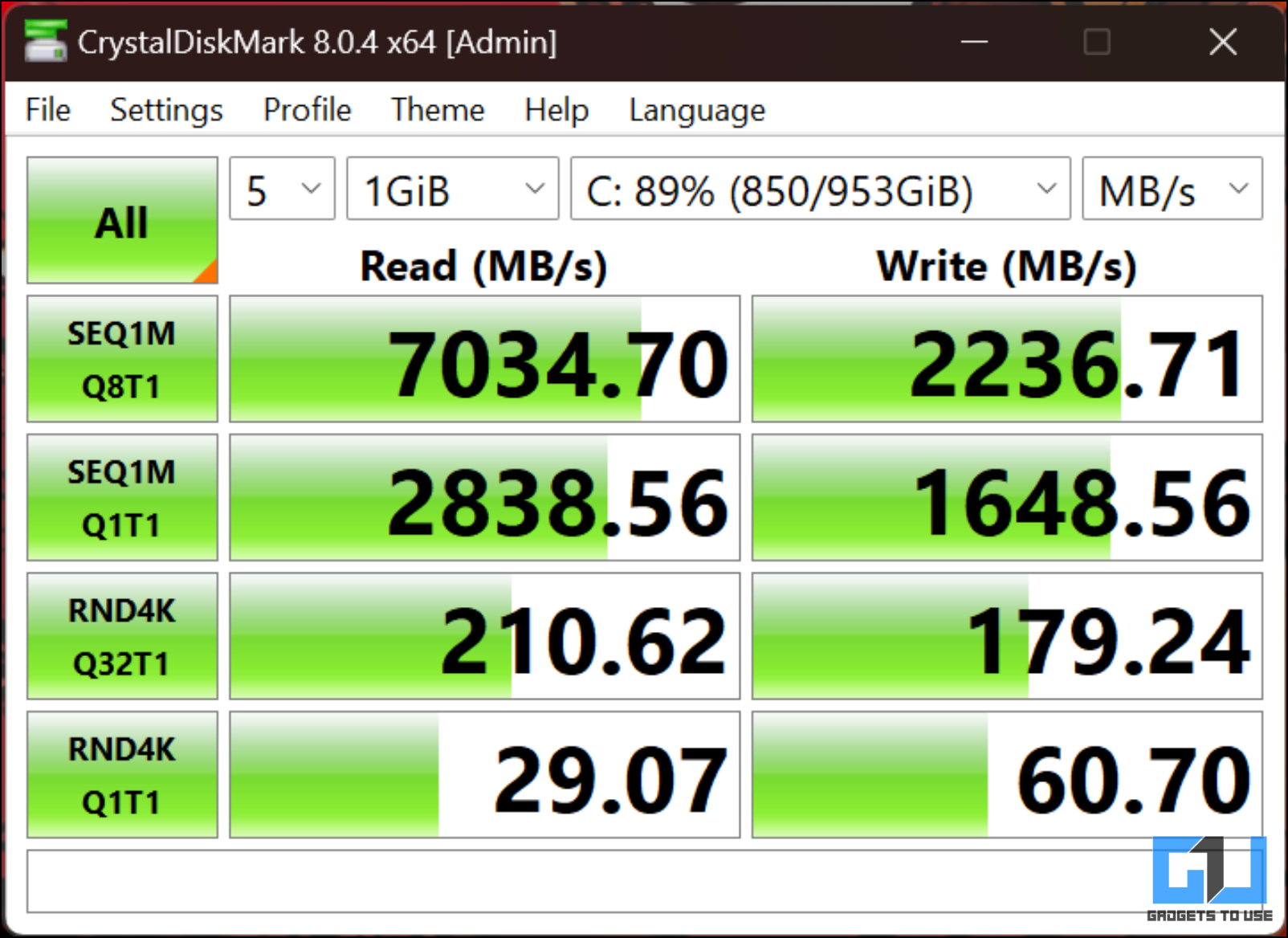 Let's not glare over the synthetic benchmark scores, and let's do what this machine is built for; gaming. Here's a little spoiler; this laptop ripped through every game we threw at it at maximum graphic settings.
Gaming Benchmarks
HP Omen Transcend 16 ran almost every game smoothly at full graphic settings. However, if you run the games on native resolution, titles like Cyberpunk 2077 and Doom Eternal lag behind the 60fps mark. Enabling DLSS greatly helps in these games and increases the performance by twice as much as when DLSS is off.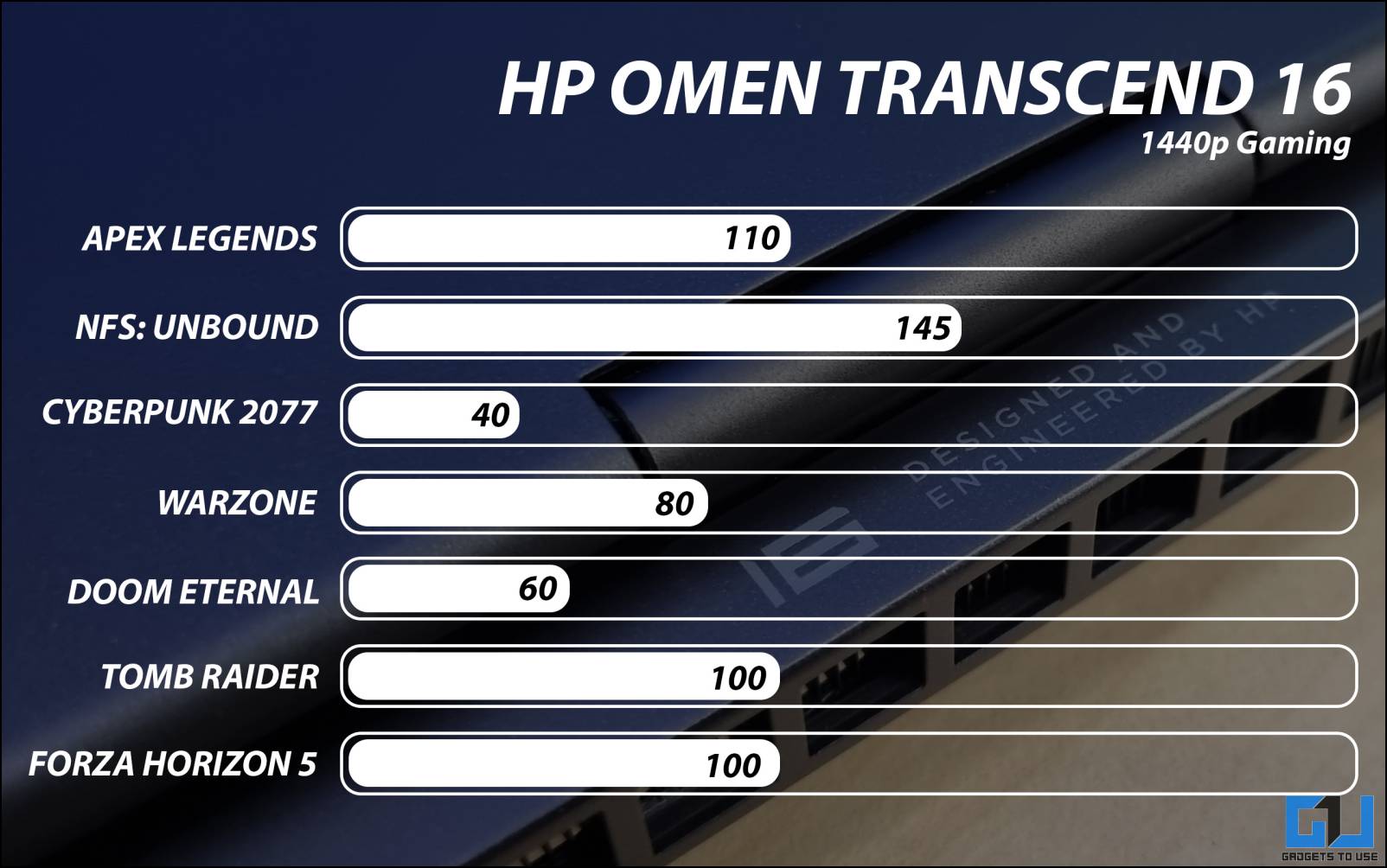 These are the average frame rates we got on popular AAA titles at 1440 resolution and Ultra graphic settings.
HP Omen Transcend 16: Thermals, Cooling, and Fan Noise
Thermals on the HP Omen Transcend 16 impressed me the most. It has a dual fan setup with four heat pipes to cool the system. The fans are big and have high fin density, pushing a lot of air at a time.
These fans can reach 5000 RPM to push the hot air out of the four vents. These vents are placed as follows: two at the back and one each on either side. The GPU never went above 80 degrees while playing games
The disadvantage to this beefy cooling system; is the fan noise. It creates substantial fan noise when you run a game on it or perform heavy tasks like video encoding. The rest of the time, the fan noise is barely noticeable when you are not pushing the hardware to its limits.
HP Omen Transcend 16: Upgradability
HP is well thought about the upgradability of this laptop, and while slimming down the overall form factor, it went with user-replaceable RAM. The laptop got two SODIMM slots, each with an 8 GB memory stick.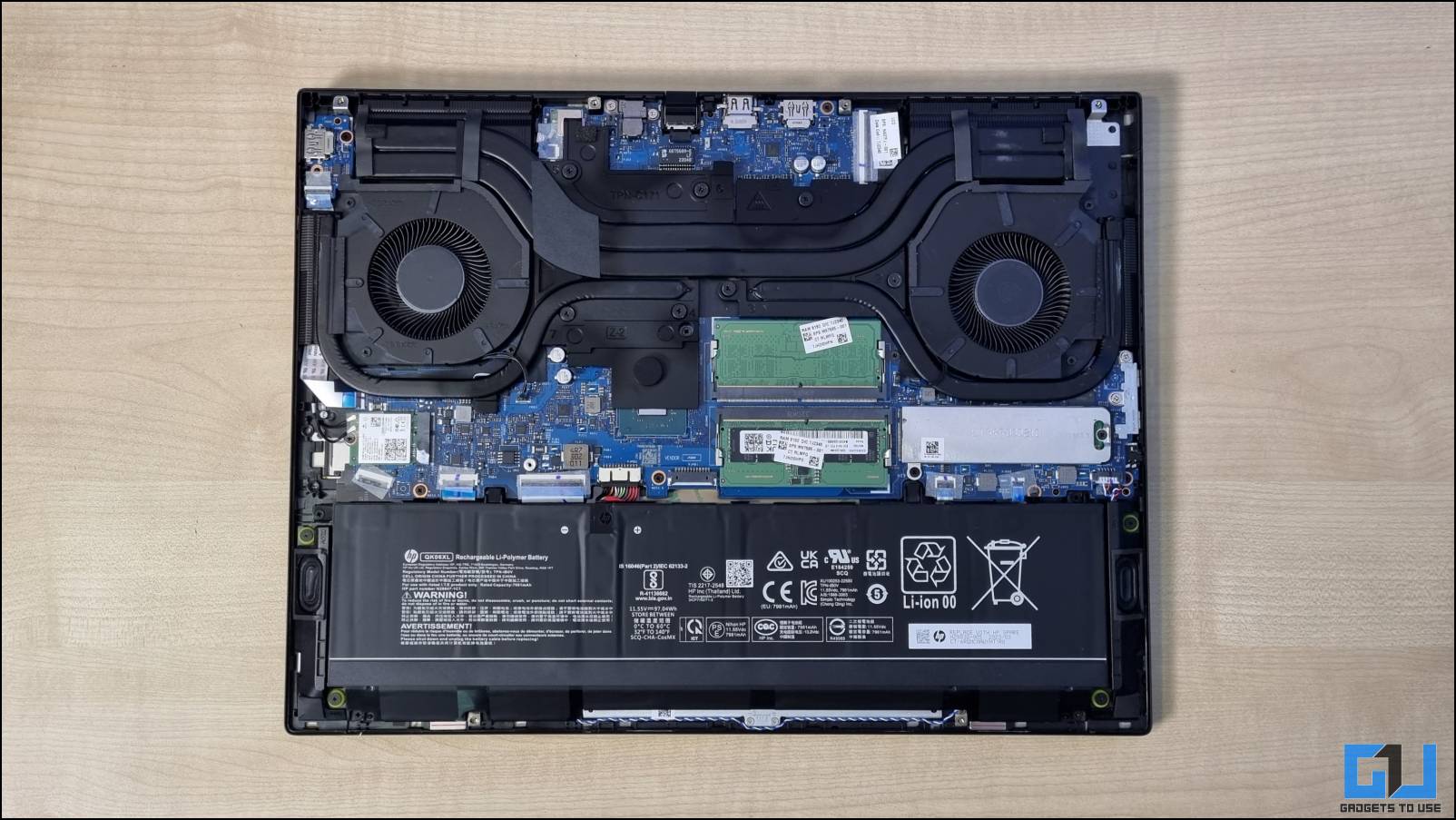 But there is only one M.2 slot with the primary storage equipped. So, to increase the storage capacity, you need to replace the primary storage. The M.2 drive has a heat sink, which is great for passive storage cooling when gaming.
HP Omen Transcend 16: Battery Performance
The HP Transcend 16 comes with a 97 WHr battery, one of the biggest you can put in a laptop. HP claims that this battery can last for 9 hours; since I read this claim, I had my doubts. So I tested this battery with every possible battery-draining hardware and software turned off. And all I got was 2.5 to 3 hours of battery at max.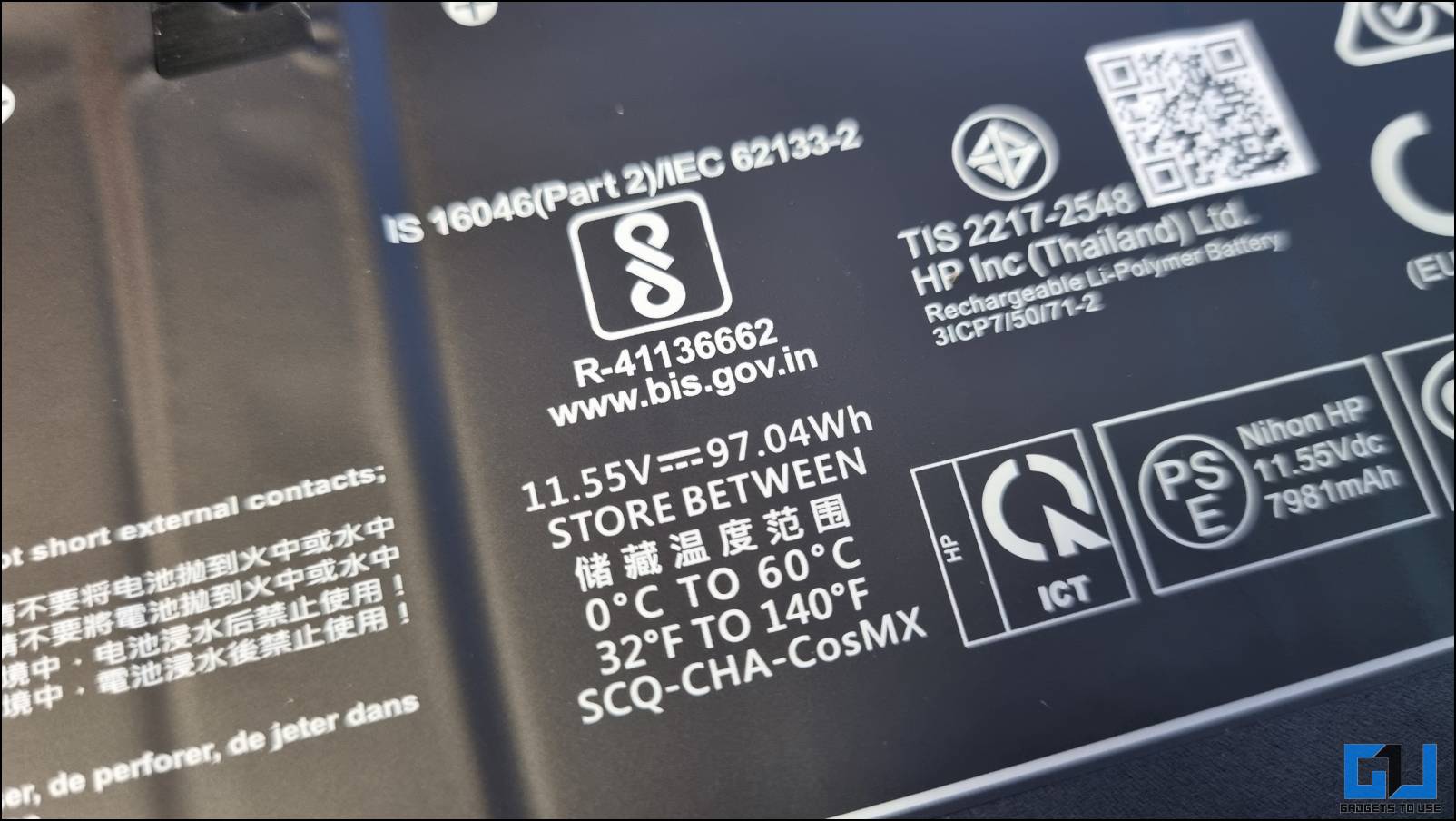 You must note that this laptop comes with a MUX switch means unless needed, the discrete GPU is technically drawing the least power. I tried every setting in the OMEN Hub, but no good came out. Sadly, I will not recommend this laptop if you are looking for even a decent battery life from a laptop.
The charging is quick, though; it comes with a hefty 280 Watts power brick to feed the power-hungry hardware. This power brick can top up the 97 WHr battery to 100 percent in about an hour.
My Take on Battery Performance

When it comes to battery performance on a gaming laptop, I have never been particularly impressed. However, I must admit that the battery life of the Transcend 16 laptop is not its strongest feature. I wasn't able to achieve even half of the battery life claimed by HP for this laptop.
HP Omen Transcend 16: Pros and Cons
After spending my time with the HP Omen Transcend, here are the pros and cons to summarise my review:
Pros
Subtle Design with Solid Build
Good keyboard and a large trackpad
Unmatched performance
Lots of performance customization
Great thermal performance
Cons
The display is not impressive
Mediocre battery performance
HP Omen Transcend 16 Final Verdict
The HP Omen Transcend 16 is an excellent option for gamers willing to sacrifice a bit on display quality. It is a fantastic choice for professional video editors for its powerful processor offering impressive multithreaded performance. Other well-known brands offer similar configurations, but HP provides the best price for this hardware.
Also, Read:
You can also follow us for instant tech news at Google News or for tips and tricks, smartphones & gadgets reviews, join GadgetsToUse Telegram Group or for the latest review videos subscribe GadgetsToUse YouTube Channel.