Alexa lets you pay bills and shop on Amazon using your voice, which is handy for people using Echo Dot, Show, and other Alexa-powered speakers. However, you might have noticed that the orders are usually placed as "cash on delivery" and not prepaid, especially in India. Therefore, in this article, we'll tell you how to set up automatic reload for Amazon Pay and make prepaid voice purchases via debit/credit card or UPI with Alexa.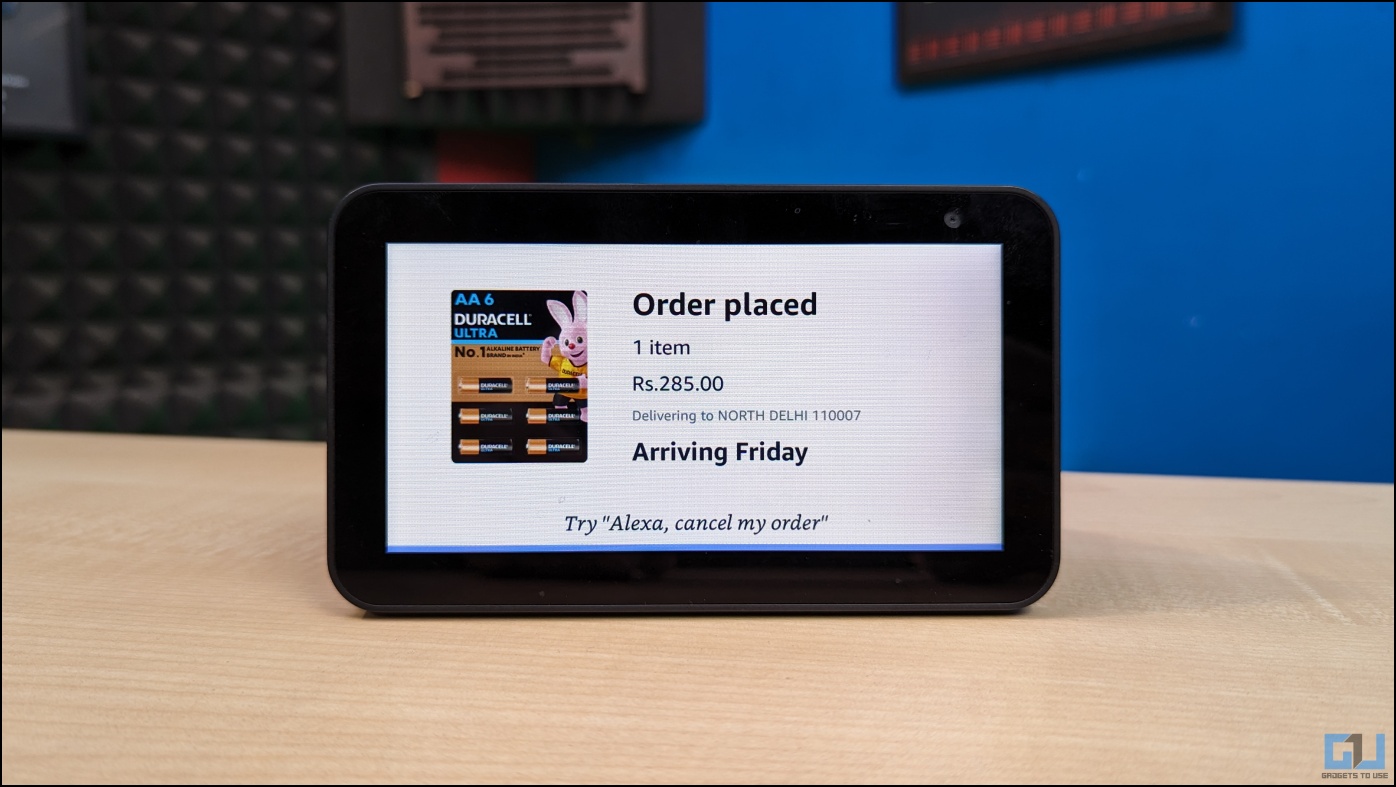 How Does Alexa Voice Purchase Work?
Alexa can not only find the best deals but also make purchases on your behalf with a simple voice command. All you need to do is tell her the item's brand, quantity, and color. For example, "Alexa, add a pair of black Jockey socks to my cart."
In case you do not know or specify the brand, Alexa will pick an Amazon Prime item for you. For example, say, "Alexa, add a pair of black socks to my cart," and it'll be done. If you have ordered the product earlier, Alexa will remember and adhere to your brand preference.
You can also ask Alexa to "cancel an order" immediately after you've placed one if you order the wrong thing or change your mind.
Enable Voice Purchasing for Alexa
To shop online using voice commands, you must first turn on the voice purchasing feature for Alexa, as shown below:
1. Open the Alexa app on your phone.
2. Tap More on the bottom right and select Settings.
3. Here, select Account Settings > Voice Purchasing.
4. Enable the toggle for Voice Purchasing if not already.
Add a Passcode to Alexa Voice Purchases
To ensure that kids at your home do not make unwanted purchases, you can secure Alexa's voice purchases with a passcode. Here's how to do it:
1. Click on Purchase Confirmation.
2. Here, select Voice Code and set a four-digit code. Alexa will ask for this code whenever you want to confirm a purchase.
3. Alternatively, you can choose Voice Profile and enable purchasing for specific people on your account.
How to Make Prepaid Alexa Voice Purchases (not COD)?
Once you have enabled voice purchasing for Alexa, you can ask it to order items and pay your bills on Amazon. However, many have complained that Alexa voice purchases are placed as cash on delivery. Well, you must maintain the balance in your Amazon Pay wallet to place the order as prepaid and not COD.
You can add money to your Amazon Pay balance via UPI or debit card. You can also purchase and redeem Amazon gift cards via your credit card. However, if this seems like a hassle, we recommend enabling automatic wallet reload for your Amazon account, as shown below.
Set up Auto-Reload to Maintain Amazon Pay Balance
With auto-reload, you can maintain a specific balance in your Amazon Pay wallet without having to pay manually. For example, if you frequently purchase household items valued at less than Rs. 2000, you can enable an automatic reload of funds each time your balance drops below this threshold.
This ensures that your wallet maintains the balance for prepaid orders and that they won't be placed on COD. Here's how to set up automatic wallet reload in the Amazon app:
1. Open the Amazon Shopping app on your phone.
2. Click on Menu at the bottom and select Amazon Pay.
3. Here, tap on Amazon Pay Balance.
4. On the next screen, scroll down and click on Auto Reload.
5. It will now ask you to select how much and when to reload.
6. Click Auto Reload for and specify the amount you want it to automatically add to your Amazon Pay wallet. Then, tap When the balance drops below and set the minimum threshold amount to trigger the recurring payment.
For example, if you choose to Auto Reload for Rs. 2000 when the balance drops below Rs. 500, Amazon will automatically deduct Rs. 2000 from your bank account and add it to your Amazon Pay Wallet every time the balance goes below Rs. 500.
7. Hit Continue and proceed with UPI authentication. It will deduct INR 2 for verification, which will later be added to your Amazon Pay balance.
Once the auto-reload is set up, Amazon will automatically top up your Pay balance based on the threshold amount. Ensure that the connected bank account has balance; otherwise, the autopay will fail.
Disabling Auto-Reload for Amazon Pay
To cancel autopay, go to the same section and tap Disable next to Auto-reload wallet. If you have used a third-party app like PhonePe for automatic payments, you can turn off autopay from within that application.
Use "Subscribe & Save" to Automate Deliveries
If you have Amazon Pay ICICI credit card, use it when paying for "Subscribe and Save" orders. Amazon will automatically set a standing instruction on your credit card to deduct money for upcoming deliveries.
There are a lot of household items we order on a regular basis, such as coffee, toothpaste, dog food, tissue rolls, and cleaning supplies. With Amazon's Subscribe & Save feature, you can sign up to get these products delivered regularly, like once a month or once every two months.
It's like setting a subscription for a product to be delivered in a certain quantity at your doorstep without having to purchase it manually. All you have to do is search for the product and select the "Subscribe and Save" category. Then, set the quantity and the schedule (which you can change anytime) and create your subscription.
The Subscribe and Save program has no fees. Plus, you usually get additional discounts for ordering items on schedule. From soap to toothpaste, you can subscribe to the daily essentials that you anyways will order every month to save time, money, and the hassle of manually ordering it or even asking Alexa to do so.
Automate Your Shopping with Alexa!
This is how you can make prepaid voice purchases using Alexa. We also discussed setting up automatic wallet reload for Amazon Pay and using Subscribe & Save to order essentials. I hope the above guide helps you make the most out of Amazon and Alexa. Stay tuned for more such tips, tricks, and how-tos.
You might be interested in:
You can also follow us for instant tech news at Google News or for tips and tricks, smartphones & gadgets reviews, join GadgetsToUse Telegram Group or for the latest review videos subscribe GadgetsToUse Youtube Channel.