Old photos bring back nostalgic memories, reminding us of such simpler times. However, due to technology limitations back then, most of these photos are in black and white. But now, we can add colors to such old B&W photos with the help of AI. So, if you want to surprise your parents or grandparents by adding a pinch of color to their fond memories, stay tuned as we show you different online tools to colorize your black-and-white photos. Meanwhile, you can also learn to apply color pop effects to Photos for Free on Android.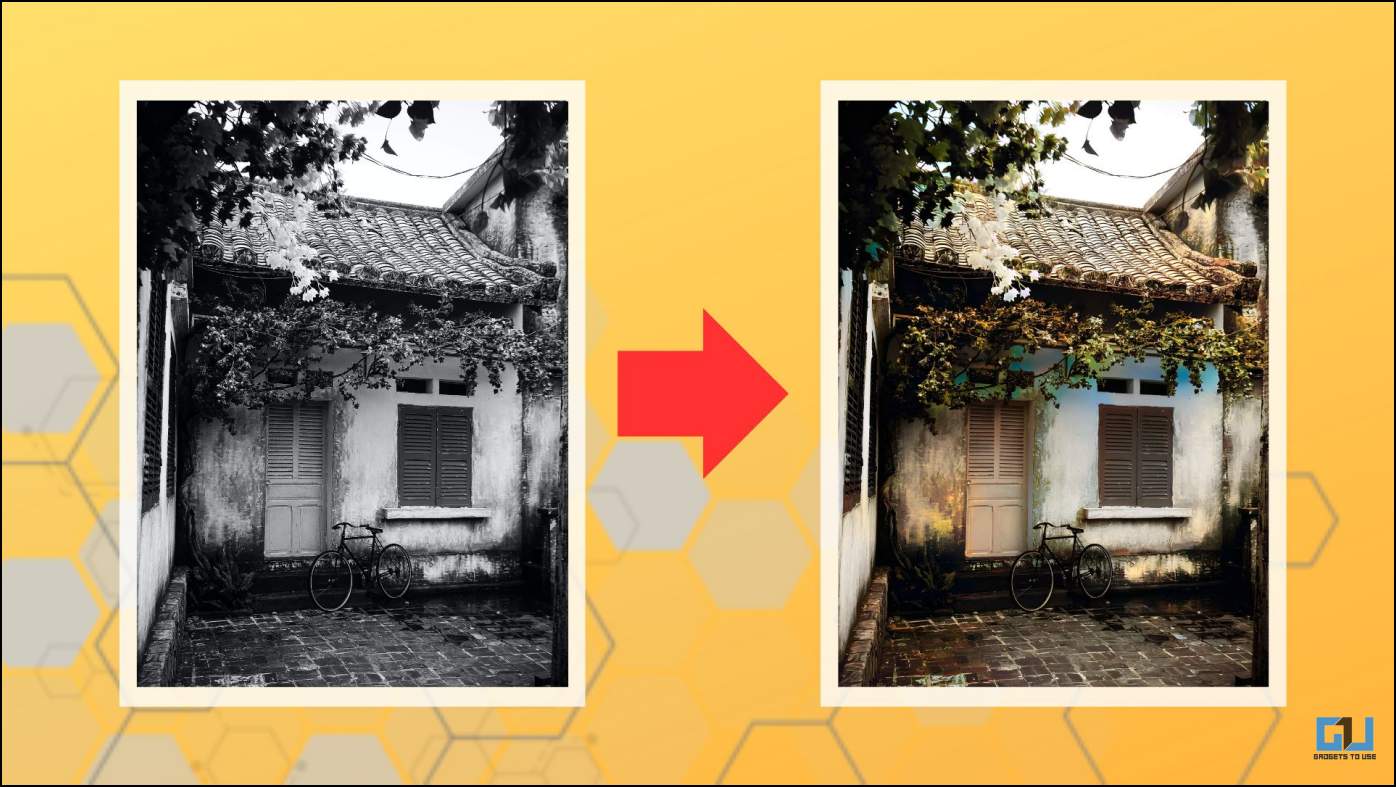 Best AI Tools to Colorize Old Black and White Photos
Many online tools scan through the uploaded image and add colors to your photos using advanced machine-learning algorithms. Given the sheer amount of tools available on the web, it can be a little confusing as to which one to go with.
That is why we have curated a list of eight AI tools that will help colorize those black-and-white photos for free. However, remember that there will be certain limitations since we will use these tools and services for free.
1. Deep.AI
Deep.AI is a service that offers a suite of AI-powered tools that you can use in imaginative ways to create something new. It also features an Image colorization API that can turn your black-and-white photos to color within seconds. The API is trained on monochrome and colored images to bring out the natural colors in a snap.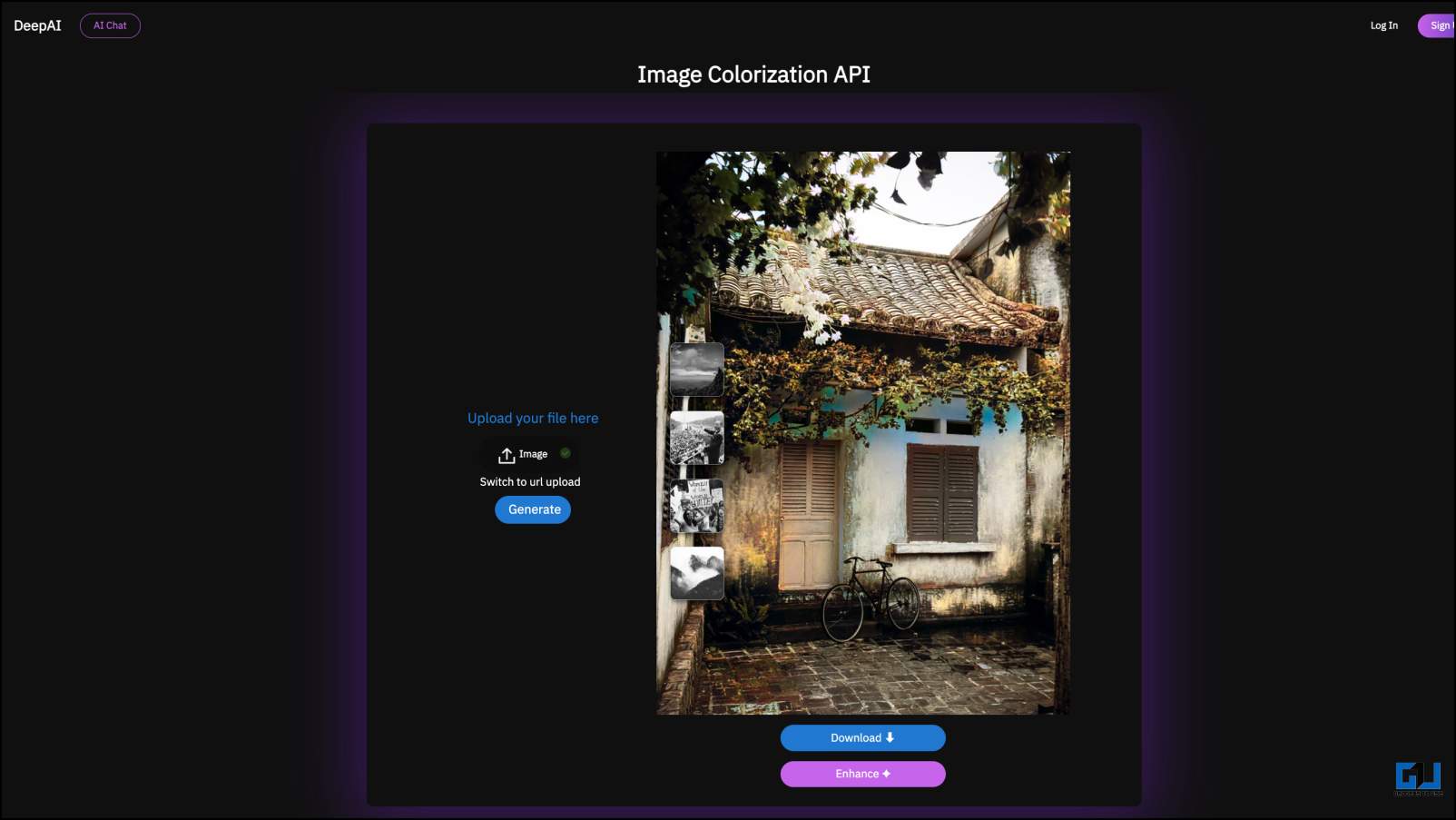 Pros: 
Can recognize the right colors in different scenarios.
Image processing is fast.
It does not require you to sign in.
It lets you enhance images for better results.
Cons: 
The colored images look like watercolor art.
The tool struggles to detect colors in clothing and darker areas properly.
2. Cutout.Pro
Cutout. Pro is an AI-powered visual design platform that utilizes the prowess of AI in editing and creative fields. One is the ability to colorize old images using the deep learning algorithm trained to generate natural-looking photos. However, the catch with this tool is that you can only download images in 500 X 500 resolution. Full HD resolution images require you to sign up by email.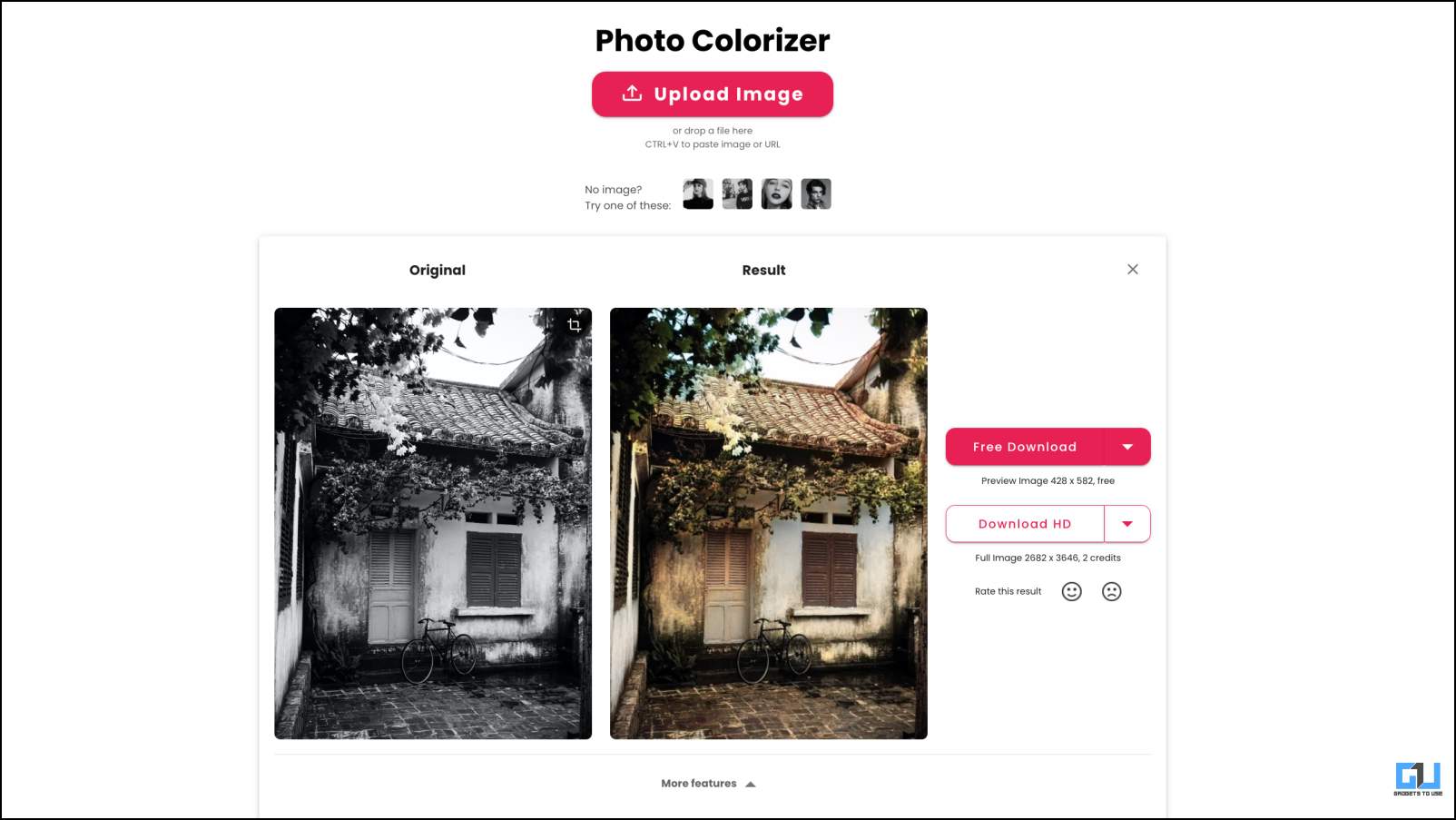 Pros: 
Images converted to the colored version look natural.
Good at recognizing minor details and adding the right color to them.
It can be used for free without signing in to some extent.
Cons: 
Download resolution is limited to 500 x 500 in the free version.
Requires signing up to save the high-quality version of the image.
3. Colorize.cc
Colorize.cc is an online tool that adds color to your old black-and-white images and videos. It can also restore damaged old photos and remove noise. All of this has been made possible thanks to the machine learning technology. Though free, the image you colorize with it will have a watermark. You need a paid account to be able to download a high-resolution version of the image without a watermark, which is a major downside.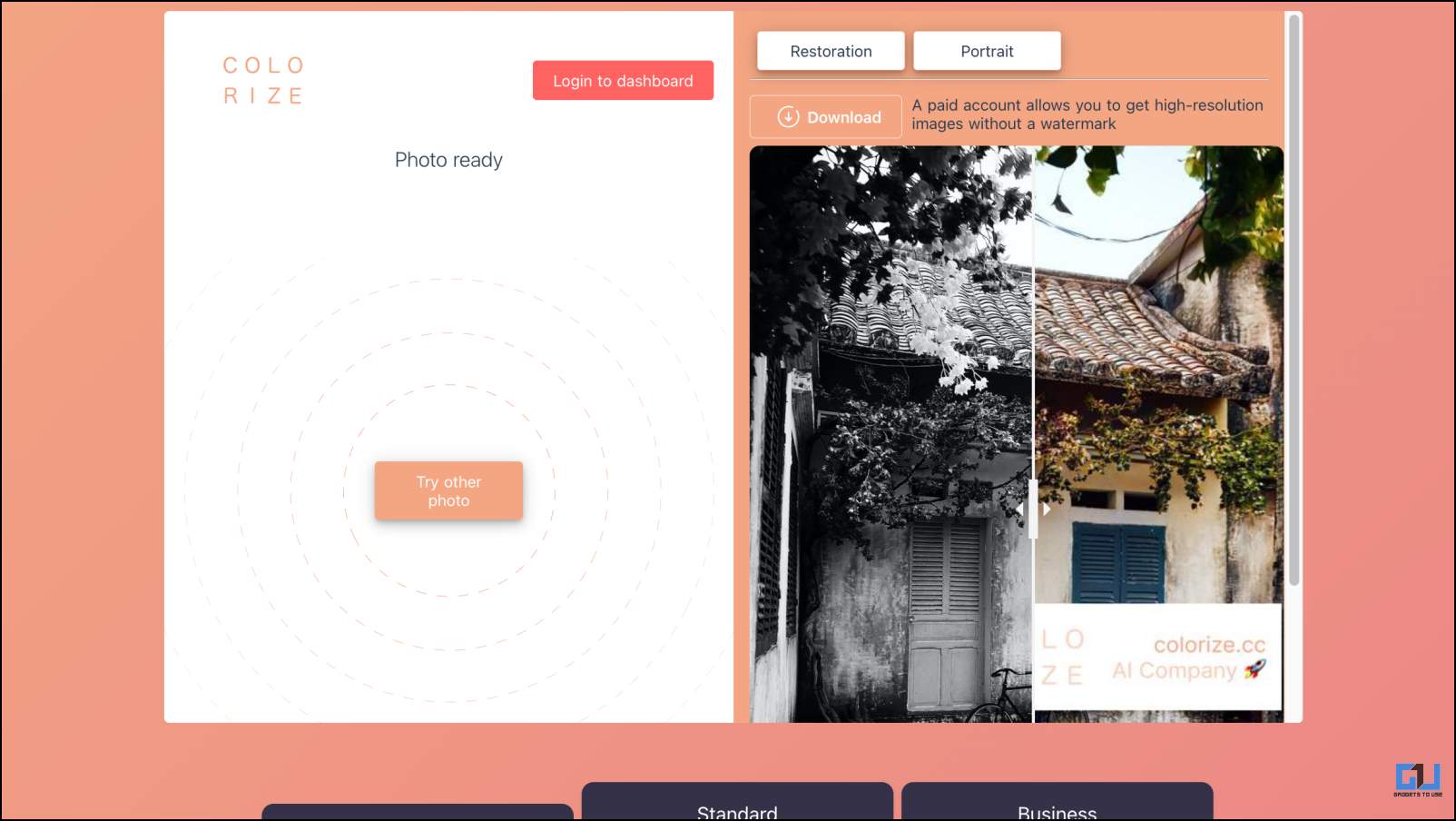 Pros: 
Colorized images look natural for the most part.
You can see the before and after differences in real-time.
This tool can also restore damaged photos.
Easy to use interface.
Cons: 
The tool automatically adds a watermark to the colorized images in the free version.
There is no option to download colorized photos without a watermark in lower resolution.
4. PicWish
PicWish is an online image editing platform with various tools that use machine learning and AI to edit your images. You will also find their photo colorizer that restores your black-and-white photographs here. It is free to use and does not require sign-up by email. You do have the option to download their Windows app to colorize images in bulk and to add more adjustments.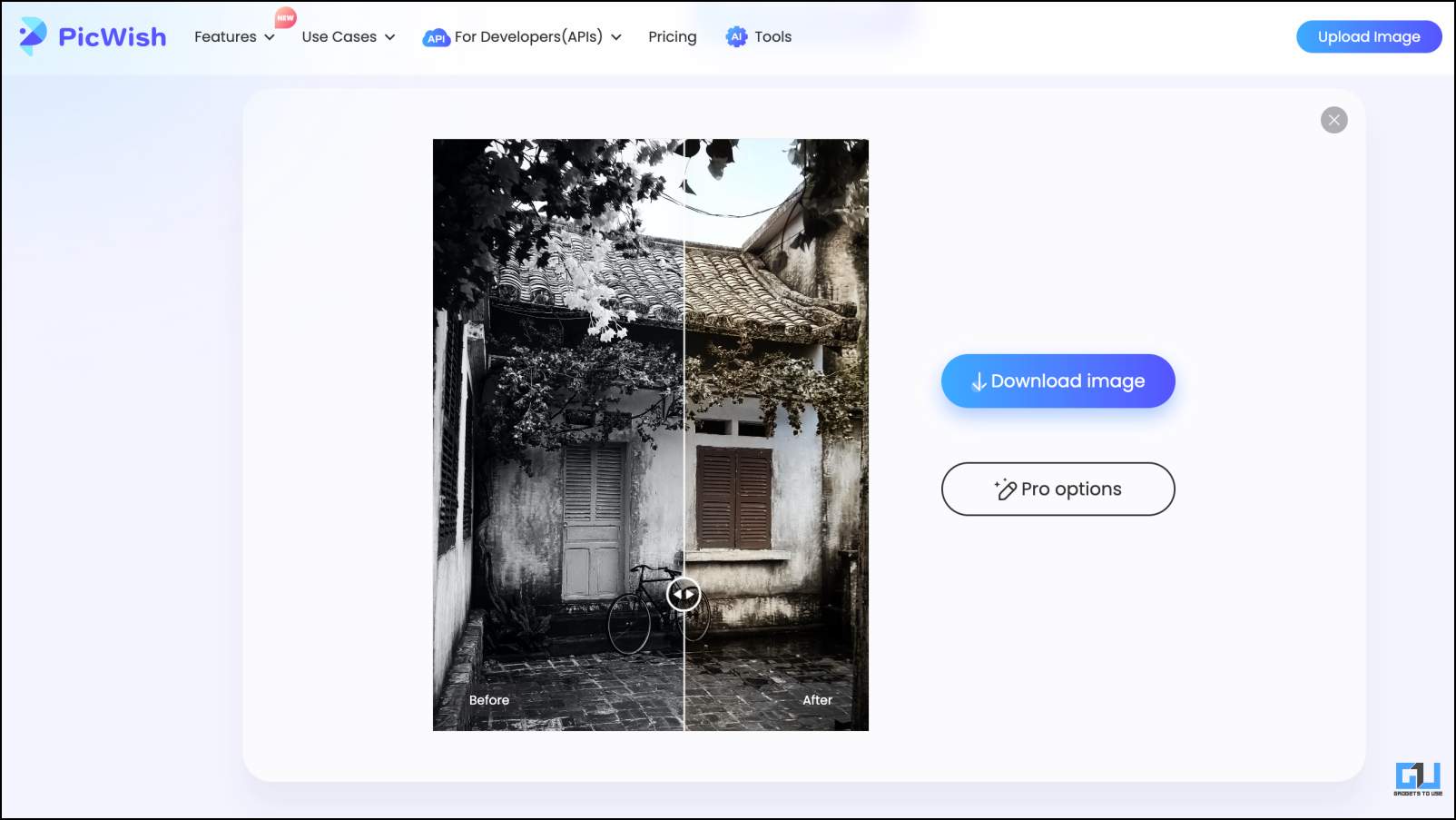 Pros: 
You can view the before and after look of the image.
Processes and adds color to the image fairly quickly.
Pro options can help to tweak the image further.
Download the colorized images for free without any watermarks.
Cons: 
Colorized photos look washed out.
Pro options are limited to the Windows app.
5. Palette. FM
Palette.FM is a popular AI color enhancement tool that can fix or add colors to your black-and-white images. Instead of just filling the spaces with colors like other tools, Pallete uses smart image filters you can choose from to give a different look to your photos. Moreover, you can edit the image prompt to change filter effects, which I found to be a unique aspect of this tool.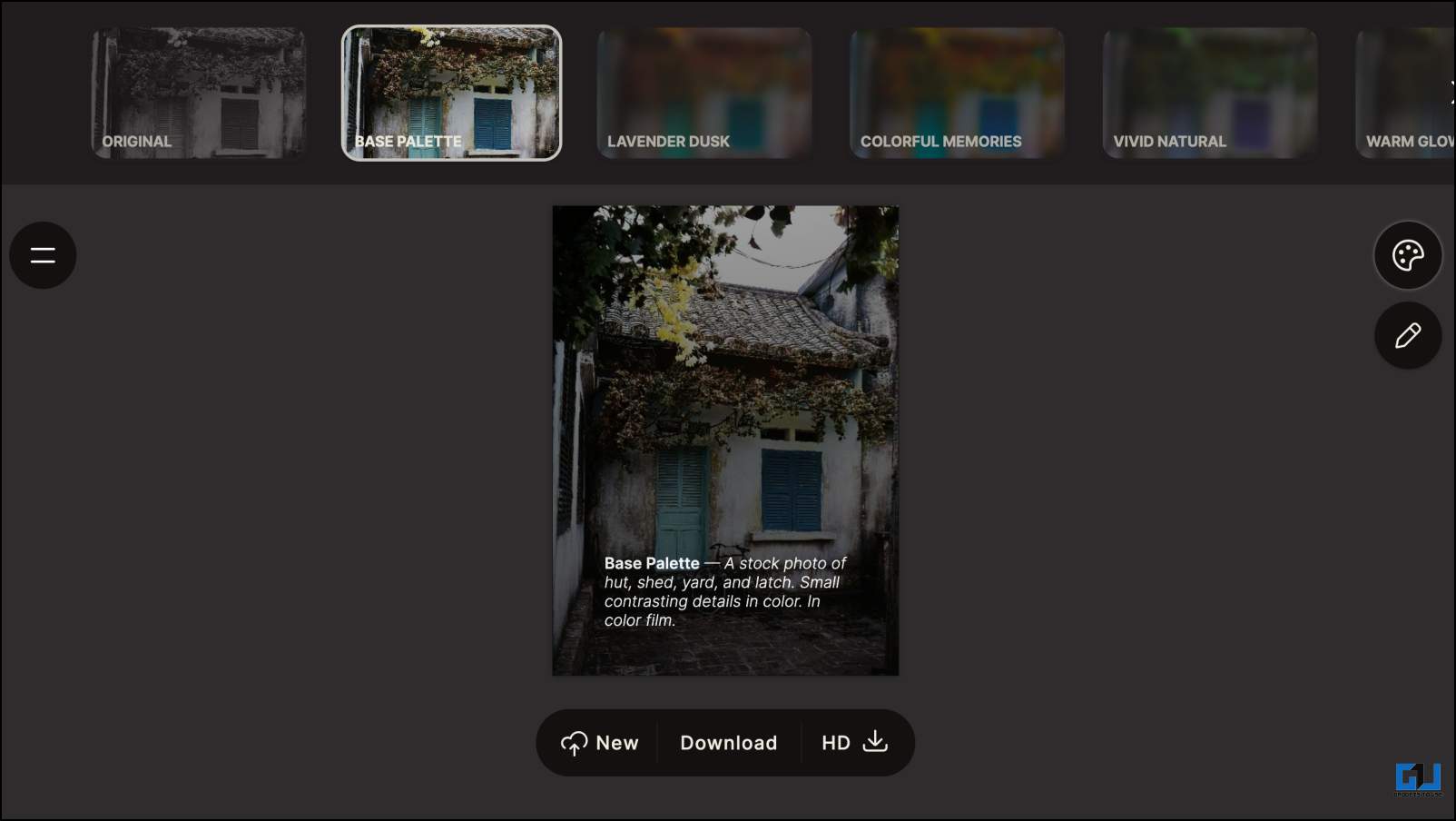 Pros: 
Adds colors to old monochrome photos.
Option to choose between different smart filters.
You can tweak the colors of the photo by changing the prompt.
Allows you to download edited images for free.
Cons: 
Requires sign up or Pro plan to download HD quality photos.
There are slight artifacts in colored photos.
6. Hotpot.ai
Hotpot.ai is a simple yet effective online tool that can convert black-and-white photos to colored images in just a click. This AI tool only requires you to upload the image to convert it. You can choose between different colorization factors, but it affects the quality of the image generated. You will have to buy credits to fine-tune or edit pictures further.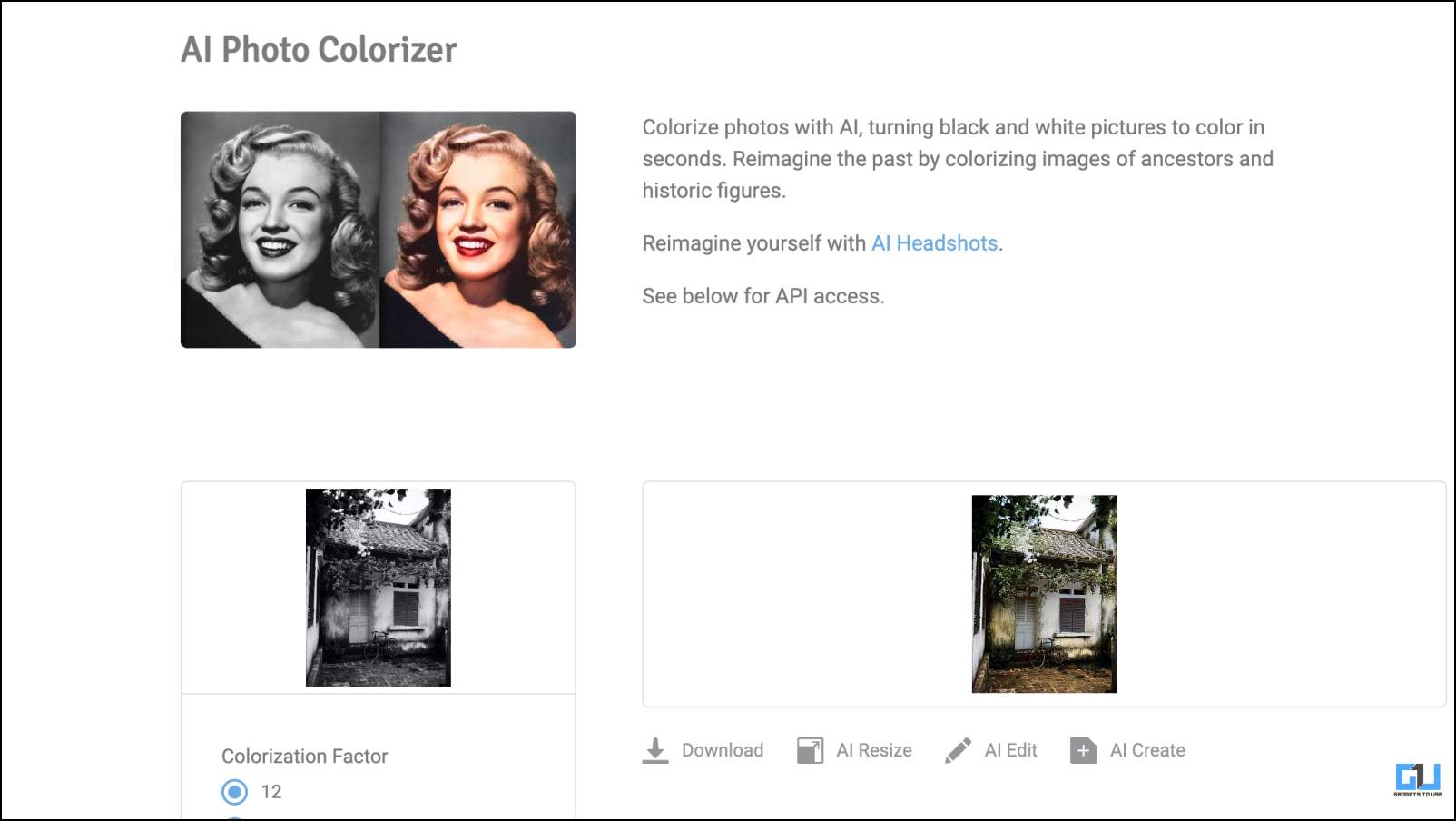 Pros: 
There is no limit on uploads.
You can download colored images without signing up.
Produces decent and primarily accurate results.
Offers tools to edit or resize images after colorization.
Cons: 
You will be required to buy credits to edit the image.
Some results come out as blurry.
7. Media.io
Media.io's AI photo colorizer can come in handy to add a splash of color to your old captured memories. Their AI-powered tool can effortlessly colorize or fix any black-and-white photo. All you have to do is upload the picture, and this tool will take care of the rest. However, you must create or sign into a Wondershare account to download images from this tool.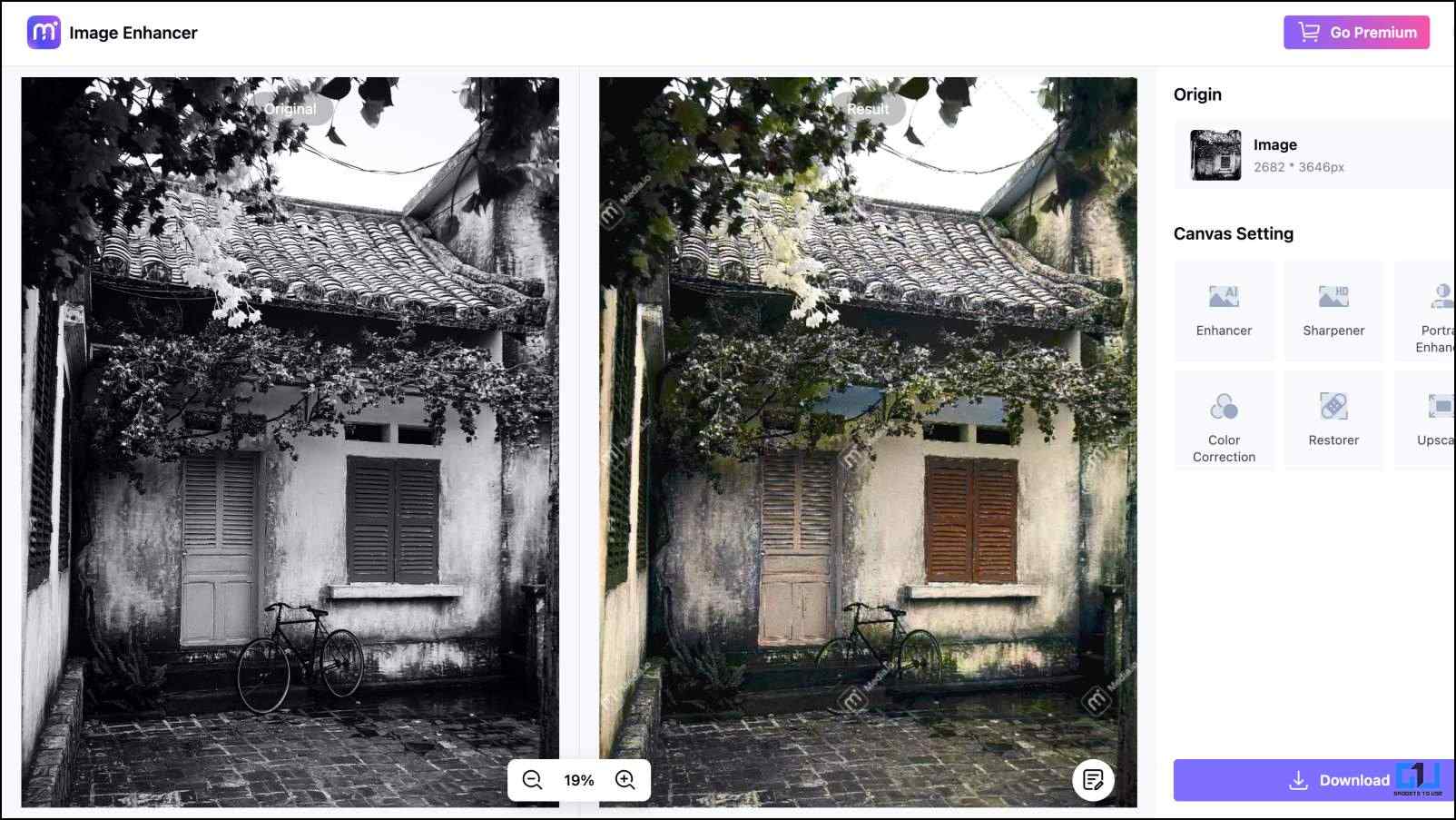 Pros: 
Colored images look clean with a uniform look.
The before and after results can be compared.
It takes less time to process photos.
Cons: 
Requires Wondershare sign-up to download photos.
Downloaded images will contain a watermark in the free version.
8. Fotor
Fotor is the last online photo editing tool on this list. Like the previous additions, this tool utilizes machine learning to restore and colorize old photos. This tool lets you edit different aspects of the picture and choose the quality and format before downloading. The only major drawback of this tool is that you cannot download images without the Pro version.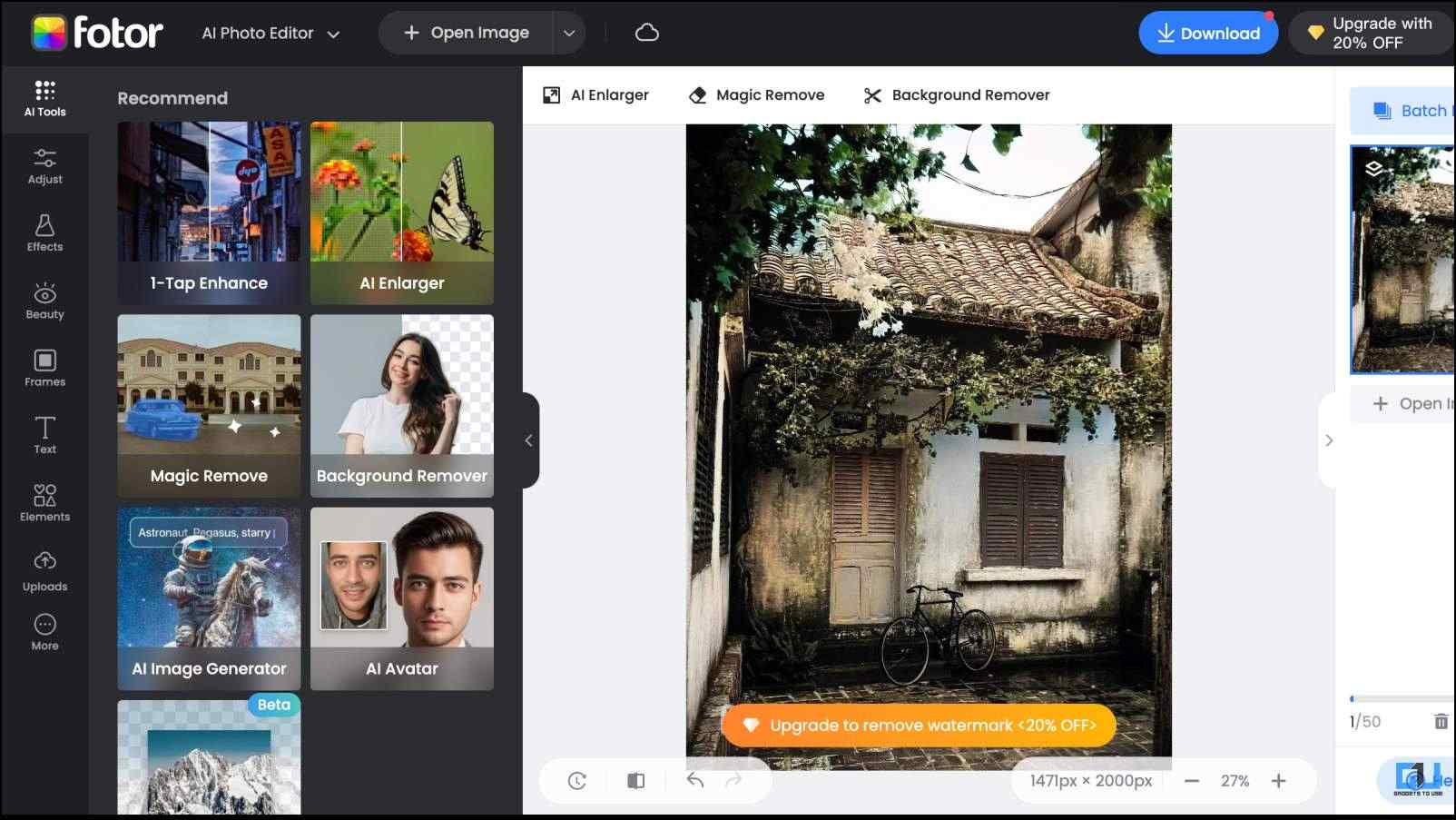 Pros: 
Adds natural and lifelike colors with good details.
It lets you compare before and after results.
You can select between different image formats.
Ability to download images in different qualities.
Cons: 
The restored colors are a little muted.
Download requires you to buy the pro version.
Wrapping Up
This brings us to the end of this article, where we discussed various AI tools to put a new life into our cherished memories. I hope you found any of the abovementioned tools useful to colorize your black and white photos. Stay tuned on GadgetsToUse for more AI articles, reviews, and How-Tos.
You might be interested in:
You can also follow us for instant tech news at Google News or for tips and tricks, smartphones & gadgets reviews, join the GadgetsToUse Telegram Group, or subscribe to the GadgetsToUse Youtube Channel for the latest review videos.