Besides smartphones, OnePlus has also made a name for itself in the Indian market for its audio accessories. Among them, the Bullets Wireless Z series neckband is the most popular option due to its price and the rich sound output for its category. The only feature that felt absent was active noise cancellation or ANC. Well, OnePlus has finally bought this premium feature to their Z2 neckband. I have been using them for a little over a week, and I will share my thoughts on the OnePlus Bullets Wireless Z2 ANC in this review.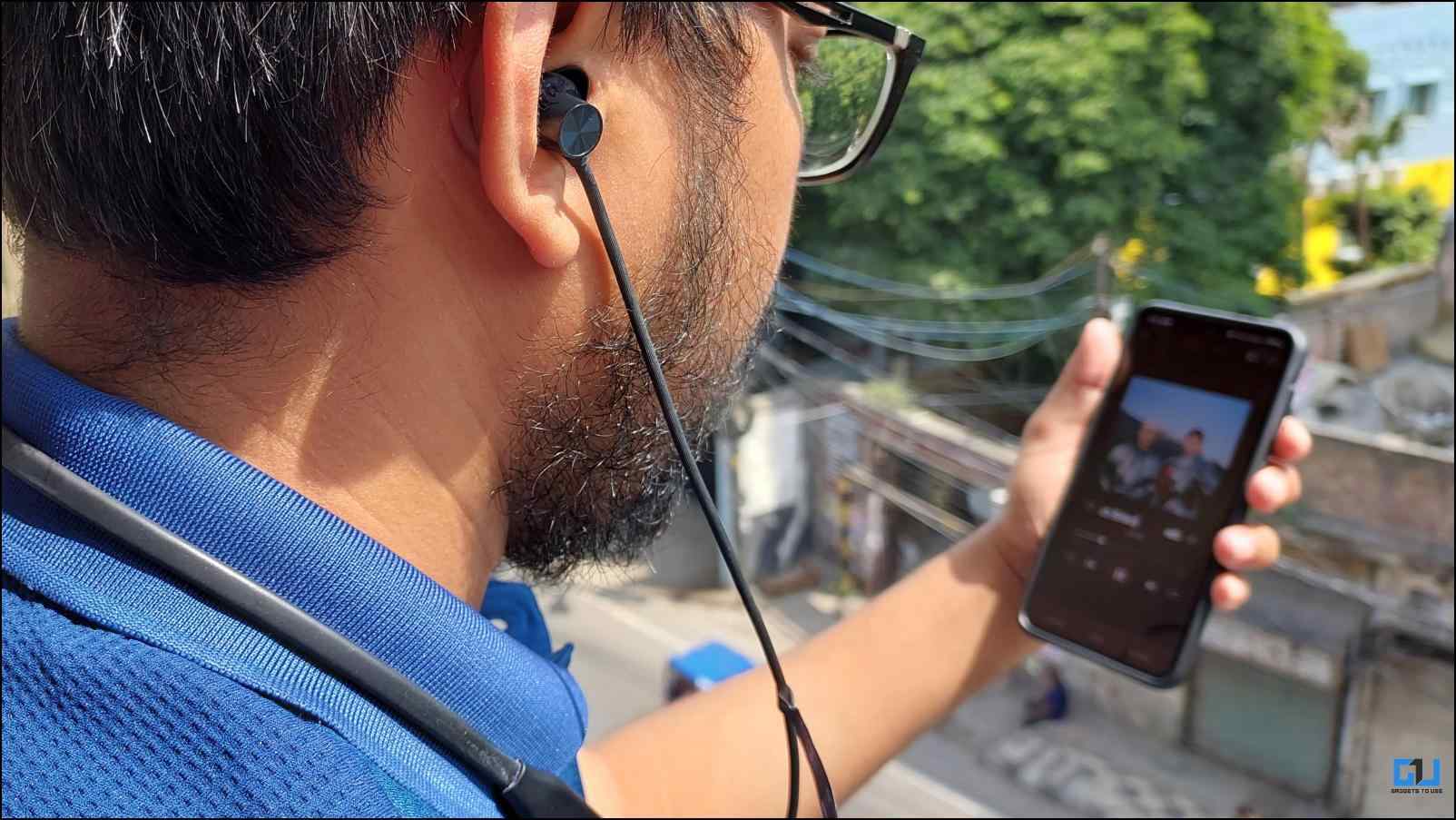 OnePlus Bullets Wireless Z2 ANC Review
The OnePlus Bullets Wireless Z2 ANC retails at INR 2,299 and comes in two color variants, Booming Black and Grand Green. I have been using the black version, which looks quite stylish. But color aside, both have the same in-box contents, so let us peek at them before moving forward.
OnePlus Bullets Wireless Z2 ANC: Unboxing
The Bullets Wireless Z2 ANC comes with the familiar OnePlus packaging, with the following contents provided in the box: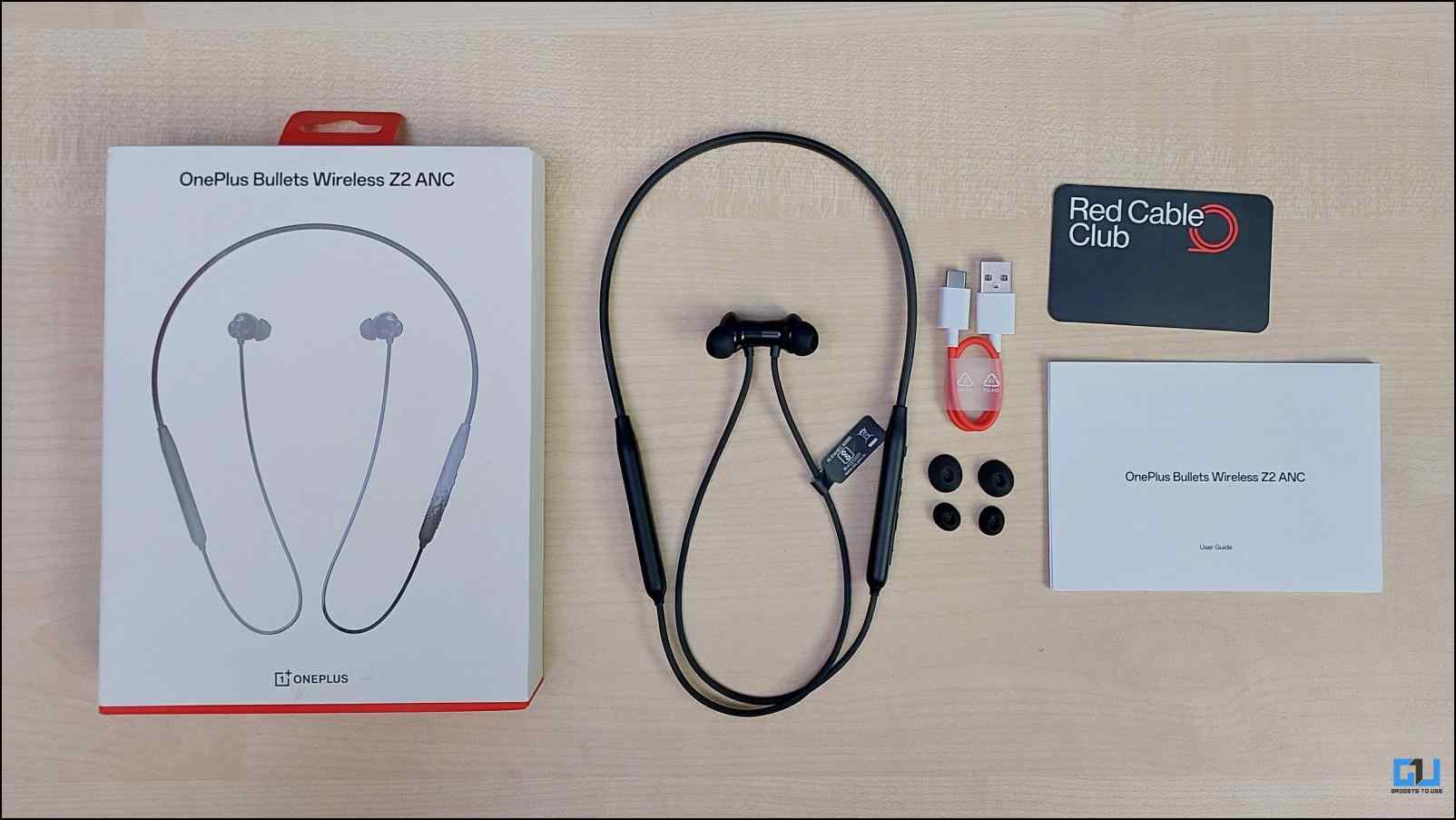 OnePlus Bullets Wireless Z2 ANC headphone
Pair of silicon ear tips: Small and Large
Type A to Type C charging cable
Quick start guide
OnePlus Bullets Wireless Z2 ANC: Build and Design
The OnePlus Bullets Wireless Z2 ANC shares an identical design to the non-ANC variant of the neckband. The band itself is made of soft plastics that almost feel like rubber. On the right side of the band, you can find the volume down, play/pause, volume up, and pairing buttons along with the Type-C charging port. The left side only has the OnePlus branding.
The good thing about the provided buttons is that they are raised, making it easy to distinguish between the four provided buttons. The play/pause button also doubles to switch between noise canceling and transparency modes. In comparison, the pairing button can be used to switch between two devices.
The earbuds are made up of good quality plastic material, which has a little heft. The buds have two mics, one at the top and the other at the side. Connecting the buds to the neckband is a thick textured wire that is a welcome addition to the flimsy wires we usually see in budget neckbands.
The total weight of the neckband comes to around 29 grams, which is light and good enough for prolonged usage. The Z2 ANC comes with IP55 dust and water resistance.
The design of the Bullets Wireless Z2 is nothing compelling, as it just gives a general idea of a neckband. It is so generic that you may even have difficulty learning which side to wear the neckband on. It may appeal to many users looking for a minimal-appeal neckband that blends in with the look without catching much attention.
OnePlus Bullets Wireless Z2 ANC: Sound and Mic Quality
OnePlus Bullets Wireless Z2 ANC has 12.4mm drivers that output a punchy bass, which EDM listeners will enjoy. The audio from the buds is decent, and you should face no issues with dialogues and vocals. The loudness complements this; this neckband can reach high volume levels without significant audio tearing. That said, the overall sound stage is not that great, and the same is true for treble. 
The two provided microphones helped with clear audio even when I was talking in traffic. The other person was able to hear my voice without any issues. However, there were rare occasions when I was asked to speak louder as the voice was unclear to the other side.
As someone who runs the Oppo Enco M32 for daily listening, I prefer the M32 over Z2 ANC, mainly because the general sound is better balanced. But those who prefer bass-heavy music can find comfort in the OnePlus Bullets Wireless Z2.
OnePlus Bullets Wireless Z 2 ANC: Active Noise Cancellation
Now let us go over the highlight of this neckband, Active Noise Cancellation. OnePlus claims to cancel out 45dB of environmental noise with the feature enabled. In my usage, this was true, as it was much better than other options we have seen in this category.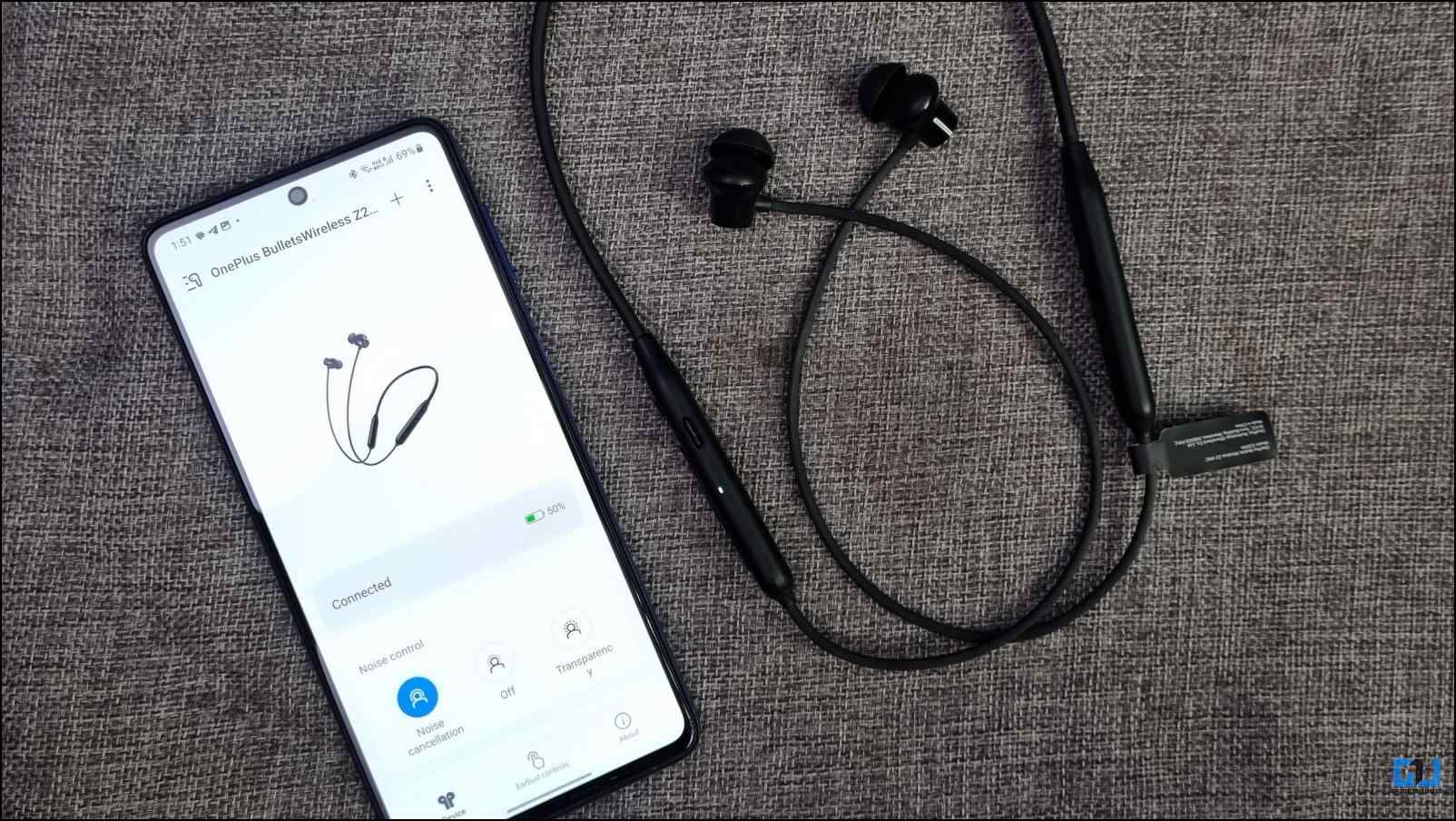 It flushes out most ongoing environmental noises. However, you will still be able to hear someone speaking, passing by, or even minor things.
Switching to transparency mode, you will better understand your surroundings. But to me, this witch felt somewhat jarring. It boosted the environmental noise and added a robotic effect when hearing others speak. This also happens when you listen to yourself talk with the neckband on.
OnePlus Bullets Wireless Z2 ANC: Features and App
To use the OnePlus Bullets Wireless to their full potential, you need to download the HeyMelody app on your smartphone. This lets you access the change modes and the EQ settings and receive OTA updates. The app layout is kept at a minimum, which makes it easy to navigate through the different settings.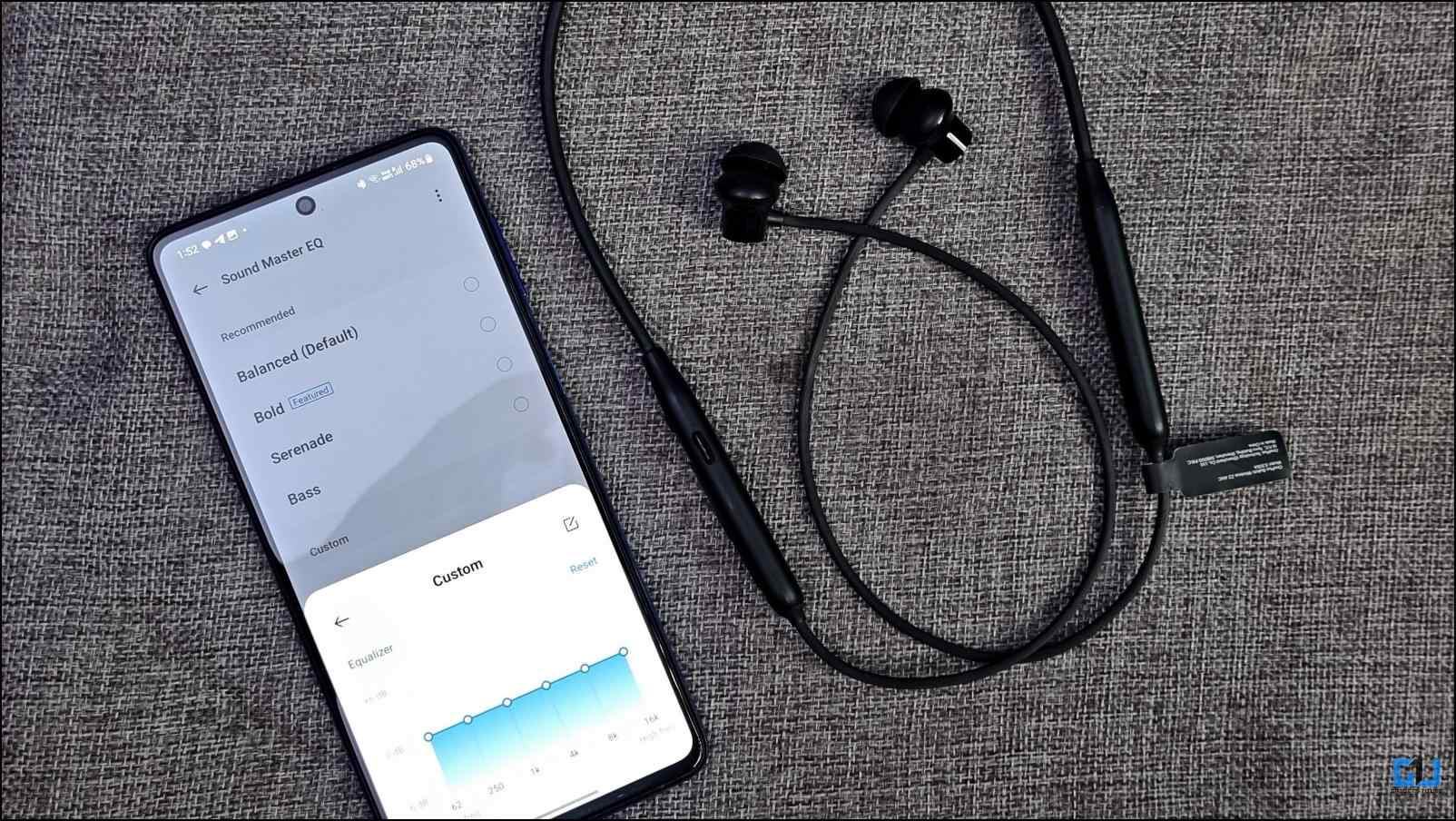 If you have a OnePlus smartphone, you can find all these options within the Bluetooth device settings without installing the app. OnePlus users also get a significant advantage as they have exclusive access to 94ms low-latency gaming mode. There is not much else to find here in terms of features.
OnePlus Bullets Wireless Z2 ANC: Connectivity and Pairing
OnePlus Bullets Wireless Z2 ANC supports Google Fast Pair, which means you should receive a prompt on your smartphone while pairing for the first time. This will add the neckband to your associated Google account, and you can keep track of it in your device list.
Once paired, you can de-attach the magnetic buds to pair with your device or attach them again to unpair. This will also pause the music you are listening to. OnePlus has also provided a button to switch between two paired devices quickly. So you can double-tap the pairing button to switch from your laptop to your smartphone. This is a neat trick that I enjoyed using.
OnePlus Bullets Wireless Z2 ANC: Battery Life
The Bullets Wireless Z2 claims to serve 20 hours in just 10 minutes of charging. I can vouch for that, as I did not find the need to charge the neckband till the third day of my continuous usage. During this time, I used them to listen to music and podcasts, watch videos on the web, and take calls. If not 20, I can say it's battery lasts for 18 hours.
Suffice it to say that even with this lightweight profile, the battery dying on me was the least of my issues. Even when the time came to charge, it did not take long enough to juice the Bullet Wireless with the provided cable.
OnePlus Bullets Wireless Z2 ANC: Pros and Cons
After going through all the points above, here's the list of pros and cons for the OnePlus Bullets Wireless Z2 ANC to summarize my review:
Pros:
Lightweight design at just 29 grams.
Bass heavy sound output.
It can reach high noise levels without distortions.
It has good active noise cancellation for its price.
The battery can last for 18-20 hours.
The companion app is easy to use and navigate.
Allows to switch between two devices quickly.
Cons:
It can be challenging to determine the left and the right sides.
The design is quite generic.
Mids and the highs are just average at best.
Transparency mode adds a robotic tone to the human voice.
Final Verdict
OnePlus Bullets Wireless Z2 ANC is a compelling option for a neckband with noise-cancellation features. The neckband seems to be designed to blend in with aesthetics and features. It has all the basic bells and whistles that one could ask for and use daily. The sound, the noise cancellation, and the OnePlus branding are all eye-catching and should serve you well if that is what you are looking for on a limited budget.
I enjoyed using them, but I won't say that I will miss their presence as I faced my hurdles with them. There are kinks with the audio that OnePlus should be able to fix with software updates, depending on the user feedback. Till then, you can go with these if you are a bass-head and want ANC, or save some money by going with the non-ANC Z2s that are going a lot cheaper these days.
Check out our other reviews:
You can also follow us for instant tech news at Google News or for tips and tricks, smartphones & gadgets reviews, join GadgetsToUse Telegram Group or for the latest review videos subscribe GadgetsToUse YouTube Channel.